Tsukuho: The Taste of Old Edo at Jokamachi
Published: February 14, 2020
Edomae Jokamachi is a brand new, limited-edition market with a food court and event space that opened on January 24th. 2020, adjacent to the Toyosu Market in the southernmost area of Koto-ku.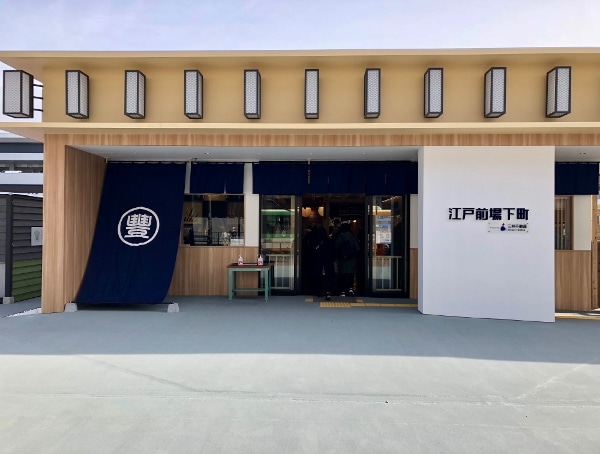 Located directly in front of Shijo-mae station on the Yurikamome line, Edomae Jokamachi features 21 different stores, including restaurants serving sushi made using fish from the neighbouring market, udon, ramen, grilled seafood delights, and traditional confectionery.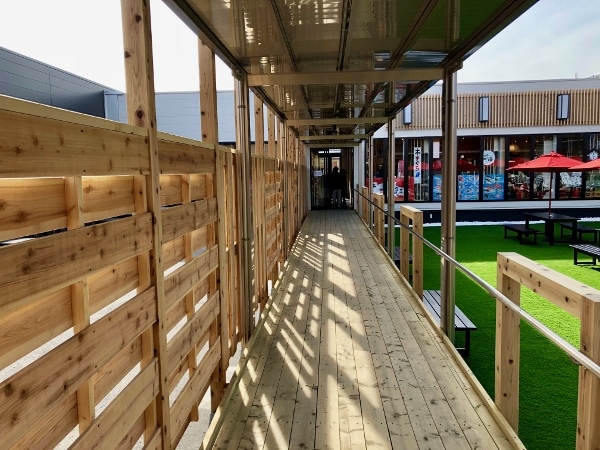 The market features two wings separated by a very pleasant seating area where visitors can eat and relax outdoors. Edomae has several meanings, of which one is literally "in front of Tokyo Bay," the location of Toyosu. Jokamachi are castle towns, many of which grew up around heavily fortified castles during the Warring States period of Japanese history (1467~1615).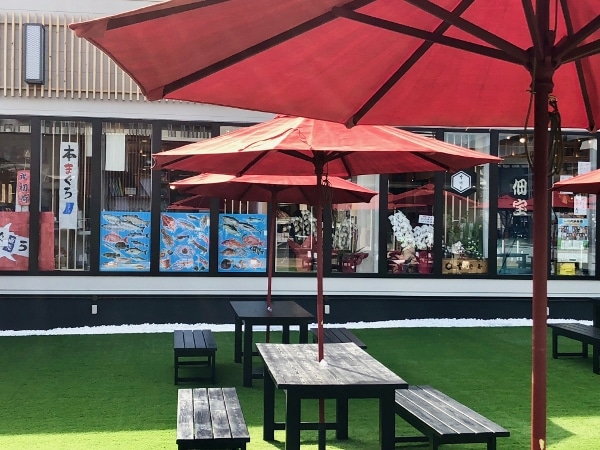 The Marche wing of the market is home to a variety of shops selling souvenirs, including Tsukuho, the venerable tsukudani maker based in the Koto-ku area of Shinonome. On a recent early spring afternoon, I dropped in for a chat with section chief Mr. Iida.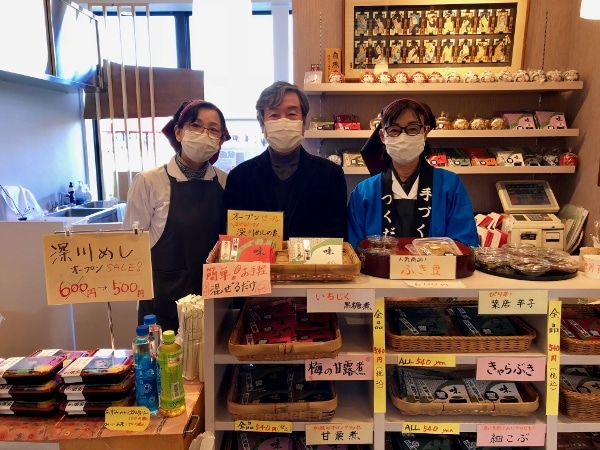 Just what is tsukudani? It's a kind of preserved food that originated on the island of Tsukudajima in Tokyo Bay during the Edo Period, some 400 years ago. Local fishermen began boiling small fish with salt, then graduated to adding soy sauce, mirin (a kind of sake used as a condiment in many Japanese dishes) and other ingredients. Over time the flavours slowly became more refined. Feudal lords forced to live in Edo began taking tsukudani home as souvenirs when they returned to the provinces. The popularity increased, leading to large scale production right across the country. Nowadays, tsukudani is generally eaten as a topping on rice. A selection set of five different types is a very reasonable 1,220 yen. You can try a variety of tsukudani at the booth.
Tsukuho, founded in Koto-ku in 1957 by Mr. Toyoo Mizutani, quickly established itself as one of the premier tsukudani makers in all Japan. Tsukuho was invited to open a shop inside the Kabuki-za Theatre in 1983, and was one of only two shops to return when the theatre was reconstructed in 2013. Here Mr. Iida is flanked in the booth by staff members Ms. Atsuko Ohta and Ms. Kyoko Iida. Both ladies are former JAL cabin attendants and can answer all your questions in English.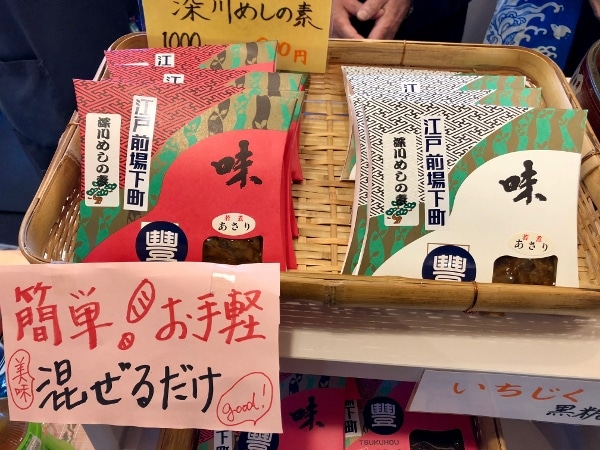 Tsukuho's attention to detail is legendary, as Mr. Iida explained. "We make around 50 kinds of tsukudani and each one has its own unique sauce. Many makers use the same sauce but we tailor our sauces to the main ingredient. Whether it's goby fish, edible kelp, burdock root or short-necked clams, we create individual and original sauces for each one. Furthermore, all our products are 100% natural. We don't use any additives and haven't since the company began."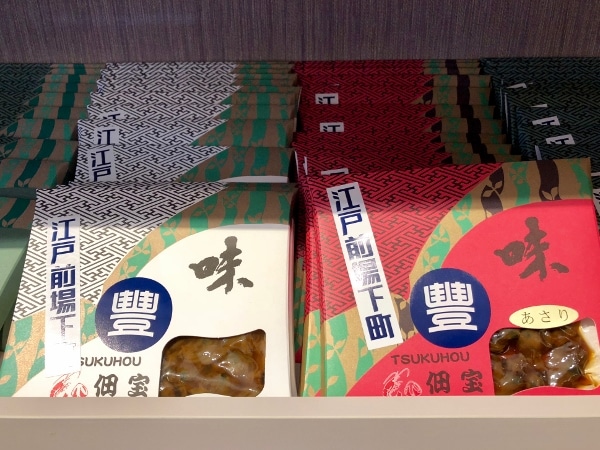 "Here at the Jokamachi shop we offer about 15 kinds of tsukudani, the most popular and reasonably priced ones," he added. "Short-necked clams, edible kelp, chestnuts, whitebait, freshwater smelts, figs, butterbur stalks and so on."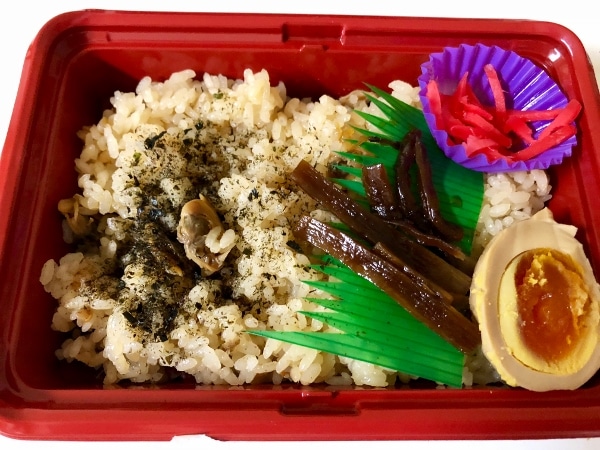 Apart from savoury tsukudani, the Tsukuho booth offers a variety of items. Perhaps most popular is this lunch box featuring the signature dish of the Fukagawa area of Koto-ku, Fukagawa Meshi. Back when Fukagawa was a small fishing village in the Edo Period (1603~1868), locals ate the abundant short-necked clams found in the bay cooked with green onions in a broth, and served on rice. Meshi means both rice and meal, hence the name.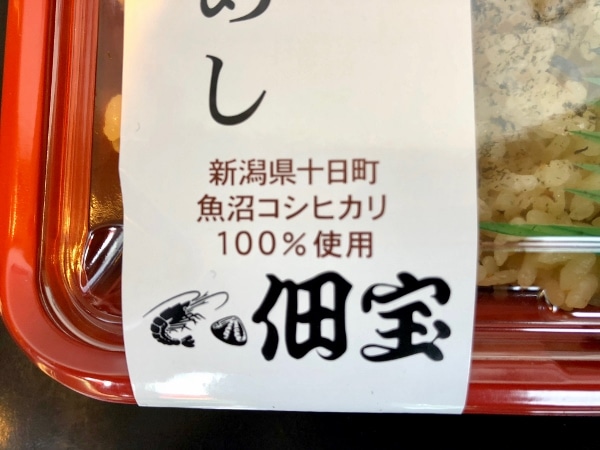 The corner label shows that the lunch box uses Koshihikari rice from the Uonuma area of Niigata Prefecture. Uonuma Koshihikari rice is rated as the best in Japan by many, further proof of Tsukuho's dedication to quality. At weekends, a special limited-edition lunch box of whitebait and pollock roe is also available. It's extremely popular so first come first served! The Fukagawa Meshi is 600 yen, while whitebait and pollock roe (shirasu and tarako) is 650 yen.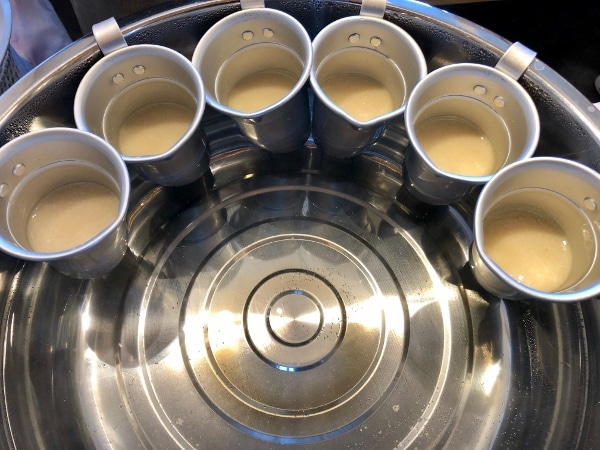 Although originally a summer drink, amazake is now viewed as a winter warmer. Basically, amazake is a sweet, low-to-non-alcohol drink made from fermented rice. The special version sold at Tsukuho in Jokamachi is made by blending sake lees from a brewery in Chiba Prefecture with a broth made from broad beans that are dried, then simmered in a sweet, sugary sauce (fuki mame).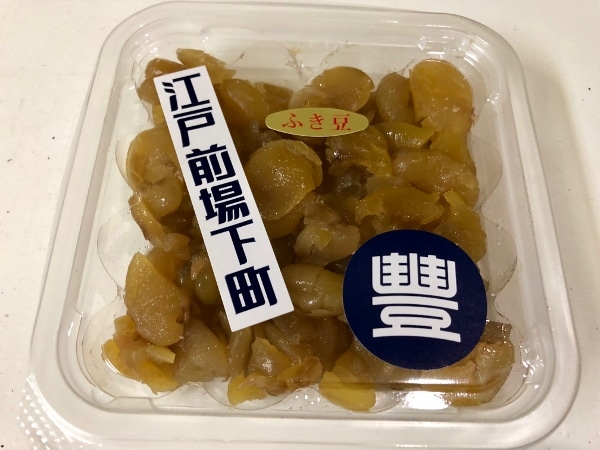 The beans themselves are available at Tsukuho for 600 yen per pack. They're very good!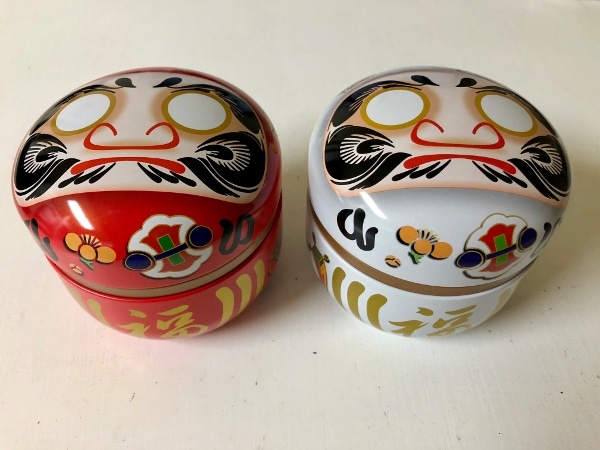 The Tsukuho booth also features some souvenir items such as these splendid cans, which come in five different designs. The Edomae Jokamachi is a great addition to the Toyosu area and well worth a visit. As Mr. Iida said, "Many tourists and sightseers visit the Toyosu Market and then come here after. Also, many local workers come here to eat lunch or take a break. Visitors should know that Jokamachi will only be here for three years, before it makes way for the massive Senkyaku Banrai development. There will be pop-up stands at weekends and all kinds of events in the central space."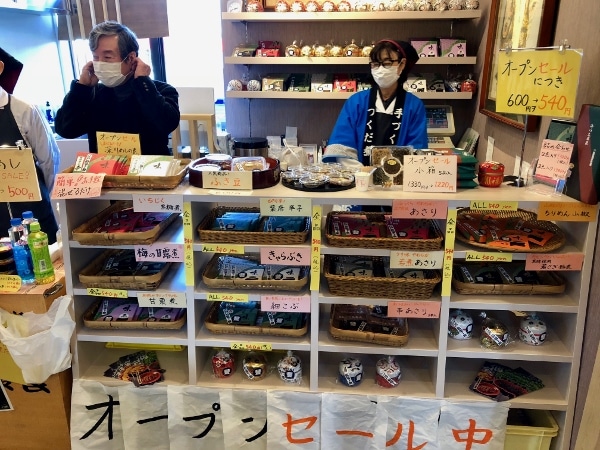 By all accounts the market has been attracting great crowds since the day it opened, especially at the weekends. It was surprisingly crowded on a sunny but chilly Friday afternoon in February. If you're planning a trip to Toyosu, why not drop into Edomae Jokamachi and try some tsukudani at Tsukuho; it's the true taste of Old Edo!
Story and photographs by Stephen Spencer