Life on Four Wheels at BlaZe
Published: October 13, 2021
The 2020 Tokyo Olympics proved a breakout year for skateboarding in Japan. Not only did the sport make its Olympic debut, but the Japanese team won three gold medals, one silver, and one bronze in a remarkable performance. On a recent sunny afternoon, we dropped into BlaZe, Koto-ku's only specialist skateboard shop, for a chat with manager Mr. Kazuho Yamaguchi and chief Ms. Manami Kitada.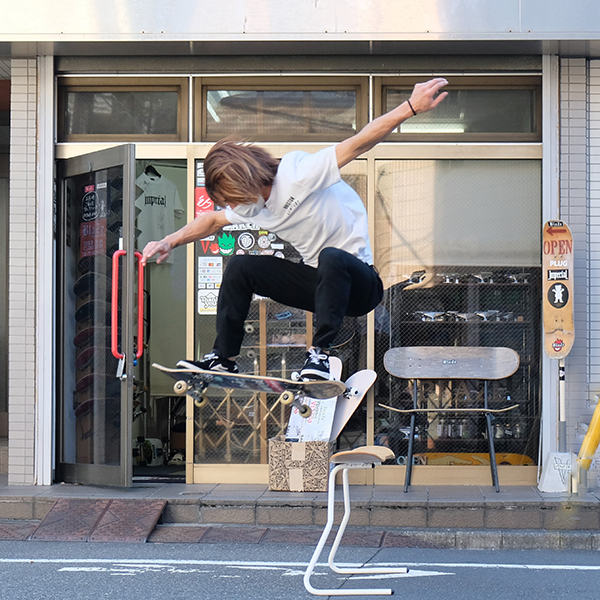 BlaZe is located some eight minutes' walk due east of Kameido station, on a quiet back street near the Sobu Line train tracks. As pro-skater and manager Mr. Yamaguchi explained, "I began surfing with my father in Chiba when I was three; he was a skater too, and I began skating later as a teenager. Skateboarding is an individual event and is about expressing yourself through your skating style. I became a professional skater a few years ago and also work as an instructor, travelling around Japan. The shop switched from surfing to skateboarding last year."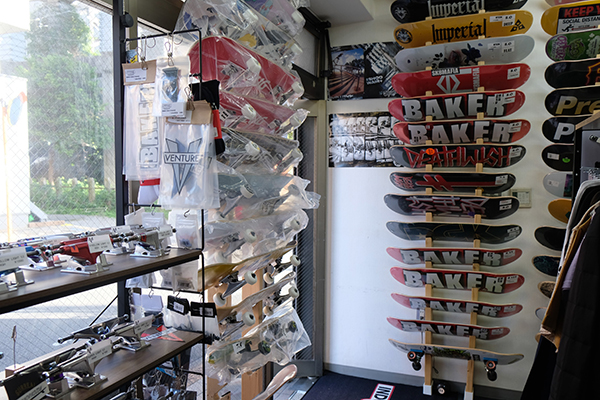 One of the attractions of skateboarding is its relatively moderate cost for a beginner. "A decent beginner's quality board costs around 12,000 to 14,000 yen," said Mr. Yamaguchi, "and with a helmet and protector set that comes to about 25,000 yen. A professional board like the one I use would cost around 40,000 yen. They're like bikes in that you can ride one straight out of the shop or customize the various parts."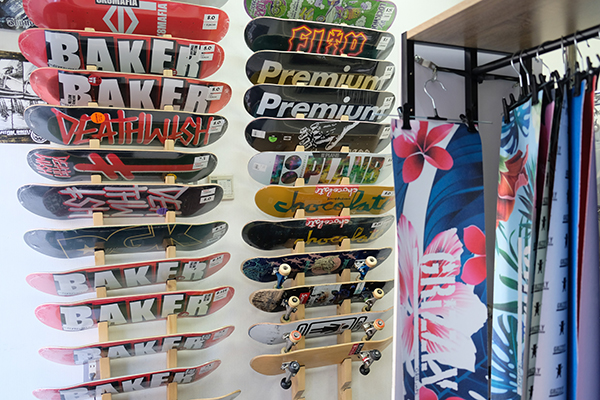 BlaZe stocks several of the most popular brands, with boards in different widths depending on the age and height of the user.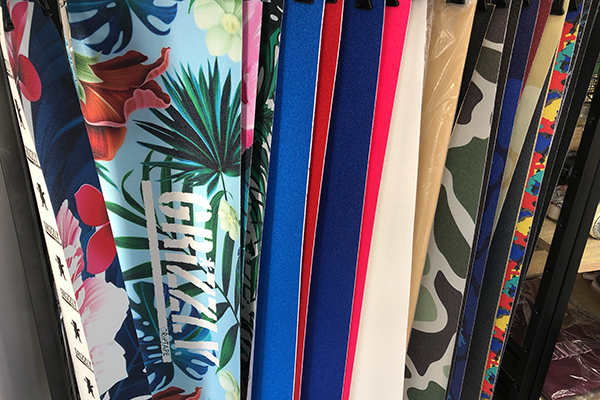 Customers can also buy griptapes, the sandpaper sheets that keep the rider's feet tight on the board. The friction between the deck and the soles of the rider's shoes is vital for jumps, so changing grip tape that has become smooth with wear and tear is sometimes necessary.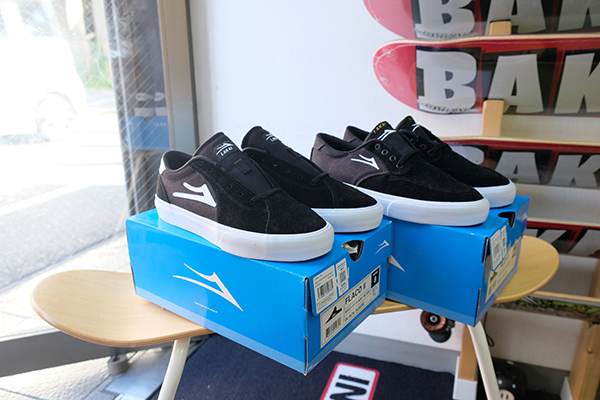 Skateboard shoes take an enormous amount of punishment. They need to be sturdy enough to absorb impact, yet still allow the rider to feel the board. While there are many things to consider when buying shoes, such as vulcanized soles or cupsoles, there's no debate that suede is the best material, as Mr Yamaguchi explained. "Definitely suede shoes, not cotton. They last longer and are more comfortable. In summer they can be hot though, so many people wear canvas shoes." Canvas shoes can get ripped up quickly, though. BlaZe stocks these black suede shoes from the Lakai brand.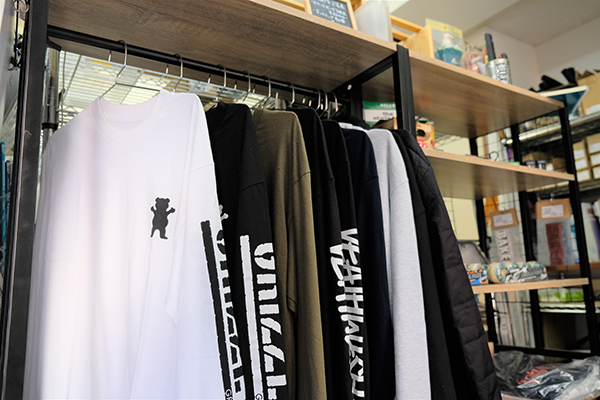 The adoption of skater style over the last 25 years or so has been a global phenomenon. Loose and functional clothing that allows freedom of movement while providing some protection for skateboarders has spread into the mainstream with many brands catering to the skater style. BlaZe stocks apparel from several major manufacturers such as Baker, Deathwish, Shake Junt, and more.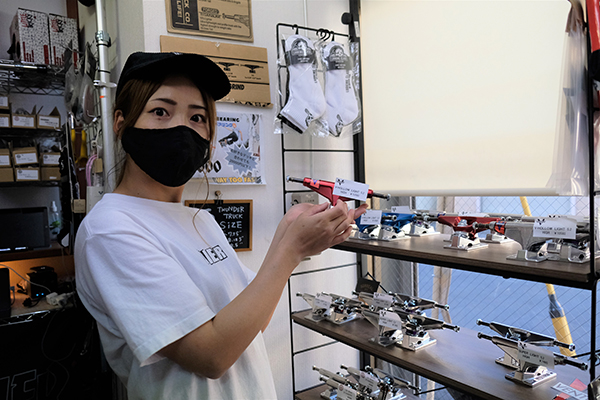 Here Ms. Kitada models some trucks, the diecast metal parts bolted to the board which hold the wheels. Considered the most important part of the board, BlaZe stocks a variety of trucks for those customizing their own board. Individual parts are also available.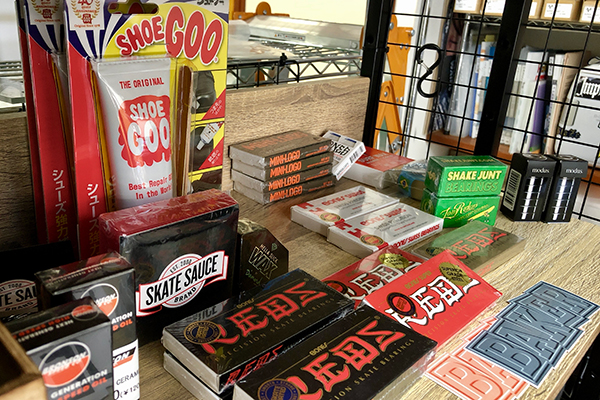 Other parts and accessories such as wheels, board wax, linseed oil, the vitally important skateboard tool, shoe repair glue and tube socks are also stocked at BlaZe.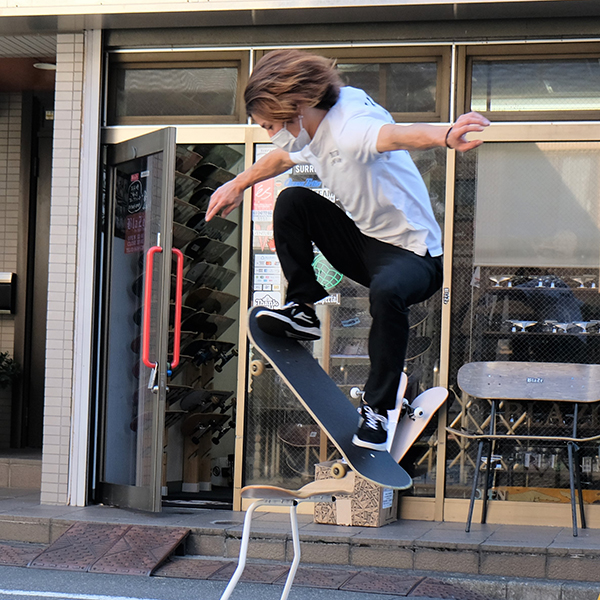 Mr. Yamaguchi and Ms. Kitada are also heavily involved in the movement to support opening a designated skateboard park in Kameido. Despite the first-ever gold medal winner in skateboarding, Yuto Horigome, being a Koto-ku native there's no skateboard park in the ward currently. On November 11th 2021 BlaZe will be holding an event at Umeyashiki, just north of Kameido station on Meiji Street, where Mr. Yamaguchi will give a demonstration and offer beginners a brief introductory hands-on experience for just 500 yen per person. Please check out the latest news at the shop's link.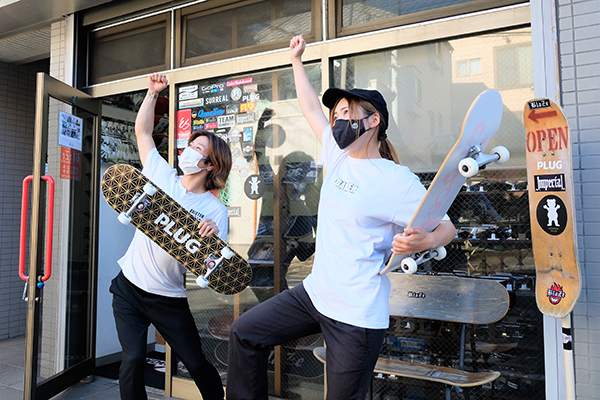 "Our aim is to support a new start for skateboarding in Japan, with Koto-ku as the centre in Tokyo," said Mr. Yamaguchi.
Story by Stephen Spencer