A Fish Called "Uncle"
Published: December 15, 2017
Do you fancy combining a visit to the Fukagawa Edo Museum with a real taste of Tokyo? Then head along to the Kiyosumi-shirakawa part of Koto ward. After wandering around the excellent museum, cross over the road to Teppan Dining Vermeer, but don't be late as this charming small restaurant fills up quickly.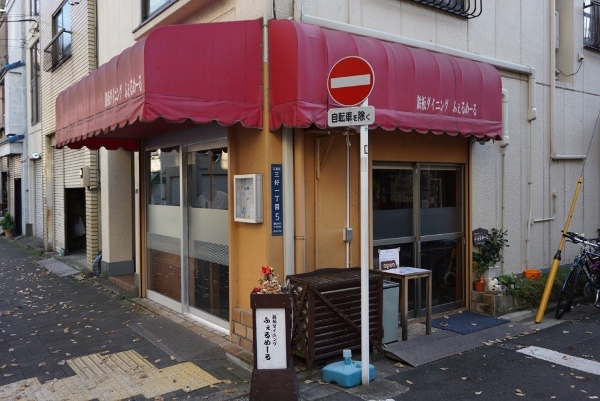 By small, I mean that there are six seats arranged along a counter which runs the length of the restaurant, and sitting there you can watch your meal being prepared and cooked. Run by Mr. and Mrs. Takamitsu Oda, Teppan Dining Vermeer primarily serves teppanyaki: meat or fish grilled on a hot steel plate in front of the diners. The Odas have run the restaurant since July 2016, before which it was a steak restaurant and before that, a shaved ice shop.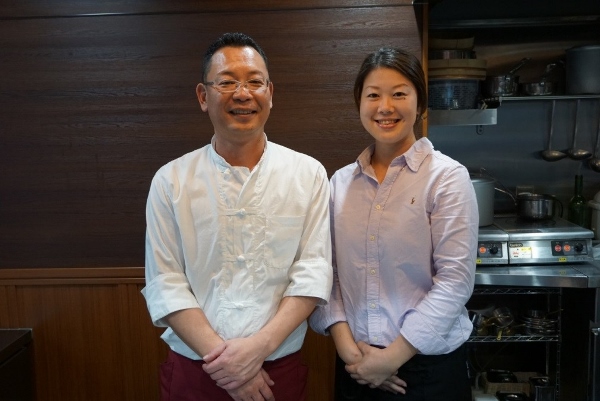 For the 1,300 yen lunch, I had ojisan (goatfish)—named after its whisker-like sensory organs near the mouth. Two ladies already eating at the counter burst out laughing when they heard the name, which also means "uncle" or "a middle-aged man".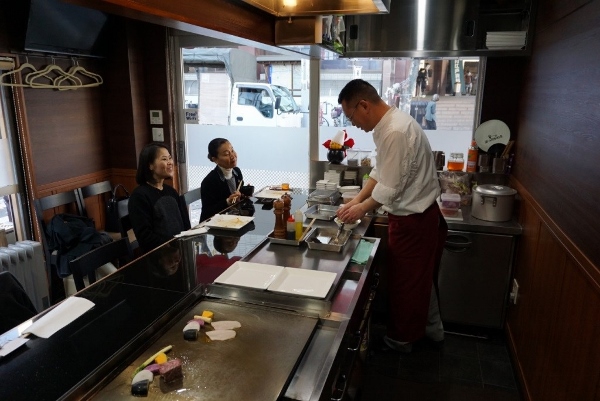 Despite its name, the fish's white meat has a clean and smooth taste, which is complemented by the wasabi and soy sauce served with it. The fish is served with white rice and moyashi (bean sprouts), kabu (turnip), murasaki imo (purple sweet potato), nasu (aubergine), kabocha (pumpkin) and miniature sweet corn, and is suitable for pescatarian diners.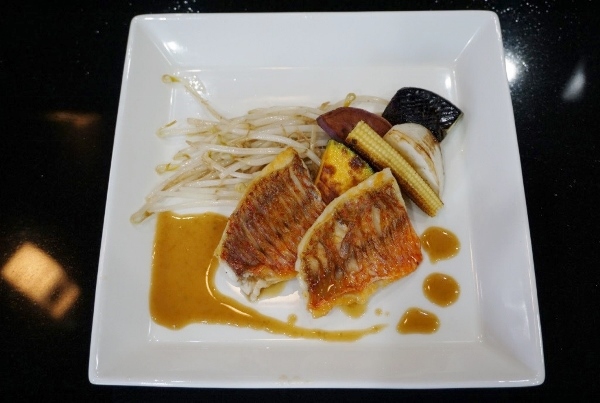 On Saturdays and Sundays only, Teppan Dining Vermeer also serves a delicious 4,800 yen meat dish consisting of 100g of mouth-watering cubes of Japanese Oita sirloin steak. This comes with side dishes containing steamed meat, gobo (burdock root) and koyadofu (traditional freeze-dried tofu), a salad, suimono (clear soup) and homemade pickles.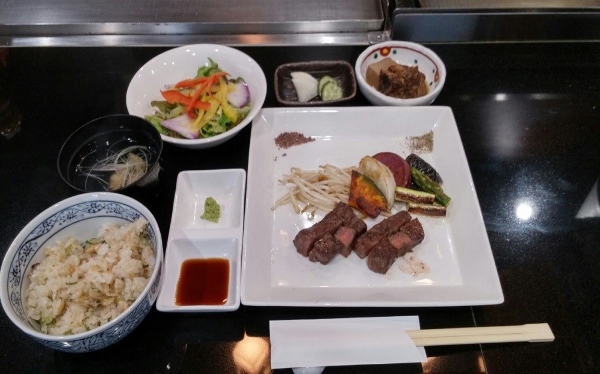 One of the restaurant's specialities comes with the meat teppanyaki. This is Fukagawa garlic rice, a variation of the Fukagawa-meshi, for which this small area of Tokyo is famous. Made from rice, asari (short-necked clams), garlic, oil and Mr. Oda's "special" sauce—a trade secret—he carefully mixes the ingredients on the hot plate into the shape of a heart, before scooping it up into a bowl and handing it to me and my wife.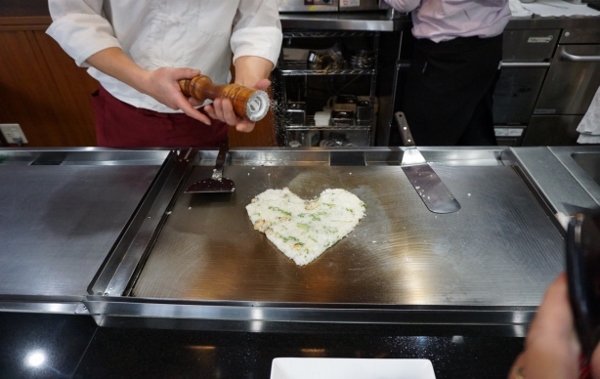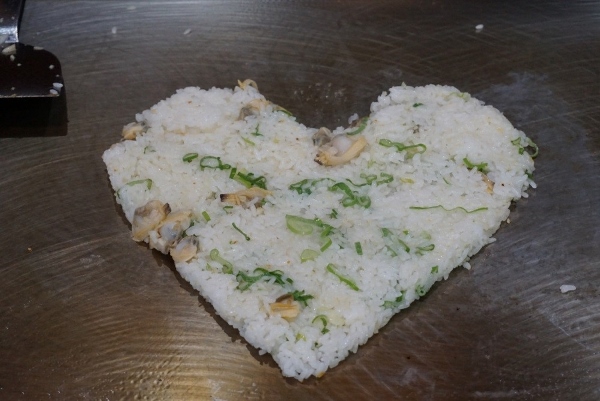 As an added twist, pour some of the clear soup onto the rice and add wasabi to give it that little bit of a kick!
Besides the set dinners, there is also a varied a la carte menu, which includes seared nigari sushi (a thin slice of fish layered on a mound of vinegary rice) as well as hamburg steak.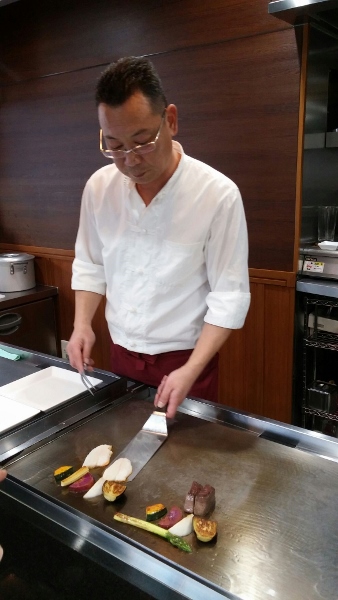 Part of the fun of dining at Teppan Dining Vermeer is watching Mr. Oda cook the meal. After preparing the ingredients, he pours a splash of oil onto the hot plate, and then arranges the vegetables, carefully lining them up and turning them occasionally. Then with his fork and spatula he adds the fish or meat, again turning them occasionally until browned, and then deftly cutting the latter into small cubes. All this is done in an expert, understated style; there is none of the exaggerated showmanship associated with some large teppanyaki chains.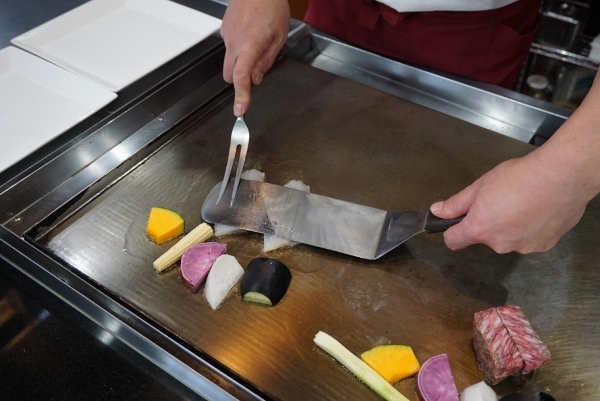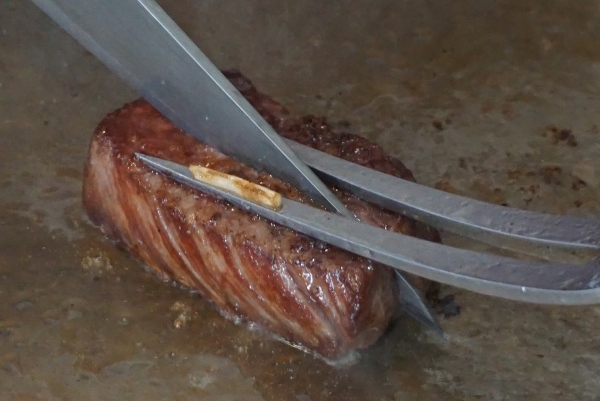 Mr. Oda has spent 30 years in the restaurant business, not only in the kitchen, but also as an adviser, helping set up restaurants or providing advice on menus and décor. He enjoys the Fukagawa neighbourhood and being able to chat with his customers over the hot plate, and wants to keep the style and size of his restaurant, although some day he would maybe like to introduce this concept overseas.
Asked what dish he would recommend, Mr. Oda says, "The fish." As he says, "most teppanyaki restaurants serve up expensive meat or scallops and lobster, with very few offering fish. Teppan Dining Vermeer gets its fish from Tsukiji fish market daily and this gives customers a chance to try something different." The fish he serves is constantly changing depending on the season, and he often chooses fish which is not used in Western dishes. Given the limited number of seats, Mr. Oda suggests that it is best to make a reservation.
And if you were wondering where the restaurant gets its name from: in an alcove is a copy of Vermeer's Girl with a Pearl Earring: this was left by a previous owner, but Mr. Oda thought he would like to keep it, and the name, as it was already well-known in the neighbourhood.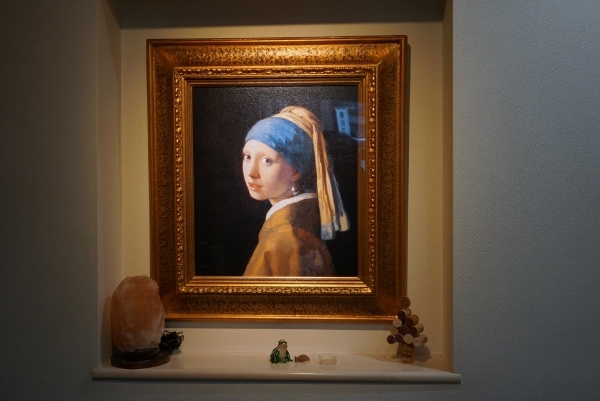 Story and Photos by Jeremy Hutchinson