Authentic Pho and Thai Curry
Published: August 20, 2021
While the Ariake area of Koto-ku is home to many sports facilities and medical centres, it's perhaps most famous for the Tokyo International Exhibition Center, popularly known as Big Sight. Big Sight is the largest exhibition and convention center in Japan, instantly recognizable for its massive front tower that features four inverted pyramids. Big Sight has its own station on the bayside Yurikamome Line that connects to a large office building, the TFT Centre. Asian Star Kitchen is located in the food court on its second floor.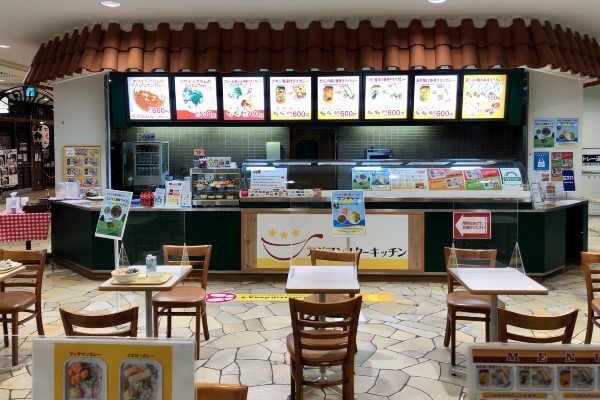 Ms. Linh of parent company B World Group was a most eloquent guide. "There are many Vietnamese and Thai restaurants in Japan, but ours is the first Asian fast food shop in the country," she explained. "We offer authentic and healthy Asian food at very reasonable prices." Asian Star Kitchen follows all current health protocols, with heavy plastic partitions on all tables.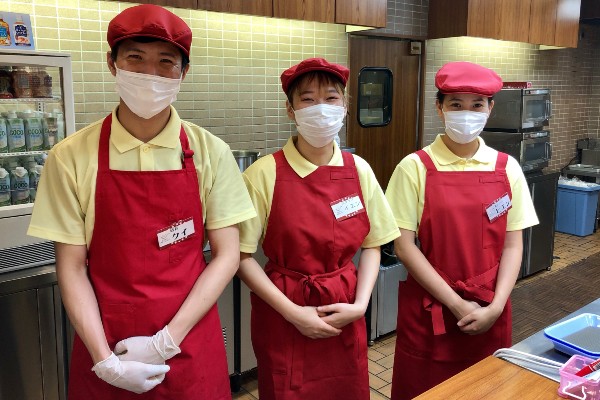 On this particular day, the staff all hailed from Vietnam. Youthful Mr. Quy, on the left, is the manager, with another Ms. Linh and Ms. Hign behind the counter. Asian Star Kitchen's parent company is a food products trading company, committed to presenting the best of Thai and Vietnamese food. All vegetables are grown in Japan, while all spices are imported from Thailand and Vietnam.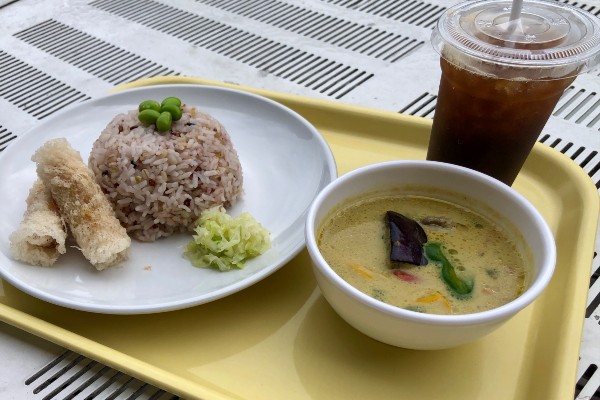 "We opened in May 2021," said Ms. Linh, explaining that while the many office buildings in the area have restaurants, none have a food court like the TFT Building, hence the popularity. "There are four Thai curry dishes on the menu: green, red, yellow, and massaman, with the spiciness in that order. All are 500 yen, a very reasonable lunch price. The four curries are all vegetarian, there's no meat at all. Customers can choose either plain white rice or the in-vogue rice with 16 grains (ju-roku koku mai). Interestingly, the green curry is the best selling item on the menu and also the hottest, while the massaman curry is the mildest and is second favourite."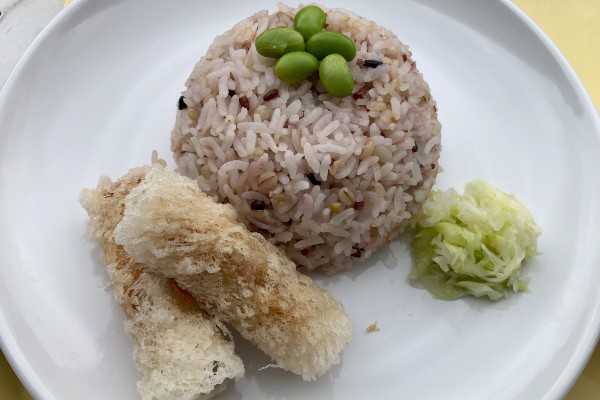 Each curry comes with rice (the multi-grain rice is pictured here), edamame green soybeans, and some vinegared cabbage. Vinegar dishes are widely eaten in countries with hot, humid summers and definitely provide a boost to those suffering from summer heat fatigue. On the left here are deep fried rice paper spring rolls, available as an extra topping at two for 100 yen.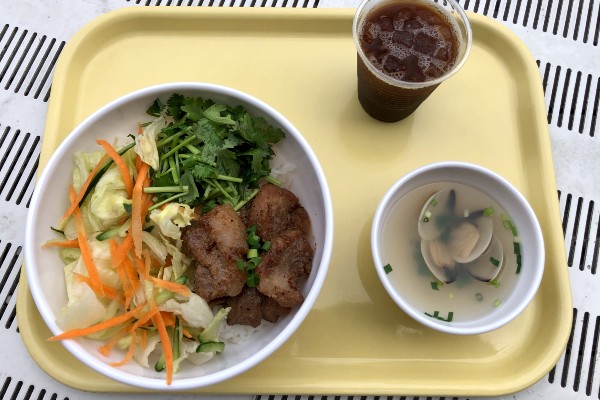 A new face on the menu is this Vietnam-style barbecued pork, salad and Thai coriander on cơm tấm rice. A hearty bowl of juicy pork, lettuce, carrot, cucumber, and lashings of the fragrant green herb that has taken the culinary world by storm in recent years, it's excellent value at 600 yen including tax. All prices include tax. The pork and pakchi bowl, as Thai coriander is known in Japan, comes with a tasty serving of white clam soup.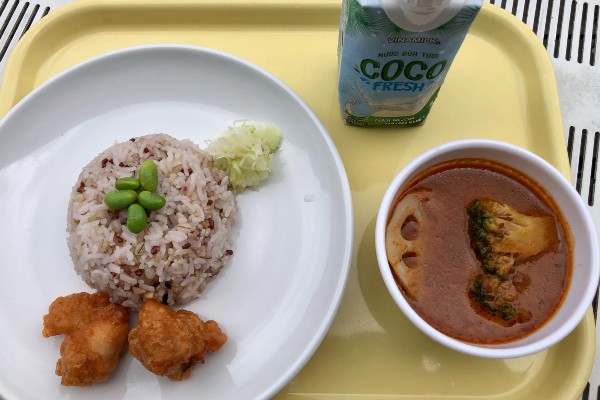 The massaman curry features lotus root and broccoli in a mild sauce. Here the extra topping is two pieces of Japanese style deep fried chicken (karaage) for 100 yen.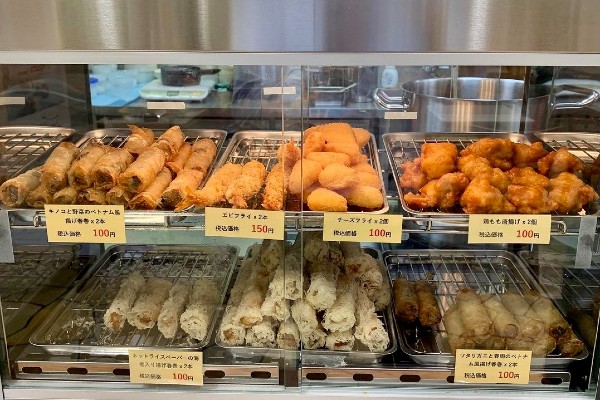 Other toppings available are deep fried cheese, shrimp spring rolls, crab spring rolls and mushroom spring rolls at two pieces for 100 yen, while fried white fish is 150 yen extra.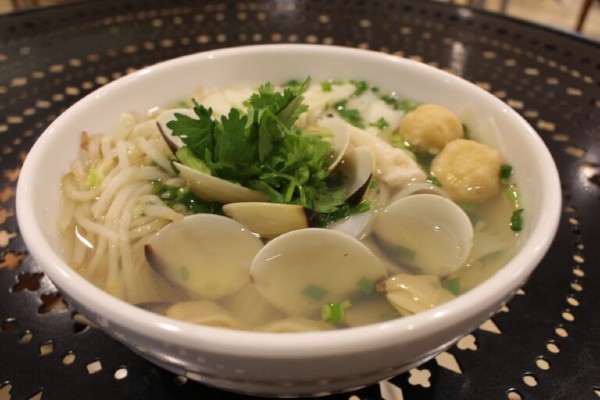 Fans of Vietnamese food will be thrilled to see this splendid pho on the menu. Chicken soup based, it features white clams imported from Vietnam by Asian Star Kitchen's parent company, fish balls, wontons, beansprouts, and pakchi. The springy textured noodles combine nicely with the low-oil, freshly-flavoured soup and makes an excellent lunch at 500 yen. As Ms. Linh explained, "Pho is actually breakfast food in Vietnam. Its combination of rice noodles, soup, and herbs is kind on the stomach, satisfying and an invigorating way to start the day. We hope to start a pho breakfast time service when the current pandemic calms down."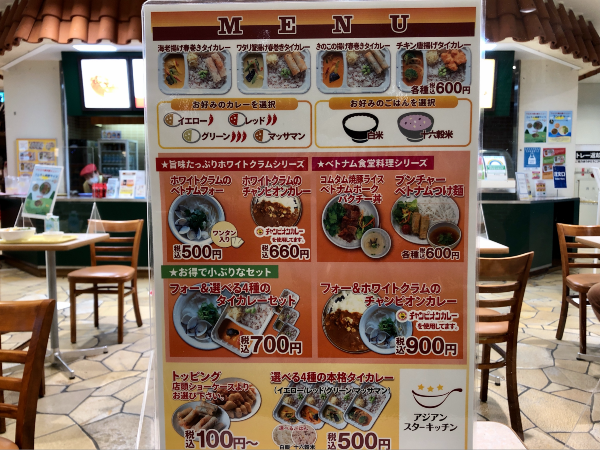 The menu offers an interesting mix and match option for those who'd care to experience the joys of both Thai and Vietnamese food. For just 700 yen, customers can enjoy a medium size bowl of pho and one of the four curry set lunches, which again represents terrific value. The menu also features an intriguing collaboration with the renowned Champion Curry of Kanazawa, a 60 year-old Japanese curry house that's recently become a hit in Los Angeles! For 660 yen customers can enjoy a Champion Curry with additional white clams from Vietnam.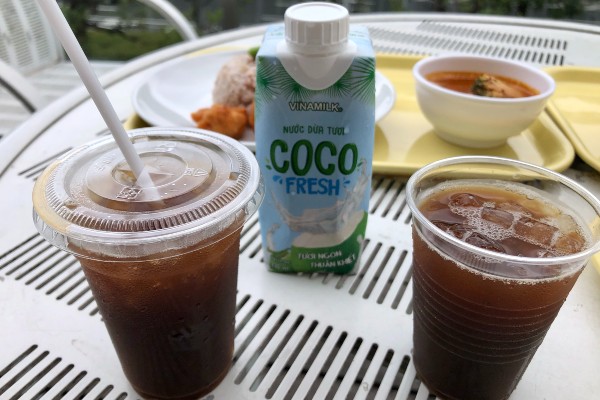 Vietnamese coffee is justly recognized around the world and the coffee at Asian Star Kitchen is no exception. It's also only 10 yen at lunchtime! Packs of Arabica Robusta drip coffee are available at five filters for 100 yen, while the refreshing coconut water is just 120 yen. The spacious interior of the TFT, with its lulling fountain, is pleasantly cool in summer, while the wooden outdoor deck with views of Tokyo Bay must be a relaxing place to enjoy lunch in spring and autumn. If you're visiting or working in the area, why not drop in to Asian Star Kitchen and sample the best of Thai and Vietnamese fast food that won't break your wallet!
Story and photographs by Stephen Spencer