Beautiful Food, Beautiful Design
Published: February 3, 2021
To call Bishokuzai Ugetsu a Japanese pub (izakaya) feels like a monstrous understatement; it's more like a curiosity shop crossed with a museum that sells fine food and drink at very reasonable prices. On a recent chilly winter evening, we dropped in to chat with head chef Mr. Kiyomitsu Mikajima about his most interesting workplace.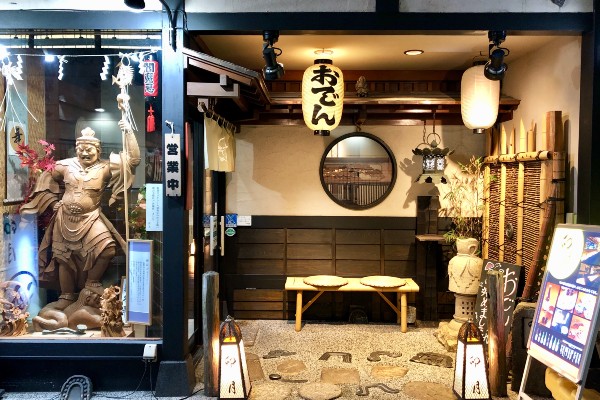 Located just a few metres from exit 6 of Monzen-nakacho station, Bishokuzai Ugetsu is unmissable. The window display features a wooden statue of Virūḍhaka, a major Buddhist deity and the King of the South, often portrayed with a sword or spear and trampling on a small demon. Embedded in the floor at the entrance are onigawara, ornamental ceramic roof tiles designed to ward off evil spirits. Very apt in these days of the coronavirus pandemic.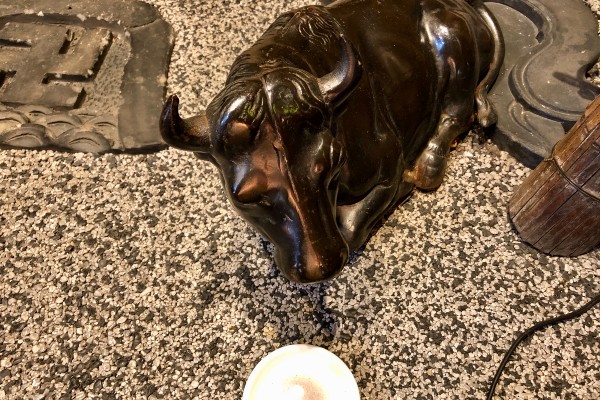 The entrance also features a small statue of an ox seated in front of a plate of salt. According to Ms. Akimi Kitayama, manager of Bishokuzai Ugetsu, Japanese legend has it that long, long ago a young man rode an ox when he traveled to meet his sweetheart. The man got the ox to wait while the lovers dallied by giving it a plate of salt.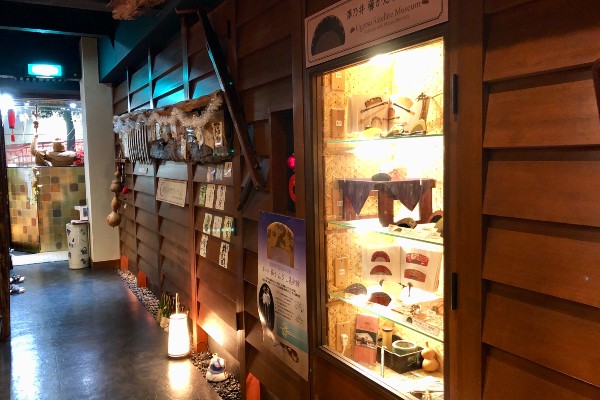 One enters Bishokuzai Ugetsu via a corridor with semi-private rooms on the right and a display case of ornate hairpins and combs from the Sawanoi Kushikanzashi Museum in Ome, western Tokyo, on the left.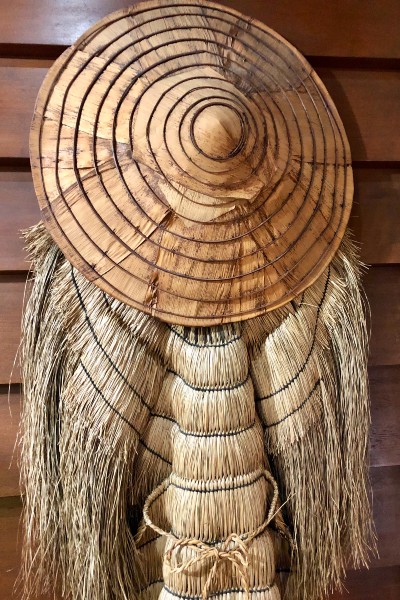 All manner of interesting items are dotted throughout the establishment, such as this straw hat and rice straw raincoat; traditional rainwear in old Japan.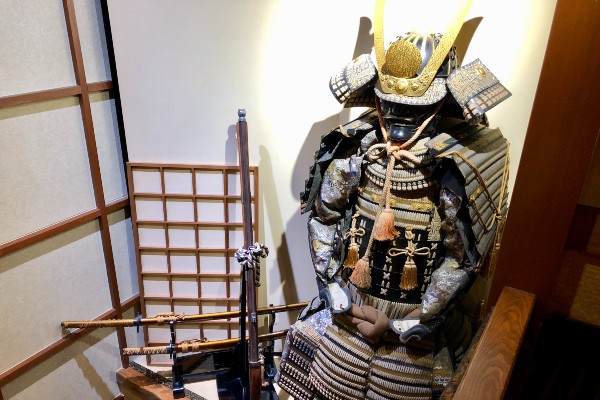 At the head of the stairs to the basement this suit of armour, a flintlock and Japanese swords are displayed.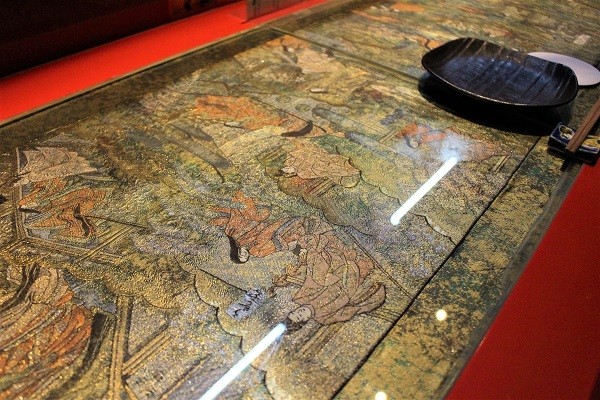 Even the counter in front of the kitchen area is decorated with a beautiful kimono belt depicting scenes from the Tale of Genji.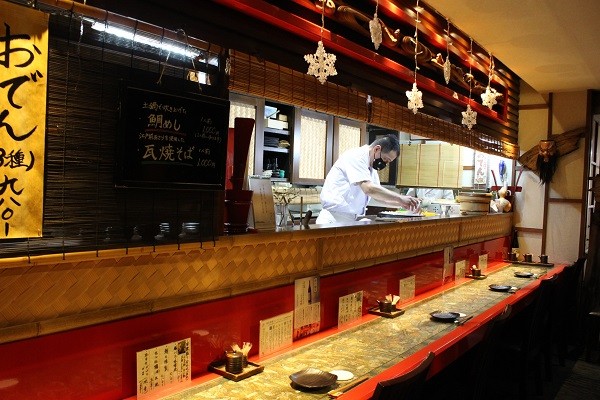 Fukuoka-born head chef Mr. Mikajima has over 20 years experience in preparing Japanese food. The focus at Bishokuzai Ugetsu is squarely on serving seasonal items of the highest quality, selected from the Toyosu Fish Market. "You can't fool people with the quality of ingredients, especially fish," he explained. "Our creed is presenting the finest seasonal items in a way that draws out their natural flavour to the highest degree."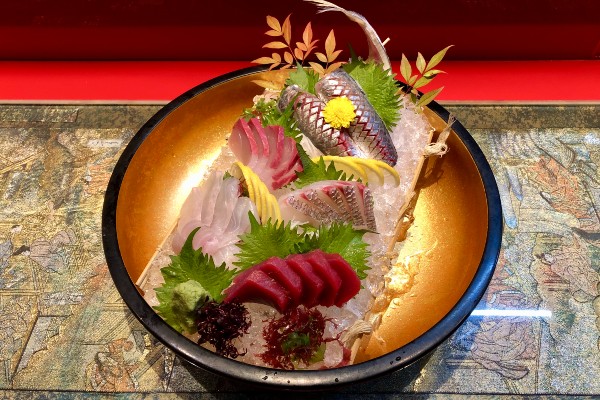 The head chef uses his experience to satisfy all five senses. This gorgeous sashimi selection features sea bream (tai), flounder (hirame), Pacific bluefin tuna (honmaguro), greater amberjack (kanpachi) and horse mackerel (aji) chosen by the head chef. Prices begin at 3,000 yen.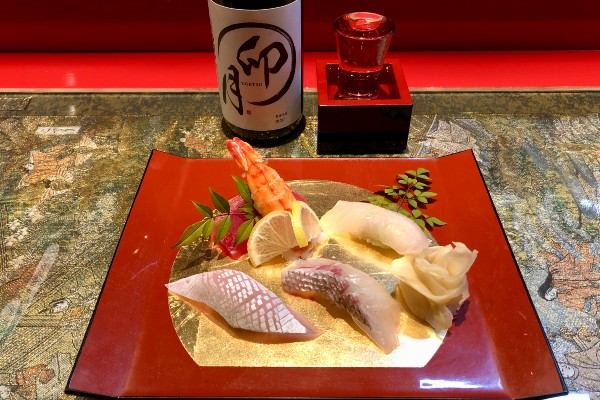 This exquisite Edomae sushi selection, served with a bowl of delicately flavoured clear soup (suimono) is priced at 1,500 yen. Edomae sushi differs from contemporary sushi in that it uses red vinegar made from sake lees and the portions tend to be larger too. While the daily menu at Bishokuzai Ugetsu is dominated by sashimi, sushi, cooked fish and seafood, it also features fresh seasonal vegetables, deep-fried items such as octopus, oysters and croquettes, together with the matcha-infused buckwheat noodles known as kawara-soba, from Shimonoseki in Yamaguchi prefecture.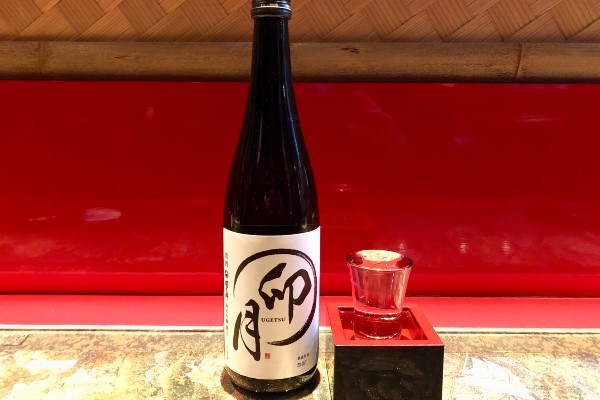 The sake shown here is the Ugetsu, specially created by the 319-year-old Sawanoi Brewery in Ome, Tokyo.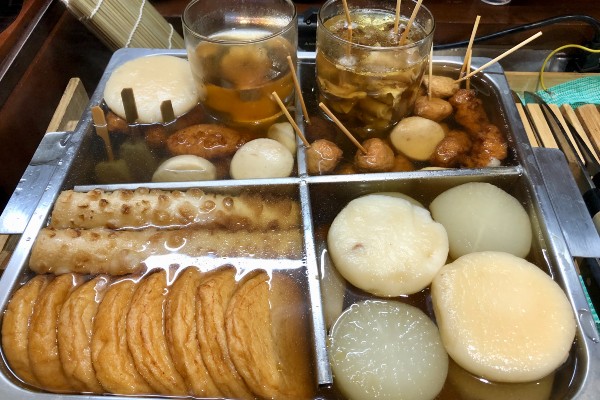 Alongside winter vegetables such as lotus root steaks, Bishokuzai Ugetsu offers oden from November to March. A classic winter warmer, oden features a variety of fish cakes, boiled eggs, daikon radish, konnyaku and more, simmered in a light, soy-sauce flavoured broth and eaten with a dash of sharp Japanese mustard. It's great. Here, the broth has a Kyoto-style bonito and kelp base, with ingredients such as the western Japan favourite beef skewers and the tubes of processed fish meat known as chikuwa, equally popular in the east. The oden could be said to represent Mr. Mikajima's career, which has taken him all over the country.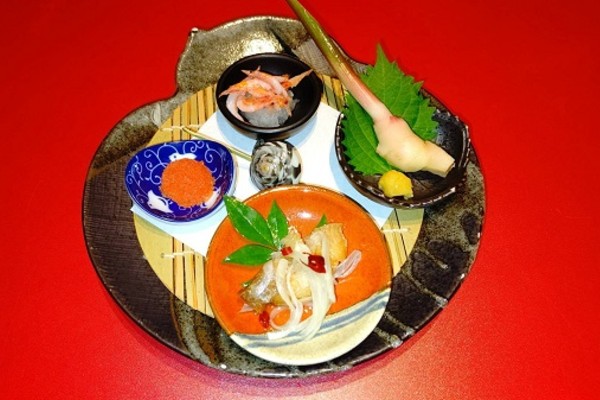 The restaurant also offers a number of course meals which feature a variety of dishes that challenge the skill of the creator. This beautiful array is the 5,000 yen course, perfect for a special occasion.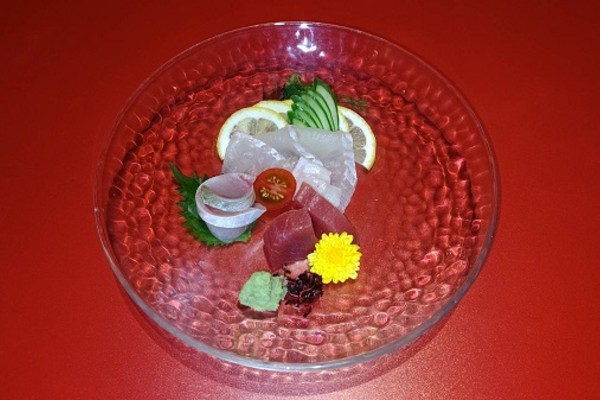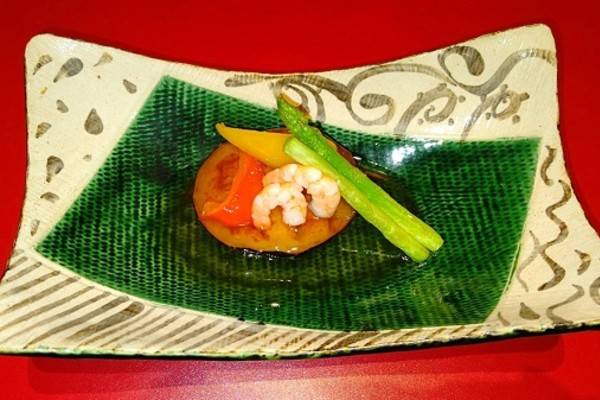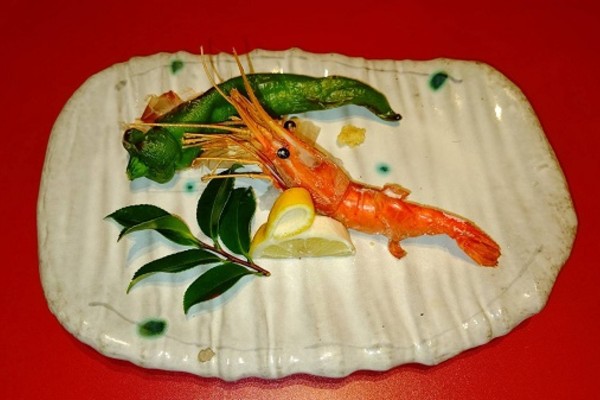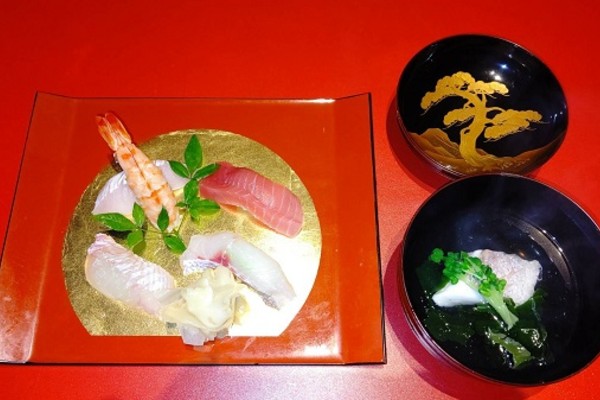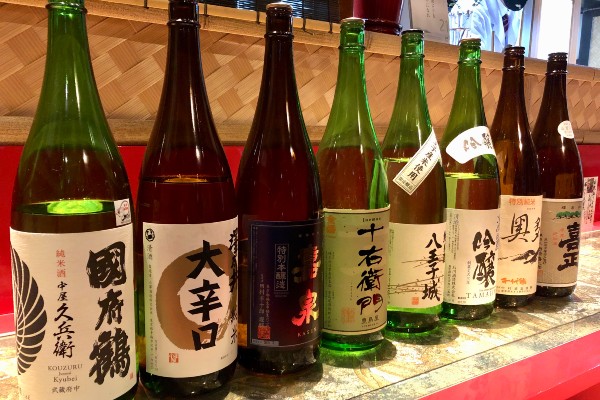 Beautiful food is enhanced by beautiful sake. The restaurant offers eight different varieties, all made within the geographical borders of Tokyo.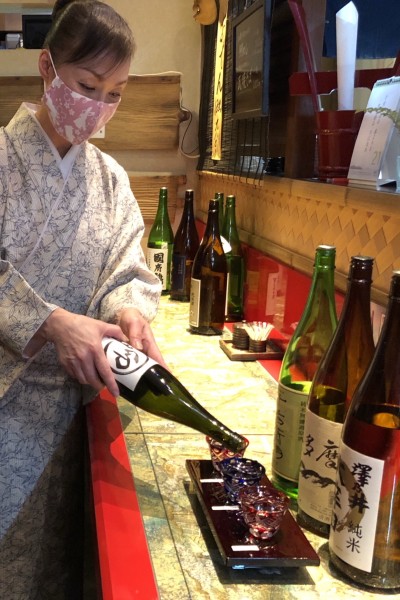 A set of three different varieties is available for just 1,000 yen. Ms. Kitayama gently pours the drinks.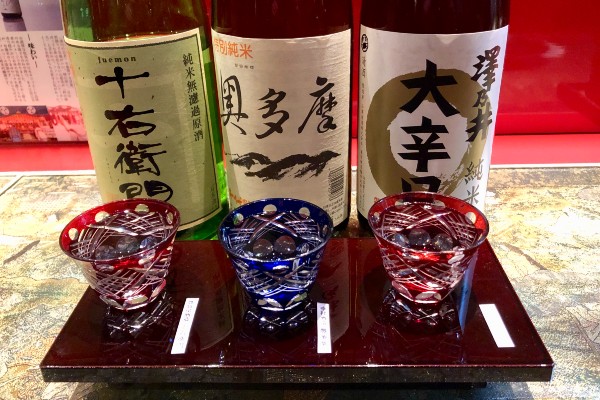 The sake is served in Edo Kiriko glassware, handmade by artisans in Tokyo to traditional designs.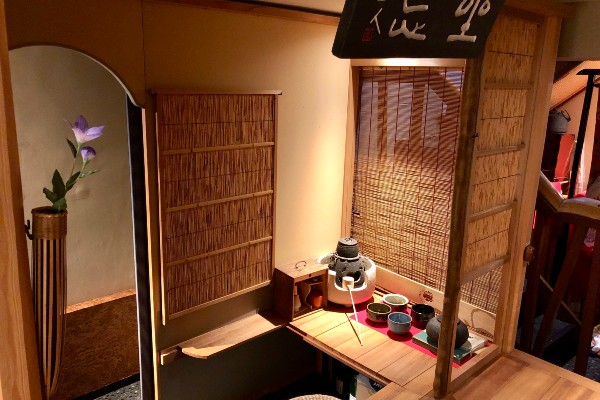 We were astonished to discover that the basement at Bishokuzai Ugetsu features a fully functional tea house. "Customers who eat lunch here can use the tea house for free," explained Ms. Kitayama. "Many groups of ladies bring Japanese confectionery and enjoy a traditional tea time after they have lunch upstairs. We'd like as many people as possible to use it; everyone interested is welcome to call for more information."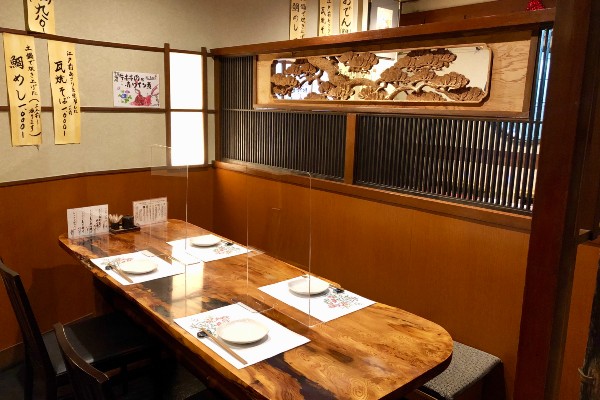 Even the semi-private side rooms are separated by exquisitely beautiful carvings of pine trees. Children are most welcome at Bishokuzai Ugetsu too. One can only imagine they find it a most fascinating place. All tables feature the ubiquitous plastic partitions we've grown accustomed to during the pandemic and the check out booth is protected by heavy plastic sheeting too. Customer safety is top class.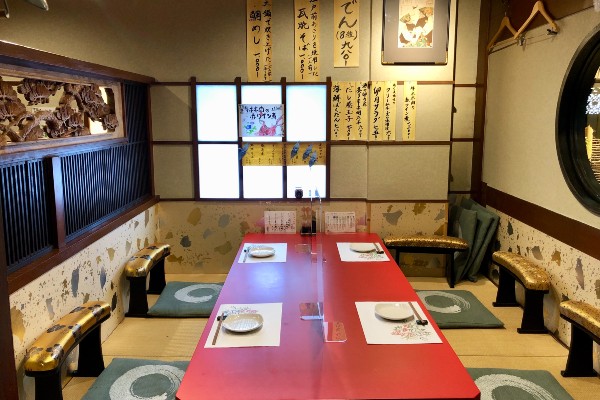 Beautiful food and beautiful design, that's Bishokuzai Ugetsu. And it won't break your wallet either, as lunch begins at just 850 yen. In these turbulent times elegant, refined food in a stunningly decorative restaurant is a treat to be valued indeed.
Story and photographs by  Stephen Spencer