Begin to experience your final memory at the Colorful GraveTokyo!
Published: August 28, 2023
※Prices are subject to change from those in effect at the time of the interview. Please contact the store directly for the latest information.
Coffin Entry Experience Workshop Find out why "death" isn't the end of your story.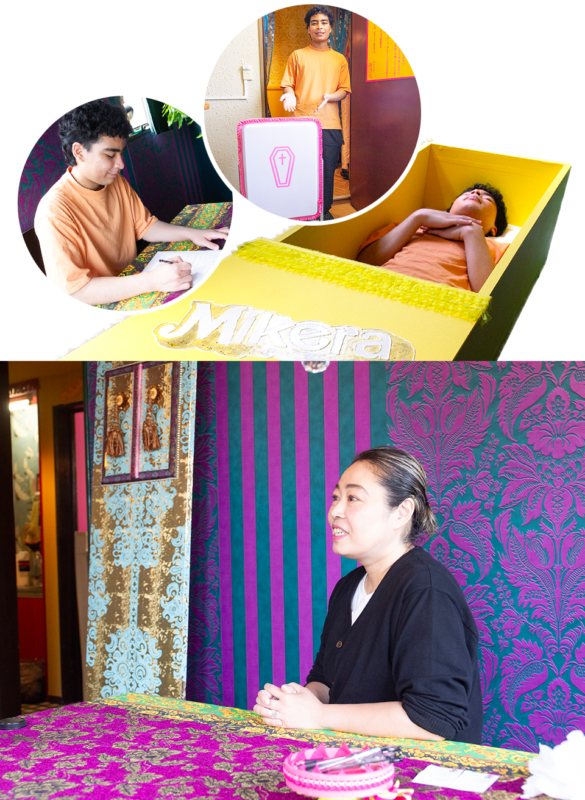 Are you familiar with the term "Coffin Entry Experience"?
"Coffin Entry Experience," which involves the literal act of getting into a casket, is an experience often conducted in temples, memorial halls, and other similar places as a part of "end-of-life planning" seminars. While the concept of end-of-life planning might seem distant to individuals in their 20s and 30s, the casket experience workshop is designed to pique the interest of even younger participants.
The workshop is led by Ms. Mikako Fuse, a designer and author who proposes and creates "cute coffins" and "cute funeral accessories." She previously worked at a toy manufacturing company that dealt with character merchandise and had experience developing an original design cremation urn brand.
Ms. Mikako is experienced and talented in designing urns and coffins. As well, she does an excellent job creating a comfortable atmosphere through her shop's design and her kindness toward a sorrowful subject. She is knowledgeable about Japanese culture. In addition to popular foreign culture, which makes the workshop friendly to English-speakers.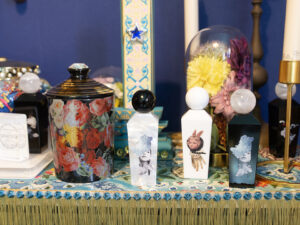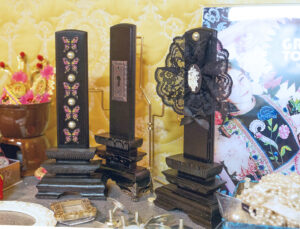 Ms. Mikako had some opportunities to connect with parents who had lost their children and wished to send them off with characters their children loved. She realized the high demand for this kind of service.
She shares, "Funerals are conducted by families and relatives in the midst of sorrow, but in the case of those who pass away at a young age, the stronger the grief of the parents, the more often they are unable to feel the presence of the deceased. Especially if they were living apart, it's surprisingly difficult to know what the deceased person liked. That's why they are placed in a so-called 'ordinary coffin' and stored in an 'ordinary urn.' When I imagined myself in that situation, there was a slight sense of discomfort. I felt that I would like my final moments to be sent off in a way that reflects who I am."
As a son, I can understand how parents would find it difficult to know what their child liked, especially during a time of grief. The best way to memorialize someone is to have the person's direct input on how they would like to be remembered. While the "Coffin Entry Experience" is direct to the subject, indirectly, you can become closer to your loved ones and have a deeper understanding of them.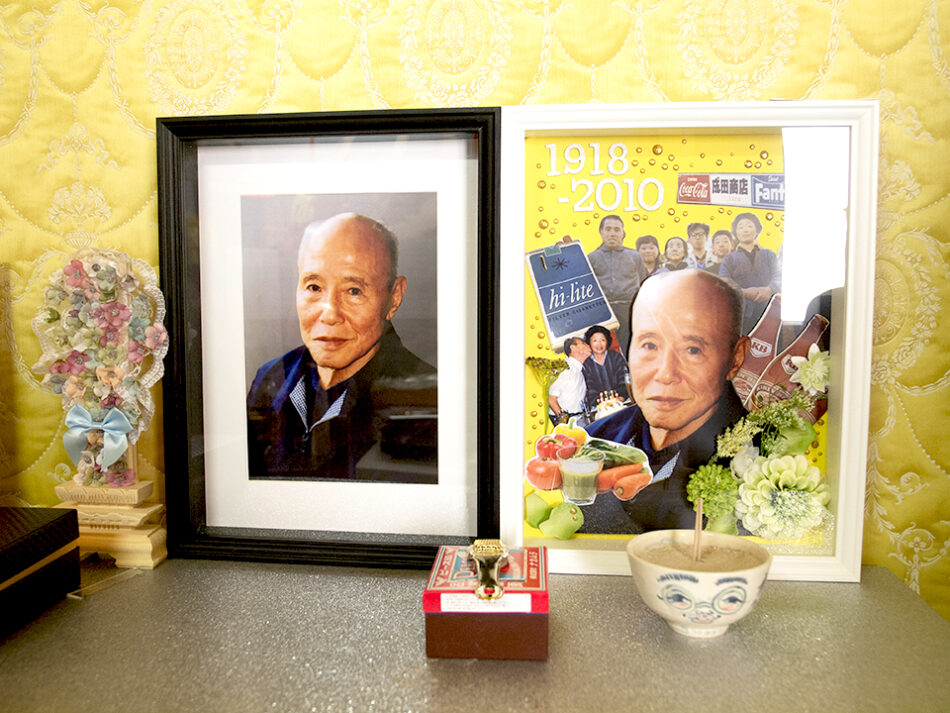 In Japan, "death" has long been regarded as a subject of fear, and there haven't been many opportunities for families and friends to openly discuss "death" or "funerals." in the past. However, in recent times, there has been an increase in people engaging in "end-of-life planning," and preparing "DIY funerals," where they prepare their own funeral arrangements without relying on funeral homes. This shift reflects a growing desire for people to curate their own funerals, aiming to embrace a personalized ending.
There are many feelings one can have about death after an initial sadness about the subject. In Japan, It is normal to visit the graves of your loved ones and take care of them, even after they have passed. I think we should plan how we would want our last memory to be remembered.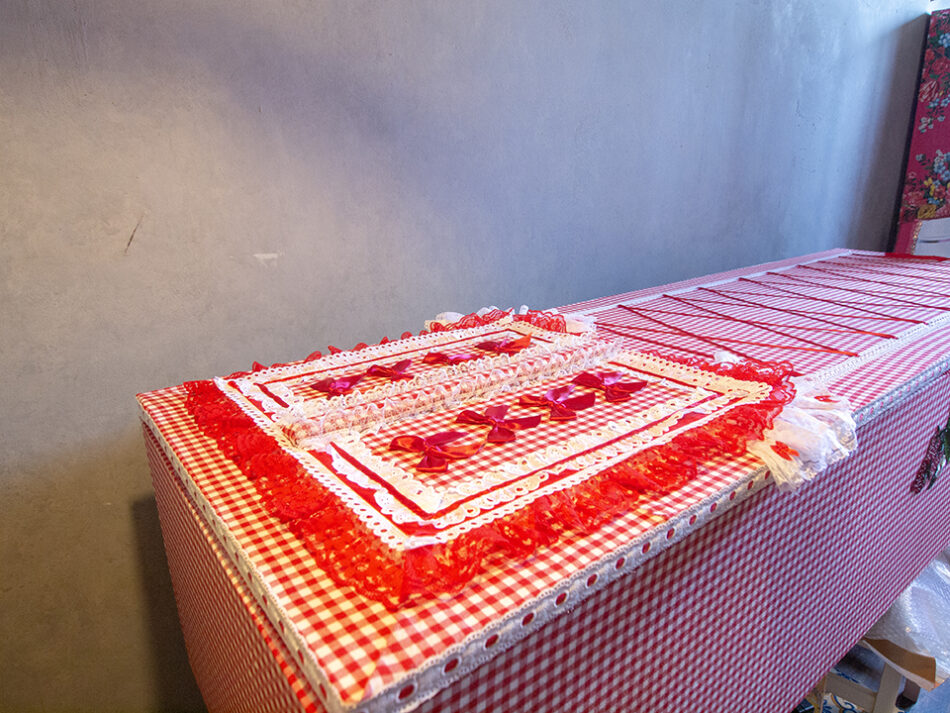 Caskets made by Ms. Mikako are remarkably vibrant and cute.
With its colorful palette and embellishments like frills and ribbons, it is hard to believe that these are coffins from first glance.
However, for instance, if someone had a liking for a certain fashion, the most fitting ending for that person could be to make a coffin that extends along their fashion line.
Looking at the coffins created by Mikako Fuse, this idea becomes remarkably understandable and convincing.
Also, the colorful palette of the coffin contrast the usual black that is associated with death and funerals. It doesn't have to be a time of sadness if you decide to customize your own coffin. Everyone has their own interests and values that they want to be remembered by, and your coffin is an opportunity to express those to the world.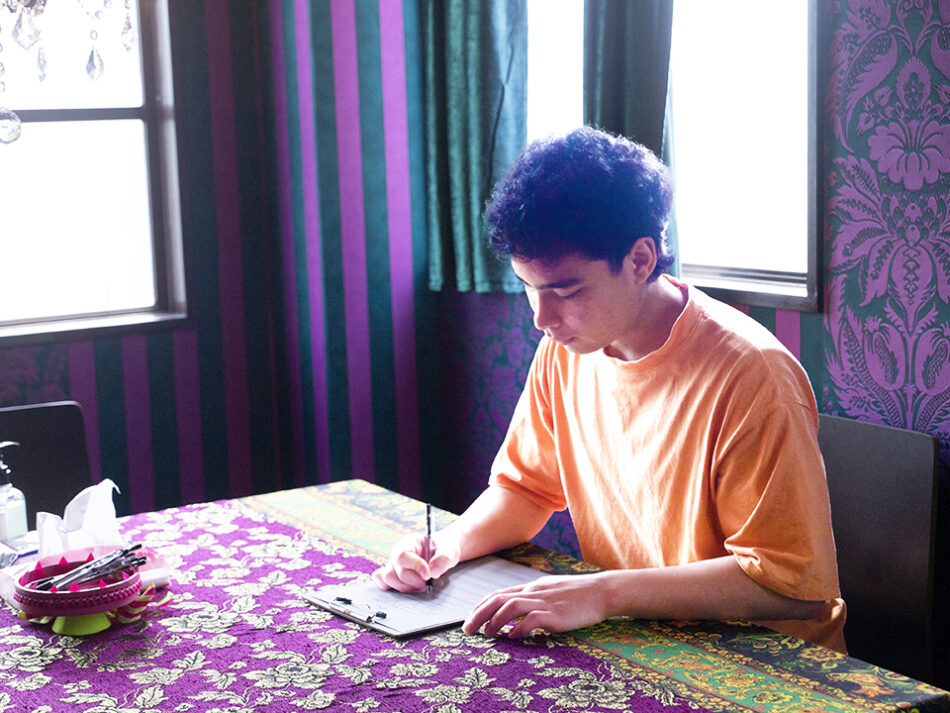 Various thoughts arise during the few minutes inside the coffin.
GRAVETOKYO not only offers custom-made caskets and urns, but also provides the opportunity to actually experience being inside these adorable coffins.
There are 2 types of experiences available: "Coffin Entry Experience" for one person, couples, or with a group of friends for around 30 minutes, or group workshops for 2 hours.
For the individual coffin entry experience (2,500 yen) which is a reservation-only basis, participants can make the reservation through DM on Instagram.
On the day of the experience, participants will begin by first planning their funeral, and writing the details on a paper like how old you will be when the funeral takes place, what might have been the cause, and what songs you would like to have played at your funeral, etc.
On the form, You'll be asked to answer several questions about yourself personally. While the questions might be simple, the answers you give express who you are. You can go with a group, like your family or friends. The first thought that comes to mind is to go with your best friends because filling out the form with them and having fun conversations will bring the friendship closer.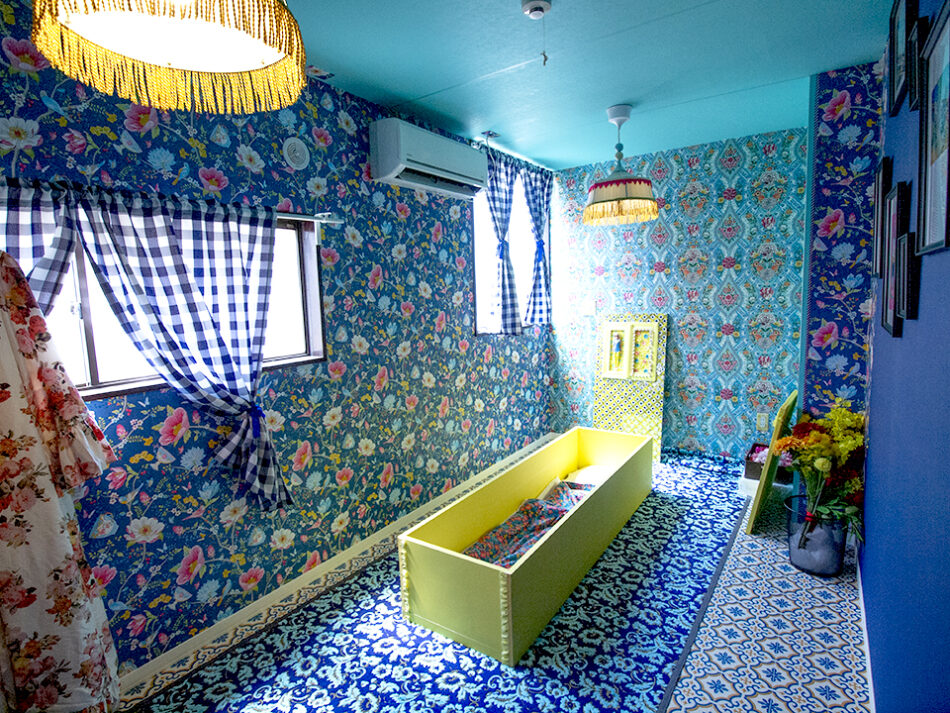 After writing the form, participants will be taken to a room with a casket.
The room is prepared by Ms. Mikako with an artistically decorated space, a vivid yellow casket.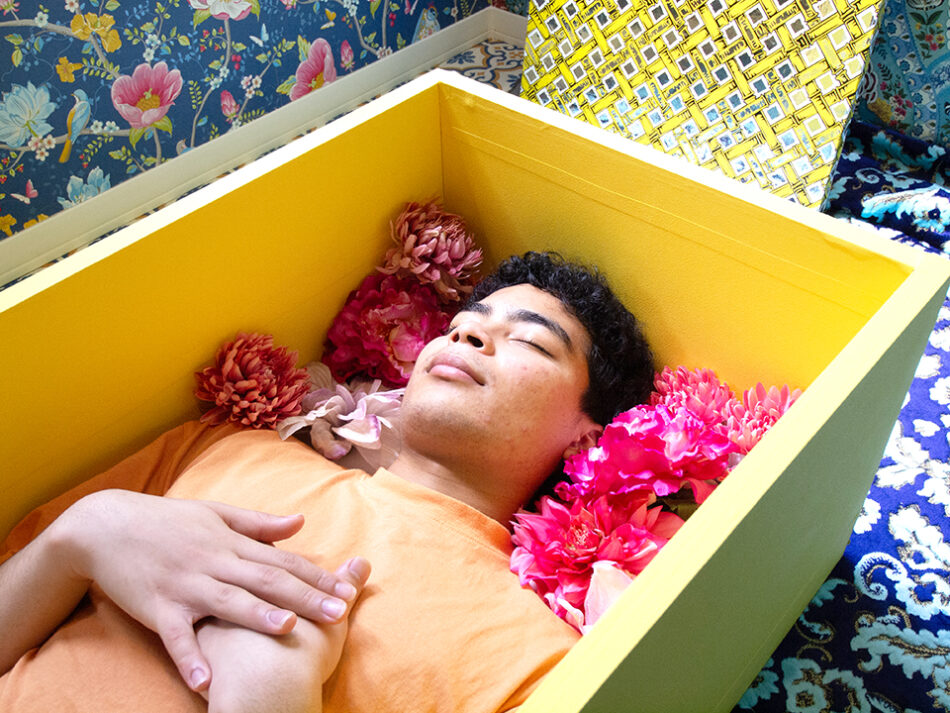 The coffin lid is closed after participants lie down and flowers are placed around the face.
Once the lid is closed, inside it is dark and sort of peaceful in a good way. Most people spend their day looking at imagery and noises, while being in the coffin allows you to focus on your thoughts and yourself. While the lid is closed, Ms. Mikako reads out what you wrote on the form, while the song you chose is played. Inside, I reflected upon my past, my childhood, and all of the events that led me here to Japan. Personally, I felt emotional, which gave me deeper thoughts on my life.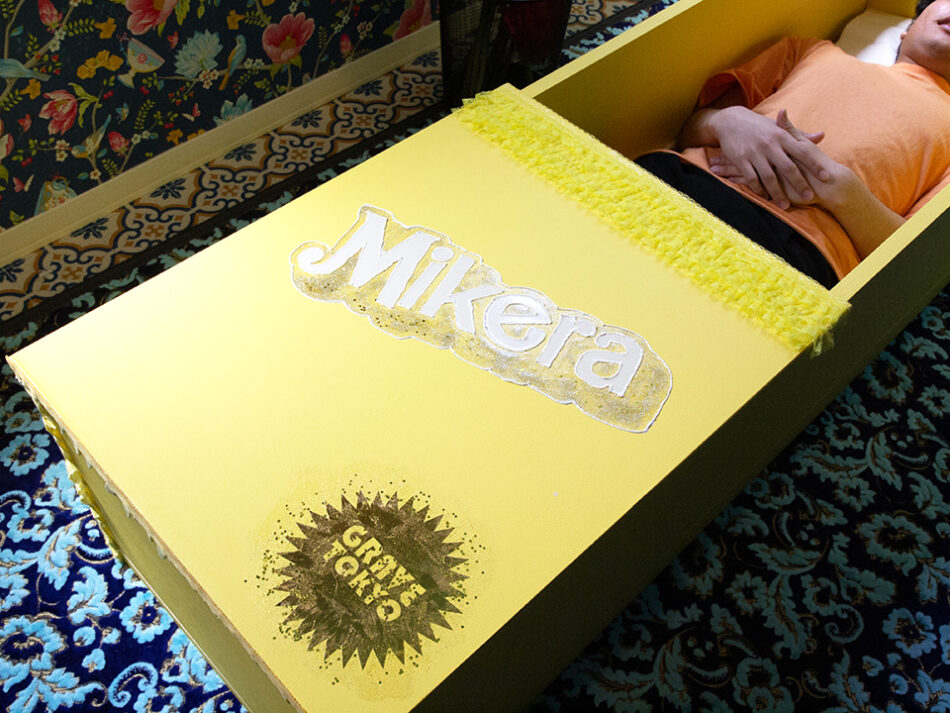 On this day, the coffin looks like a packaging box for a doll.
The logo was also in a pop-style font, evoking thoughts of foreign toys.
The Coffin takes inspiration from the popular doll brand Barbie, which is a popular choice for visitors to choose from because of the new movie. This coffin design is an example of the versatility of her art.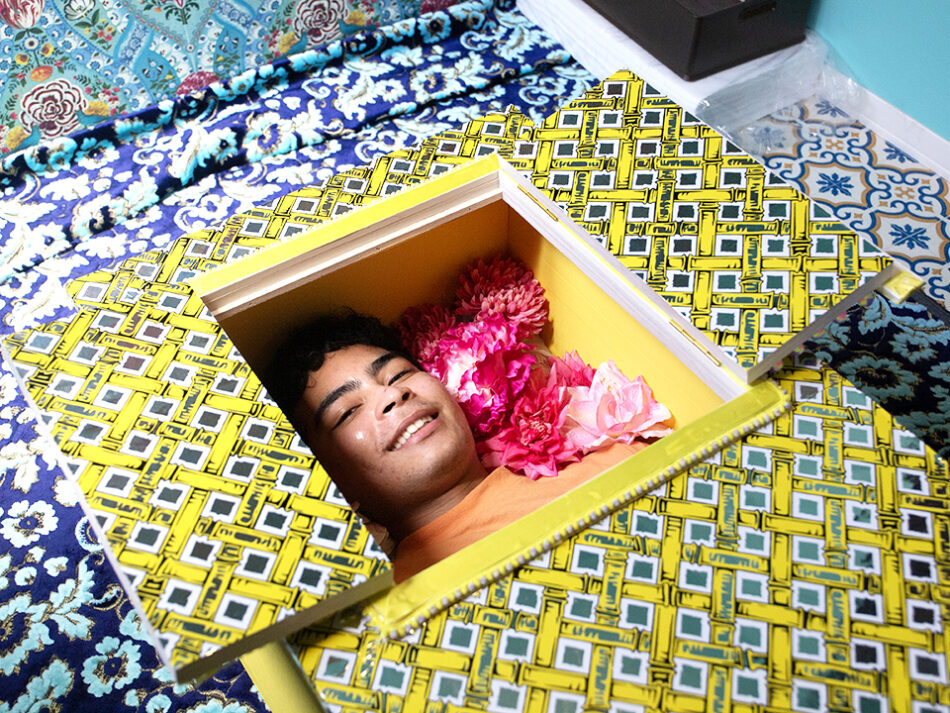 Once the facial part of the lid is opened, it resembles the scene often seen at funerals, the "Final farewell".
Unlike the usual "Final farewell"  that represents the final goodbye, you can look at this moment of the experience as a new start of your life, depending on how you spend your time inside the coffin.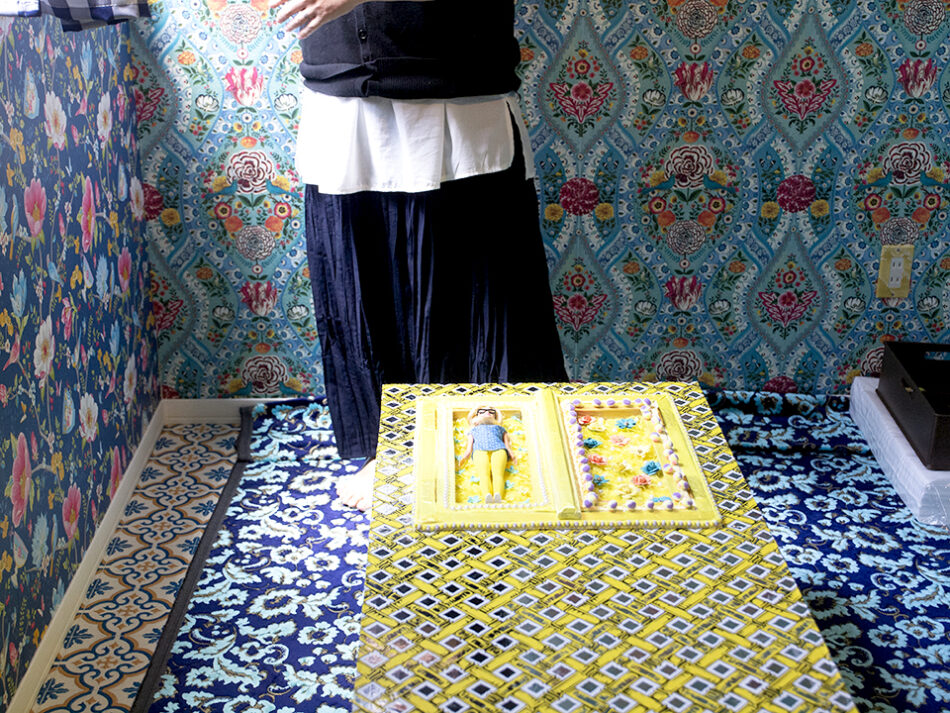 On the closed lid, there is a foreign doll!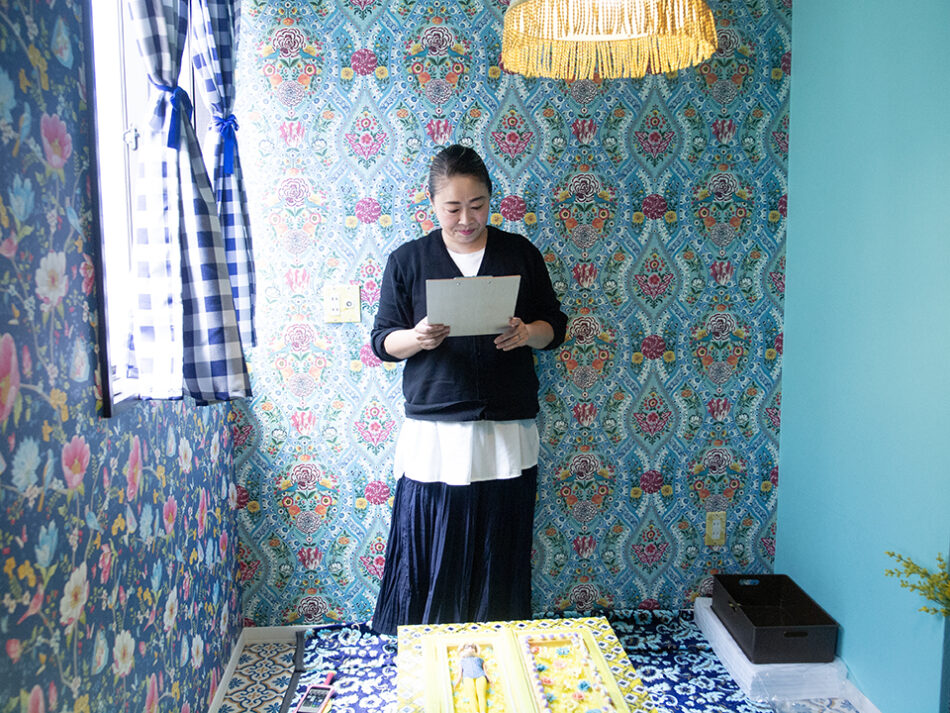 Once the ceremony begins, if you come with family or friends, they'll get to hear how you would like to be memorialized. There are many feelings around death; some fear it, and some are not afraid of it. While I don't fear it yet, I understand that it could come, and this experience reminds me that I have to make the most of my time here.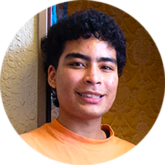 ≪English Article Journalist Profile≫
・Name: Jasper Savoy
・Age: 20 years old
・Nationality: United States of America
・Hobby: Watching and playing basketball
---
※ Information is based on interviews conducted in June 2023. Prices and operating hours might change. Please make sure to verify the details at the store.
※ All prices mentioned in the article are inclusive of tax.