The first time I saw café copain, I had been trekking through the Kiba area after work. It was evening, the air was cold, and I was a flurry of white breaths and shuffling feet as I rushed to my destination.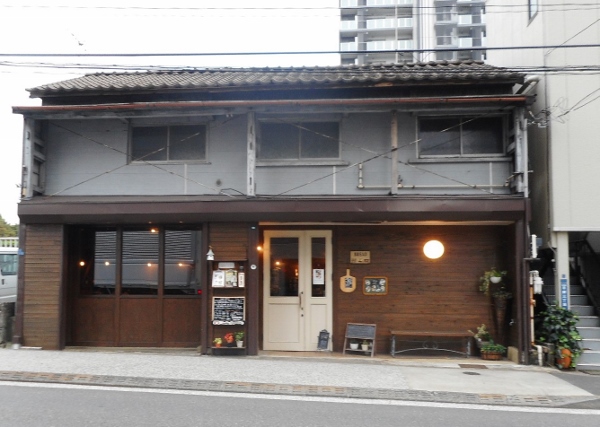 Just across the street from the western edge of Kiba Park, tucked against the Sendai Horikawa canal, café copain sits like a small, forgotten timepiece against the modern buildings towering over it. Its warm wooden façade and the glow of orange light spilling from its windows effectively made me pause, urgency forgotten, to take a peek. Right away, a small, charming display near the door proclaiming "BREAD FRESH BAKED DAILY" and photographs of said wonderful-looking breads convinced me this was a café worth closer inspection. (The siren call of freshly baked bread in particular is irresistible.)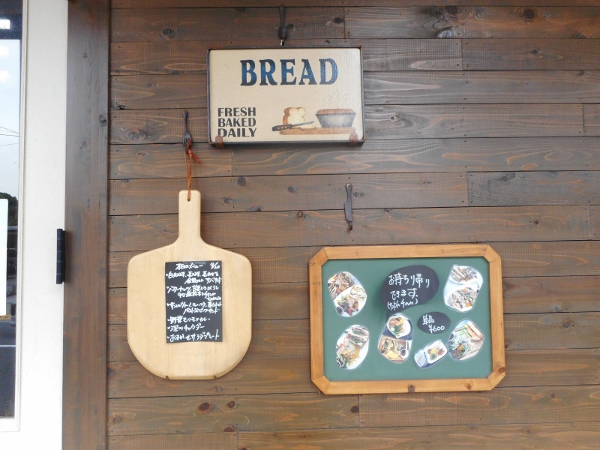 Though my first encounter with café copain had been at nightfall, the best time to visit is actually around lunch and tea times. The shop's claim to fame—aside from the variety of delicious and nutritious handmade breads which (spoiler alert!) turned out to be as good as I had hoped—is their generous use of fresh organic vegetables harvested from Shibakai Farms in Chiba.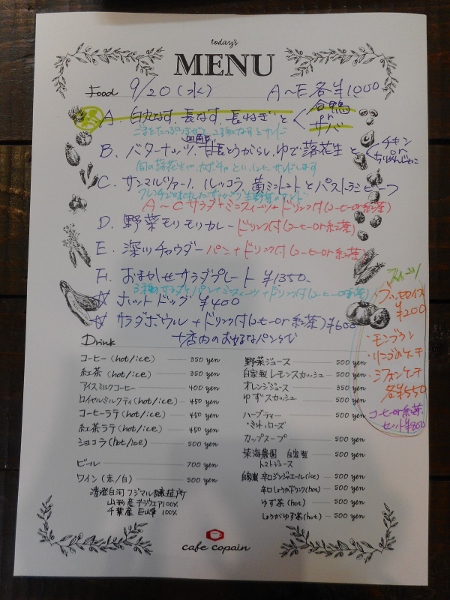 "I hand-write the menu every morning after figuring out what can be made from the ingredients delivered by the farm that day," said owner and chef, Ms. Yukiko Takahashi, when asked about the menu. "So it's always seasonal, and always changing!"
A bright and friendly character, she had finally realized her dream of opening a café two years ago when a good friend offered to help out with the business. In honour of that friend, Ms. Takahashi named the establishment café copain—"copain" being the French word for "friend" or "pal".
(Perhaps it was inadvertent on her part, but I think it's also worth noting that "pain" by itself is the French word for bread, so it's doubly appropriate!)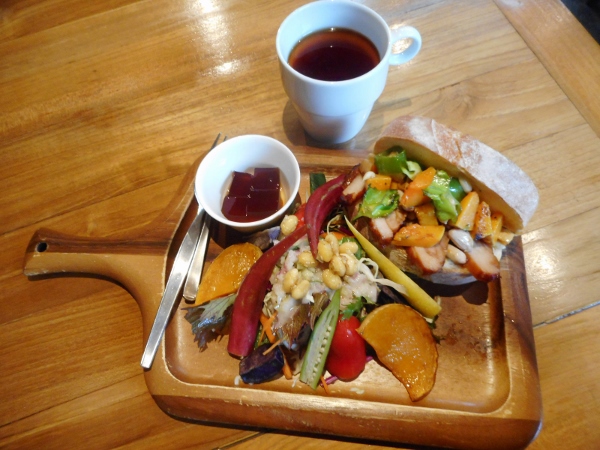 If dropping in at lunchtime, the sandwich plate set is a solid favourite. From the day's choices, I decided to go for the butternut squash, winged bean, sweet peppers and peanuts sandwich. All sandwich plates come with a generous serving of seasonal vegetable salad topped with homemade pickle dressing, a drink (coffee or tea) and a small dessert for just 1000 yen.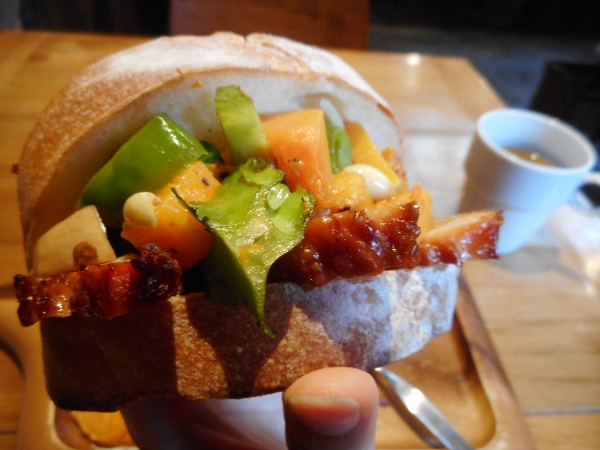 Look at the volume of this! I wonder if I can fit it into my mouth…
Well, there's only one way to eat a sandwich this big: hold it tightly, open your mouth wide, and dive in!
…
Readers, it was a sandwich well worth savouring.
From the get-go, an orchestra of flavours and textures assaults the senses. The bread, which Ms. Takahashi says she deliberately bakes little bit harder than traditional Japanese breads, has a beautiful consistency that holds its own against the myriad other ingredients, especially when toasted; the chicken is juicy and soft; the butternut squash subtly sweet and creamy; the winged beans and peppers provided a satisfying crunch with every bite; and the peanuts adding their nutty, fragrant undertone to the entire symphony.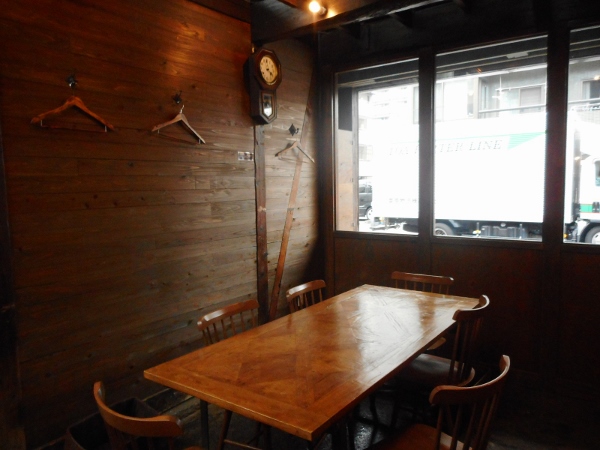 "Oh good!" Ms. Takahashi said with a laugh when I told her it had been a while since I'd eaten a meal with such focus. "People nowadays are always inhaling their food. I wanted to serve nutritious fare that would force them to slow down and chew it thoroughly. That's why the bread is made the way it is, why it's thickly sliced, and why there are so many vegetables in the dish! It makes you appreciate the texture of food, doesn't it?"
I had to agree with her wholeheartedly.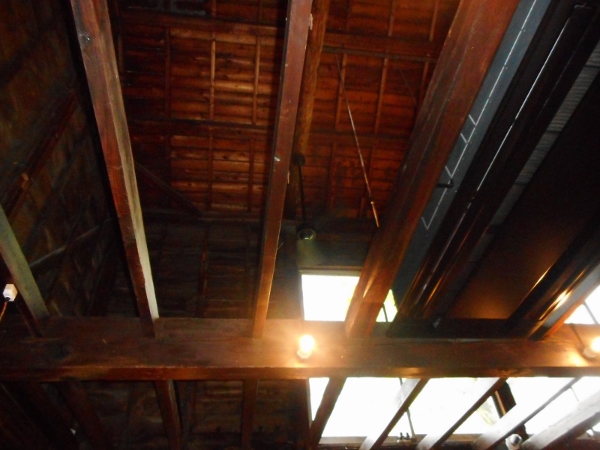 The atmosphere of café copain is also part of the experience. The building is from way back in 1951. Ms. Takahashi said she simply fell in love with the place when she saw it, and it allowed her to truly visualize the café she wanted.
Sitting in the warm, wood-paneled room with its high ceiling, rustic décor and comforting ambience, I felt full and happy. This lunch break, away from the concrete buildings and hurried gulping down of food so common in an office environment, was just the change of pace I needed.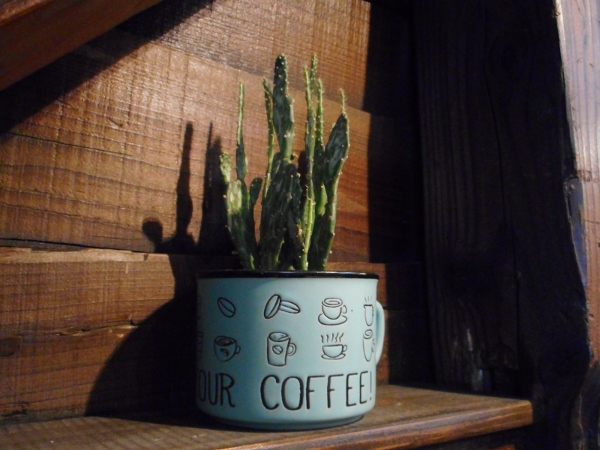 Ms. Takahashi also bakes sweets, which is perfect for tea time. Tempting, but I will save that for another day…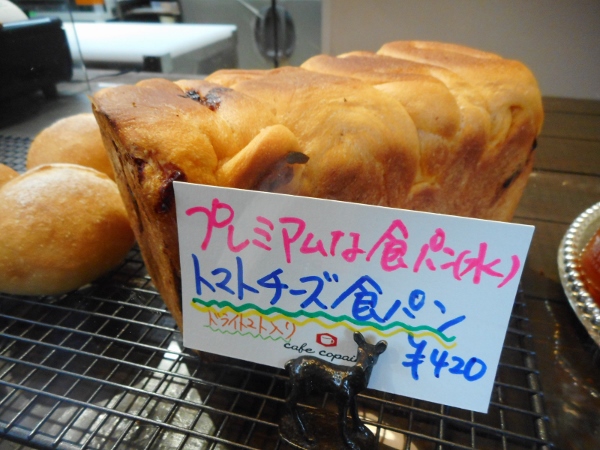 I did decide, however, to pick up a loaf of bread on my way out. Since they are so popular, the breads sell out quite quickly. But I was in luck, and managed to snatch a highly-popular tomato and cheese bread loaf for breakfast.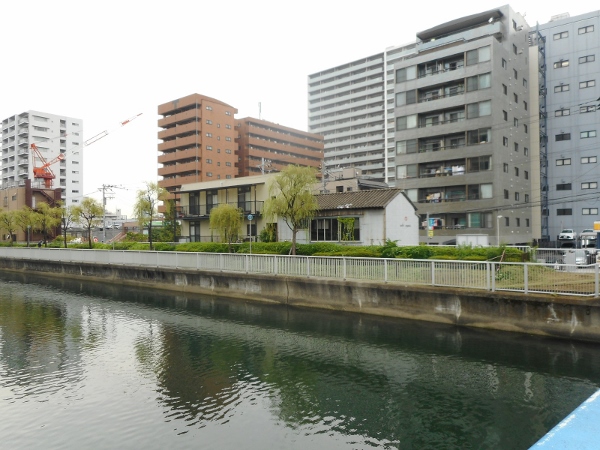 "Come back any time!" Ms. Takahashi said to me as I made my way out. "Especially if you feel like you haven't been eating well," she added as a joke. But in my mind, café copain is a little haven offering a helping hand to busy people who need a space to relax and reconnect with the joy of eating, not to mention get their recommended serving of vegetables!
So, I think she'll see me again sooner than she expects.
Story and Photos by Xianru Shen(Koto City Office Coordinator for International Relations)