Location, location, location is the mantra of real estate agents the world over and nothing could be truer for the cool, stylish cafe, bakery and restaurant on the CANAL.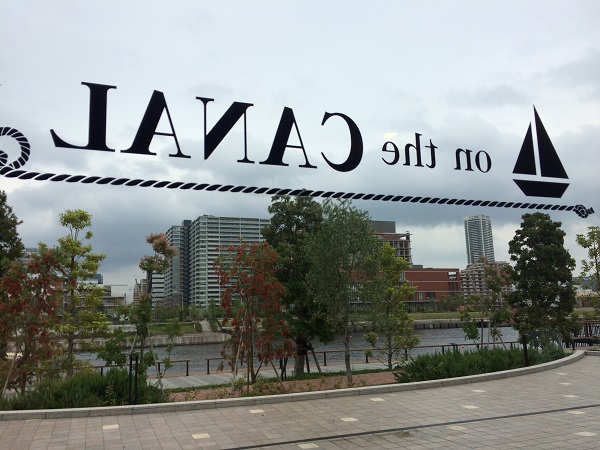 Located a short walk from Shin-Toyosu Station in the bayside area of southern Koto-ku, the high ceiling, brilliant white walls and huge glass windows combine to create an airy, expansive atmosphere.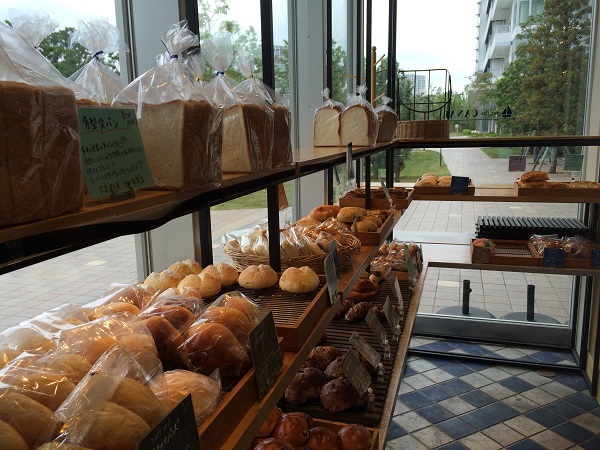 In the bakery section, thick crusty loaves containing figs, walnuts, fruits and nuts rub shoulders with cereal baguettes.
Mouthwatering seasoned cod roe bread lines up alongside some highly tempting sandwiches stuffed with roast beef, soft eggs with mayonnaise and tuna, pumpkin salad, pork cutlets and the like.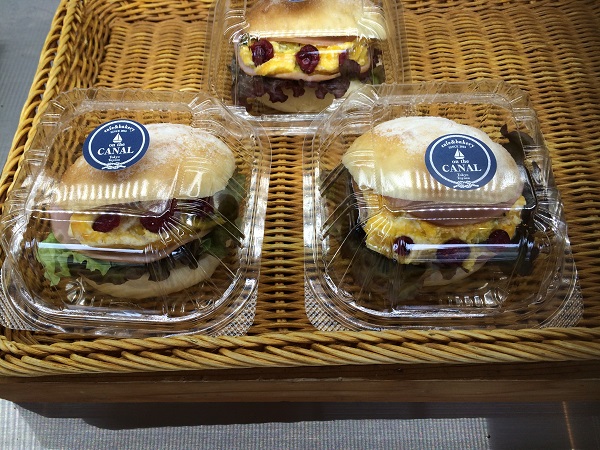 For those with a sweet tooth, baked custard, pain au chocolat and the ubiquitous cream bread look irresistible.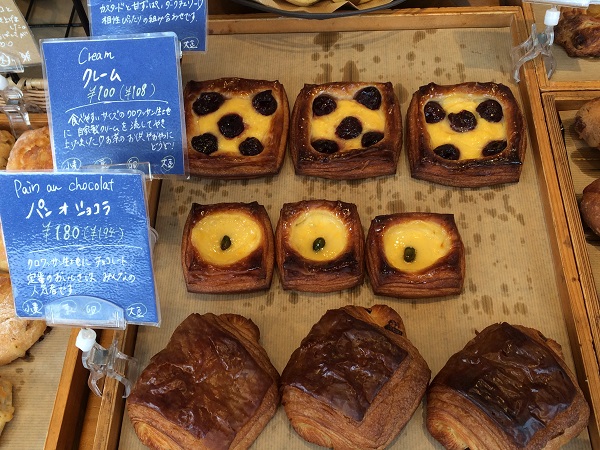 On the restaurant side, manager Mr. Tanokura explains the history of on the CANAL and the contents of the menu. "I've been here since the place opened in July 2015. It's been challenging at times but very satisfying."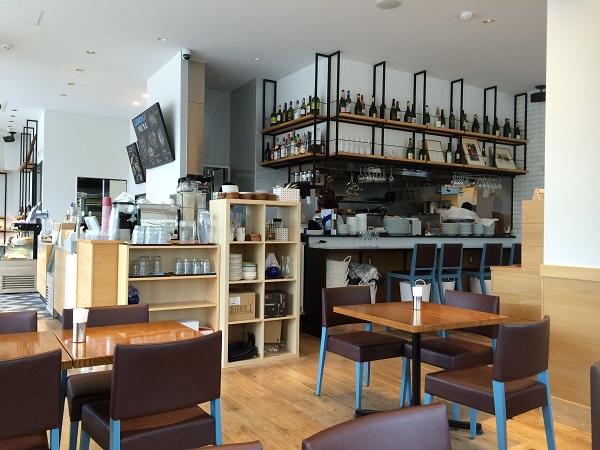 "The restaurant is packed  from an early hour on the weekends as people come here for breakfast. We have such favourites as Eggs Benedict, French toast, scrambled eggs and so on. We serve the premium blend of Toraja coffee from Indonesia."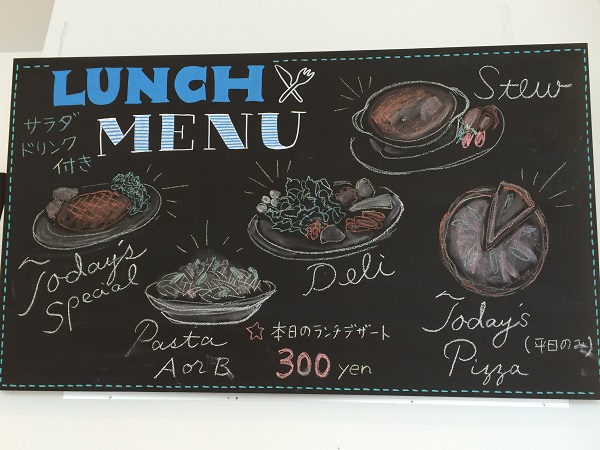 "For lunch we have two kinds of pasta and pizza, served with salad and bread. There are also deli plates with or without meat. And a very tasty pork stew."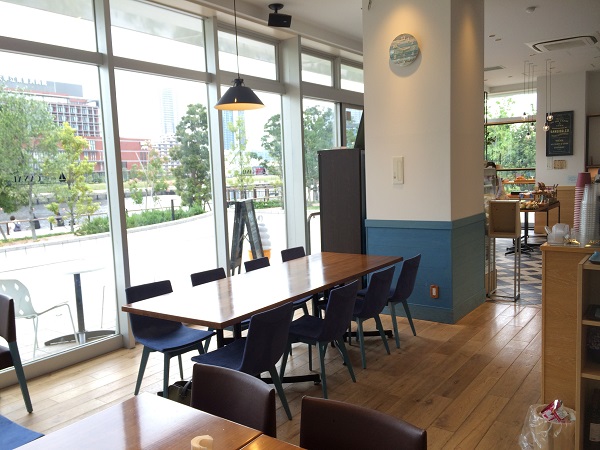 "For dinner there are warm hors d'oeuvres, pork from Kagoshima in Kyushu, duck from Hungary, Daisendori chicken from Tottori and domestic beef. Our shrimp and mushroom ajillo is very popular, as is Italian style tripe in tomato sauce. We sell a lot of South African wine, it's very popular now. We have dolce, of course: cheesecake and chocolate cake. In the afternoon many ladies bring their children for afternoon tea. The Hokkaido soft-serve ice cream is in great demand especially when the weather is warmer."
on the CANAL also sells the famous Toyosu honey, made by bees kept locally.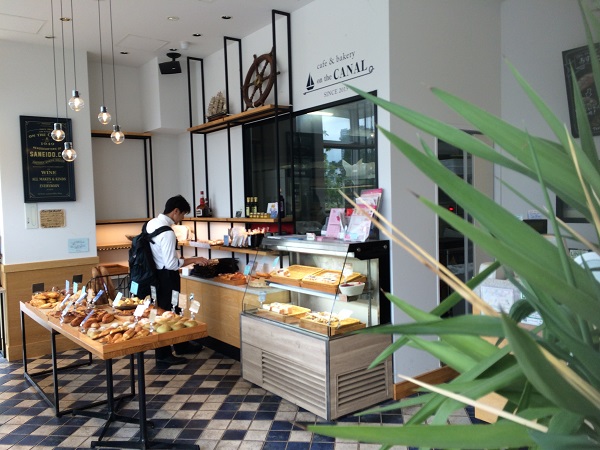 The amphibious bus, SKY Duck, is expected to begin calling in at Shin-Toyosu in the future, gliding in from the canal and straight up onto the road. But why wait for that? Whether it's for breakfast, brunch, afternoon tea or dinner, on the CANAL is a welcoming cafe and bakery with endless tasty treats, set in a glorious location. It's a cool place to chill out and they also sell panda bread. What more could you possibly want?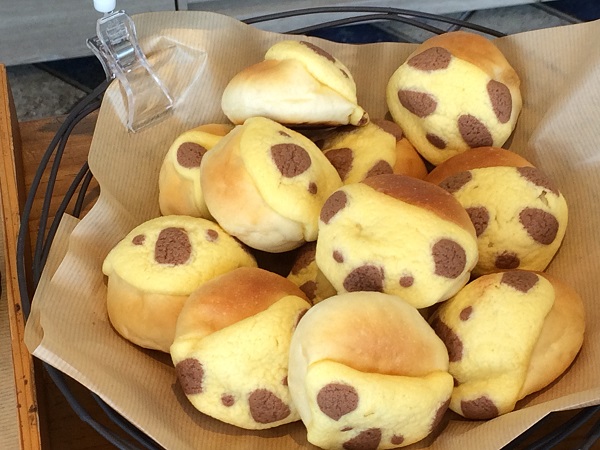 Story and Photos by Stephen Spencer