Anzu is a friendly, and at 16 years old, still energetic Miniature Poodle, who kindly agreed to model for us when we visited CLEANZ Nishi-ojima branch, a pet shampoo and trimming salon.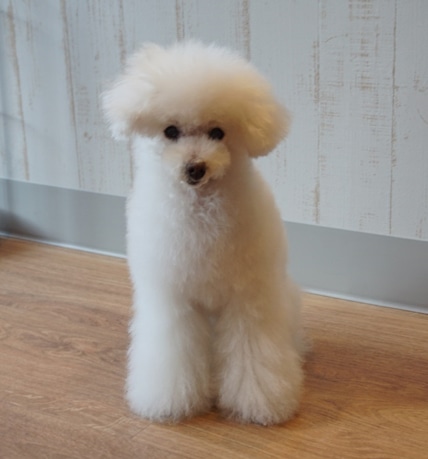 The salon, which is located on Meiji-dori Avenue at the entrance to Sunamachi Ginza shopping street, opened in September 2019, and is run by Ms. Sayuri Sugiyama, supported by two part-time assistants. After training in pet skin care and shampoo technology, the staff are proud to be called "Shamplier" and, according to Ms. Sugiyama, the salon is already building up a client base in the Kita- and Minami-suna area.
The Nishi-ojima branch of CLEANZ is the first Tokyo outlet for a pet salon company headquartered in Matsumoto City, Nagano Prefecture, and offers not only regular trimming, but a full skin care and shampoo service as well. Ms. Sugiyama, with a background of 19 years in the pet care business, told us that the concept of the salon is to relieve the burden some dog owners feel when their pets develop hair loss, odours, and skin troubles, which are all on the increase, and all at a time when people themselves are getting busier and feel it increasingly difficult to handle problems with their pets.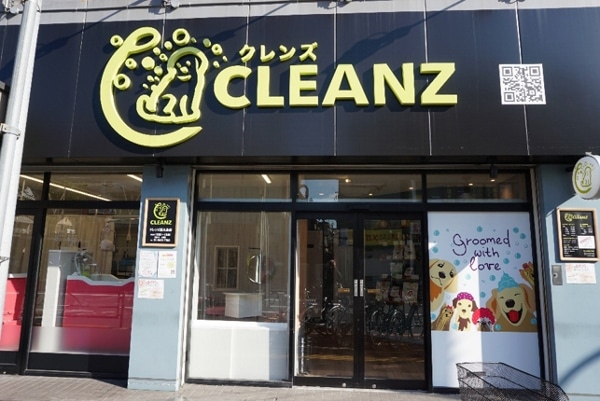 Armed with their "Shamplier" training the team at CLEANZ aim to ease this burden by treating their dog customers (and cats, too) to a programme focusing on washing and care.
Ms. Sugiyama showed us around the area where the shampooing and cutting take place. This is bright and has large windows facing onto Meiji-dori Avenue and so gets a lot of light and inquisitive passers-by, who pause to watch the dogs being groomed.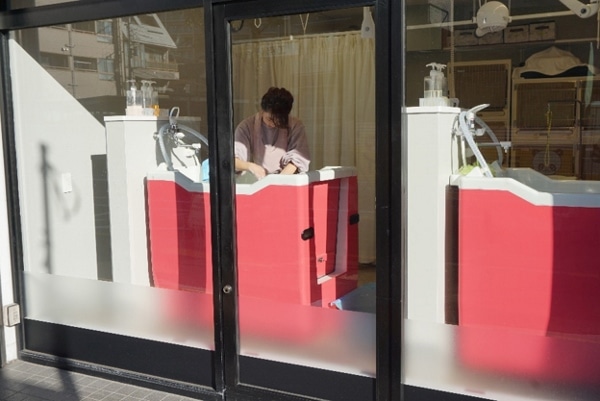 Unlike some pet salons which offer only a combined shampoo and trim, CLEANZ offers an "a la carte" menu: owners can choose whether their four-legged friends should have a shampoo and blow dry plus a trim, or just a trim, or even a shampoo and micro-bubble bath followed by a trim. And for an extra 500yen owners can opt for one of several "wancare" options: a pooch's nails can be clipped, or its ears cleaned, or teeth brushed, or nether regions cleaned.
CLEANZ's canine customers are charged according to size…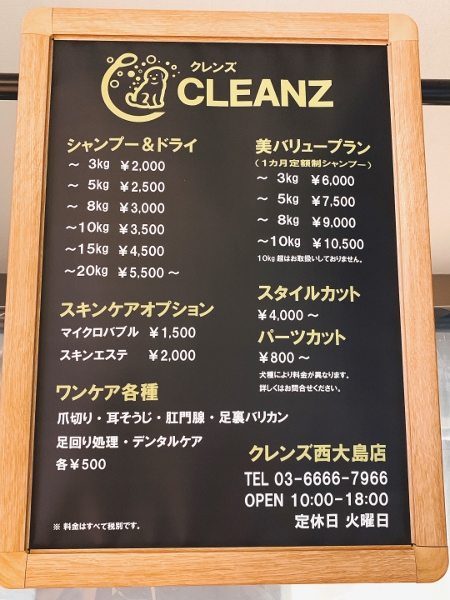 and the time taken to be beautified depends on what treatment they receive; Ms. Sugiyama estimates that it takes about one hour for a shampoo and blow dry, followed by another hour for a full trim. Owners can wait in the reception area and keep an eye on their pets' progress through the large glass window separating it from the salon area, or they can leave their charges in the capable hands of Ms. Sugiyama or her assistants and go shopping in Sunamachi Ginza.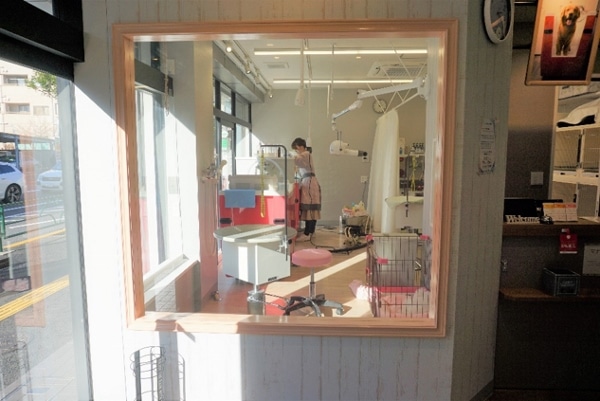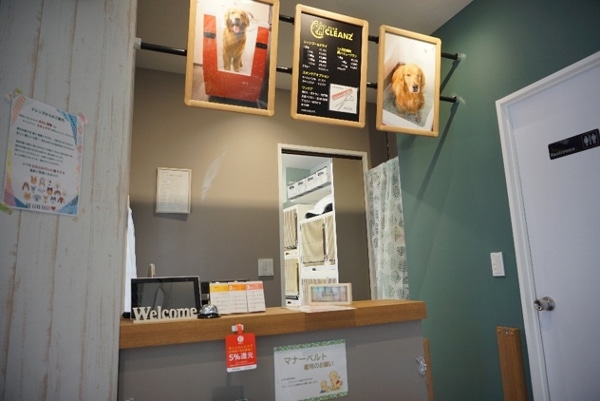 To attract a regular clientele CLEANZ offers a "Beauty Value Plan", where for a one-off monthly fee, an owner can have his or her pet shampooed as many times as they wish during that month, at the following rates:
dogs under 3kg – 6,000yen; up to 5kg – 7,500yen; up to 8kg – 9,000yen; up to 10kg – 10,500yen.
The salon uses mild shampoo and the risk of "over-shampooing" is carefully monitored. Apparently, the product has proved very popular.
To demonstrate what is available, Ms. Sugiyama took our model, Anzu, over to a large pink-red bath in front of the window and placing her on a raised dais proceeded to soap her down using a shampoo which is kind to both a dog's skin and its coat. Anzu appeared to enjoy the experience and was very cooperative as Ms. Sugiyama gently massaged and cleansed her coat.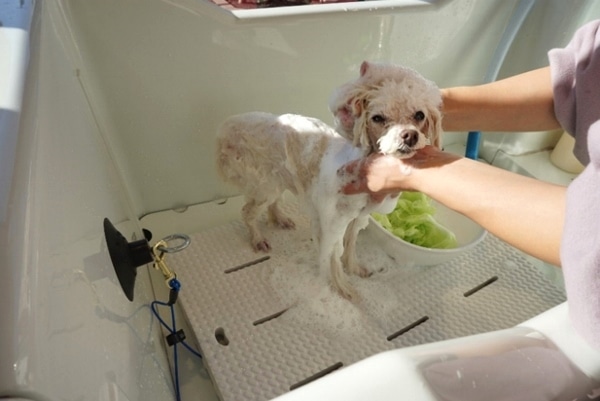 At the same time as treating the dog's coat, the mild shampoo adds fragrance to remove those doggy smells. There are seven scents to choose from, including rose and cashmere.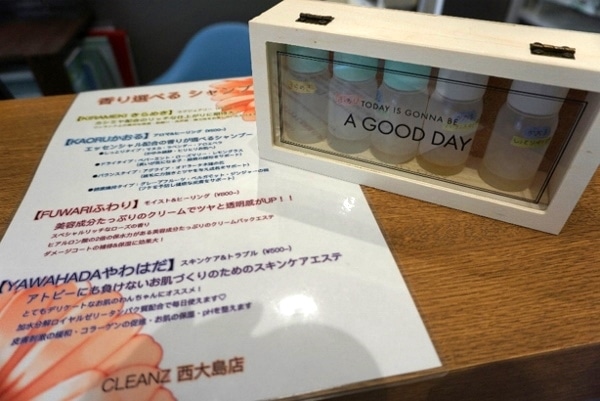 The shampoo course was followed by a micro-bubble bath. Costing 1,500yen and lasting about 10 minutes it consists of mixing water, maintained at a temperature of 36°C, with a specially developed cleanser which, together with micro air bubbles, is pumped into the bath and circulated continuously. This process aims to get at stubborn dirt, clean clogged pores and wash away mite and flea eggs, and, according to Ms. Sugiyama, goes down very well with her canine clientele who enjoy the bubbles and find the whole sensation very relaxing. In fact, some have even been known to doze off.
Asked if all her charges were as well-behaved as Anzu, Ms. Sugiyama replied that some breeds, such as Corgis, Jack Russells, and Shibas, have been known to put up a struggle, and she has on occasion received a nip from a "customer".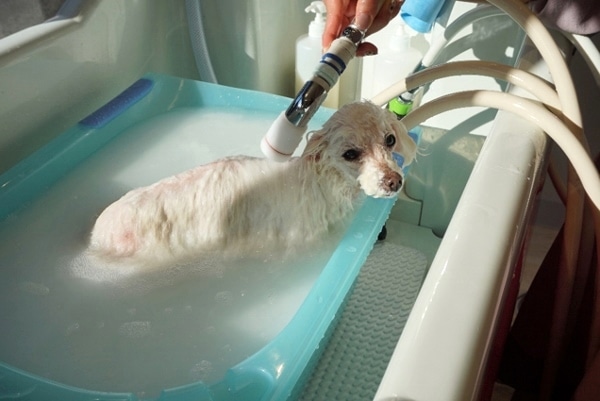 Once the shampoo and micro bubble bath was finished then came the blow dry. As Anzu was dried off and her coat worked at, it began to fluff up until she looked like a large powder puff. Then Ms. Sugiyama took a wire dog brush to Anzu's coat to make sure that it was properly dry and that there were no tangles.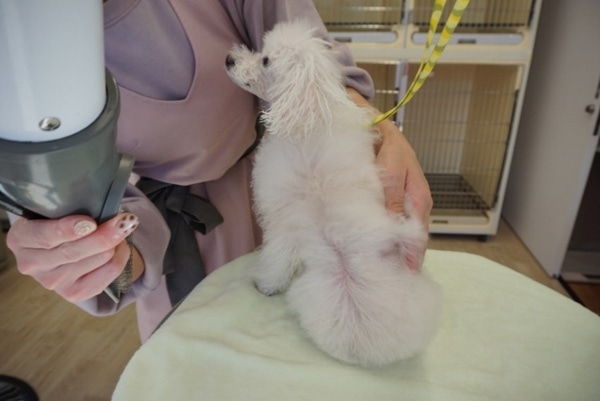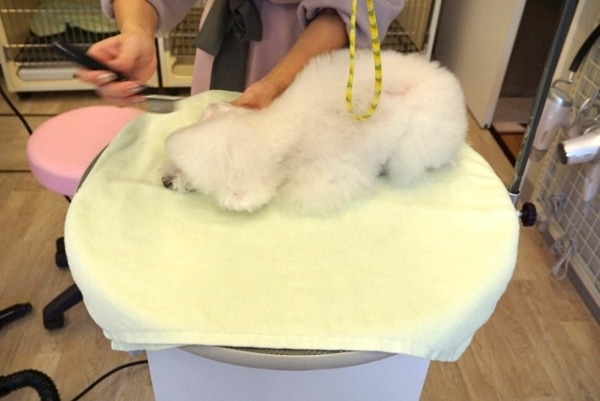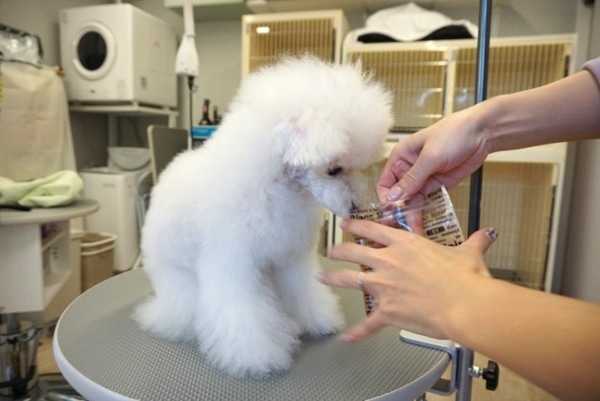 And the result was one beautifully-turned out Miniature Poodle. Thank you, Ms. Sugiyama, for demonstrating CLEANZ's shampoo and blow dry technique, and thank you, Anzu, for being such a cooperative model.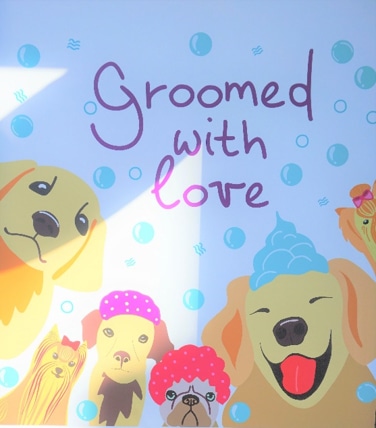 Story and photographs by Jeremy Hutchinson