Classic Soba at Echizen
Published: February 7, 2023
Opened in 1976, Teuchi Soba Echizen has been serving buckwheat noodles, tempura and more to the lucky residents of Kameido for close to 50 years now. On a recent afternoon, we dropped in for a chat with Mr. Motohira Watanabe, owner, proprietor and veteran soba maker extraordinaire.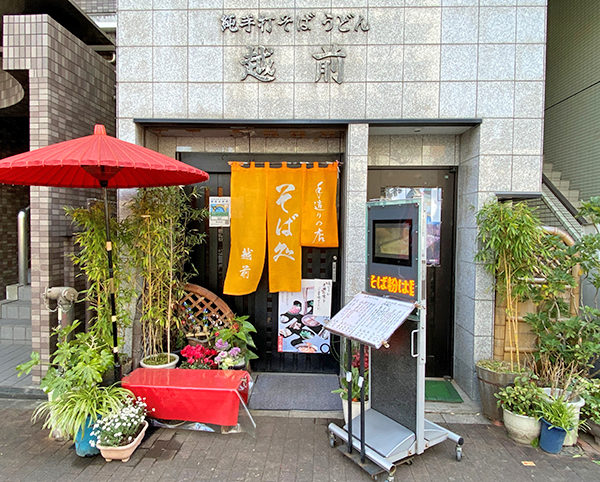 Teuchi Soba Echizen is located on Kurabashimae street just across the road from Kameido Tenjin shrine, pretty much equidistant from Kinshicho and Kameido stations. Kameido Tenjin is renowned for its wisteria festival in early May, plum blossoms in February and chrysanthemums in autumn. It's extremely photogenic all year round and well worth a visit!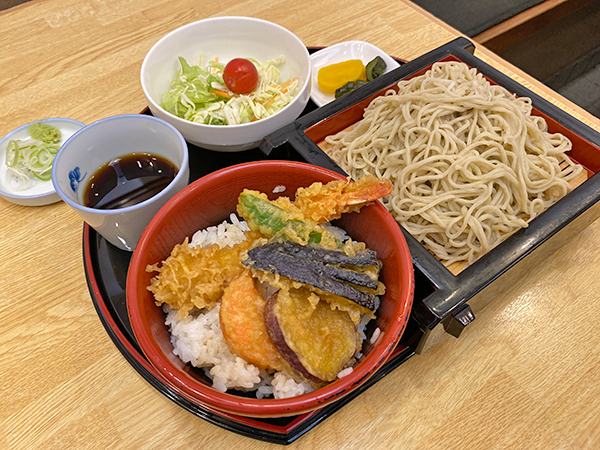 Exceptional Value Lunch at 910 yen
As Mr. Watanabe explained, many of his weekday customers are local business people for whose benefit he caps the lunchtime prices at under 1,000 yen. The star of the show is this tendon set (tempura on rice with soba) for an amazing 910 yen. On Saturdays, Sundays, and public holidays it's 1,089 yen, which still represents exceptional value. Crisply fried shrimp and seasonal vegetables, first-class handmade soba, fresh salad and pickles; top quality at a remarkable price.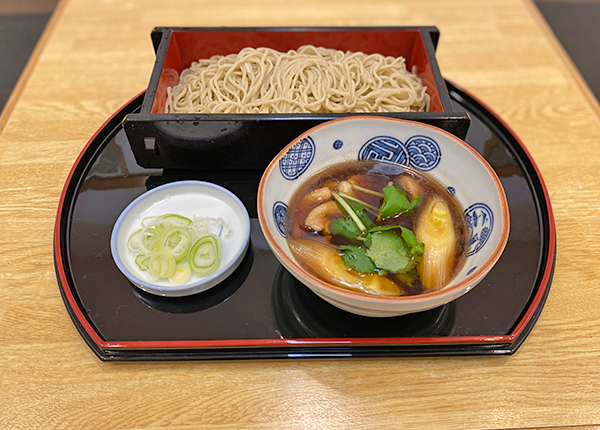 Alongside the tendon set, this duck and negi onion soba set (kamo seiro) is of very high quality and also represents tremendous value at 990 yen. The soft, juicy duck is sourced from a specialist distributor; the rich fat from the meat combines with the soba broth to create a fragrant dipping sauce that had my colleague purring with pleasure.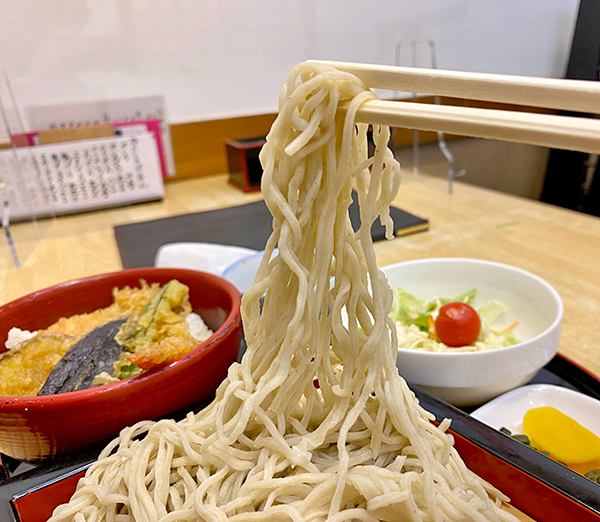 Like many soba shops, Echizen has a specially designed basement where Mr. Watanabe makes the soba, udon, and his unique dipping sauce. "It was expensive to build but the basement maintains a constant temperature of about 20°C which is perfect for making soba and udon," he explained. "We blend soba flours from different areas depending on the season, such as Hokkaido, Nagano and Gunma, places with a wide temperature difference," he added.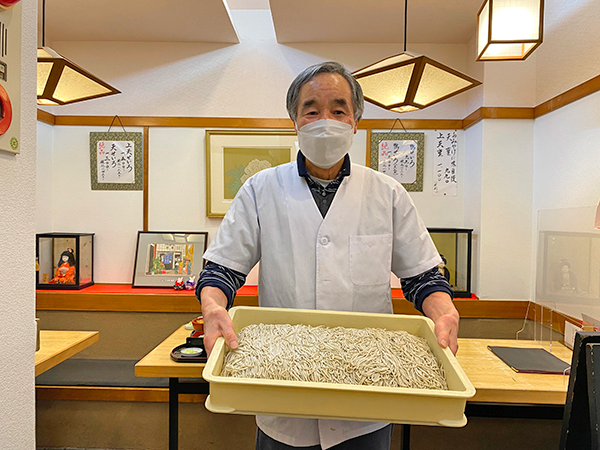 The soba at Echizen is 2:8 (ni-hachi), which means it contains 80% buckwheat flour and 20% wheat flour. The soba dipping sauce is a blend of homemade broth and a sauce base named "kaeshi" in Japanese. Mr. Watanabe produces the kaeshi sauce base in the basement too, allowing it to mature for two months in summer and four in winter, in order to produce a standard flavour all year round. The udon dough also sleeps in the basement for two days before being turned into noodles.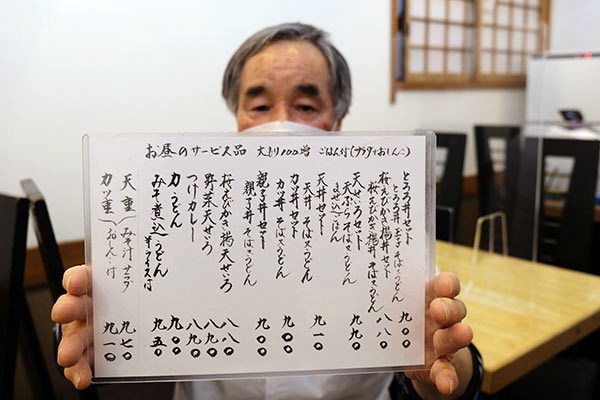 The prices at Echizen are so reasonable one supplier actually asked Mr. Watanabe if they weren't too cheap. "I told him that this area is Tokyo's downtown and that soba is food for ordinary working people, so I'd be keeping the prices as affordable as possible. I want the restaurant to be a place that local people feel comfortable to drop in and enjoy the flavour, quantity, quality and taste of our products. I own the building and don't pay rent so I'm free to set the prices as I choose. It's more than just the price, it's about contributing to the community," he said.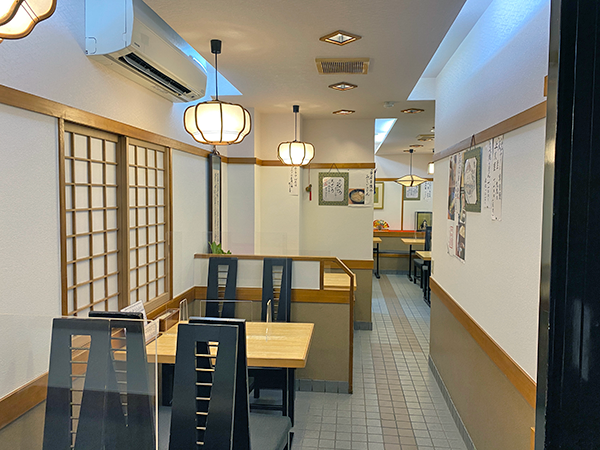 The interior underwent a recent refurbishment and it looks great, all sparkling white walls, dark wooden chairs, stylish lampshades and blonde wood tables.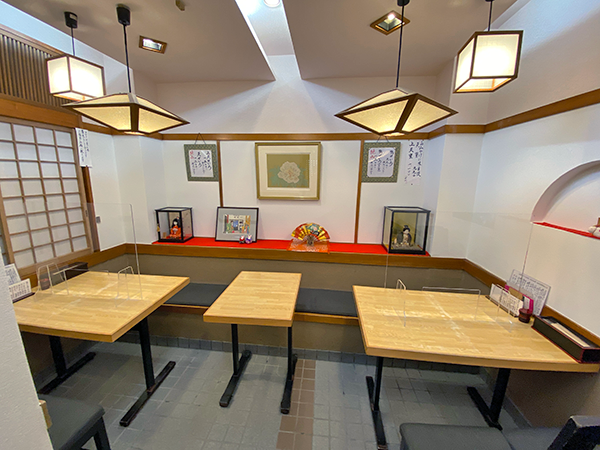 The sound system plays shamisen music and the sounds of running water, creating a comfortable, relaxing atmosphere a world away from the bustling hubs of the two nearest stations.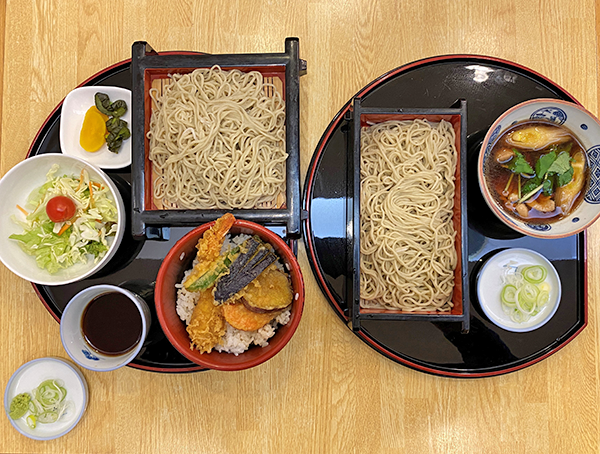 The soba is excellent, the prices are unbeatable and the ambience is soothing. If you're in the area why not drop in for some decidedly top quality soba. Combine it with a trip to Kameido Tenjin and that's a very fine way to spend a sunny spring day!
by Stephen Spencer