Cool Coffee Stand in Kameido
Published: May 19, 2022
When thinking about coffee, the first places that spring to mind are perhaps Brazil, Ethiopia and Italy⁠—few people indeed would name Kagoshima in Japan's large southern island of Kyushu. Yet it's from the Kagoshima Prefecture town of Kirishima that the beans sold by Kagonma Coffee, a new coffee stand and roaster in Kameido make their way to the nation's capital. We recently dropped in for a chat with director Ms. Futaki and her splendid staff.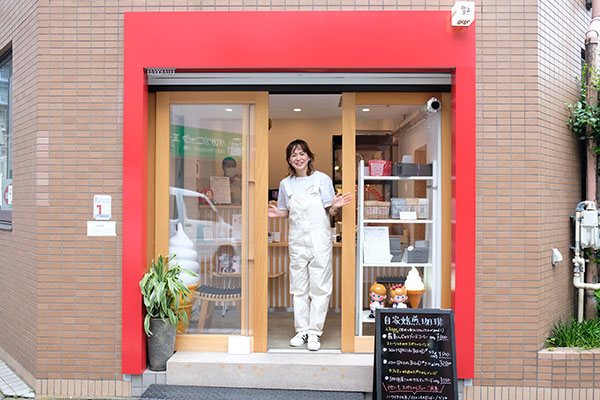 Kagonma Coffee is located some five minutes south of Kameido station, in the  crook between Keiyo street to the north and Meiji street to the east, next to the small Kameido Park. Despite the thunderous traffic of these major arteries, the area is quiet and has a residential feel.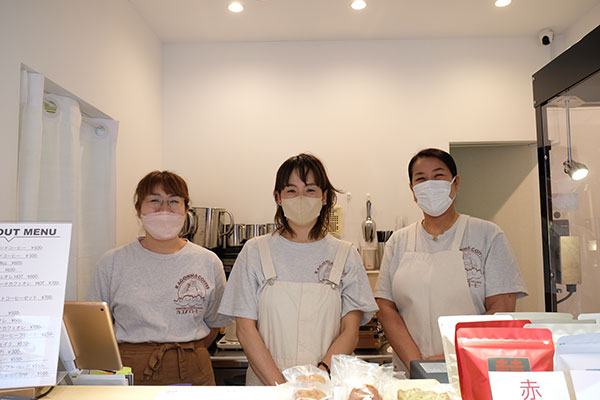 "We opened in August 2021," said Kagoshima native Ms. Futaki, the driving force behind the shop. Her relative works at the coffee bean importer in Kirishima, where the staff select and hand pack each bean to ensure the finest quality. "Kagonma is how we say Kagoshima in the local dialect," she explained.
The menu contains around 20 or so varieties of coffee beans, some of which may change depending on the season and availability. All prices are for 100g, ranging from 650 yen for the Brazil No.2 to 6,400 yen for Hawaiian Aikane Ka'u coffee. In between there's the top-selling blend of Kirimanjaro (Kirishimanjaro, a tasty pun on Kirishima and Kilimanjaro) from Tanzania at 800 yen. Other beans available are from Papua New Guinea, Peru, Ethiopia, Costa Rica, Indonesia, Hawaii, and Yemen⁠—the latter being the highly esteemed (and highly priced) Mocha at 5,000 yen. Also popular is the Pu'er peach flavoured coffee from Yunnan Province in China, home of Pu'er tea, at 1,000 yen.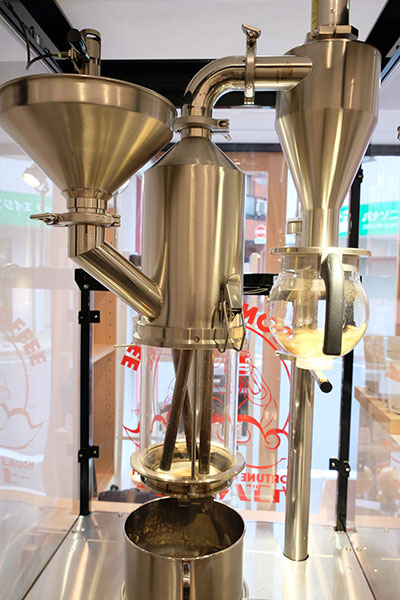 All beans are roasted to order in this splendid machine.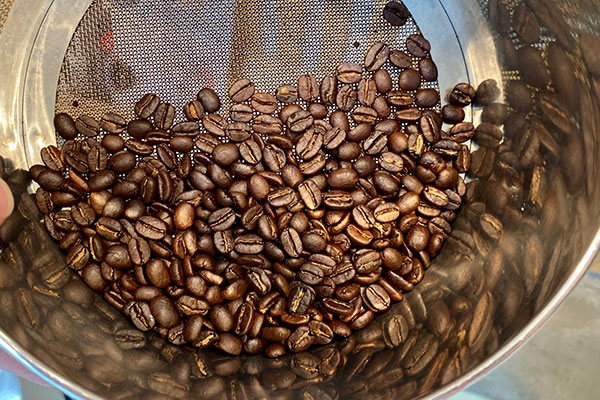 Ms. Futaki roasted some of the Kirimanjaro beans to a rich brown shade.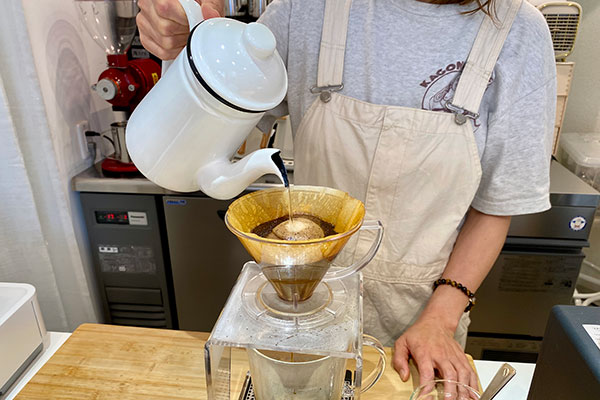 After roasting, she ground the beans and showed us how to make a proper cup of coffee. "We maintain a 92C temperature for the water in our kettles," she said, "First, pour water evenly over the coffee, then wait for 30 seconds or so and pour slowly again in a circular motion." The coffee takes a few minutes to prepare but looks and smells fantastic.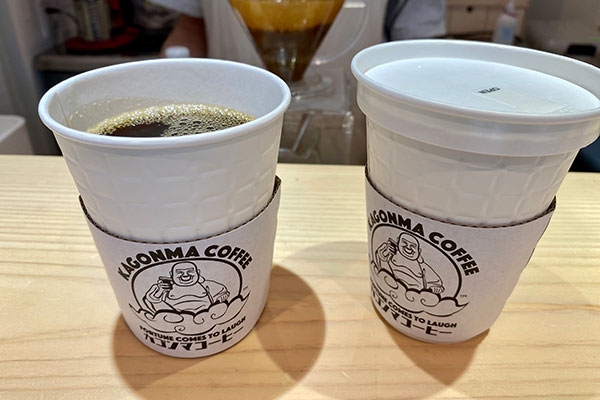 The Kirishimanjaro blended coffee was excellent: a fine aroma of dark kokuto sugarcane, a nicely balanced acidity and a rich yet not overpowering coffee flavour. Very nice at 500 yen a cup. The takeout menu also features Sakurajima mountain blend (600 yen), Bali Shinzan decaf (600 yen), daily coffee (600 yen), strong cafe au lait (600 yen) , and the Pu'er peach coffee (700 yen). For those hot summer days iced coffee is available too: regular iced coffee (500 yen), strong iced cafe au lait (600 yen) and iced Pu'er peach coffee (700 yen). Something for everyone!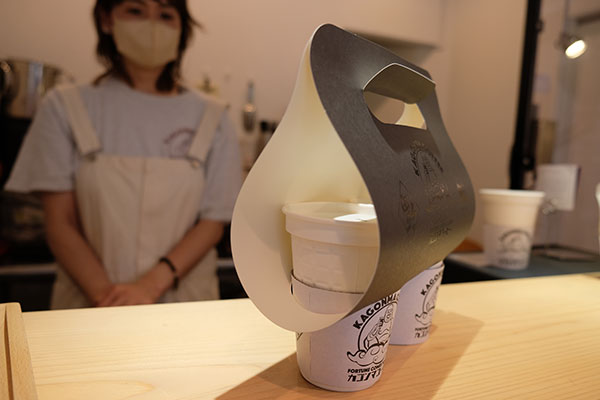 We were struck by the stylish design of everything at Kagonma Coffee, from the door frame⁠—which replicates the entrance to Kagoshima Jingu shrine⁠—to the cubic lamp affixed to it, and these neat carry trays. Two cups can be carried in one hand, a boon for those heading to work or returning home.
The chubby, smiling character is Hotei, one of the seven lucky gods (shichifukujin) and patrons of various professions. Hotei is the god of fortune, popularity and barmen as well as a guardian of children. In her previous employment, Ms. Futaki was a designer and event manager, and is responsible for all the design in the shop. The gift packs are very popular: ground coffee, sets of drip packs and selection boxes of various kinds are all available.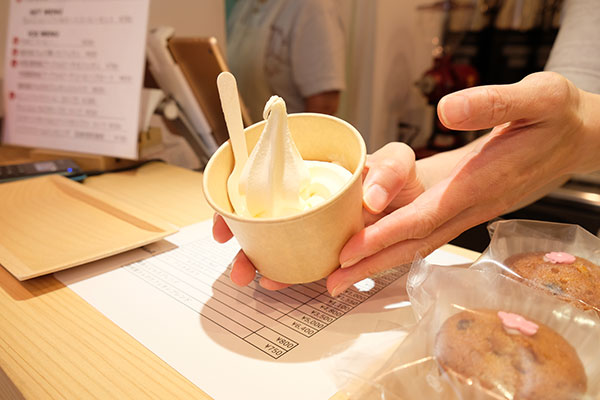 Kagonma also offers a very popular soft cream for 300 yen a cup, with toppings available for an extra 100 yen. Soft cream and floats made with the Pu'er peach coffee costs 850 yen. Coffee jelly will be available too. Sounds like a great treat for the boiling hot dog days of summer!
The shop also offers a small selection of confectionery items from Primrose by Ayano Muta, specially chosen to accompany coffee.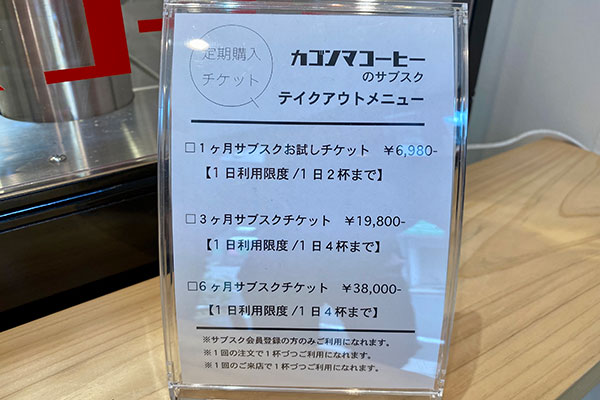 And for locals seriously into top quality coffee, there's a subscription system. A one month subscription costs 6,980 yen and entitles the purchaser to two cups of coffee a day, which seems like tremendous value to us. There's a three month subscription for four cups a day at 19,800, and a six month version for 38,000 yen, also for four cups a day. This subscription system has increased in popularity recently, perhaps driven by the number of people working from home.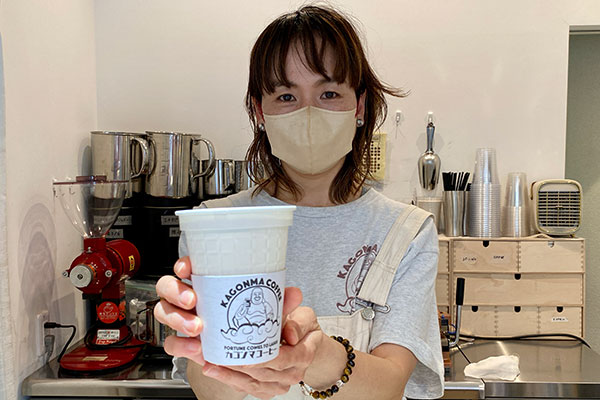 The coffee's great, with many rare and unique items on the menu. If you're a coffee appreciator in the Kameido area, why not drop in to Kagonma for a damn fine cup of coffee!
Story and photos by Stephen Spencer