Creative Soba in Stylish Surroundings
Published: March 3, 2021
Teuchisoba Ginnan is like no other soba restaurant in Tokyo. Soba, made from buckwheat, is one of Japan's three great noodles, alongside ramen and udon. It has a long history in the Tokyo area, dating back to the early days of the Edo Period (1603~1868), where it was eaten to ward off disease as it's high in thiamine and amino acids. Healthy or not, soba has been overshadowed in recent years by ramen, which has seen a global explosion in popularity. Many modern ramen restaurants are sleek and stylish affairs, a far cry from the greasy spoons of yore.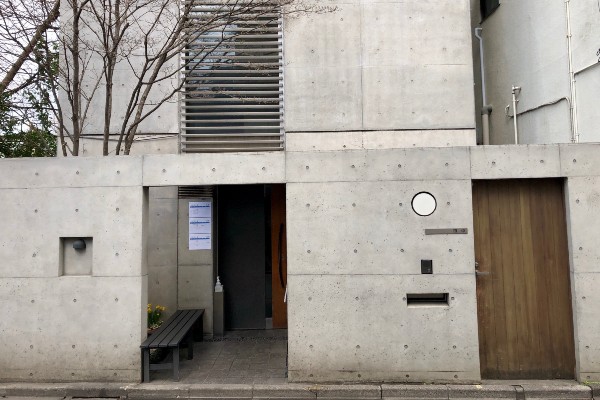 Teuchisoba Ginnan, located a five-minute walk from Nishi-ojima and slightly more from Sumiyoshi station, is certainly putting the style back in soba. Designed by a world-renowned architect, its chic concrete exterior contains an elegant modern Japanese interior. On a recent wintry afternoon, we dropped in for a chat with third-generation owner Mr. Yusuke Tanaka.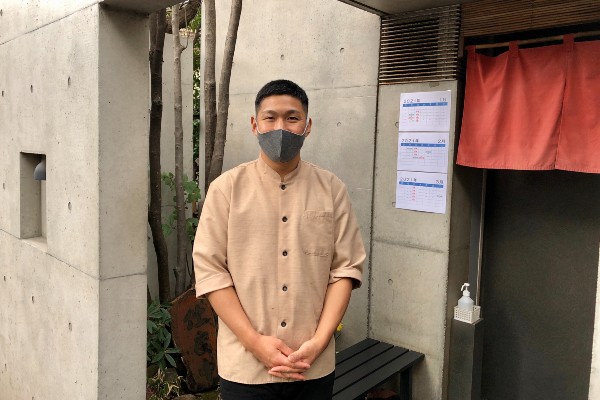 "My grandfather opened the place in 1960, as a delivery soba shop catering to local factories and workshops. At that time this was an industrial area. He hailed from Fukui Prefecture on the Japan Sea coast and named the shop Fukui-an (anzu is Prunus Armeniaca, a type of apricot). Later on, he expanded the shop into a restaurant," explained the youthful and affable Mr. Tanaka.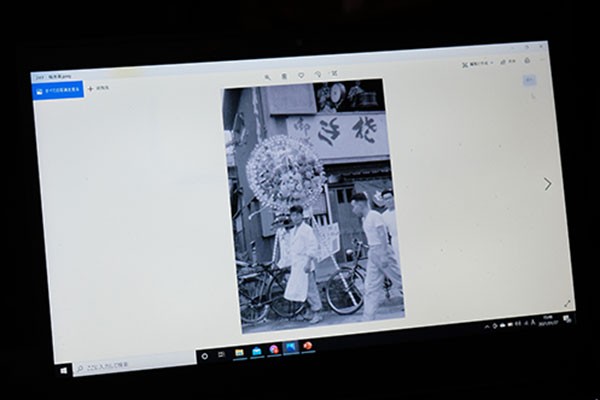 In 2003, Mr. Tanaka's parents took charge of the restaurant and made sweeping changes. The name changed to Teuchisoba Ginnan (handmade soba silver apricot in English) with the
soba noodles served becoming handmade, the delivery service was ended and the entire structure was rebuilt.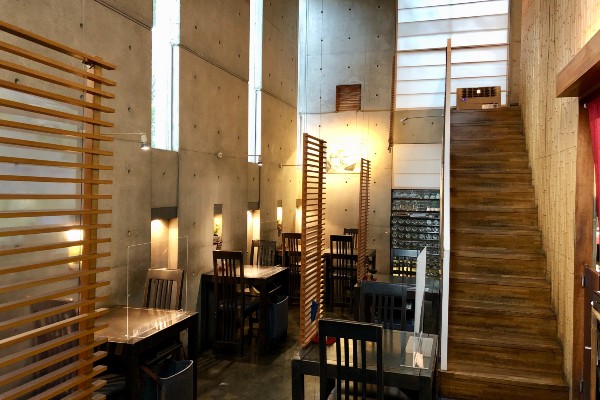 The interior is cool and stylish, more akin to a fashionable cafe than a soba restaurant. The high ceiling, open to the second floor, creates a comfortable atmosphere; one of the great pleasures of life in Tokyo is tucking into chilled zaru soba on a baking hot summer day and one can easily imagine how enjoyable that would be at Teuchisoba Ginnan.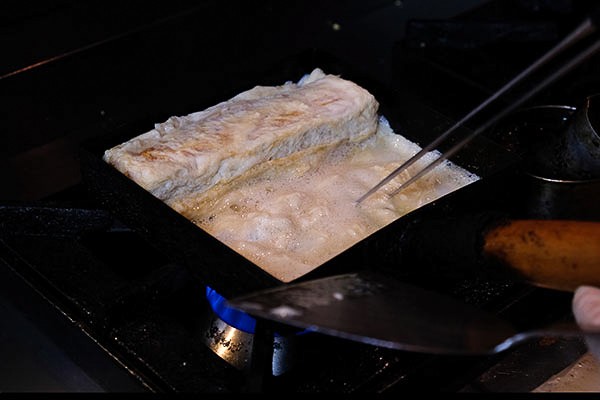 The creative menu, with its carefully selected ingredients, was largely designed by Mr. Tanaka's mother Masae to match Japanese sake. Up first was a signature dish, Hakushu egg roll (large 1,000 yen, small 600 yen), featuring eggs from the Hakushu area of Yamagata Prefecture, well known for the quality of its spring water. Mr. Tanaka himself visited the area, searching high and low for a farmer devoted to conscientiously taking care of his hens. Since the eggs are delivered directly from the farm to the restaurant, they are extremely fresh.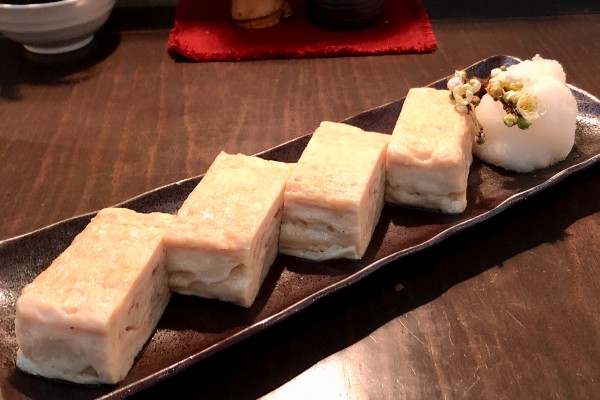 Compared to other eggs the yolks are pale, nearly white in fact, but that's not the only distinctive trait. "The whites fluff up when cooked, becoming very plump and soft," explained Mr. Tanaka. Cooked with a flavourful yet not sweet broth and eaten with grated daikon radish and a touch of soy sauce, the egg roll was exceptionally good, as luxuriantly fluffy as Mr. Tanaka had promised. The large roll contains four eggs, the small roll two.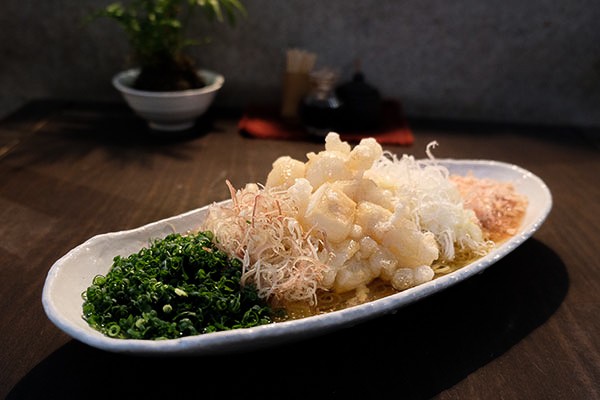 It may have been a cold January afternoon but this chilled soba (ginryo 1,600 yen) went down an absolute treat. A hefty serving of top-quality handmade soba was topped with thin negi onions from Kochi Prefecture, Japanese ginger (myoga), fried rice cake (mochi), Senju negi onions and finely chopped dried bonito flakes.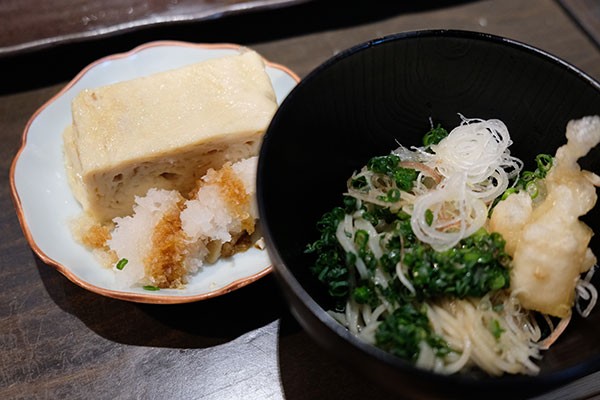 The textures of the crispy Kochi onions and Japanese ginger, together with the crunchy exterior and chewy interior of the rice cake, were a delight. Paired with the egg roll, it was a rare treat which perfectly matched the modernist decor.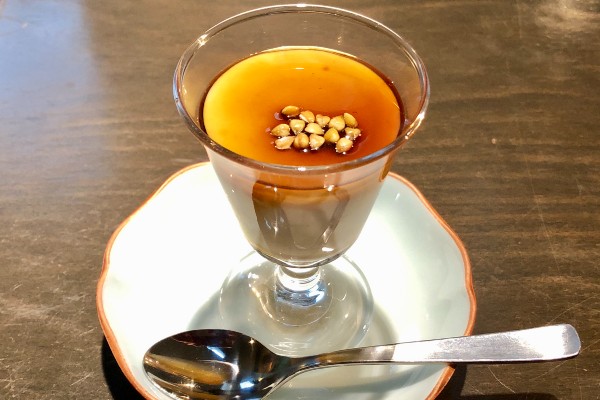 Teuchisoba Ginnan also offers an original dessert, but only on weekday lunchtimes; a white sesame blancmange. Milk, sugar and white sesame are combined into a soft, creamy pudding and served with black sugar sauce and some buckwheat kernels roasted at low temperature. It was delicious with the nutty soba kernels adding a crunchy accent to the soft, sweet blancmange. A perfect way to round off a very enjoyable lunch indeed.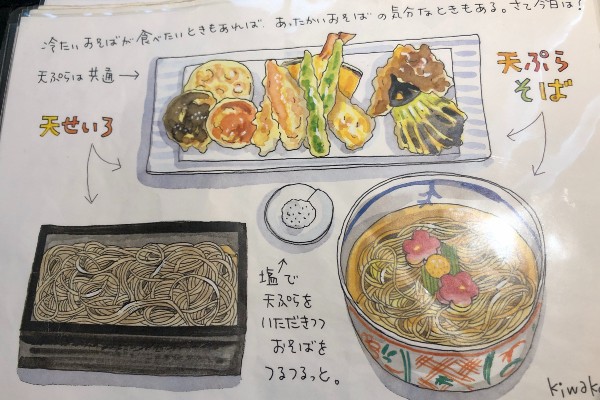 If you'd like to try the great taste of Teuchisoba Ginnan (and we'd definitely recommend it) at home then noodle and broth sets can be ordered through the restaurant's website. Dropping in for a weekday lunch is better though, as even the menu is stylish and superbly illustrated. It's extensive too, with a wide variety of creative and original dishes.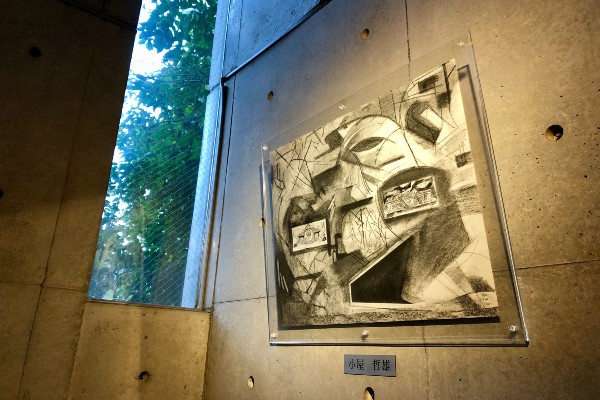 Teuchisoba Ginnan has been serving soba to the lucky local residents and workers for 60 years now. If you're in the area, drop in and treat yourself; you most certainly won't regret that you did!
Story and photographs by Stephen Spencer