Curry Tsukemen and Tottori Favourites
Published: January 12, 2022
Monnaka Yamada is a brand new place with a unique approach to the restaurant business: they serve entirely different kinds of food at lunch time and in the evening. On a recent wintery afternoon, we dropped in for a chat with manager and chef Mr. Takashima.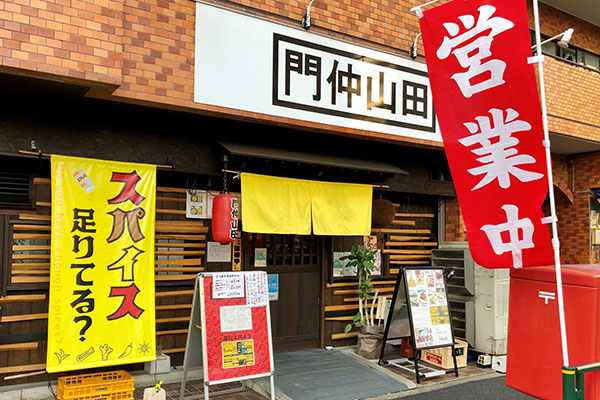 Monnaka Yamada is located right on Kasaibashi street some five minutes' walk north of Monzen-nakacho station. It's hard to miss the striking black and white signboard, the turmeric yellow shop curtains and the blazing red banners.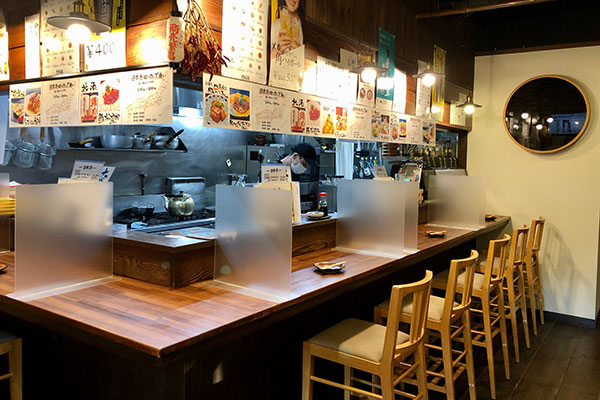 Inside there's a kitchen counter with half a dozen seats to the left, behind which Mr. Takashima works his magic.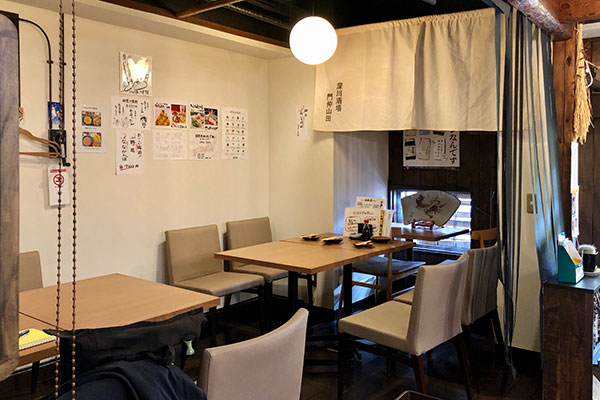 While to the right are three sets of tables for four.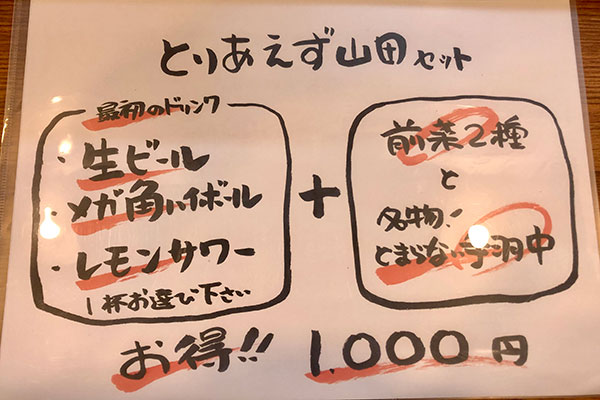 In the evenings, a very popular choice is the Toriaezu Yamada set which features a drink (draft beer, whiskey highball, or lemon sour) and two hors d'oeuvres plus the renowned Tomaranai (can't stop) chicken wings for just 1,000 yen.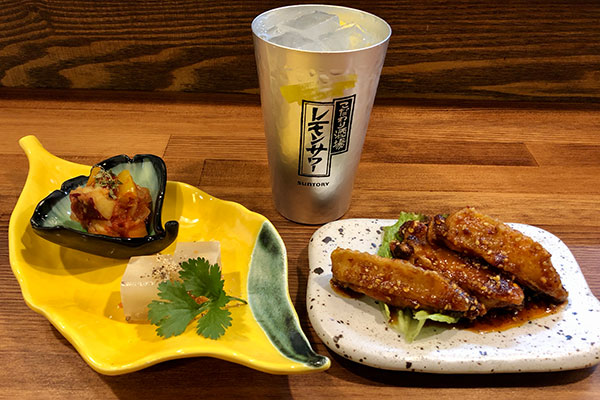 On the day we visited, the hors d'oeuvres were ratatouille and chicken in a collagen jelly, the latter a big hit with female customers.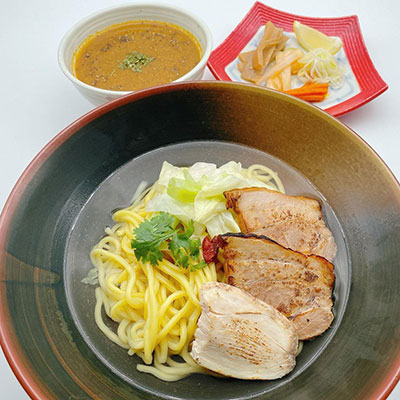 "We opened in July 2021," explained Mr Takashima, "with a desire to make something strange and unique, hence the curry tsukemen lunch and the charcoal grilled dinner menu. I spent a long time perfecting the curry dipping sauce for the noodles: it contains around 20 different kinds of fresh and dried spices. There's no oil or butter in the sauce, which is based on a secret broth plus chicken and vegetables." The noodles come with thick slices of pork chashu, cooked in a soy sauce base by Mr. Takashima, and chicken which is marinated overnight in a spicy sauce before cooking.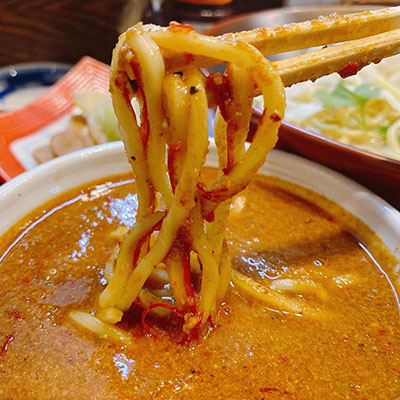 The noodles are medium thickness, chosen to match the strongly-flavoured soup. There's a ticket machine inside the door on the right  for ordering. Customers can choose from three levels of spiciness: normal and spicy are 900 yen each, while the mad hot (geki kara) is 950 yen. Mr. Takashima recommended first time customers to try the medium spicy level to begin with.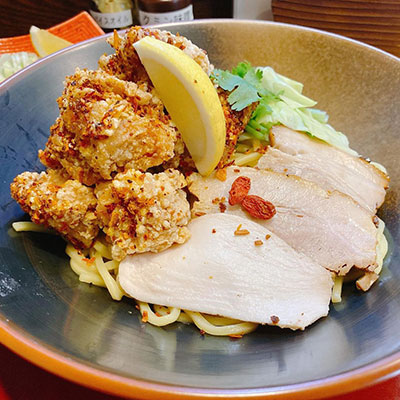 Spicy fried chicken is available too, in two different heat levels. Regular is 120 yen for one piece or 300 yen for three, while the mad hot (geki kara) is 140 yen for one or 380 for three. The lunchtime curry tsukemen at Monnaka Yamada is very popular with office workers on weekdays and local residents at weekends, garnering rave reviews on social media.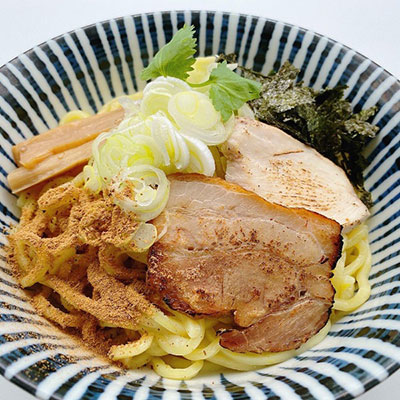 The restaurant also offers two varieties of maze-soba, the soupless noodle dish that comes with a thick sauce instead; according to Mr. Takashima these are very hot indeed!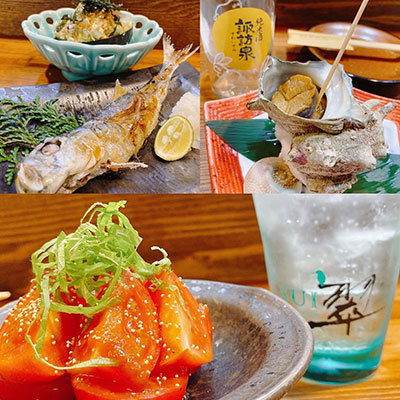 As Mr. Takashima explained, Monnaka Yamada's parent restaurant is located in Yonago-shi in Tottori Prefecture on the Japan Sea coast. The dinner menu features a wide selection of regular Japanese pub (izakaya) dishes, as well as fish and seafood from Tottori.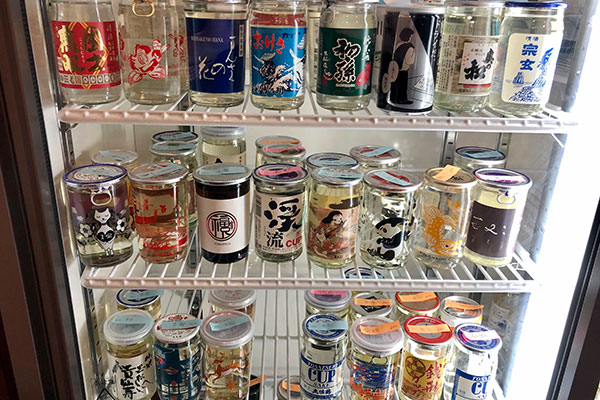 Monnaka Yamada has an extensive drinks menu, with pride of place going to its remarkable collection of one-cup sake, one from every Prefecture and Metropolitan area in the country. All 47 are represented here, with prices ranging from 500 to 800 yen. It's a fantastic idea, customers can drink themselves around the country!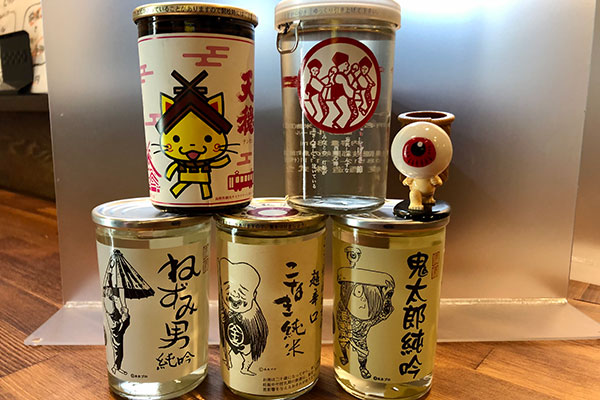 Tottori is well represented with these cups featuring characters from the wildly popular Gegege No Kitaro series of comic books created by artist Shigeru Mizuki, who grew up in the Prefecture. According to Mr. Takashima, many sake breweries around the country used to produce these unique one-cups but the number has been falling in recent years.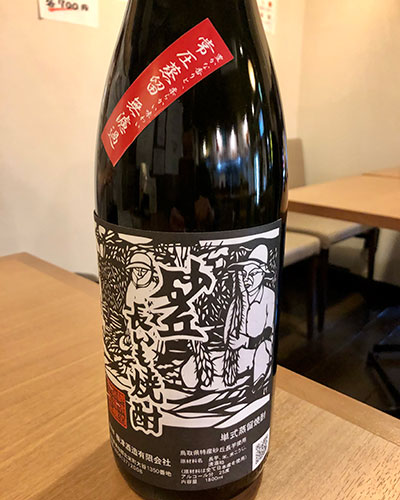 Another rare and unusual speciality is this Tottori shochu spirit distilled from yams (nagaimo).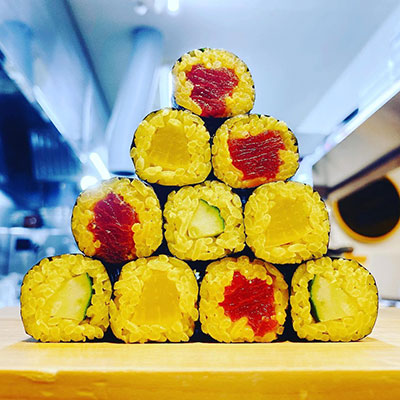 The dinner menu features a variety of fish, both raw as sashimi or cooked. In particular, dried fish (himono) from Tottori is particularly popular. "We often have splendid alfonsino (kinmedai) and Japanese sandfish (hata hata)," said Mr. Takashima. "Right now, it's salmon roe from Shimane Prefecture and shiro hata grouper." This tekka maki features tuna in turmeric rice. There are several maki zushi rolls available, varying in price from 300 yen to 800 yen.
The word "unique" is frequently bandied about these days; Monnaka Yamada is genuinely a unique place, there's nowhere else like it in the world. If you're in the area why not drop in and see for yourself.
Story and some photos by Stephen Spencer