Fine Design and Function in Japanese Furniture
Published: April 20, 2021
Forest Voice is a newly-opened store that specialises in beautiful handmade furniture, showcasing the very best in contemporary Japanese design and artistry. On a recent spring afternoon, I dropped in for a chat with owner Mr. Naohiko Momozawa.
Located just five minutes north of Monzen-nakacho station, Forest Voice opened in December 2020, as the eloquent and affable Mr. Momozawa explained. "I spent 30 years working for an office interior design company, retired and decided to start my own business offering design-to-order furniture from makers throughout Japan," he said. "I decided to search for shop premises in the Fukagawa area as it was the centre of the lumber trade in Tokyo for hundreds of years, and also because my family grave is in the Kiyosumi area, near here."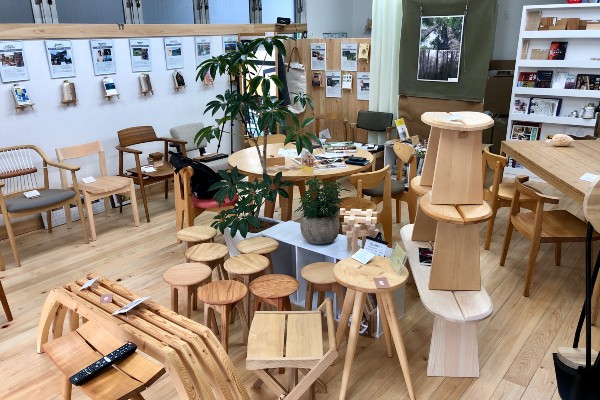 Mr. Momozawa, whose father's business was also connected to the lumber trade, explained his concept as "local craftspeople using locally-grown wood to produce furniture." He traveled the length and breadth of the country meeting craftspeople, before forging partnerships with 17 different manufacturers from Hokkaido to Kyushu. "Each area has its own indigenous trees and specialists capable of using their skills to produce items that suit the available wood."
This video, with voice over by Mr. Momozawa introduces some of the craftspeople and their work.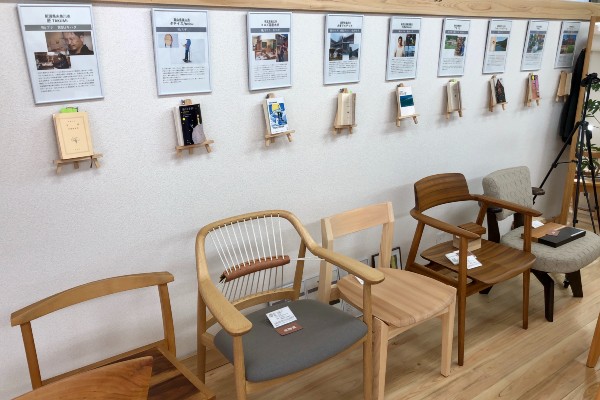 The walls of Forest Voice are decorated with introductions to each company, the items produced, the wood used and a book that represents the company or its home area in some way.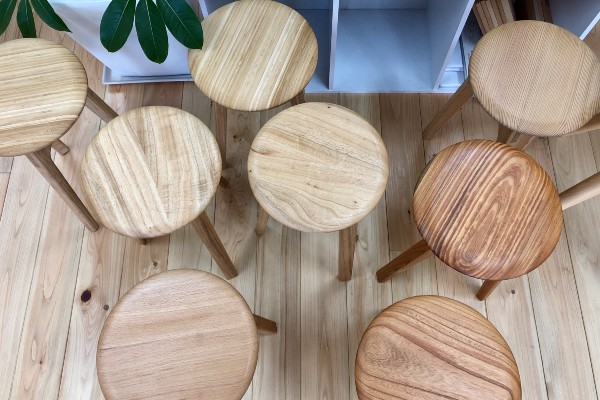 One of the signature items at Forest Voice are these wood-design award-winning Giraffe (kirin) stools. The original, made from Japanese beech, was commissioned from a Niigata Prefecture company. Mr. Momozawa then commissioned four other makers to produce stools to the same design but using different wood, unique to their locality. There is bamboo from Ookayama, camphor from Fukuoka, zelkova from Kanagawa and cedar from Nara; each wood has its own appearance, feel and smell which makes it unique. All are priced at 33,000 yen including tax.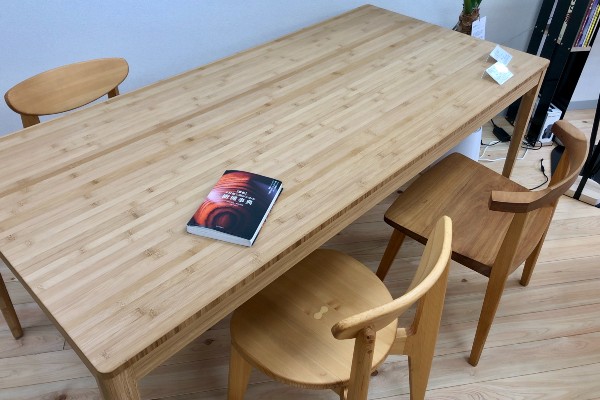 One item that particularly caught the eye was this beautiful table, made entirely from bamboo grown in the Ookayama Prefecture town of Mabicho. Three lengths are available: 1.8m, 1.5m and 1.35m which cost 116,600 yen, 106,700 yen and 101,200 yen respectively. The craftsmanship is fantastic and would be a fine addition to any living room.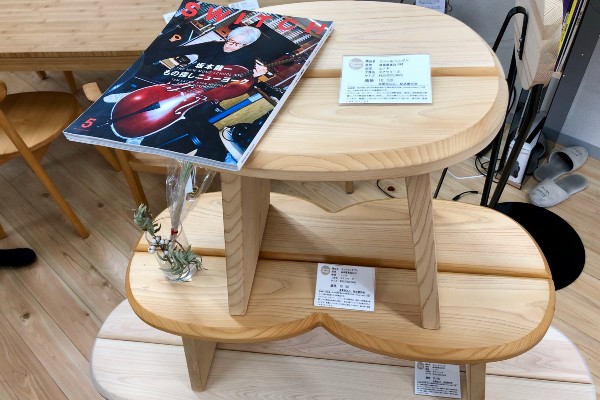 Forest Voice is also an outlet for products made by More Trees, the conservation organisation founded by world-famous musician Ryuichi Sakamoto in 2007. These stools, designed by Jasper Morrison and Wataru Komano, were produced to mark the 10th anniversary of More Trees. Made from Japanese cypress wood grown in a More Trees forest in Gifu Prefecture, they are beautiful, comfortable and fragrant. Part of the proceeds from sales are donated to activities promoting sustainable forests.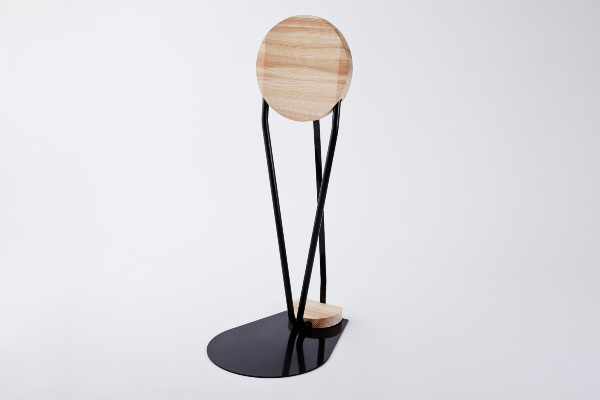 One of the more unusual items at Forest Voice is this "standing chair." Made from cedar and steel in Toyama Prefecture, it's designed for office workers, factory staff and remote workers. They cost 63,800 including tax each.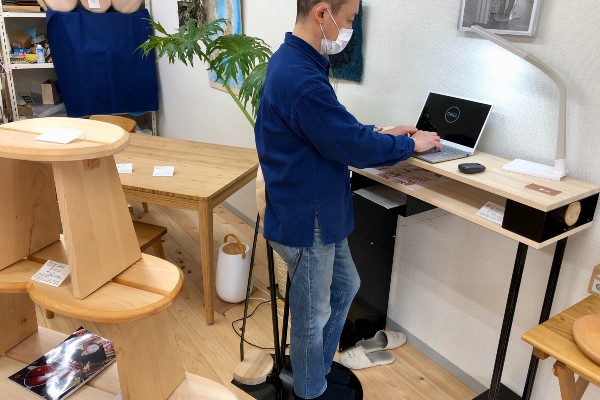 According to the Forest Voice website, recent studies have shown that excessive sitting may contribute to an increase in certain cancers and have a deleterious effect on the part of the brain responsible for memory. The circular "seat" fits into the small of one's back as one leans back slightly. It's very comfortable! The desk at which Mr. Momozawa is standing, also made of cedar and steel, costs 60,500 yen.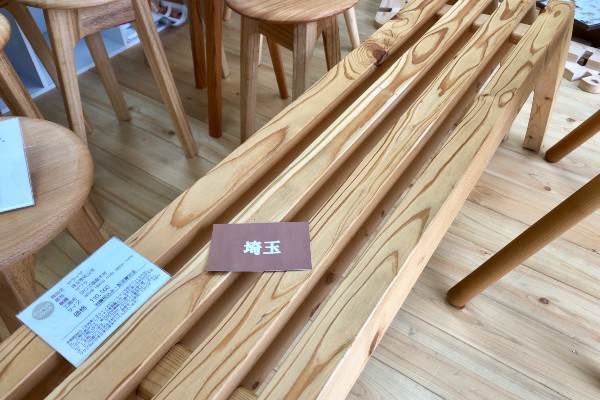 These stunning benches are made by a Finnish designer based in Chichibu, Saitama Prefecture, using locally grown sawara cypress. 104,500 yen may seem somewhat pricey but such items will last a lifetime, becoming more beautiful as they age.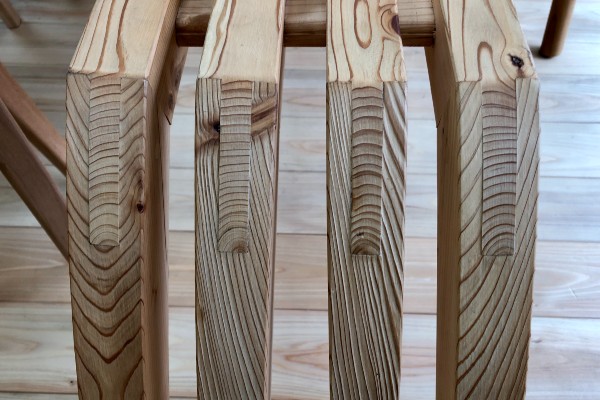 The design is based on inuyarai, short bamboo arches used to protect the lower walls of houses, especially found in Kyoto. No metal items or wedges are used in their construction.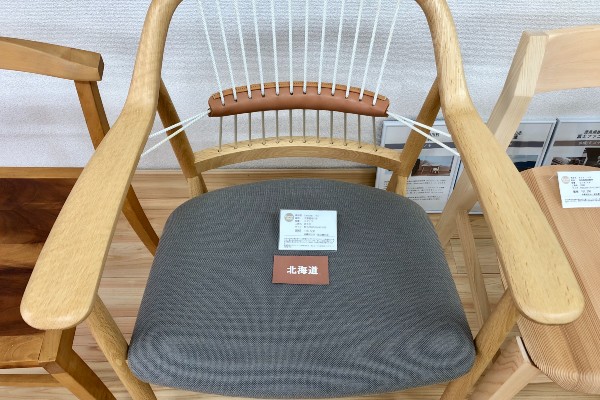 The chairs are not only beautiful but extremely comfortable. This gorgeous chair is made from mizunara oak in Hokkaido. Mizunara oak is slow-growing and so expensive that auction sales of logs are common, hence the price tag of 126,500 yen. Whiskey lovers will be aware that mizunara oak, once solely the province of high-end furniture, is now also used to make some of the most expensive casks in the world.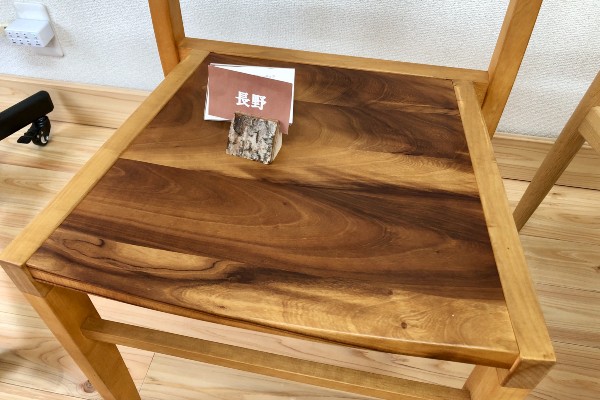 These symphony chairs are made in Nagano Prefecture from Japanese flowering cherry (yamazakura) and maple. Designed for orchestral musicians who must remain seated for lengthy periods, the seats are cherrywood and the frames maple, which imparts a rich and elegant contrast befitting the world's finest concert hall stages.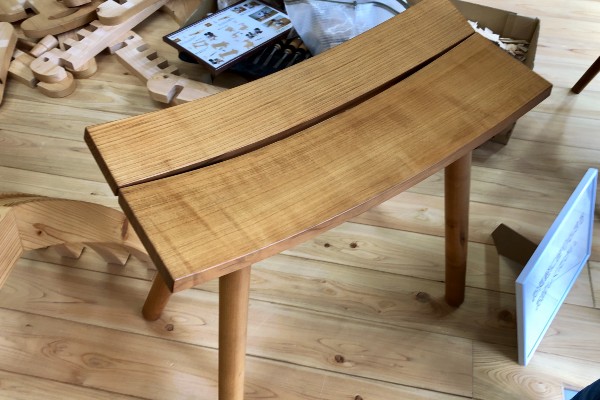 Continuing on a musical theme is this seat for guitarists, made in Toyama from Japanese mountain cherry. The seat is concave and in two parts with the front slightly lower than the back. It was developed using a process of trial and error by an architect who specialised in structural analysis and studied osteopathy, working with a guitarist.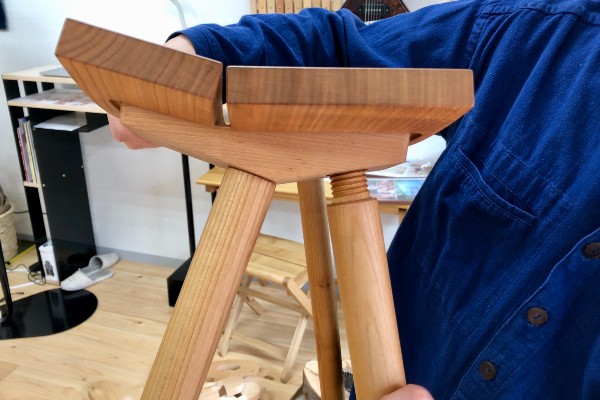 As Mr. Momozawa demonstrated, the seat can be quickly disassembled and is light enough to carry.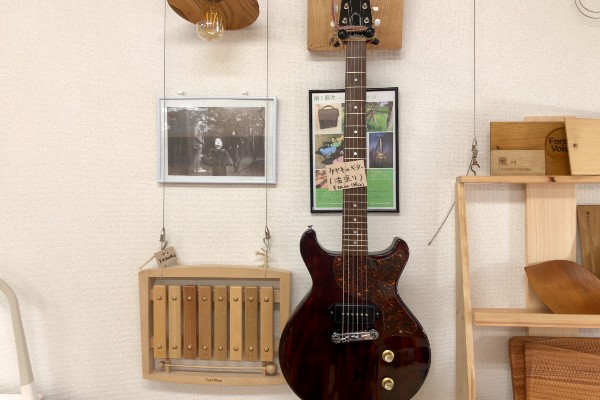 Not only does Forest Voice stock seats for guitarists, it stocks guitars too. These are made by Tsubaki, a leather work and guitar maker based in Kamakura, Kanagawa Prefecture. This particular beauty features an ebony head, rosewood neck and a lacquered zelkova body. Nice! The xylophone has blocks made of different kinds of wood such as horse chestnut, cedar and sandalwood. Mr. Momozawa played a quick tune and it sounded just as good as it looked.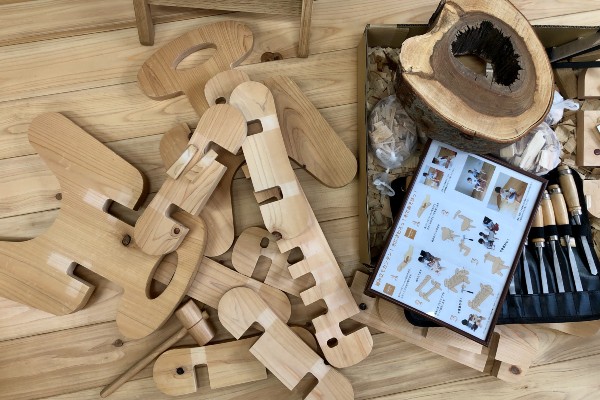 Even the floor at Forest Voice is a work of art, made entirely of cedar. The shop smells wonderful and has a curiously calming effect. As Mr. Momozawa says, "We want to present the long tradition of Japanese carpentry and the marvellous skills of contemporary woodworkers, in tandem with the best of contemporary design." Forest Voice certainly achieves its ambition there! If you're in the Monzen-nakacho or Fukagawa area you really should drop in to a unique shop.
Story and Photos by Stephen Spencer