From Quality Cuisine to Lunch Boxes
Published: November 30, 2020
I don't normally expect to find a high-end Japanese restaurant, used by business executives for entertaining clients, located in a local sports centre, but that is exactly where you will find Wasai Marino, situated within the Fukagawa Sports Centre complex, off Kiyosumi-dori Avenue, a short walk from Tokyo Kaiyo Daigaku (Tokyo University of Marine Science and Technology).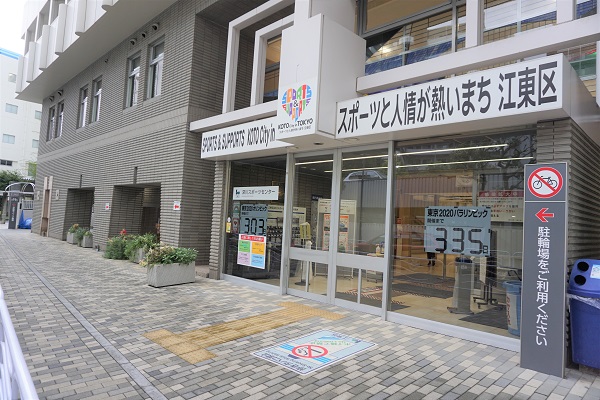 During the corona virus pandemic, Wasai Marino has had to cut back its operations, and the lunchtime menu has had to go, whilst the evenings are limited to a restricted number of advance-reservations (please check with Wasai Marino for details).
The owner-chef, Mr. Masaki Takahashi, always on the lookout for ways to make up for business lost to the virus, opted to replace eat-in lunchtime custom with bento (lunch boxes) for local office workers and residents, teachers and students from the nearby university, as well as for visitors from the sports centre, wishing to recharge their energy after a hard workout.
Each morning, he and a staff member set to work to put together a reasonably-priced and appetizing lunch in a box. And he doesn't limit himself to just one menu; each day Wasai Marino offers its customers a choice of four different bento to select from. When I asked him how many lunch boxes he turns out each day, Mr. Takahashi paused to think and then replied, "Between sixty and seventy, although we have gone up to ninety." That is a lot of lunch boxes.
During these times of social distancing, the main entrance from inside the sports centre is closed,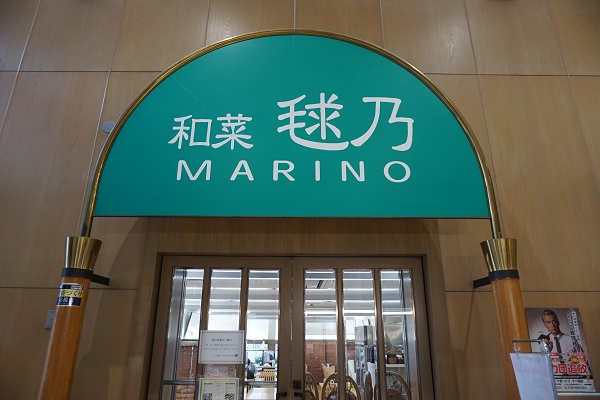 and customers have to queue up outside the restaurant. Mr. Takahashi says he has been surprised to find a line of people stretching round the corner into the sports centre's bicycle parking area when he opened the doors at 11:30. To join the queue just follow the red arrows along the front of the building, pointing towards the bicycle park.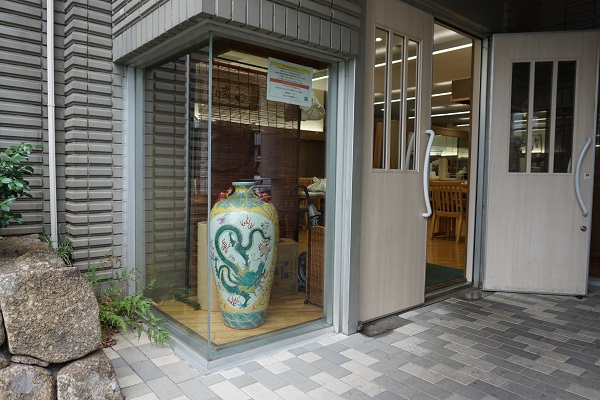 This is all a far cry from Mr. Takahashi's pre-corona business. Hailing from Akita prefecture, he has been a chef for over 30 years, gaining experience working at Kitcho, a famous Japanese restaurant, before setting himself up at Wasai Marino in 1996. Take one look at the kitchen and you can tell it is built for serious cooking.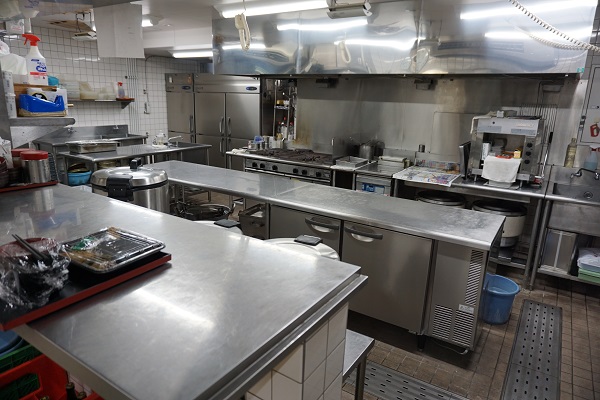 He says that he chose the unusual location for a quality restaurant because the rent was low, enabling him to focus on sourcing quality ingredients, whilst holding down the cost of meals. A friendly, bronzed, fit-looking man, Mr. Takahashi loves to surf, a bit of a surprise coming from a prefecture renowned more for its snow than its beaches. He has appeared on television on cooking competitions, although he laughingly admitted that he has never won, and other culinary programmes. A jazz lover, Mr. Takahashi has made Wasai Marino available for live jazz sessions.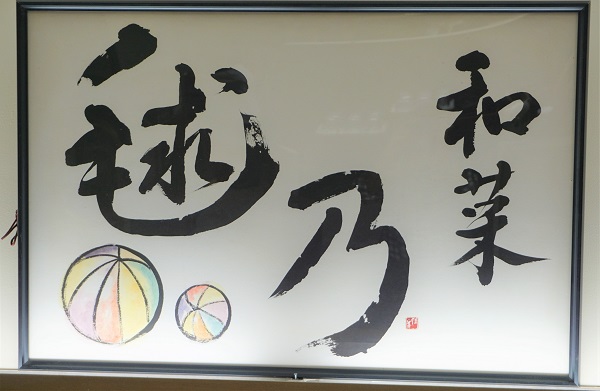 The restaurant is bright and neatly laid out, with a clean and simple décor. Hanging on the walls are several framed works of calligraphy, Mr. Takahashi's pride and joy, and in normal times the restaurant must look lively when full of diners.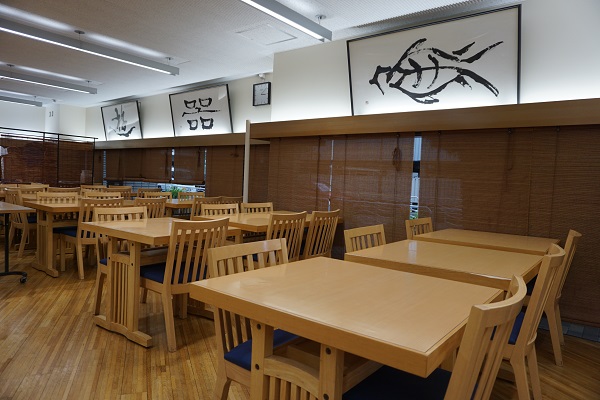 On the afternoon we visited, Mr. Takahashi had kept back two of his bento for us to look over. One was a nasu-no-miso-itame (eggplant miso stir fry) with onions and pork, accompanied by compartments containing a macaroni salad, broccoli and grilled chicken, with a helping of iburi-gakko, an Akita speciality of smoked pickled radish.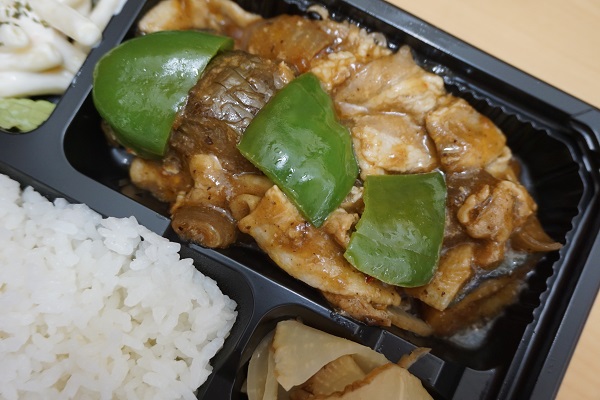 The other bento comprised a chicken sasami (breast fillet) katsu (deep fried in breadcrumbs) and sauce, with ingen mame (kidney beans), salad, and two frankfurters.
Each bento came with rice (Akita Komachi brand, of course!), served up hot, with a cup of hot miso soup.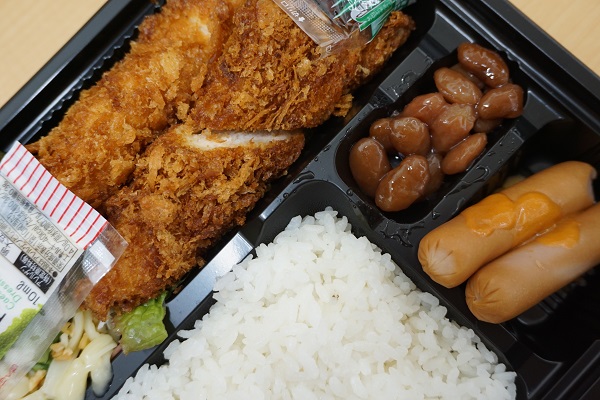 Mr. Takahashi tries to provide as much variety as possible in his creations: his main dish varieties include items such as katsudon (pork cutlet), iwashi fry (fried sardines), hamburger, ebiten (deep fried shrimp), and buri teriyaki (yellowtail soaked in sweetened soy sauce and broiled); alternatives to the miso soup include consomme soup, corn soup and tantan soup.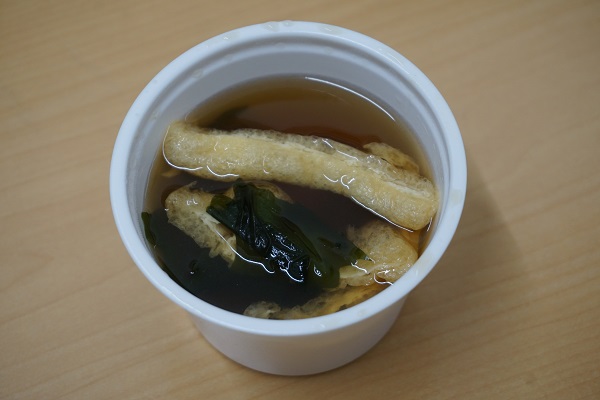 The lunchbox is reasonably priced at 600 yen (including tax). Mr. Takahashi says he would like to offer a "one coin" lunch (ie: for 500 yen), but laments that he can't get suitable quality ingredients for that price, and he doesn't want to serve up, as he puts it, a "shabby" bento.
When "normal business" resumes, I am looking forward to attending one of Mr. Takahashi's live jazz sessions, but in the meantime, I think I shall join a Wasai Marino lunchtime queue to sample one of his bento.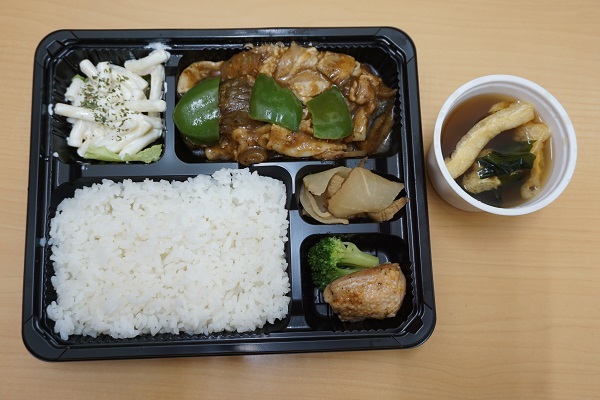 Story and photographs by Jeremy Hutchinson