Frying Tonight! Osaka-style Kushiage at Kushiya Ebisubashi
Published: October 30, 2020
Kushiage is one of Japan's great comfort foods. Originating in downtown bars of the Shinsekai area of Osaka in the late 1920s, it began as a quick, filling, and easy-to-eat snack for drinkers. In recent years its popularity has spread to Tokyo, where many neighbourhoods now boast a kushiage restaurant or two. On a recent balmy late summer afternoon, we dropped in to Kushiya Ebisubashi for a chat with the owner/manager Mr. Takeshi Gion.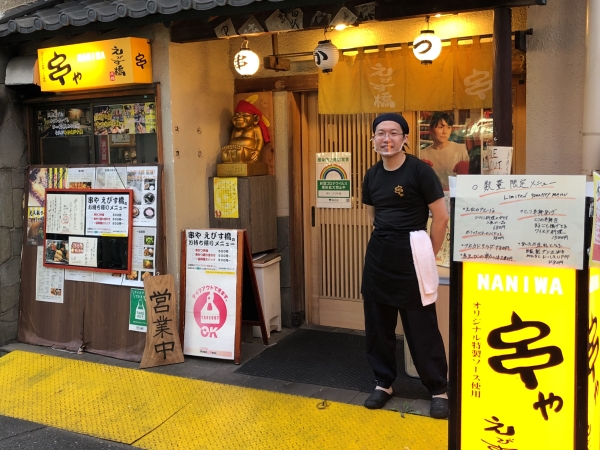 "We've been here since 2006," explained the youthful and cheery Mr. Gion. "We were looking for a suitable area to open a kushiage restaurant and some friends introduced me to Kameido. It's turned out to be a good choice. The local people are very friendly and we've become part of the community here." Ebisubashi is a very busy area of central Osaka that combines modern fashion shopping with traditional street stalls and a lively atmosphere. As such, it's a highly evocative name.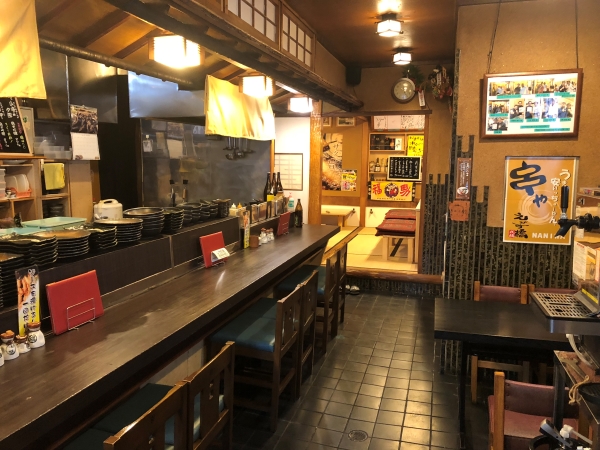 "Ebisubashi is a bridge that connects people," as the second chef poetically put it. Creating a comfortable, fun atmosphere where everyone can enjoy great food and drink is the Osaka restaurant raison d'être. "Everyone's welcome," as Mr. Gion says. The interior has a counter on the left, a table on the right, and a large back room. With the current corona virus safety rules in place, it can seat around thirty people.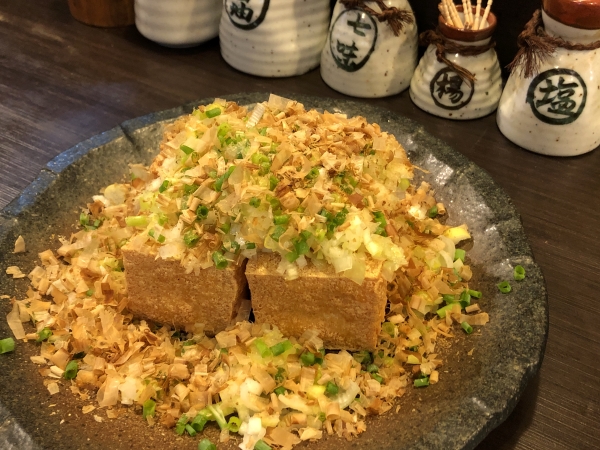 Mr. Gion and his staff show their frying skills with this deep-fried atsuage tofu. Since atsuage tofu is tofu that's been deep-fried, one supposes this is double-deep-fried tofu. Whatever the name, it's thick blocks of tofu smothered with negi onions and bonito flakes. Just 580 yen for this large plate, or 380 for a small, it's one of the most popular items on the menu.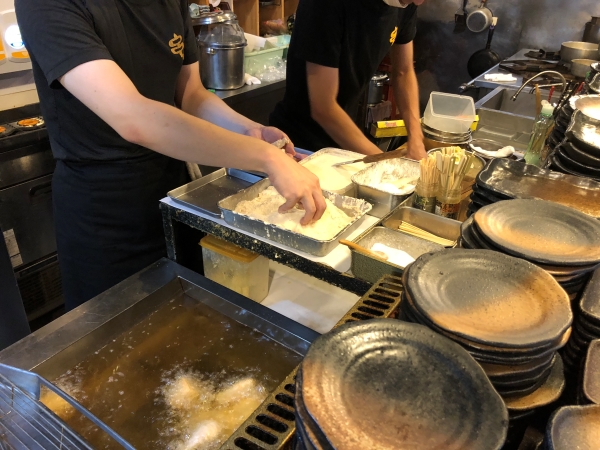 Kushiage literally means "fried skewer" and that's exactly what it is; small pieces of meat, fish, seafood, and vegetables are dipped in egg, flour, and panko breadcrumbs then deep-fried in oil.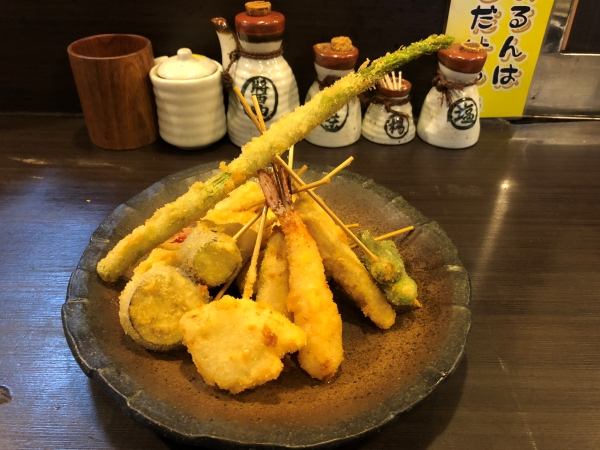 Kushiya Ebisubashi offers 25 different skewers at prices ranging from 100 yen (pork cutlet, eggplant, sausage, quails eggs, corn, scallop, cheese, onion, gyoza, chicken, lotus root) to 150 yen (octopus, red pickled ginger, green chilis, cheese chikuwa, shrimp, whiting, yam, green shishito pepper). At 200 yen are asparagus, shiitake mushrooms, mochi rice cake, and mini tomatoes, while salmon and tuna come in at 250 yen. Doesn't that look great?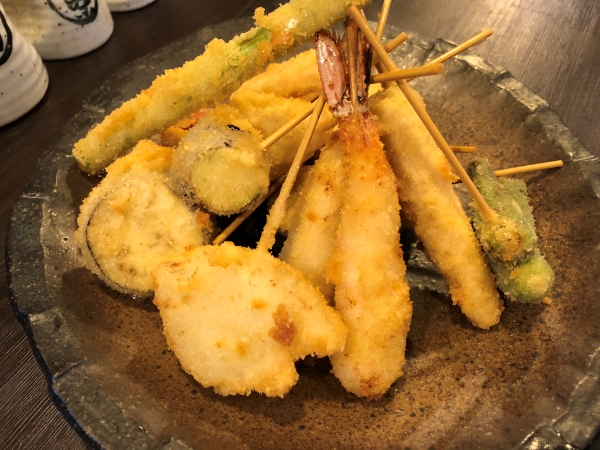 The best way to enjoy kushiage is by ordering a set. The A set is five for 500 yen, B is eight for 800, and C is twelve for 1200. This 12 stick selection features shrimp, gyoza, lotus root, sausage, whiting, shishito pepper, asparagus, quail's eggs, pork cutlet, and more. Straight from the fryer they are piping hot, crispy, and flavoursome.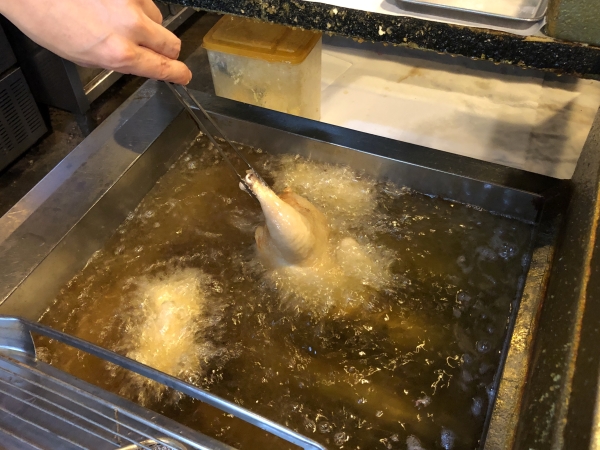 Mr. Gion shows great technique as he deftly deep-fries the latest addition to the menu, a half a chicken (tori hanmiage).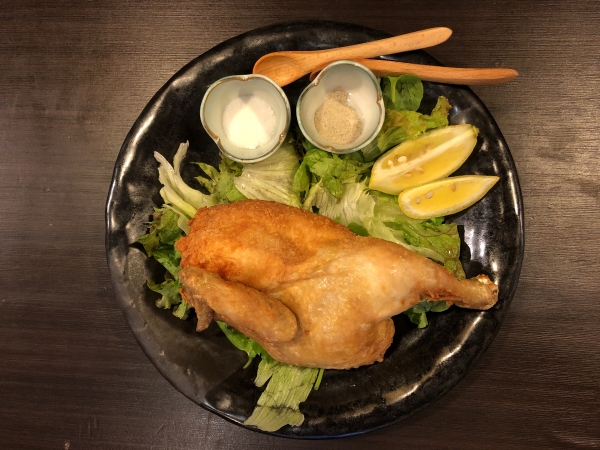 The result is an inviting golden-brown colour, crispy-skinned on the outside, soft and juicy on the inside. Just 1500 yen, it's served with lemon, natural salt and brown pepper.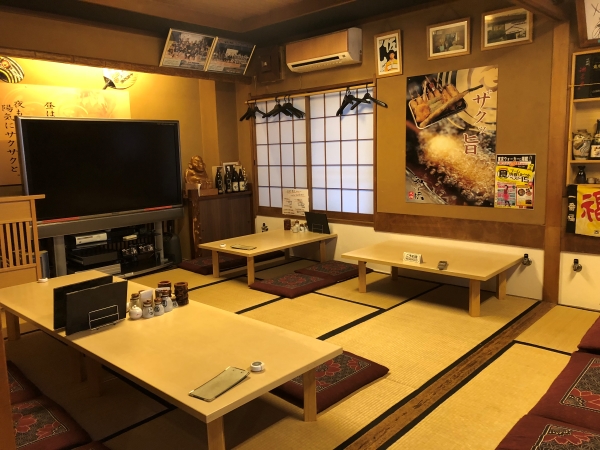 The well-appointed back room features tatami mats, several tables, a massive TV ideal for sport viewing evenings and souvenir items from Hanshin Tigers baseball team. Osaka folk love the Tigers almost as much as their food!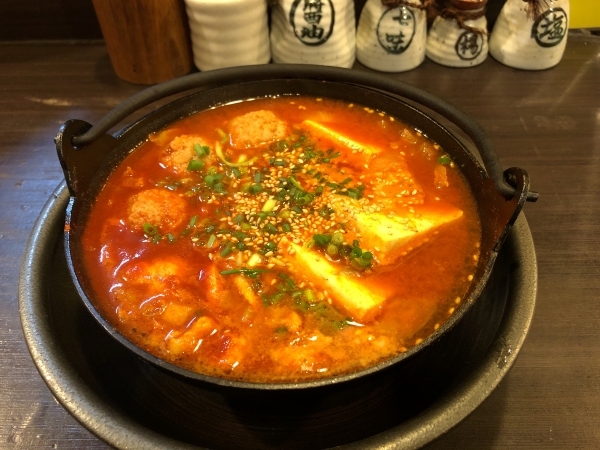 It's not all deep-fried at Kushiya Ebisubashi by any means. This chige (jjigae in Korean) is a hearty, spicy stew featuring tofu and meatballs. The bright red colour and savoury, sweet and spicy flavour comes from red chili paste, the primary seasoning. A real winter warmer, it's capsaicin also provides a stamina boost to those struggling in the strength-sapping summer humidity. Very good value at 870 yen.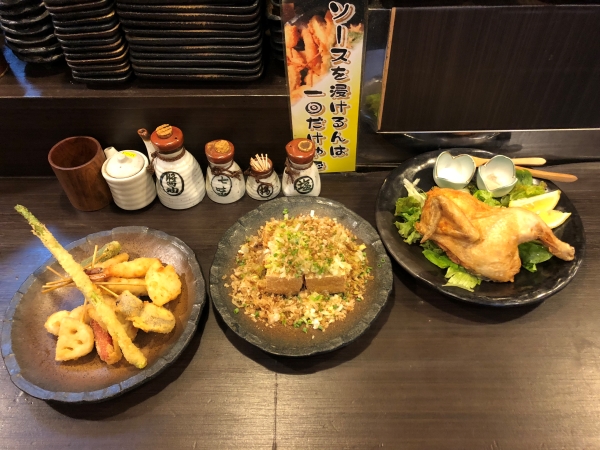 There's an extensive menu of other popular izakaya dishes such as yakitori, ahijo, grilled fish, omelettes, avocado salad, fried noodles, rice balls and so on. There are even sesame balls (goma dango) for dessert, as well as ice cream and glazed sweet potatoes (daigaku imo).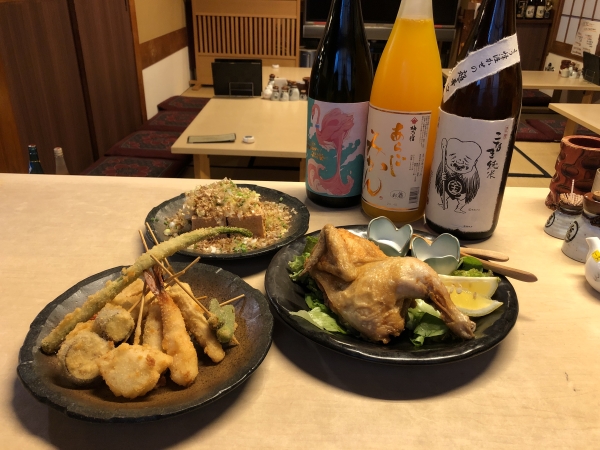 Kushiage was invented to accompany drinks and that remains true today. Kushiya Ebisubashi boasts an extensive beverage menu with draft beer at 500 yen, bottled beer at 550 yen (Asahi and Kirin), sours and chuhai from 400 to 450 yen and "freezing highball" at 500 yen. The usual soft drinks are available, too. Unusually, there is also a wide variety of shochu, sake, and Japanese liqueurs, many quite rare. If you're interested, just ask Mr. Gion what's in store as they change by season or availability.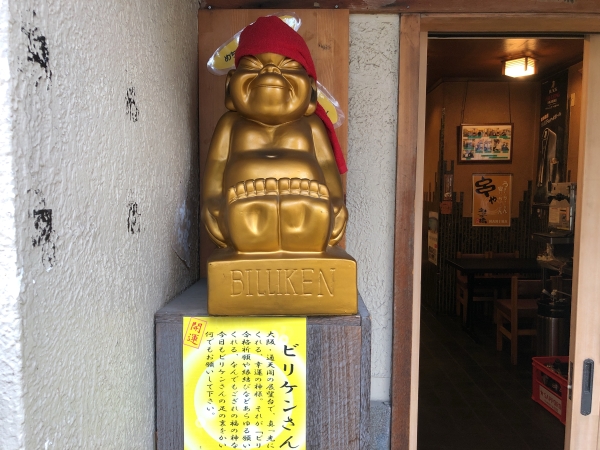 Billiken, or Billiken-san as he's known in Japan, is a figure supposedly invented by an American artist in a dream, somewhere around the early 1900s. Soon after he made his way across the Pacific Ocean to Osaka (apparently as part of an American exhibit at an amusement park opened in Shinsekai) and somehow made the leap to minor deity there. Rubbing his feet is supposed to bring good luck! The kushiage and other dishes at Kushiya Ebisubashi look great, the drinks too and everything is reasonably priced. For a real slice of hearty Osaka cuisine and a lively atmosphere in Kameido, it's the place to go.
Story and photographs by Stephen Spencer