What do you picture when you hear the word "pizza"?
A triangular slice of dough topped with gooey cheese and red pepperoni is probably the most common visual we encounter, but I want you to take that idea and tuck it into a drawer during this article. Cookie-cutter cartoon pizzas are nowhere to be found at Red Wood Pizza, the creative atelier disguised as a homely restaurant right by Sumiyoshi Station.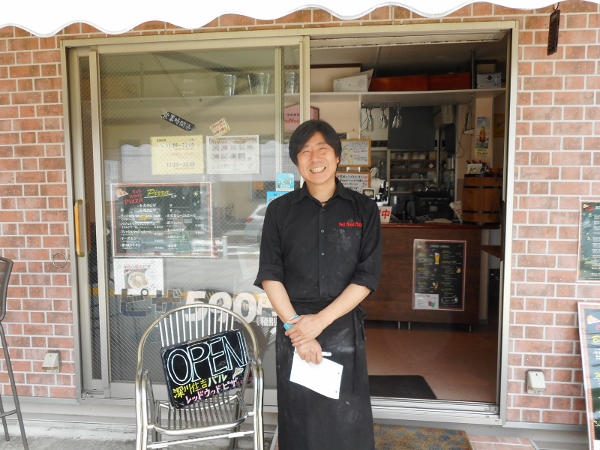 The owner and chef, Mr. Noda, learned to make pizza the Neapolitan way when he happened to visit Italy some years ago. The dough, which is fermented at low temperature, is handled for only 10 to 20 seconds to give it shape before being topped and popped into the kiln; the pizza is then cooked at a scorching 500 degrees Celsius for approximately 90 seconds.
This results in pizza with a thin, elastic crust that is crisp on the outside yet tender on the inside. Ah, perfection.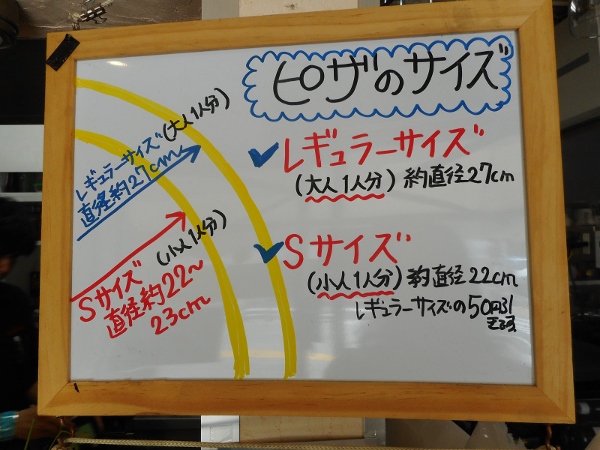 (Regular or S(mall) size? I recommend regular!)
But what sets Redwood Pizza apart isn't just their insistence on making genuine, quality pizza; it's also the creative twists they put on their dishes.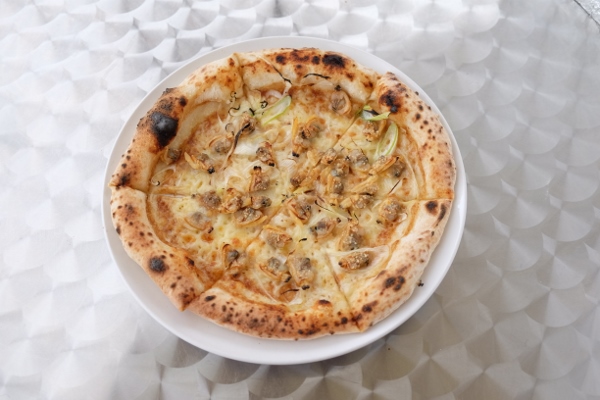 Their regular menu contains everything from the familiar Margherita to the locally-inspired "Fukagawa", which uses miso and asari (littleneck) clams in tribute to traditional Koto cuisine. Pizza with miso might sound inconceivable, but the adventurous should definitely give it a try!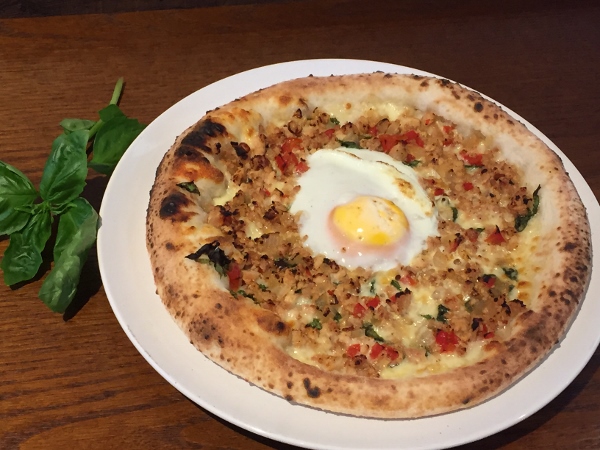 In addition, they offer a constantly-changing "Pizza of the Month" and "Pizza of the Week", experimental concoctions that pushes the boundaries of pizza possibilities. For June, the Pizza of the Month was "Gapao Pizza", named for the Thai fried rice dish it was based on.
"I want to explore everything pizza is capable of, because it has so much potential," says Mr. Noda.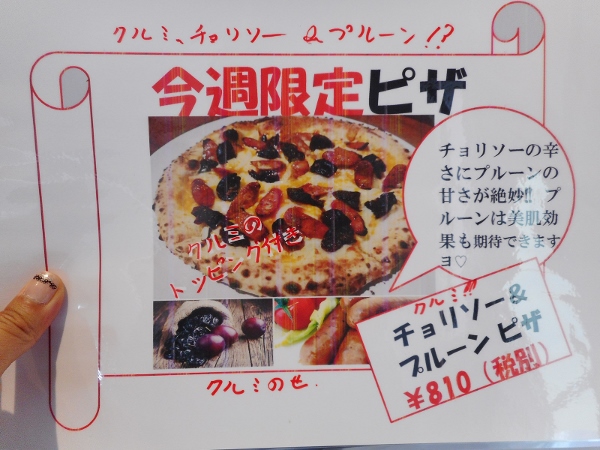 His history of unusual recipes has included combinations such as asparagus and smoked salmon (mmm!), chorizo and plums with walnuts (what would that taste like?), taco pizza (your favourite foods, combined!), and hamburger steak pizza topped with 110g of meat (wow).
"The staff and I get together to brainstorm ideas for the weekly pizzas. It's a lot of work, but also fun."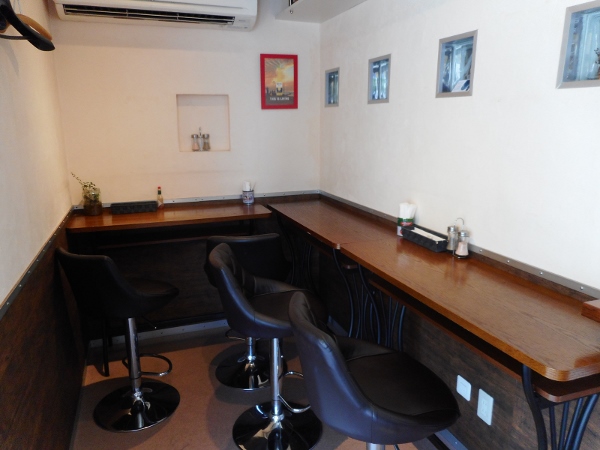 Mr. Noda's eye-opening creations can be enjoyed inside the shop at one of these counter seats,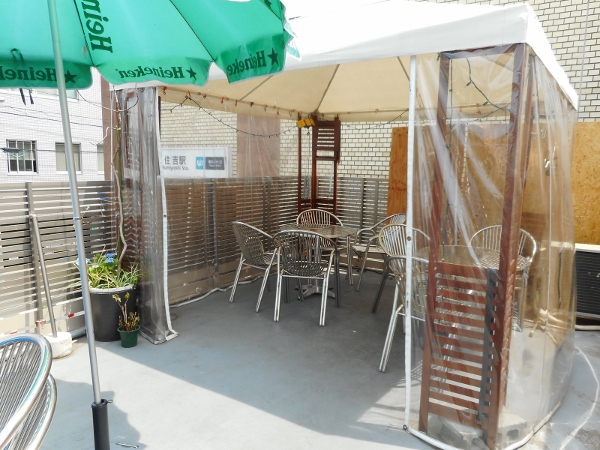 In the open air on the rooftop terrace,
Or as takeout on your way in or out of Sumiyoshi Station (so convenient)!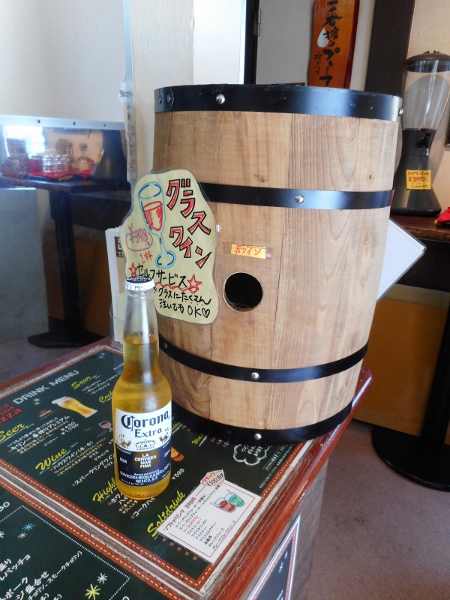 Those who are dining in will definitely want to take advantage of the generous drinks menu, which includes ice-cold Corona beer and self-serve house wine (price charged per glass, so fill her up!).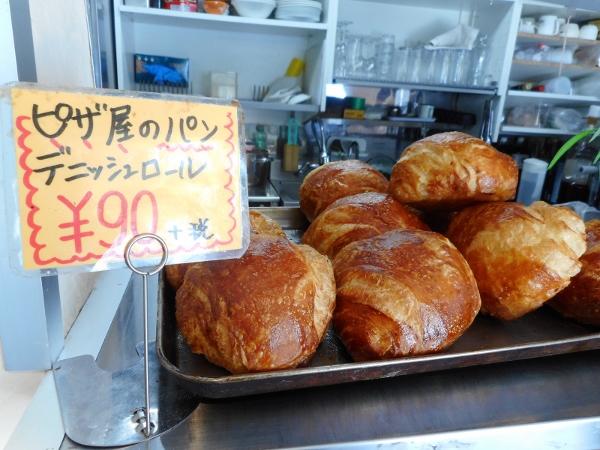 And for after, there is a modest but interesting dessert menu featuring banana-chocolate pizza, as well as scrumptious-looking Danish rolls.
Despite having opened just over a year ago in June of 2016, the store is becoming a local favourite with its easy access, unassuming atmosphere and quirky taste. Fast, easy and delicious, Redwood Pizza will have you dreaming of the unbounded possibility offered by the world of pizza.
Story and Photos by Xianru Shen (Koto City Office Coordinator for International Relations)