Fukagawa Zangi Rivals Karaage
Published: October 28, 2020
Whilst karaage (deep fried chicken) is well-known in eateries throughout Tokyo, zangi may not be so. Zangi is a classic fried chicken dish served in izakaya (Japanese bar/pub) and diners in Hokkaido. The origin of the word is unclear, but it generally consists of tasty chunks of marinated chicken coated with potato starch and then deep-fried.
There are probably two main differences between zangi and basic fried chicken. The first is that with zangi the meat is generally marinated in soy sauce, sake, mirin, sesame oil, ginger, and garlic. The second is that the batter has a higher starch content than regular fried chicken, making it soft and juicy on the inside and crisp with some chewy ridges on the outside.
An eatery in Koto Ward which makes zangi can be found on Kiyosumi-dori Avenue, squeezed amongst a row of shops, a stone's throw from Kaiyo Daigaku (Tokyo University of Marine Science and Technology). Called Gururiya and run by Mr. Osamu Itokawa, it opened in May 2019.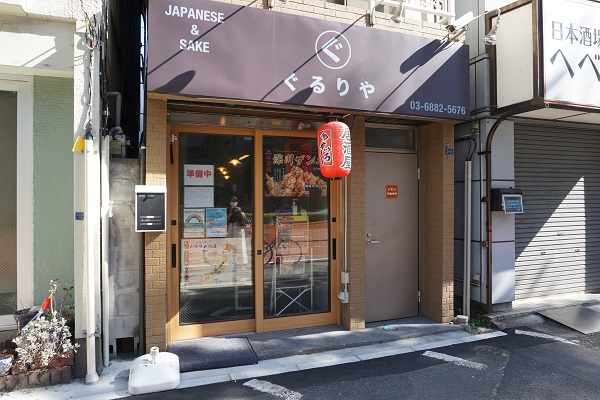 In the evenings this small, one-man izakaya, with its narrow counter capable of seating between five to eight customers, currently offers a range of individual home-cooked dishes or sosaku ryori (creative cuisine) to go with its selection of Japanese sake and beer.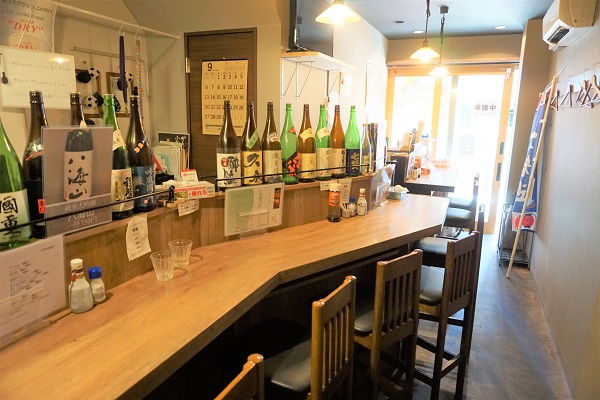 However, at lunchtime Mr. Itokawa's culinary skills are directed to the production of bento (boxed lunches) of Fukagawa zangi (580 yen), zangi curry (590 yen), and zangi and fried saba (mackerel) (650 yen). The zangi bento comes with compartments containing zangi, a helping of rice and an assortment of pickles – excellent value at 580 yen. All prices shown above include tax.
The zangi marinade, made to Mr. Itokawa's own secret recipe, includes soy sauce, garlic, and ginger. Mr. Itokawa reckons to make between 20 and 30 of this popular bento each day. I had hoped to try one of them, but he had already sold out by the time I arrived.
A number of Gururiya's customers buy their bento and tuck into it at the counter, particularly on a sweltering summer's day; stay for less than 30 minutes and you can sit for free; tarry a while with a beer or a cold drink and you face a seating charge.
In contrast, Gururiya is frequented by local regulars who enjoy the evening menu, which comprises individual dishes, including such exotica as filleted ray fin and spicy cod innards, and, of course, Fukagawa zangi, designed to accompany drinking and conversation, and all at reasonable prices (generally below 500 yen, excluding tax).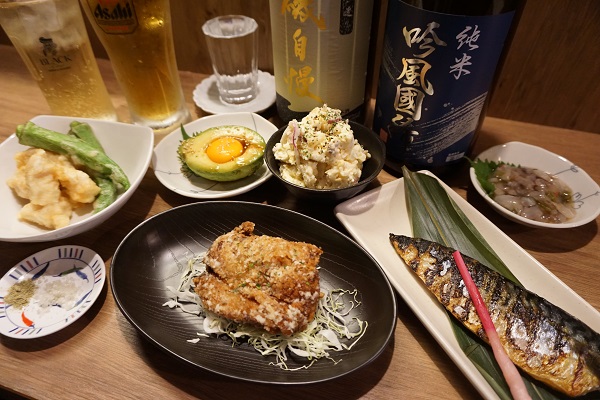 Mr. Itokawa brought out some examples of his creative cuisine for us to inspect. The avocado stuffed with the yolk of an egg and marinated in shoyu (soy sauce) on a bed of shiso (beefsteak plant) looked appetising as did the chicken thighs in tempura with okura,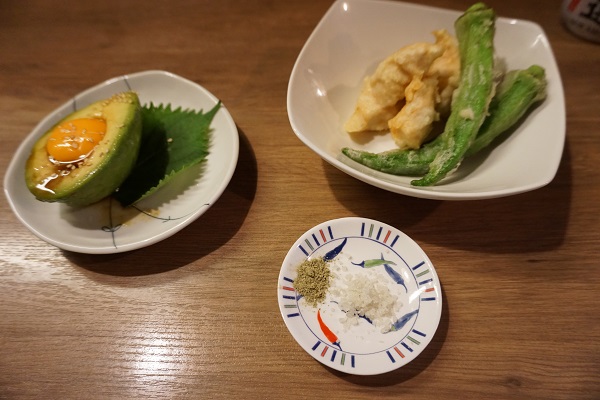 and the fried saba and ginger.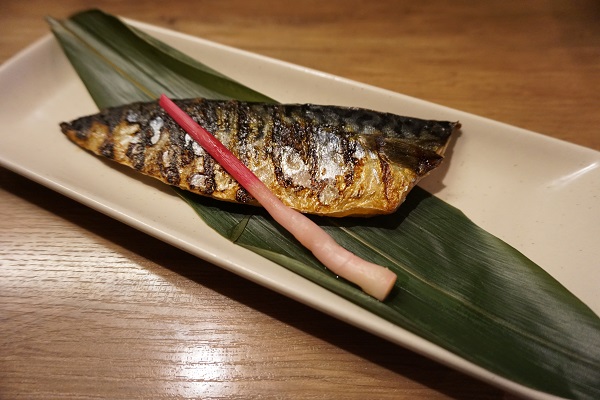 And don't forget the Fukagawa zangi, which is served on a bed of shredded cabbage.
When I asked Mr. Itokawa how he manages to cook and run the bar on his own, he replied, "I used to run a Spanish wine bar alone, but I found it too tiring. This is not a problem." Now, employing his 10 years' experience as a chef, he prepares some dishes at home before bringing them into the bar to add the finishing touches.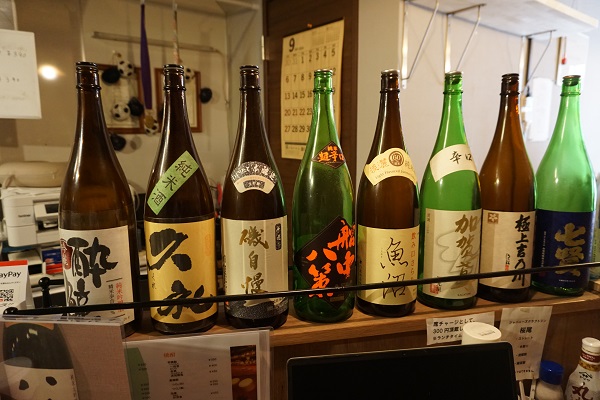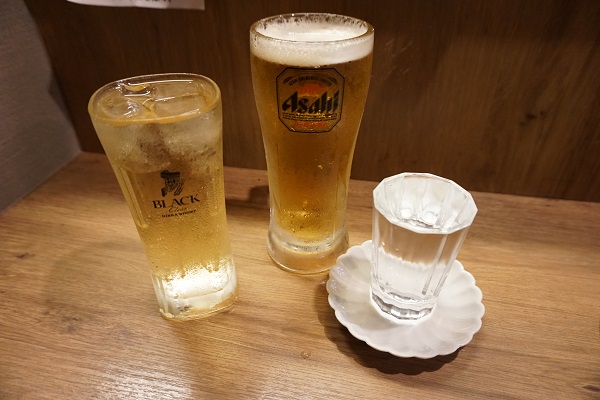 So, if you want to experience some of Mr. Itokawa's Fukagawa zangi, why not call in one lunchtime and start with the bento? I know that is what I intend to do.
Story and photographs by Jeremy Hutchinson