Bread of Heaven on Sunamachi Ginza
Published: March 16, 2022
Nothing attracts customers like an intriguing shop design, as evidenced by the eye-catching signage of Fukuyoka Honpo, the brand-new bakery on Koto-ku's famous Sunamachi Ginza shopping street. To say that their freshly-baked luxurious loaves are selling like hot cakes would be a gross understatement, as I heard from shop manager Ms. Osaka on a recent visit.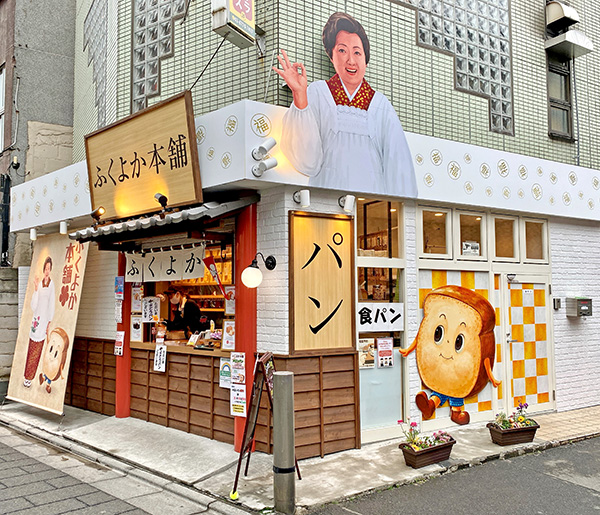 You literally can't miss Fukuyoka Honpo if you're entering Sunamachi Ginza from the Meiji Street route. Towering over the retro-feel shop is the plump, motherly image of a middle-aged lady clad in a traditional cook's apron (kappogi).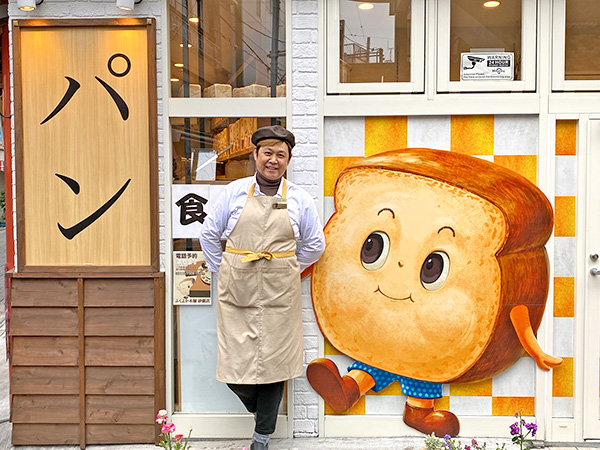 While another original character, Fukuyokapan-kun, cavorts along the side wall. Both nostalgic and cartoonish, the characters raise expectations for the bready treats within. While Ms. Osaka explained she wasn't the model for the female character, she was as welcoming and kindly as one would expect.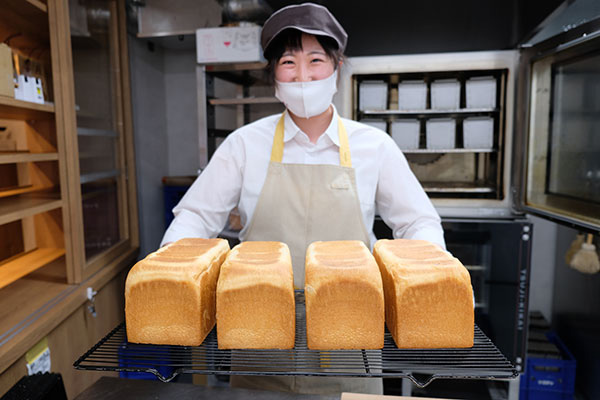 All the staff at Fukuyoka Honpo are female, with the exception of one part-timer, and the atmosphere in the kitchen was one of good-natured banter. This is the signature bread, the "shiawase no aji" (flavour of happiness) loaf, made with the finest ingredients, for Fukuyoka Honpo is one of a new wave of bakeries in Japan which serve gourmet loaves at appropriate prices.
"The shiawase no aji loaf contains the finest selected wheat flour, imported French fermented butter, Japanese butter, preservative-free cream from Hokkaido, rich brown sugar, and honey from Japanese mountain cherry trees. We're extremely fussy about our ingredients," explained Ms. Osaka.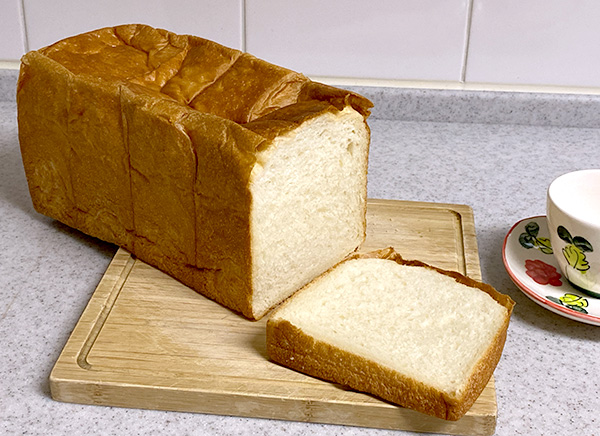 The loaves are sizeable, costing 864 yen each including tax. Having sampled one I can attest to its wonderful quality: soft, creamy and buttery, with a delicate honey fragrance. The bread is so tasty it needs no other toppings; a perfect way to start your day or for afternoon tea. "We make the bread fresh every day. It's preservative free, so customers should eat it quickly. It can be eaten as is for two days and toasted on the third," said Ms. Osaka. One doubts that many people can make a loaf last for three days; this loaf disappeared entirely in less than 24 hours!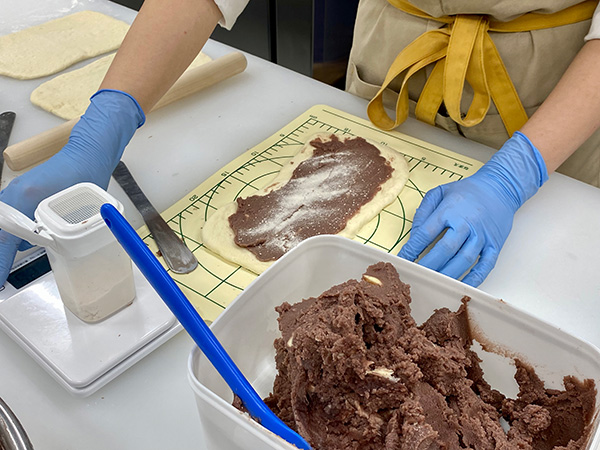 After opening in June 2021 Fukuyoka Honpo has slowly begun adding new varieties of bread to its menu. One such new addition is the "nagomi no hitotoki" (calm, relaxing time) azuki bean paste loaves, made in a limited amount, only on Wednesdays.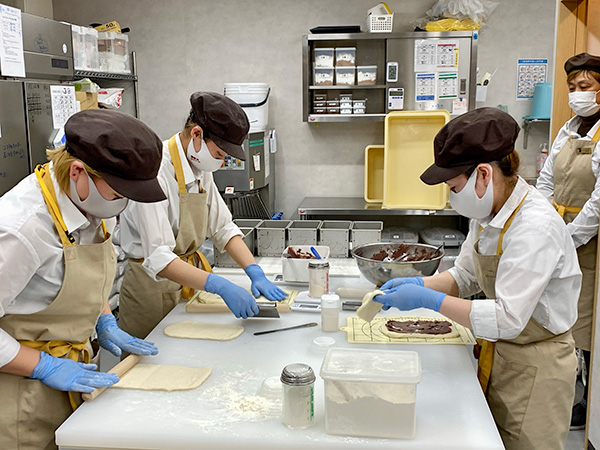 Under Ms. Osaka's watchful eye, the young bakers roll out the prepared dough into rectangles, before coating them in the buttery azuki bean paste mixture.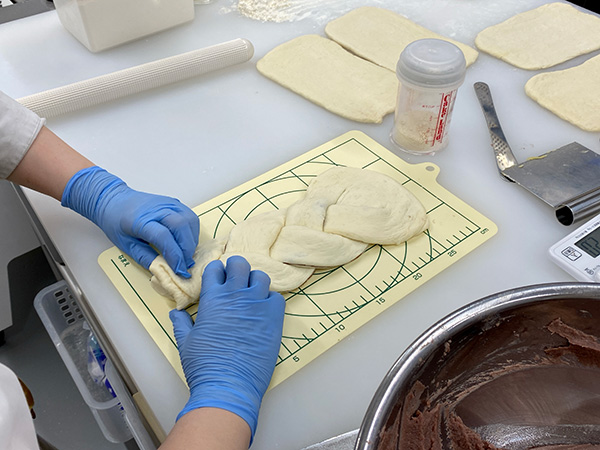 Another layer is added, before the whole is plaited and placed into the baking tins.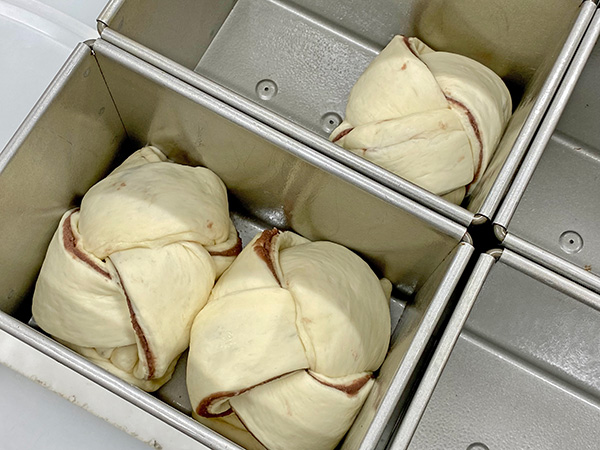 "We bake four times a day, five on busy days," said Ms. Osaka, "with our last batch going into the oven around 2:30 or 3:00pm. One bake consists of 24 loaves. When the final batch is sold out, that's it, we don't bake any more. Many of our customers buy loaves as "return gifts" for friends, neighbours, or colleagues; many people would perhaps hesitate to buy luxury bread for themselves, so our bread makes excellent gifts."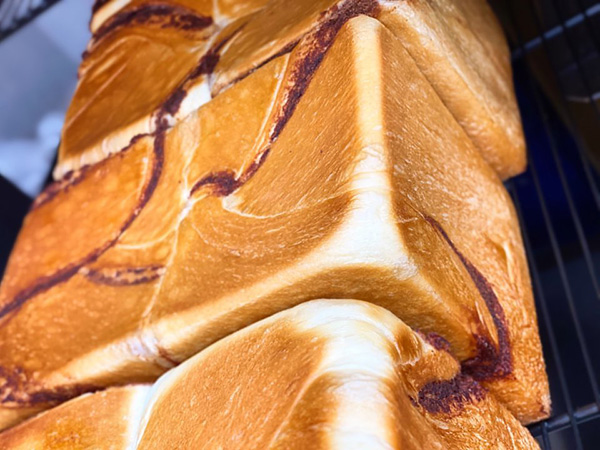 The azuki bean paste loaves are available on Tuesdays only and cost 1,058 yen each including tax. Mondays are "cocoa kibun" (cocoa feeling) days, when loaves baked with rich Belgian couverture chocolate paste are on sale at 972 yen apiece. One can just imagine the wonderful smell of baking bread and chocolate wafting down the street!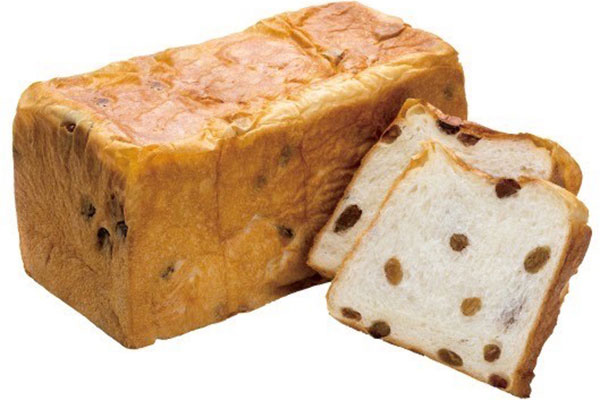 And there's more. Every day Fukuyoka Honpo produces just 20 of these "iki na budo" (chic grapes) loaves, which feature a large quantity of the very finest Australian Sun Muscats.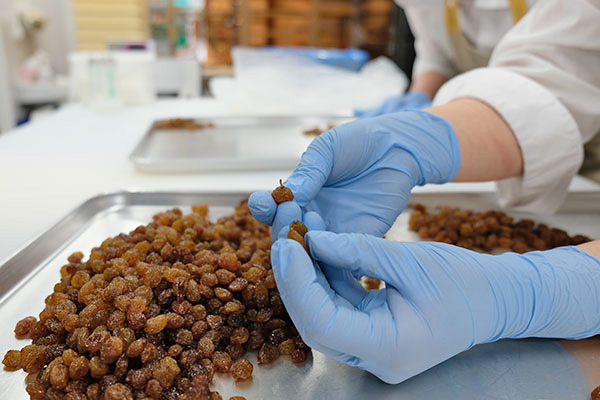 The dried muscats are hand sorted, with the staff selecting only the highest quality. "It's labour intensive but our commitment to quality control is total," as Ms. Osaka said. The selected muscats are then soaked in French champagne before being added to the dough and baked. The dough ingredients vary slightly, depending on the extra additions to the bread. The muscat bread doesn't contain cream, for example. Needless to say the muscat loaves are wildly popular and sell out almost instantly. Yours for 1,058 yen apiece; first come first served at around 12:00 every day.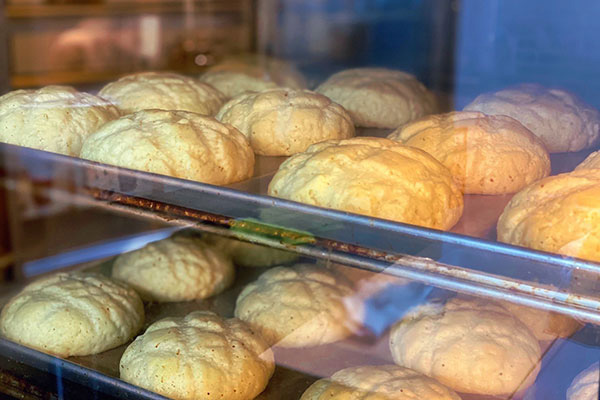 Fads may come and go but azuki bean paste and melonpan sweet breads remain endlessly popular. Melonpan are sweet bread rolls covered with a thin layer of cookie dough; the contrast between the thin, crispy crust and soft, fluffy bread is perhaps the secret of its success. Every Sunday and the 10th of every month is melonpan day; as with the other specialty breads at Fukuyoka Honpo it's first come first served. At just 194 yen, you can bet there's a long line outside the shop!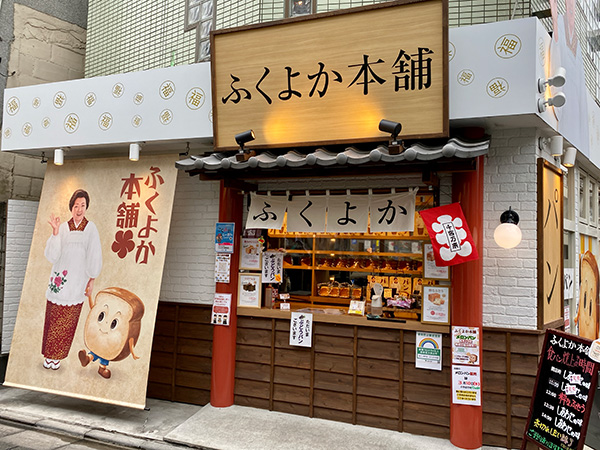 If you're planning a visit to Sunamachi Ginza in the near future (and why shouldn't you be, given the arrival of spring), you simply can't miss Fukuyoka Honpo, in more ways than one.
Bread lovers assemble!
Story and some photos by Stephen Spencer