Koto Ward is home to numerous shops selling traditional Japanese foods or crafts. One such shop is Funabashi-ya, renowned for its kuzumochi.
For those who have not experienced it, kuzumochi is a dessert made from wheat starch served with a topping of kokutou (brown sugar syrup made from sugar cane), and kinako (soy bean flour). This traditional dessert is popular with Japanese folk of all ages and contains healthy lactic acid bacteria as well as being gluten-free. It is considered particularly good for children and pregnant women.
The Kameido branch of Funabashi-ya is located on the corner of the busy intersection of Meiji-dori and Keiyo-dori avenues. I sat down in the compact and precisely laid-out dining section of this charming shop, and listened as Mr. Kazuki Matsuyama, the branch manager, explained how kuzumochi is made.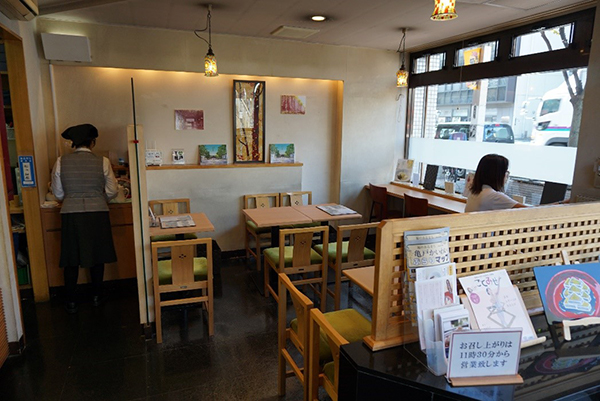 In a previous life, Mr. Matsuyama was a professional boxer in the super lightweight class, and I guess it shows from the shape of his nose 😊. When I expressed my surprise at his dramatic career change, he explained with a grin that he saw a limited future in boxing, and as Funabashi-ya had been his sponsor it was a natural step to join the company.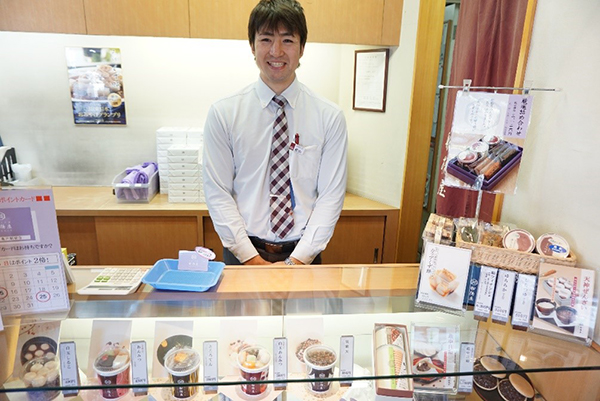 A plate of white gelatinous triangles was placed in front of me and I was invited to try them. Soft and chewy, I thought the taste rather innocuous; that was before Mr. Matsuyama produced some kokutou and kinako, and proceeded to pour and sprinkle them over the kuzumochi. These ingredients are what give this dessert its pleasant sweet taste as it slides smoothly down the throat.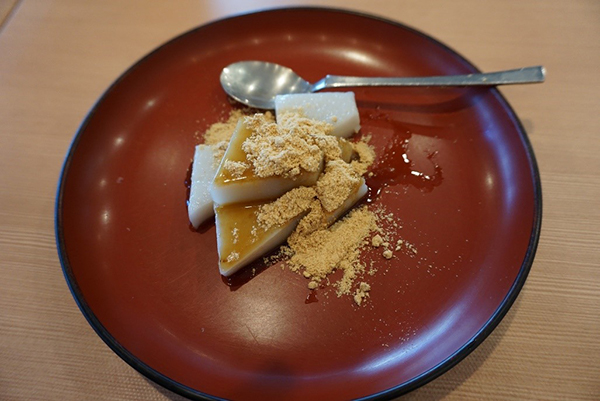 And for those foreign customers who decide to try kuzumochi in the shop's eating area there is a helpful sheet in English explaining how to best enjoy kuzumochi.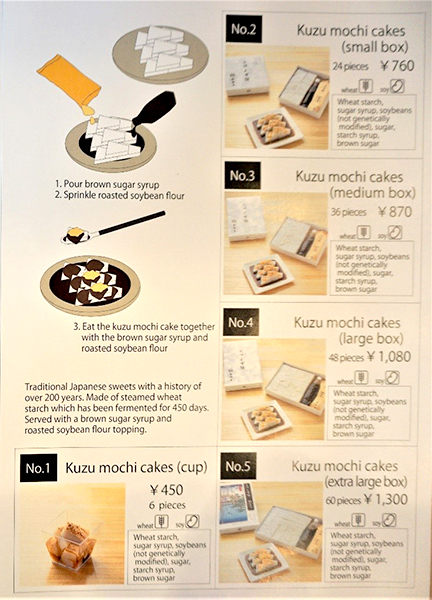 Mr. Matsuyama explained that kuzumochi has been made at the factory attached to Funabashi-ya's flagship shop near the Kameido Tenjin Shrine, since the company was founded in 1805.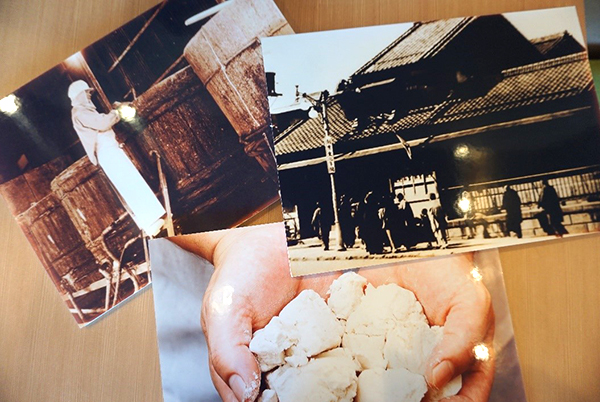 The wheat starch, from which kuzumochi is made, is left to ferment at the company's Gifu and Okinawa prefecture sites for an incredible 450 days, before it is washed in clean water for three days to extract the gluten and then steamed and hardened to produce the white pudding-like dessert.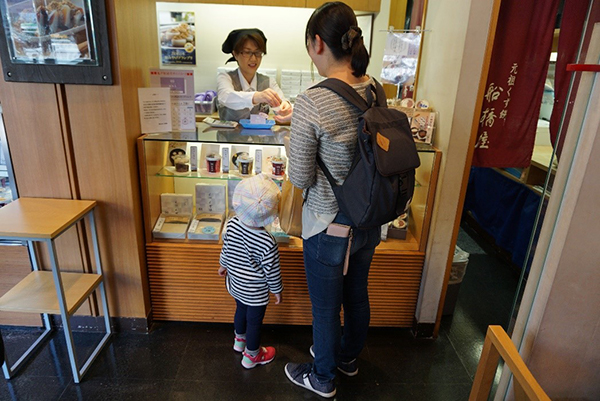 Whilst we were chatting, I watched a continuous stream of customers entering the shop to buy boxes of kuzumochi and other sweet products on sale.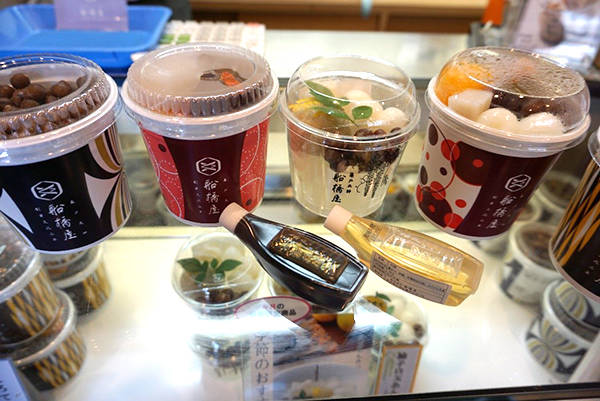 After kuzumochi, the next best-selling product is anmitsu. This sweet consists of small cubes of kanten (agar jelly) and azuki (sweet red bean paste) topped with fruit. The contents are changed monthly; when I visited the store yuzu (Japanese citrus fruit) shiratama anmitsu was the in-season flavour.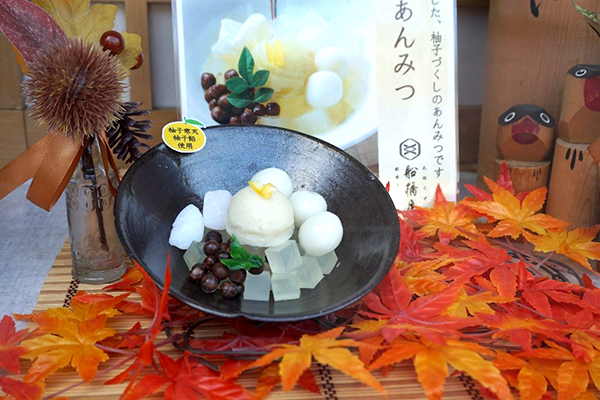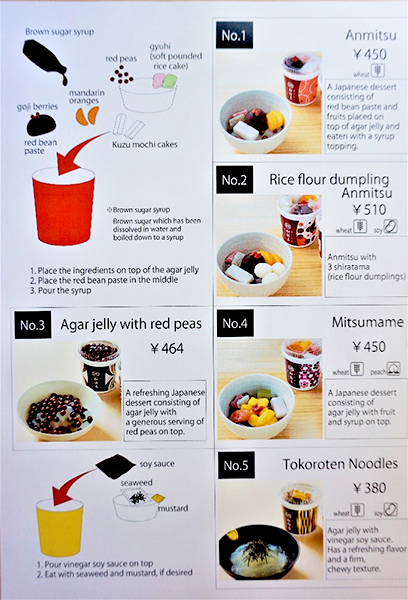 Looking over the display counter I noticed a favourite of mine; boxes of financier, a small rectangular almond cake flavoured with hazelnut butter and baked in a small mould. Funabashi-ya has added a twist to this traditional French delicacy by creating goma (sesame) and matcha (green tea) varieties.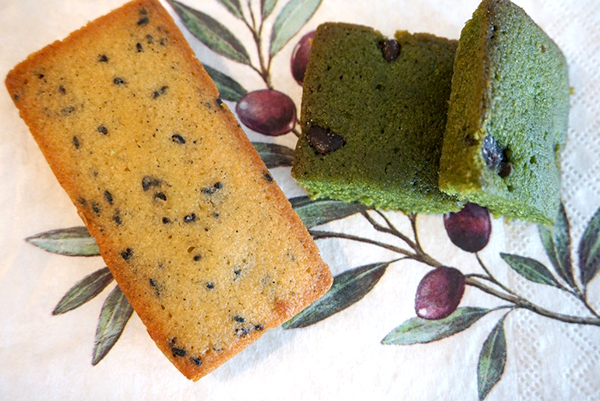 Biting into these moist cakes I could taste the black sesame seeds and the flavour of green tea. They go perfectly with afternoon tea and, to my mind, make a great "traditional" gift. As Mr. Matsuyama says, the shop's "Wa-Financier" (Japanese-style Financier) cake is a harmonious blend of French and Japanese tastes.
A lunchtime range of healthy dishes is also available. This includes the best-selling pork and tomato miso-nyu-men (thin Japanese noodles in a soy bean paste soup), accompanied by a bowl of rice and a dessert of kuzumochi – all for 1,080 yen (see right-hand page of photograph below).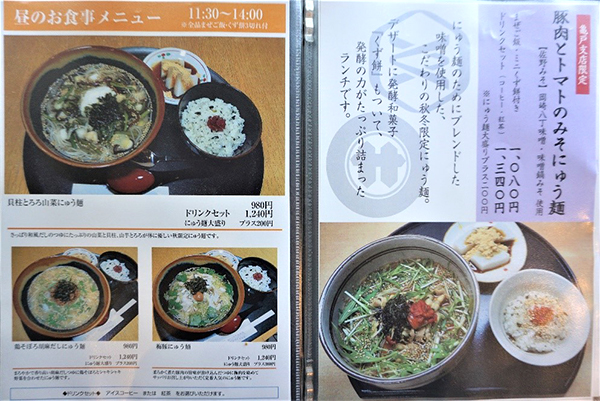 According to Mr. Matsuyama this dish is a local collaboration, with the miso supplied by the famous Sano Miso Kameido flagship store located just across Meiji-dori Avenue from Funabashi-ya.
So why not drop in and try the healthy lunch set with a kuzumochi dessert. You may find yourself becoming a fan of this particularly Japanese traditional dish.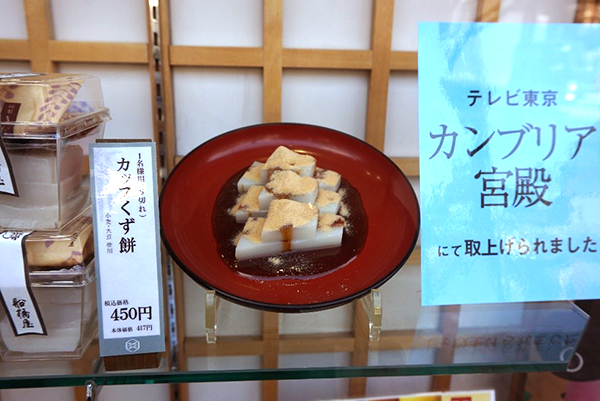 Story and photos by Jeremy Hutchinson