Watayamori is a longstanding maker of fine futon mattresses, futon quilts, cushions, and much more. On a recent sunny spring morning, we dropped in for an enlightening chat with dynamic, youthful president Mr. Kazuta Mori.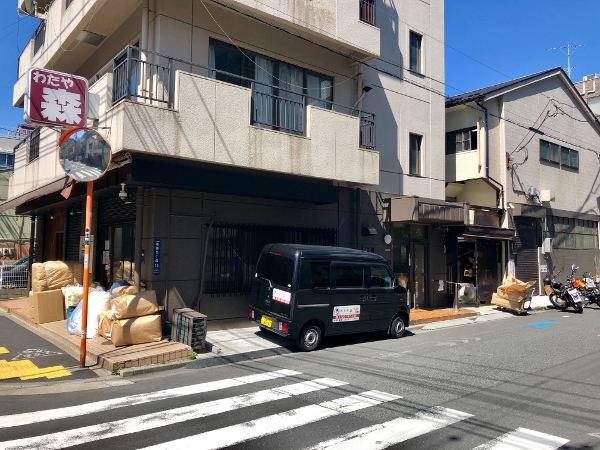 Located on a backstreet a few minutes-walk north of Toyocho station, Watayamori makes futons under the brand name Futon Tokyo. "The business began in 1917 as a futon batting wholesaler," explained Mr. Mori. "We've been making futon mattresses, quilts, and cushions to order for a long time, slowly adding more and more products over the years. All our products are handmade to order from pure cotton materials. We also offer 100% certified organic cotton items."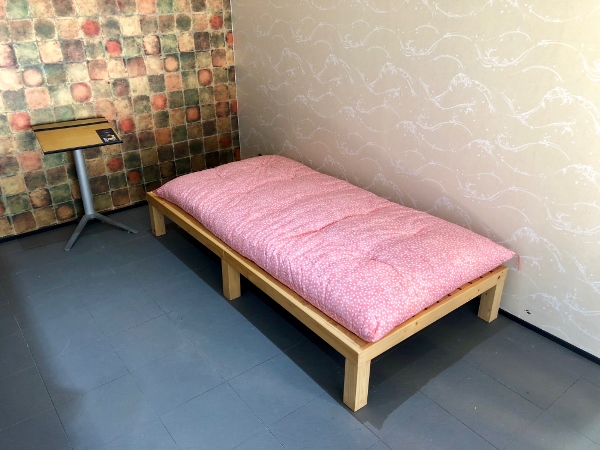 While internet orders account for the vast majority of sales nowadays, many local residents and foreign tourists visit the shop, which has prompted Mr. Mori to turn a storeroom into a futon gallery. "We're the only futon shop in the area and our factory is in the same building, so many local families have been our customers for generations now. We also do repairs, which is a large part of our business. We receive many orders from all over Japan, especially Hokkaido, and sell through our own online shop and ecommerce sites such as Rakuten."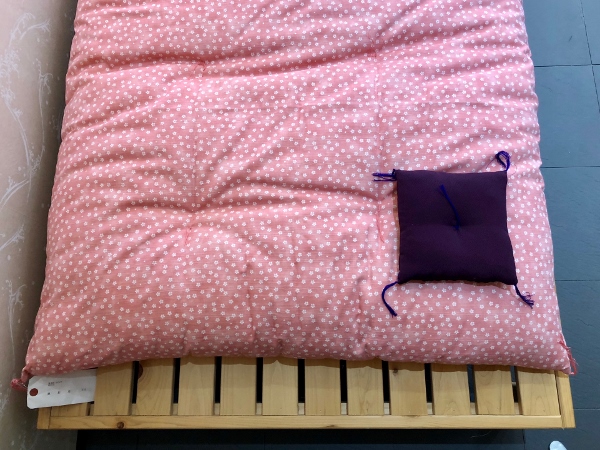 The futon mattresses (shikibuton) vary in price depending on size and material. They come in various sizes: single (103 x 200cm), single long (103 x 210), single very long (103 x 220), semi-double (125 x 210) and double (140 x 210). They are available with three different fillings: 100% organic cotton (certified), 100% Indian cotton (seed cotton) and a 70% Indian cotton, 30% polyester mix. The bigger the mattress, the more expensive they are, while 100% certified organic cotton is the most expensive filling.  A single in organic 100% is 19,000 yen, a single in 100% Indian seed cotton is 14,500 and the Indian cotton/polyester mix is 12,500.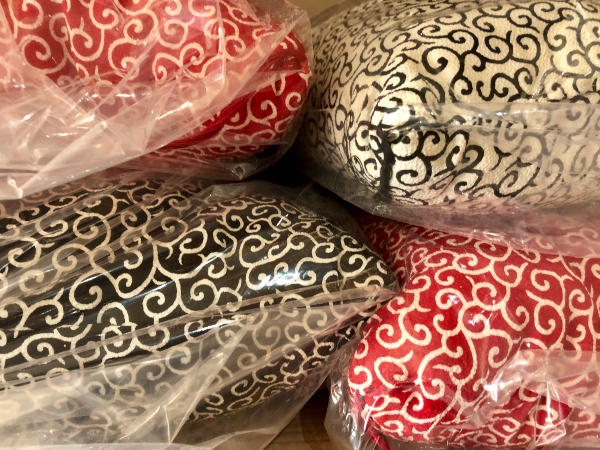 The prices also vary depending on the material used to make the mattress covers: regular satin is the standard as above, while others such as fine quality satin, broadcloth, and 100% high quality Egyptian cotton cost slightly more.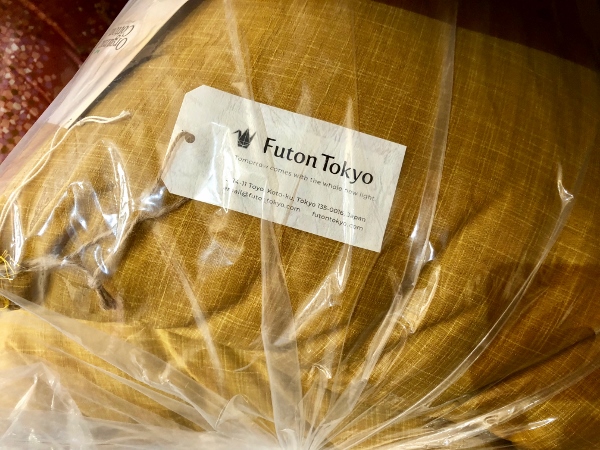 The futon quilts (kakebuton) are much larger and come in two basic types: 100% Mexican cotton and a 60% Mexican cotton, 40% polyester mix. Sizes are single (150 x 200cm), single long 150 x 210, single very long 150 x 220), semi-double (170 x 210) and double (190 x 220). As with the mattresses, there are a number of materials available for the covers and thus prices vary. A single in Mexican cotton with a standard satin cover is 13,200 yen, single longs and very longs are 15,000 yen while semi-doubles and doubles are 18,300 yen.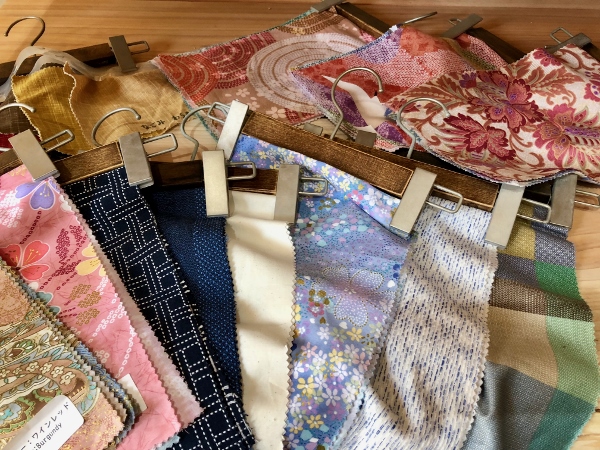 The covers come in a variety of designs, from floral and paisley.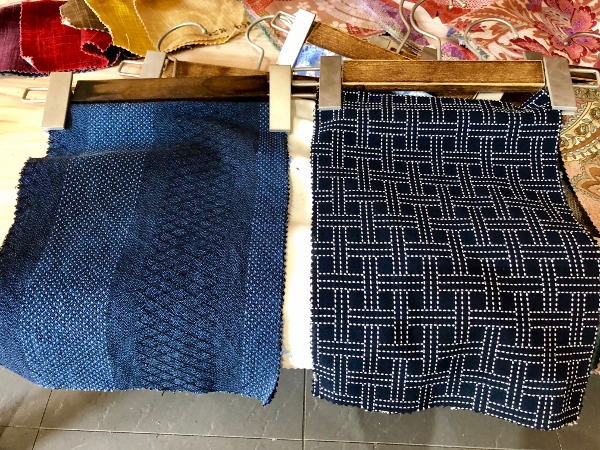 To these traditional sashiko fabrics.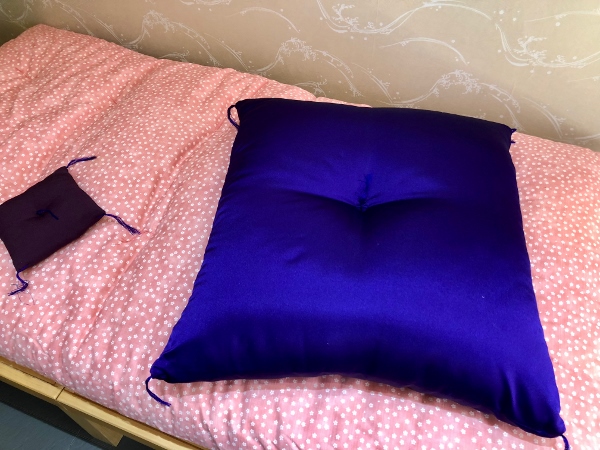 Aside from the futons and quilts, Watayamori also produces a selection of cushions, from the very small to these magnificent flat floor cushions (zabuton). Zabuton made at Watayamori are used by comic storytelling artists (rakugoka), in luxurious, exclusive restaurants (ryotei) and in facilities such as the Edo-Tokyo Museum, the Fukagawa Edo Museum, the Kabuki-za theatre and so on.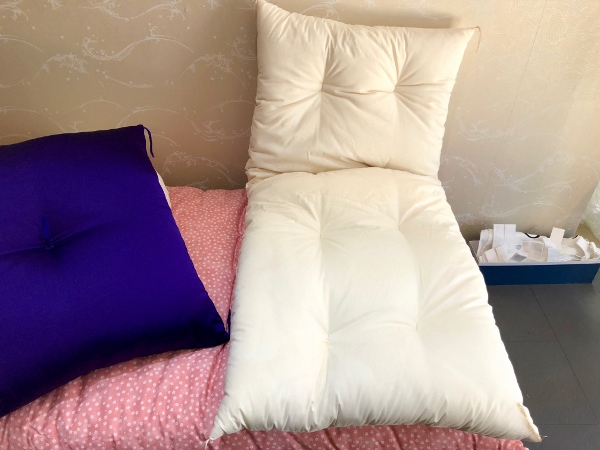 Watayamori specializes in unorthodox cushions such as this extra-long.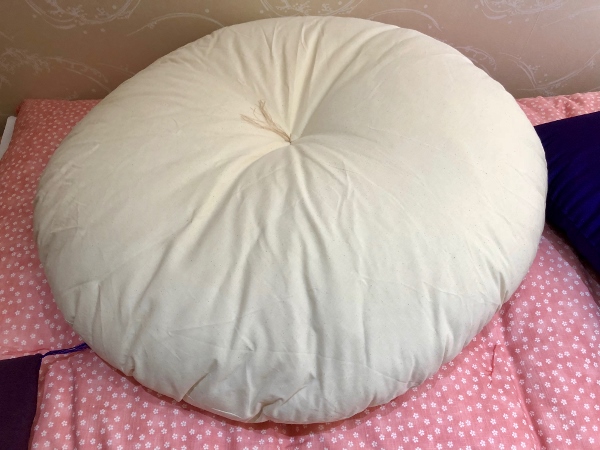 And this massive round cushion, which resembles a traditional azuki bean paste bun (anpan). You could fill your house with these!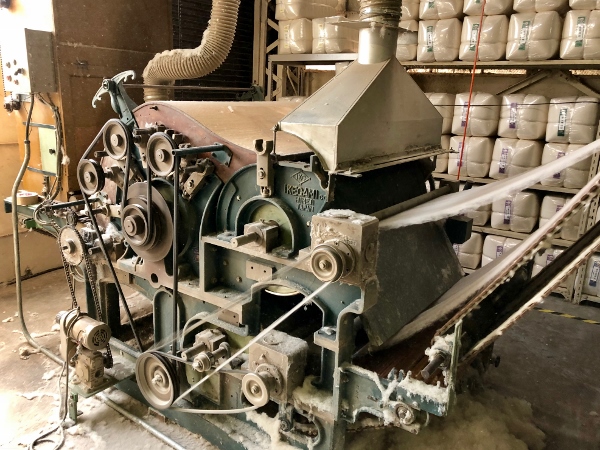 Mr. Mori led us round the corner to an astonishing place: the factory where the raw cotton is rolled, pressed and turned into the batting used for the mattresses, quilts and cushions.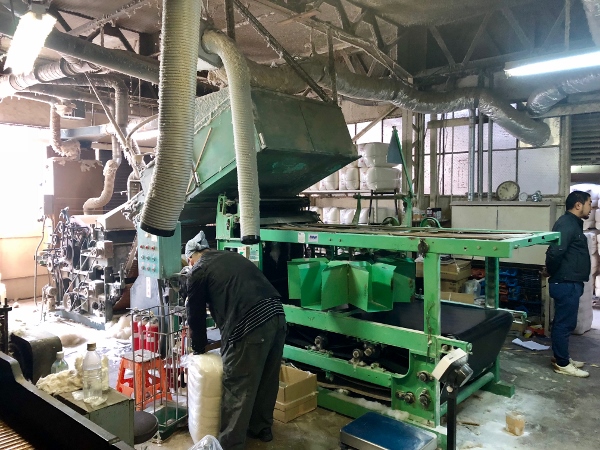 The machines were incredible, vast behemoths engorging the bales of Mexican and Indian cotton that were piled high against the walls, and disgorging rolls of thin flat batting to be taken upstairs.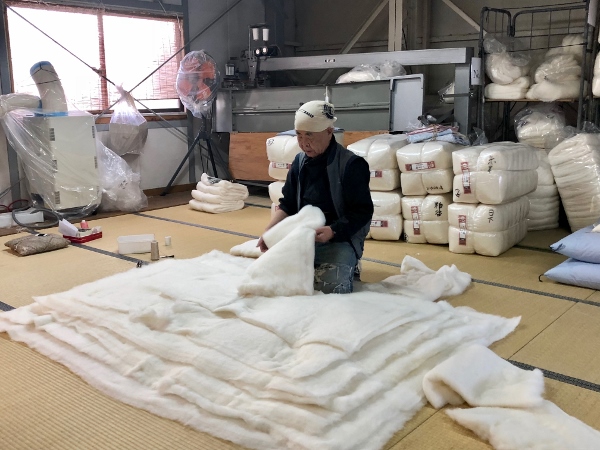 The master craftsman, a man with 60 years-experience in turning batting and cloth into futons and cushion, was hard at work on the second floor.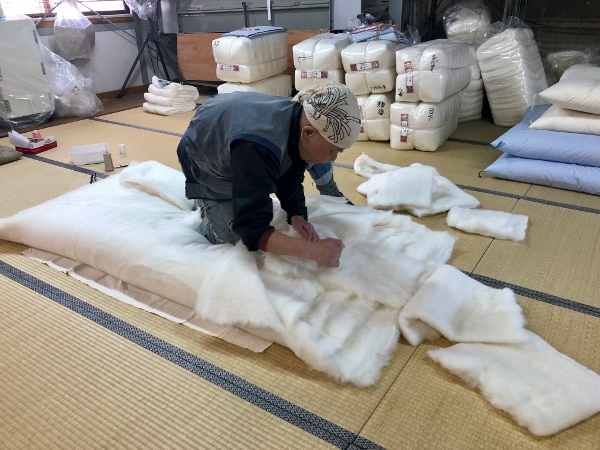 With the deftest of movements, he cut, layered, folded and crimped the batting. "I make around 15 a day," he explained.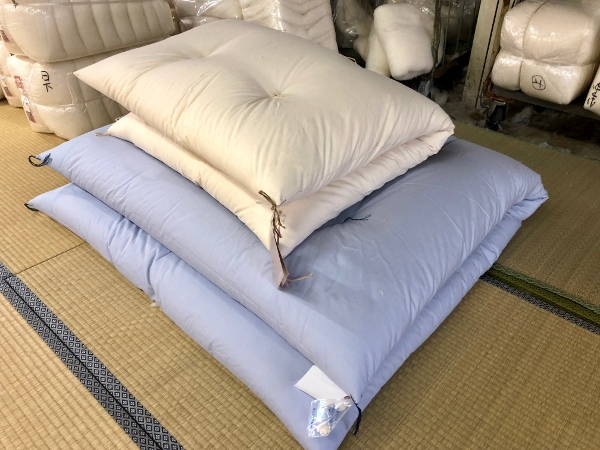 It's an arduous and labour intensive process, but the results are superb. The 100% cotton white baby futon shown here is a new product. Designed for children up to six years old (120 x 70 cm) they are a very reasonable 7,129 yen.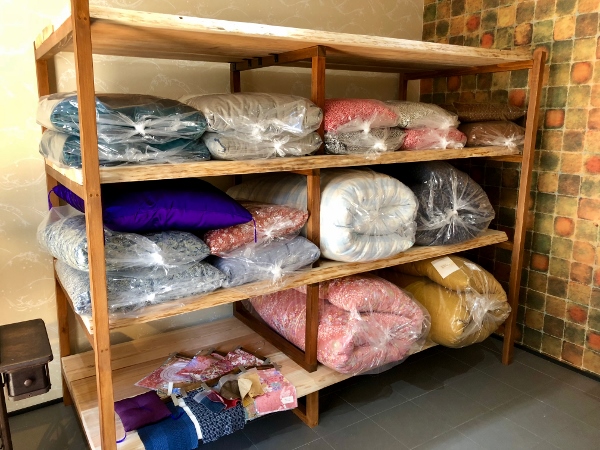 Watayamori offers a very convenient Airport Yu-Pack service. Yu-Pack is the parcel delivery system operated by Japan Post. Customers can have purchases delivered to airport counters at ten different airports throughout Japan, including Narita, Haneda, and Kansai International, for a fee of 652 yen.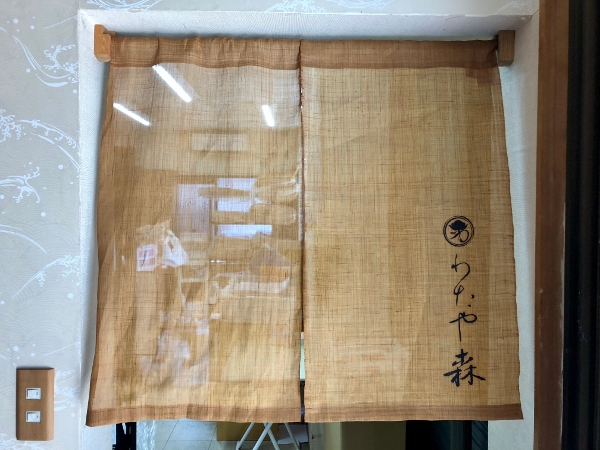 Aside from futons and cushions, Watayamori offers a wide variety of items including covers, blankets, towels, pyjamas, shop frontage curtains (noren), organic cotton cloth, batting and many more. Mr. Mori spoke also about introducing observation tours of the gallery and factory in the future. It's a fascinating process to watch; I'll certainly never look at futons in the same way again!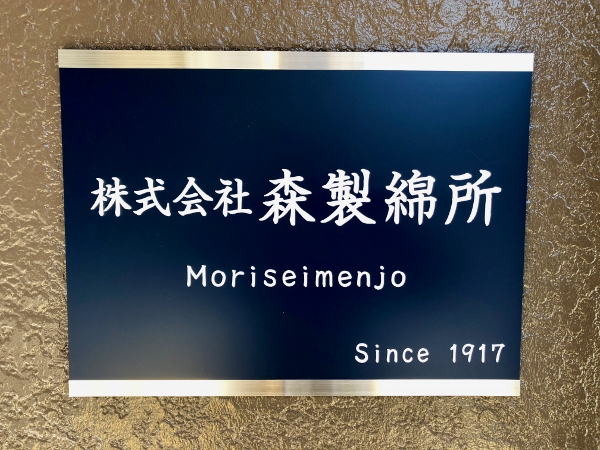 If you're looking for a new futon then Watayamori is the place to go. The website features a wealth of interesting information and stunning visuals, while for those outside Japan it's possible to order from the UK based site below. Whatever your needs, you can rest easy on a Tokyo futon from Watayamori.
Story and photographs by Stephen Spencer