Grocery shopping may not be glamourous, but it's a pretty unavoidable chore. If you live in Japan for more than a few weeks, it's likely that you'll need to scout your neighbourhood for a favourite one-stop supermarket to help make life a little easier and a lot more affordable.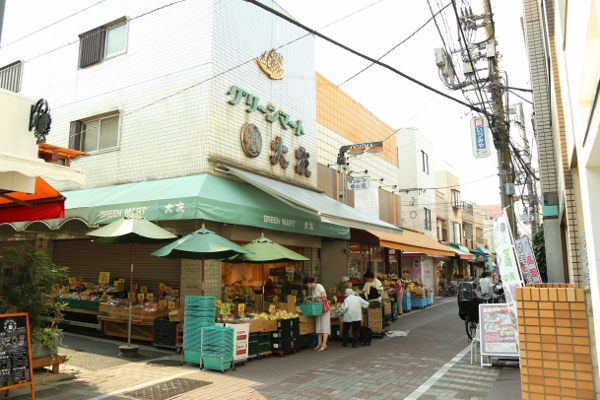 For many people in the Ojima neighbourhood, that's Green Mart Otomo. Green Mart Otomo has been serving the community for 50-some years, and is an irreplaceable part of the lively, close-knit community located around the Nakanohashi Shopping Street.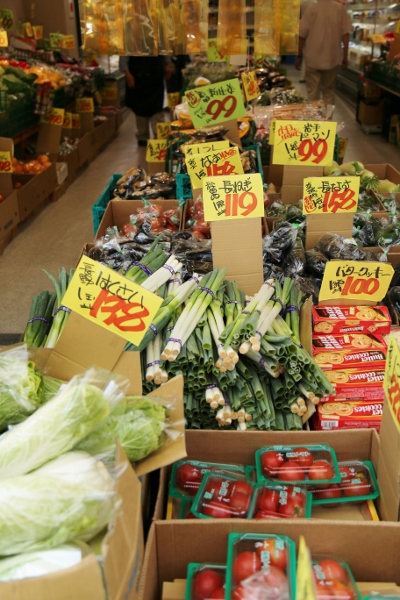 The first thing to greet customers as they approach the entrance is a variety of fresh fruits and vegetables. Stacks of legumes, mountains of onions and tomatoes, big shiny peppers and a wide-range of mushrooms form the tip of the iceberg to the assortment of foodstuff available within. And check out those bright price tags sporting some great deals!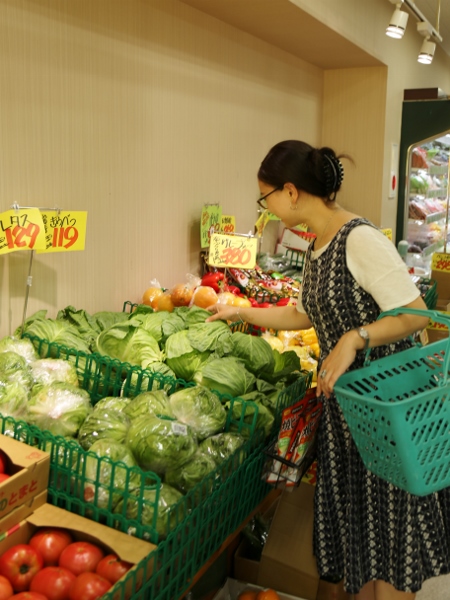 If you're looking to balance the household budget, aim to pick up some seasonal harvests, which are usually cheaper than their greenhouse counterparts. Keep a keen eye out for marked-down items as well, which are sometimes 50% off from the original price!
"We might be overdoing it with the price cuts," remarked Mr. Seiichiro Otomo with an apologetic laugh. As the third-generation owner of Green Mart Otomo, he's got a lot riding on his shoulders in making sure the store lives up to the standards its long-time customers have come to expect.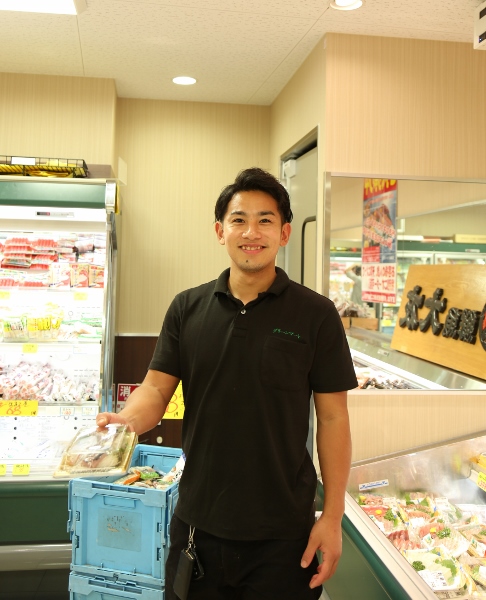 But he's not one to shy from a challenge. Mr. Seiichiro may be young, but he is a supermarket expert who inherited his job from his parents only after proving himself at a different grocery store, where he was trained in the various workings of running a smooth shop. "I'd always assumed inheriting the store was a given, but it turned out my parents weren't about to just hand it over to a rookie! It was only after I'd worked hard for years and earned my father's approval that he let me take over."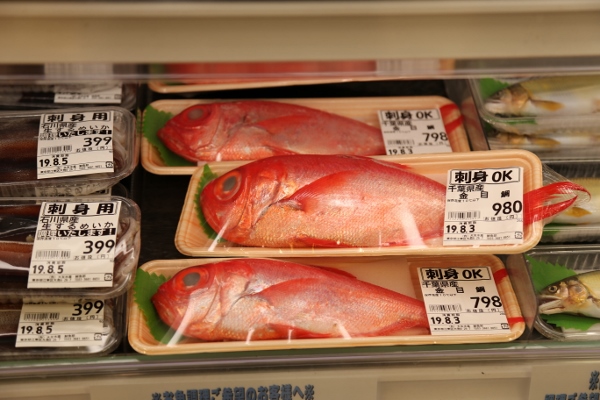 Aside from being the general overseer, Mr. Seiichiro is also in charge of the fish and seafood department. Every morning, he goes to the fish markets early, and scouts for the best, freshest catches to line the shelves of his store. Thanks to his efforts, Green Mart Otomo not only has an impressive selection of fish for sale—they sell them at extremely reasonable prices!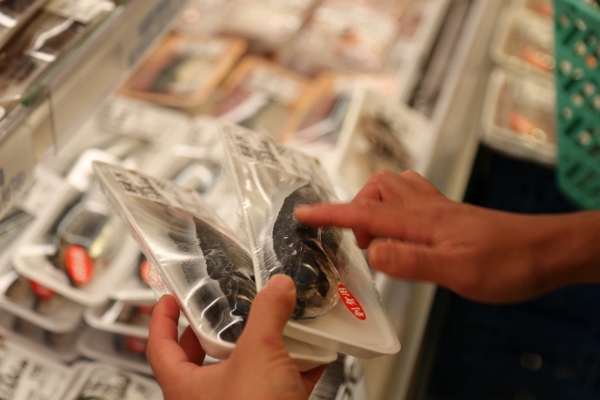 Having a personal hand in choosing the fish means Mr. Seiichiro can give great advice to the shoppers. He can tell you what fish are in season, which fish are the best deals of the day, how to spot the best fish to purchase from the lineup, and even counsel you on how best to cook them.
"Aji (yellowfin horse mackerel) are at their best right now," he said, showing me a selection of sushi-grade fish. "You'll want to look for things like a clear, golden stripe when making your purchase."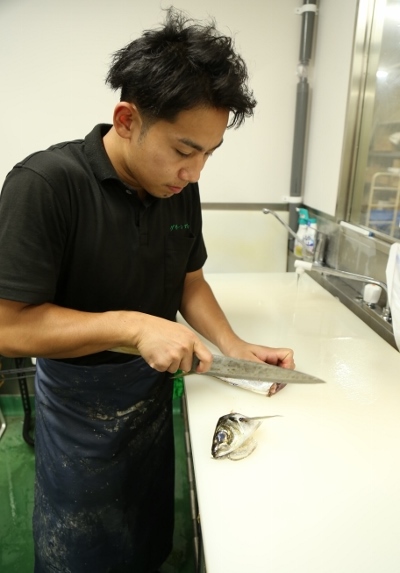 Similar to other grocery shops in Japan, Green Mart Otomo sells many of their fish whole, with everything still intact. But if you are at a loss for how to handle one, they will happily clean and slice it up for you without any additional charge! I asked Mr. Seiichiro if he would mind demonstrating, and he was happy to oblige. "How do you want it done? Our staff members can help customers prepare the fish so all that's left to do at home is to cook the meat. Do you want it sliced for grilling, chopped into bite-sized chunks, or something else?"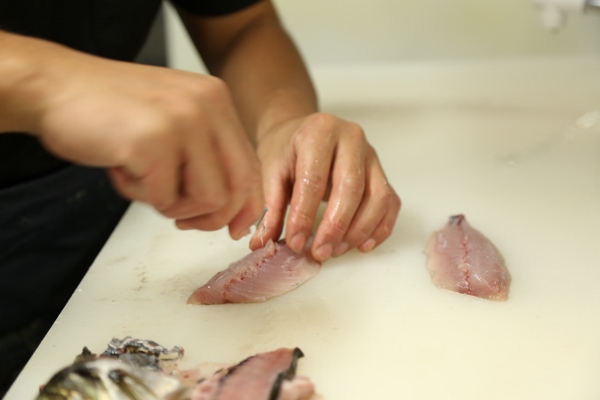 Since the fish was sushi-grade, I asked if he could slice it into pieces ready for consumption as-is. Without batting an eyelash, Mr. Seiichiro quickly removed the head, tail, and innards, then carefully sliced the flesh. He even took the time to de-bone the pieces. I was incredibly impressed by his speed and professionalism!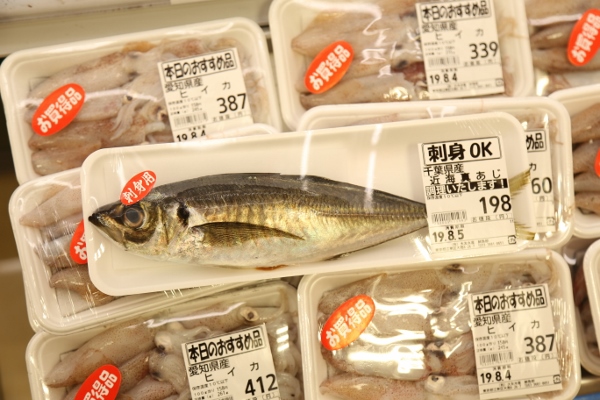 By the time he was done (which took maybe 5 minutes), the horse mackerel as seen above had become…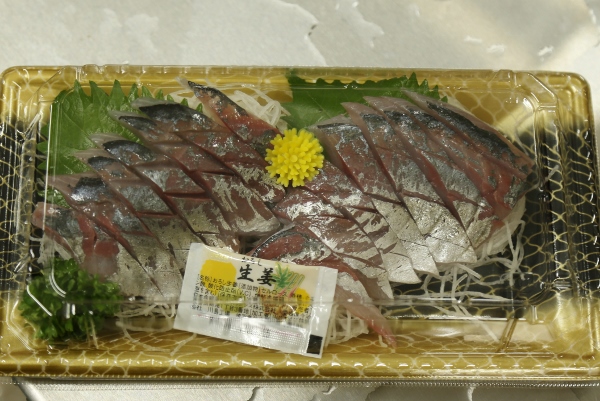 A delectable platter of sashimi! Beautiful!
You can ask any staff member about this fish-slicing service, and they'll be sure to help you along.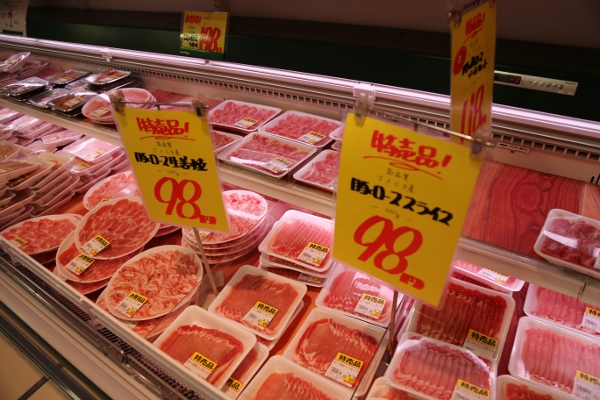 If you're not feeling like fish, there are of course plenty of other choices available, including a wide selection of chicken, pork and beef. A happy bit of service I noticed was that some of the packages came marked as "beef", "pork", etc. in English on their packaging to help avoid confusion for those who don't read Japanese. "The neighbourhood has become more and more multicultural, especially in recent years," Mr. Seiichiro explained. "And since some cultures and religions ban the consumption of certain animals, we wanted to help make sure our customers were buying exactly what they wanted." What lovely customer service!
And make sure to check out their prepared food corners as well. Delicious cooked meals, ranging from appetizers to mains and bento boxes at ridiculously low prices, are packaged fresh daily and draw quite a crowd.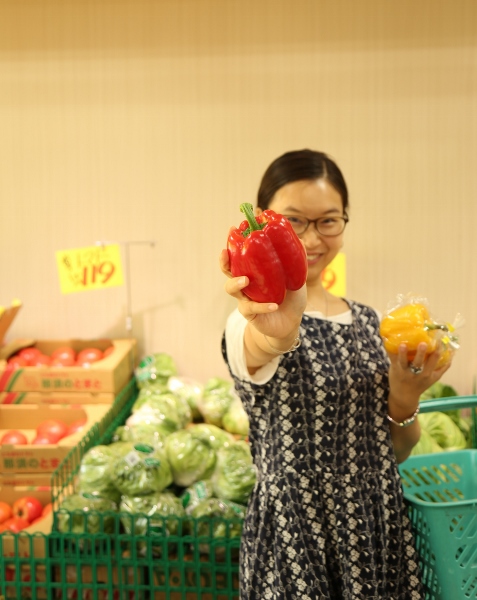 The biggest takeaway I got from Green Mart Otomo is a sense that not all supermarkets are made alike, and choosing one that suits your needs can make grocery shopping a lot smoother and more exciting. With a passionate team of staff members who can advise shoppers on everything from the best deals of the day to what to do with that extra bunch of leftover vegetables in the fridge, Green Mart Otomo is not just a place to pick up food—it's a community space dedicated to its customers, where you can really feel the warmth of the neighbourhood congregating into the seemingly mundane activity of grocery shopping.
Story  by Xianru Shen(Koto City Office Coordinator for International Relations)