Hamburg, Corned Beef and More at Kasshii
Published: August 23, 2018
Hamburg steaks, or Hamburgs, have long been a popular dish in Japan. It's said they arrived in the country via the port of Yokohama in the Meiji Period (1868 to 1912) and rose to prominence in the 1960s as thrifty families sought to eat meat in affordable ways. As hamburgers they are ubiquitous, while the recent boom of gourmet Japanese beef hamburgers has elevated the humble patty to new heights of popularity. If you thought hamburgs had reached the peak of their evolution however, you'd be wrong.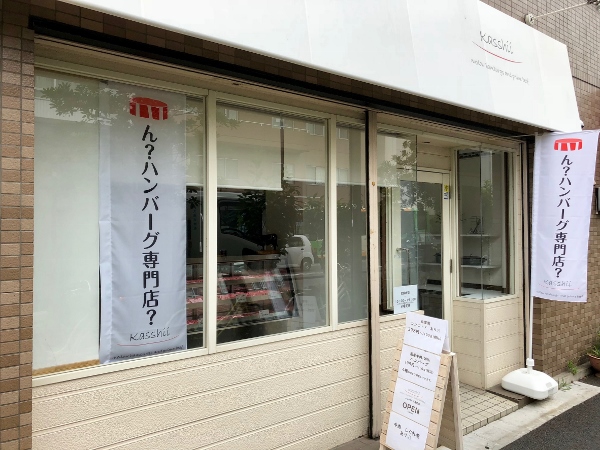 On Meiji-dori Avenue, just around the corner from Sunamachi Ginza, is a rather stylish shop whose business is difficult to discern from its facade. From the other side of the street it could easily be a hair salon or an interior goods boutique. Up close, one realizes that this is a specialist hamburg emporium, not something we see every day. The interior is pleasantly minimal with the owner, Mr. Hiroto Kashiwagi, standing behind a counter containing hamburg steaks and a few other things.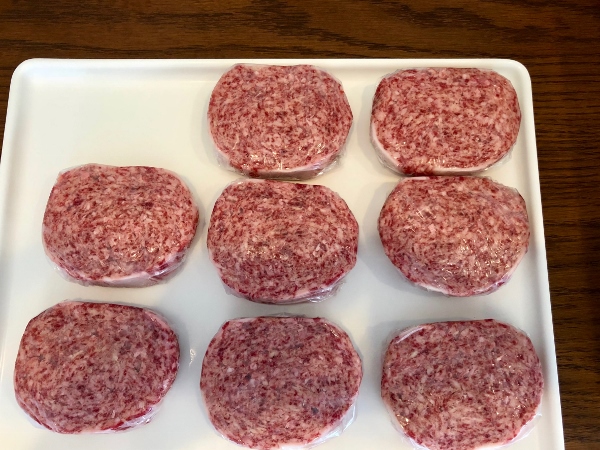 "We opened here in June this year," says the affable but camera-shy Mr. Kashiwagi. "I'd kind of reached a settled place in my previous work so I was able to quit and start this business making hamburgs. I studied with a butcher and developed my own recipes using 100% Japanese beef. Simply put, I make four different varieties of hamburgs every day and when they're sold out, that's it. If business is really good I might make another batch in the afternoon, though. These are our number one: 100% Japanese beef hamburgs. They contain only beef, flour, egg, soybeans and a little milk."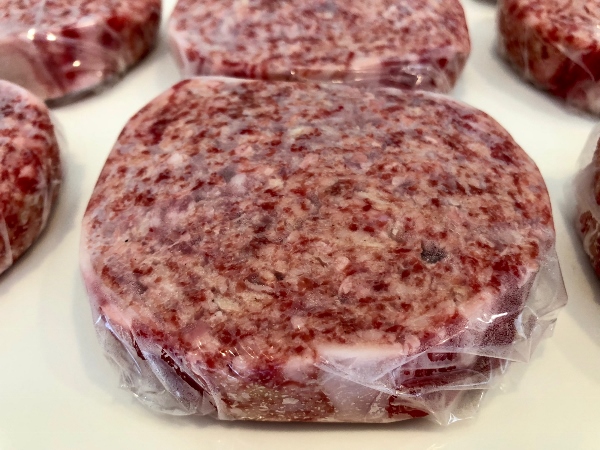 "The beef I use comes mainly from Tochigi and Yamanashi. I buy it through an agent who has a licence to work at the meat markets in Tokyo and Saitama," explains Mr. Kashiwagi. At 100g for 199 yen, including tax, they are certainly reasonably priced. "Each one weighs about 125g, so a family of four can enjoy a main dish for a cost of 1,000 yen. That's really the point of the business; helping families to enjoy home cooking at affordable prices while making life a little easier for busy parents. It's said that hamburgs are 'the people's food' and I make them in a 'old town' style, to suit this area." They're certainly popular. As we talked shortly after 10 o'clock in the morning a regular customer came in and bought six!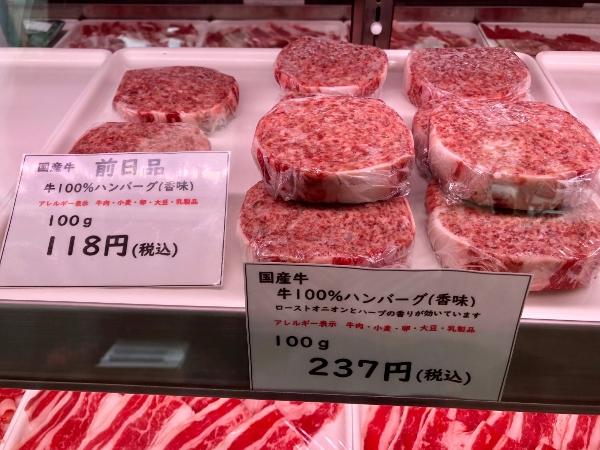 As well as the regular hamburg Mr. Kashiwagi makes three others. The koumi (flavour in Japanese) contains roast onions, herbs and a hint of nutmeg and costs 237 yen for 100g.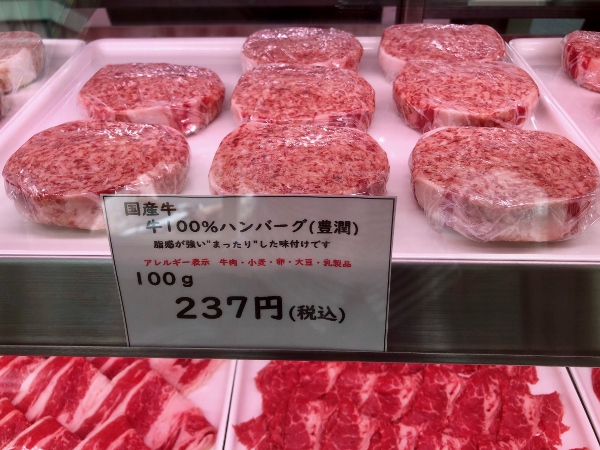 The hojyun (luxurious in Japanese) contains slightly more fat for a richer, full-bodied taste and will also set you back 237 yen for 100g. Last but not least, the zeitaku (extravagant in Japanese) milk contains more milk than a regular hamburg. The extra milk reduces the oiliness but leaves the hamburg juicy and tender. They cost 199 yen for 100g. Don't they look great!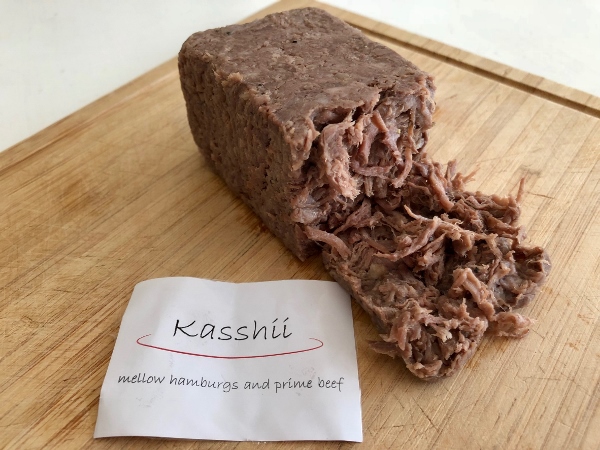 I was surprised to spot corned beef alongside the hamburgs. Salting meat to preserve it dates back to human prehistory yet corned beef, long a 'people's food' like the hamburg steak, seems to have fallen out of favour in recent years, outside of certain parts of North America. A rather piquant smell wafted through the shop. Mr. Kashiwagi pointed to a large pot that contained simmering beef blocks and said," I make my own, usually 16 blocks at a time. The process is a secret." I hadn't eaten corned beef, and certainly not handmade corned beef, for a very long time. It looked terrific and smelled wonderful, so I snapped up a block for lunch.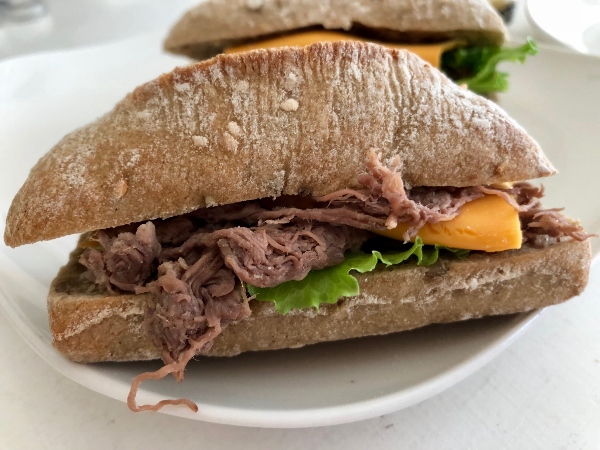 Mr. Kashiwagi recommended to eat it with croissants, cheese and salad. My local store was sold out of croissants, so I settled for some rye bread rolls, processed cheddar, lettuce and a dab of fierce mustard. The corned beef itself was rich and meaty, firmly textured but neither hard nor overly salty. It was wonderful, the kind of homemade taste I hadn't experienced for many a long year. Anyone pining for a real slice of corned beef in Tokyo can do no better than this. Also, at 398 yen for 100g it won't break the bank, either. A rare treat, indeed.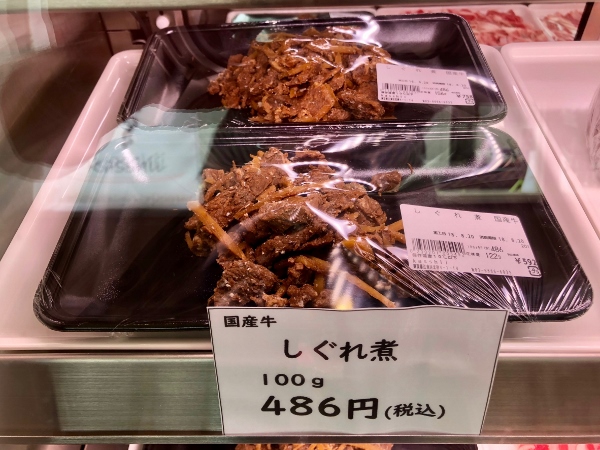 Mr. Kashiwagi also makes beef shigureni. Thinly-sliced beef is boiled in a broth of ginger, sake, mirin, soy sauce, sugar and so on until the liquid is almost all gone. It's a strongly flavoured, beefy and slightly sweet dish that makes a great lunch served with rice, especially on intensely hot and humid summer days when appetites fade but stamina and energy are needed. It can also be stored for up to a week in the refrigerator.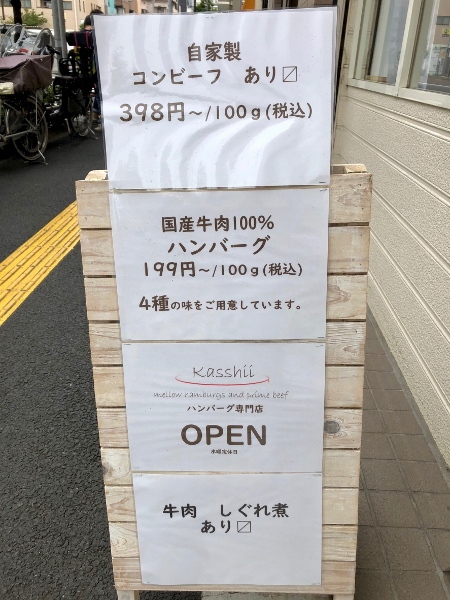 Why did he choose this area to open a shop? "I live just down the road in Minamisuna and wanted somewhere within walking distance of my house. I'd had enough of commuting on trains! Although I'm from Kanagawa originally, I've lived in this area for many years now. It's a good location, next to a busy vegetable shop on one side and a very popular sushi restaurant on the other. I don't harbour any grand ambitions of opening a chain of shops or anything like that; I want to live a simple lifestyle and have my customers enjoy a tasty, freshly made and home cooked hamburg at a reasonable price." A very worthy ambition, I'm sure you'll agree.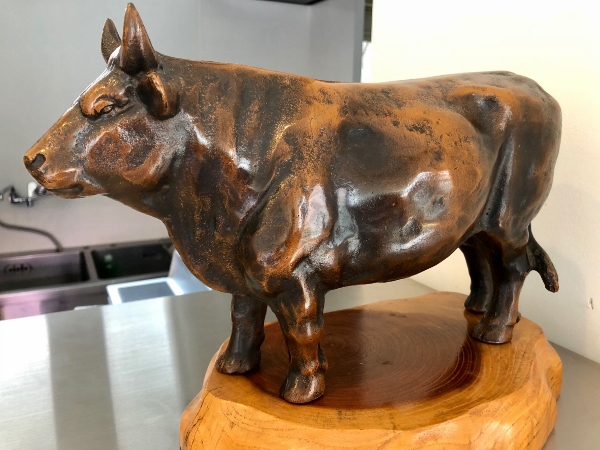 Kasshii is open every day except Wednesdays, from 10 am to 7 pm. Since the shop may close at 6 pm if all the day's hamburgs are sold out, it's advisable to get there early. Sunamachi Ginza is a popular destination for locals and visitors alike, with its plethora of prepared food shops a great attraction. Strolling the street while sampling the treats on sale is a popular way to spend a weekend afternoon, especially now that the peak of summer has passed. If you're in the mood for a top quality hamburg, then make Kasshii your first or last stop before you head for home!
Story and Photos by Stephen Spencer