Welcome to Hayashi Auto Factory in Sumiyoshi. Behind one of the set of doors on the premises works Mr. Takashi Hayashi, selling and repairing motor bikes and bicycles; through the other set of doors is his wife, Rie, selling fresh vegetables and fruits delivered direct from a farm in Ibaraki.
And keeping a watchful eye on both sides of the Hayashis' business is Boku-chan, a three-and-a-half-year-old Yorkshire Terrier-Shih Tzu cross.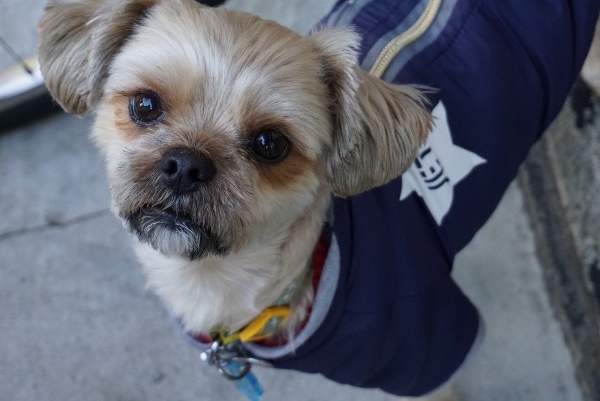 Mr. Hayashi previously raced motorbikes, standing on the winners' podium several times. But, realising that he was never going to earn much money from this dangerous sport, he quit and joined a major motor manufacturer, developing and testing engines. Then, 20 years ago, he switched to his current job…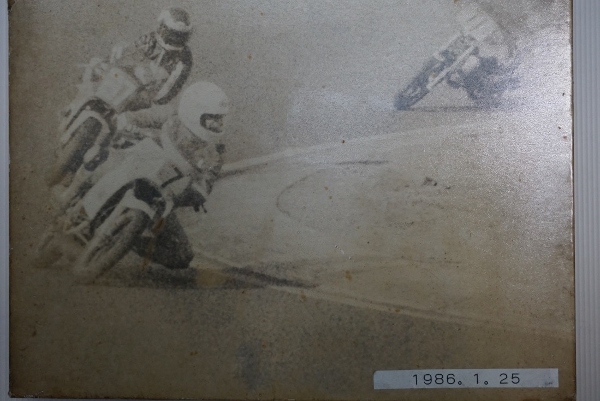 and has been working out of these current premises for the past four years. Utilising his experience in the world of motor sports, Mr. Hayashi orders and sells motorbikes for customers, as well as maintaining and repairing them. He also buys motorbikes second-hand, dismantling and overhauling them before re-assembling and selling them. Mr. Hayashi enjoys his work and, like a doctor, he knows the history of each of his "patients".
The morning I visited his shop, he was working on a bright red Ducati. He also services the other famous Italian motorbike makes: Moto Guzzi, MV Agusta and Aprilia, as well as the Japanese brands of Honda, Suzuki, Yamaha and Kawasaki, between 50cc and 750cc engine capacity. However, he laments that he sees less of these brands on the roads these days.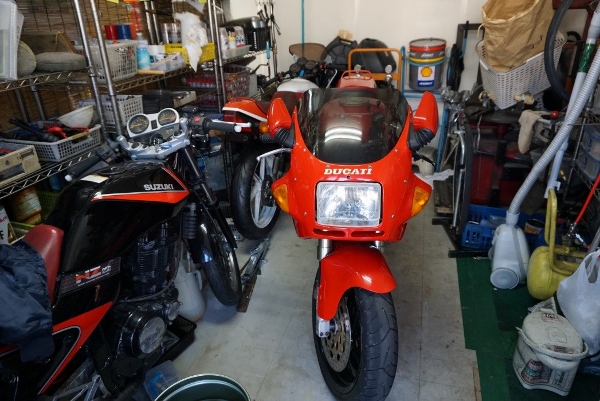 Mr. Hayashi also services bicycles and sells and replaces parts; although that morning there was only one bicycle in the shop, for which he had just finished repairing a punctured tyre.
A number of his "regulars" combine a visit to have their bicycle repaired with a call to his wife's fruit and vegetable store.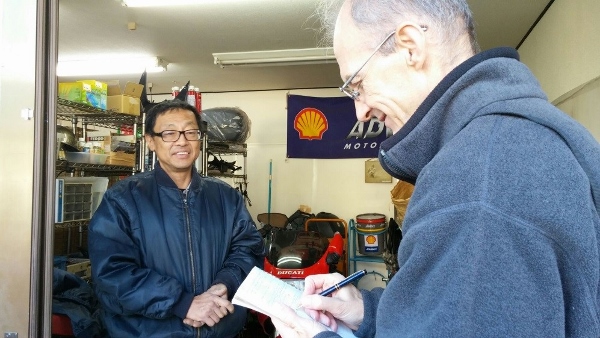 Mrs. Hayashi's day begins at 8:00 a.m., but before that, each morning from Thursday to Sunday, fresh vegetables and fruits are delivered from the Ono No-en farm in Chiba around 4:00 a.m. to await her arrival. Along with two other stores in northern Koto ward, Mrs. Hayashi acts as a local representative for Ono No-en, selling rice, seasonal vegetables and fruits at reasonable prices. On display for sale that morning in assorted plastic crates and boxes were carrots, large turnips, gobo (burdock root), daikon (radish), komatsuna (Japanese mustard spinach), pumpkins, onions and ginger, as well as adzuki beans, kaki (persimmon), kiwi and mikan (oranges). But you have to get there reasonably early, as ladies from the neighbourhood keep dropping in and individual items soon sell out.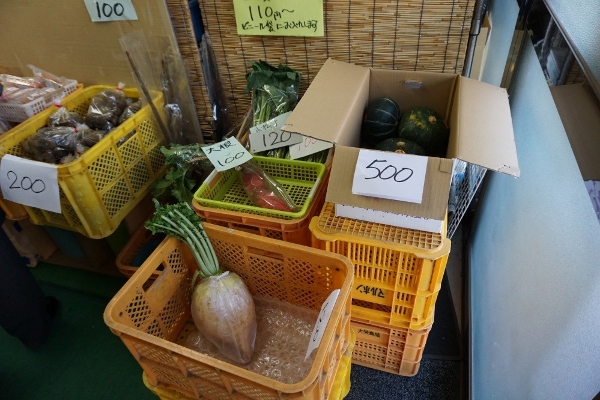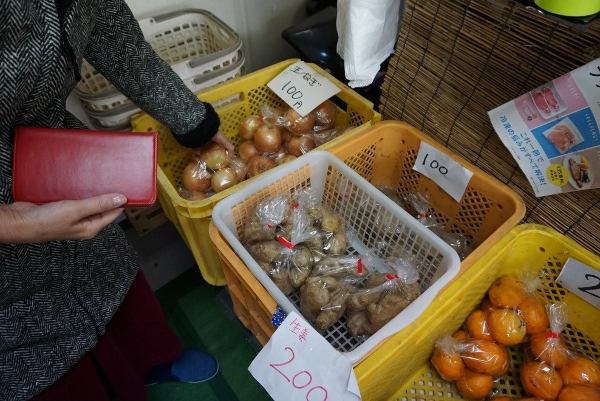 Mrs. Hayashi also sells traditional Japanese fare, such as mountain vegetables, ginnan (ginkgo nuts) and konnyaku (devil's tongue).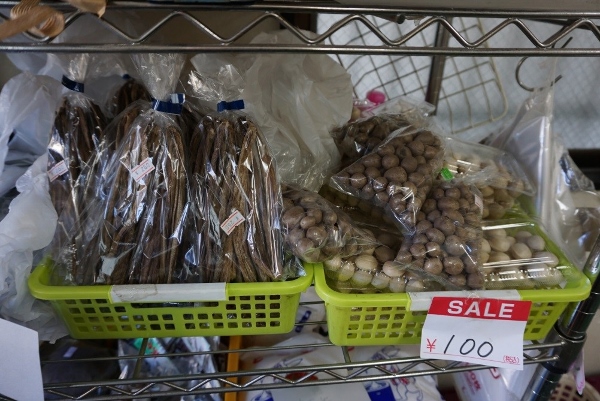 And the anpokaki (partly-dried naturally sweet persimmon) which I tried were deliciously juicy.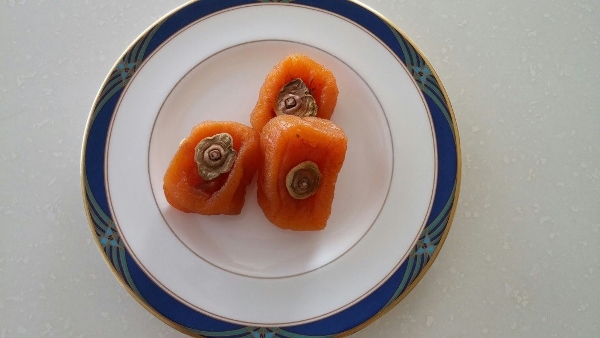 And all the while Boku-chan keeps an eye on things, letting Mr. Hayashi know when he has someone with a bike that needs looking at and Mrs. Hayashi when she has another customer for her fresh fruits and vegetables.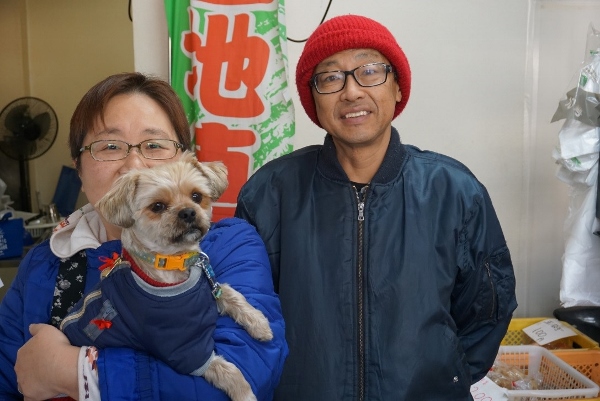 Story and Photos by Jeremy Hutchinson