Heaven for Seafood Lovers
Published: July 28, 2021
Totoraku is a casual restaurant that serves only seafood. Yes, that's right: no A4 wagyu, no chicken, pork or meat of any description. This one's strictly for pescephiles! On a recent sweltering summer afternoon, we dropped in for a chat with manager and chef Mr. Katsunori Tanaka.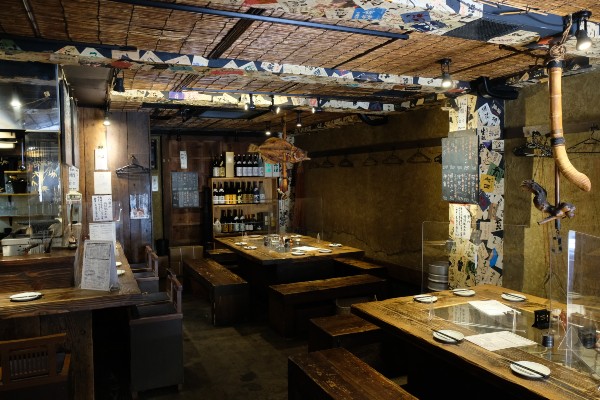 Totoraku is located on a side street just a couple of minute's walk from the north exit of Kameido station. Stepping out of the blinding sunlight into the cool, dark and woody interior was a very pleasant experience. In fact, it took a while for our eyes to become accustomed to the interior: well-worn, heavy wooden tables inset with open hearths (irori) under glass, wooden benches smoothed by years of use and hand-chalked blackboards featuring the day's menu, create a very comfortable ambience.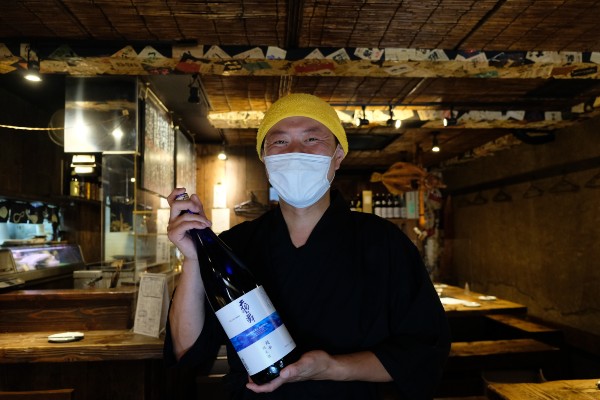 "I never really liked fish," said Mr. Tanaka, surprising us immediately. "I learned to cook in charcoal-grilled meat (yakiniku) restaurants and okonomiyaki (savoury pancake) places where I didn't have to handle fish. However, when it came to opening my own place in 2011, I decided to try something new, so Totoraku is entirely fish and seafood. I like it now, of course," he added, laughing.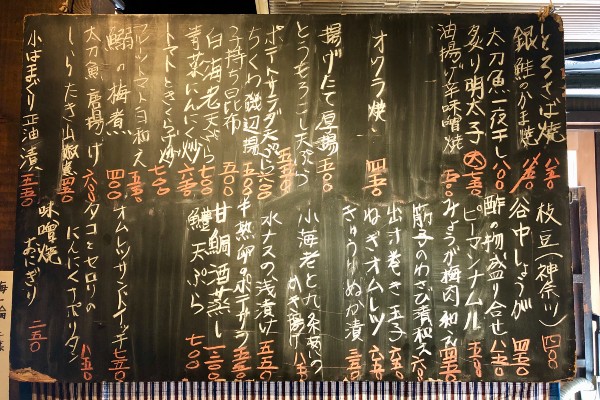 "Being a seafood restaurant means that we don't have a fixed menu but serve fresh, seasonal fish. We have around 30 to 40 daily dishes that change, together with seasonal vegetables," he explained. "We have fish and seafood delivered every day, or we go down to the Toyosu market ourselves. The staff and I prepare the menu every day." On this particular day the menu featured mackerel, coho salmon, scabbard fish (tachiuo), pollock roe, bluefin tuna, white shrimp, baby clams, octopus, and a host of dishes featuring such summer favourites as Japanese ginger (myoga), eggplant and vinegar pickles.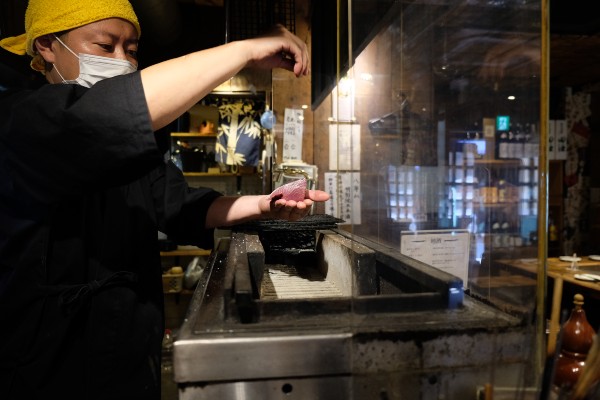 While there's something for everyone on the menu, one of the most popular items is the wara aburi, a way of searing fish in the flames from burning straw. First Mr. Tanaka seasons a thick cut of bonito with French sea salt.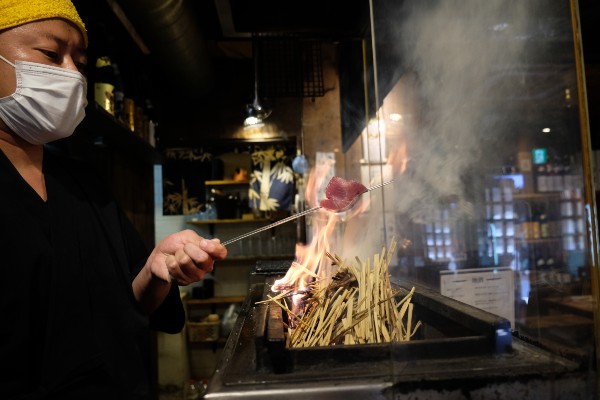 He then spears it with two steel skewers and lights the straw.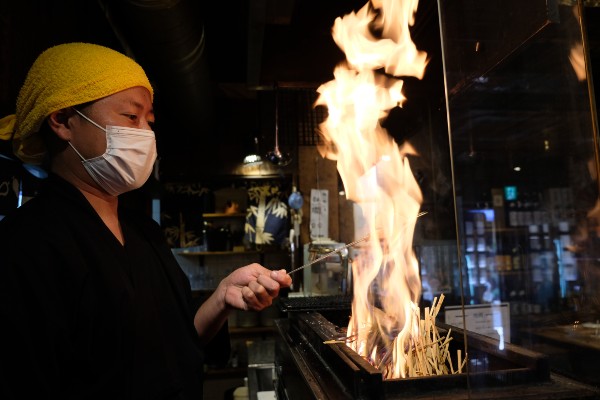 Within moments the straw bursts into flames that flare up, generating intense heat. He holds the bonito in the centre of the flames, where we can see it cooking.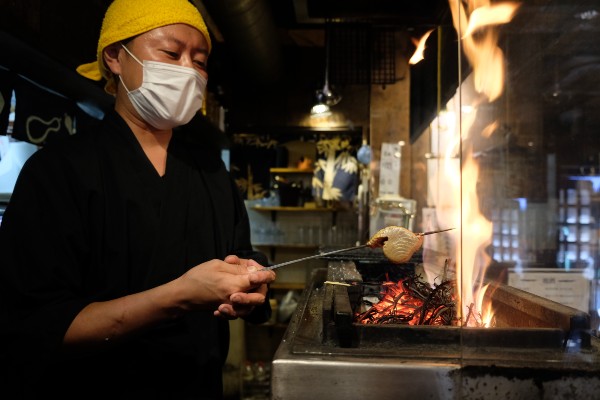 In just a few seconds the straw is consumed and the fish seared to perfection.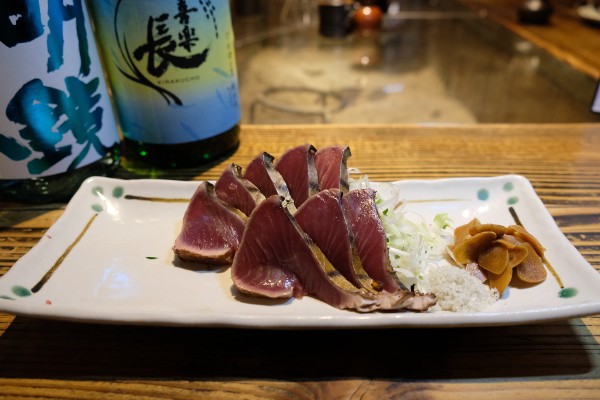 The bonito is served with shredded negi onions, ginger (myoga), and green perilla, French sea salt, and sliced garlic that's been steeped in soy sauce for a week. Drop a little ponzu (a citrusy, light soy sauce non-oil condiment) on the vegetables and it's perfect.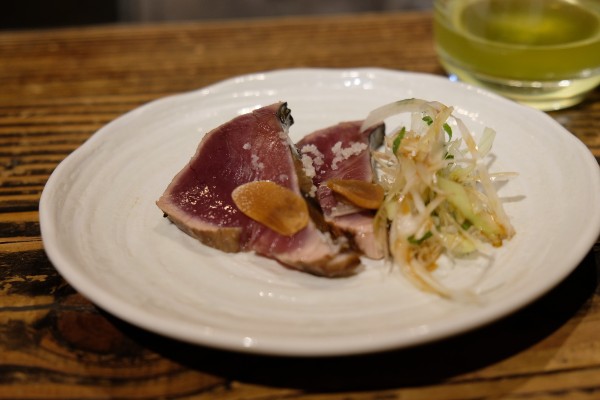 The flavour is great, light and refreshing, slightly smokey but not overly smoked. We were highly impressed, and it's great value at 900 yen a plate. "We can enjoy a variety of fish cooked this way; winter yellowtail (kanburi), Spanish mackerel (sawara), marinated mackerel (shime saba), squid in summer and even tuna sometimes," explained Mr. Tanaka. "Our customers are mainly middle-aged local residents and workers, people who enjoy healthy seafood, vegetables and sake in a relaxed atmosphere."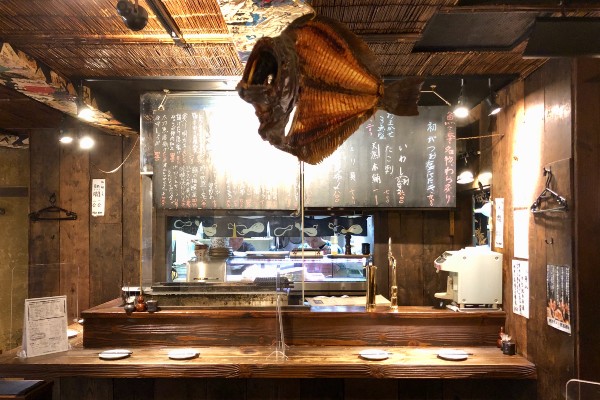 Totoraku also offers a wide selection of alcoholic beverages to match the fish and seafood menu. Mr. Tanaka particularly recommends the Tengumai Chokara Junmai from Ishikawa Prefecture. It's a very relaxed place and Mr. Tanaka is an extremely engaging character. Most dishes are under 1,000 yen so it won't break your wallet either. If you're in the mood for superior seafood in Kameido, just head for Totoraku.
Story and Photos by Stephen Spencer