A visit to a petrol station illustrates the differences in the provision of customer service between Japan and other countries and is something of a cultural experience.
I visited a local petrol station, Higashi Nihon Usami Tatsumi Service Station, located at the Tatsumi end of Mitsume-dori Avenue, one of Koto Ward's busy north to south running major roads.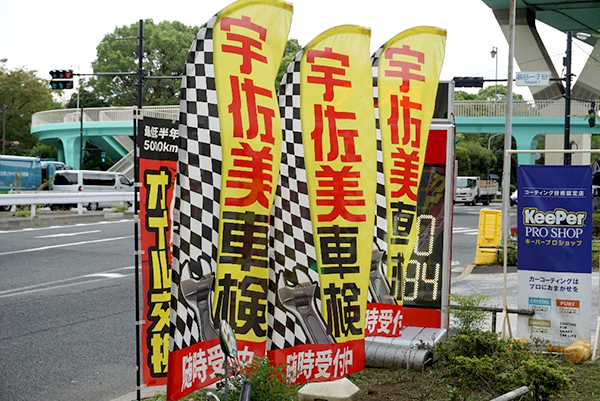 Although this petrol station is considered small – it is located on a corner site and has limited space for its 4 petrol stands, and, unlike some stations which open 24 hours, it operates daily between 6:00 a.m. and 9:00 p.m. – nevertheless, on a "quiet day" over one hundred vehicles pass through its pumps, and during my visit there was a constant stream of cars, vans, fixed wheel-base lorries, motorbikes, and scooters pulling in to fill up. The presence of nearby new residential tower blocks, combined with local warehouses and offices, results in a strong base of "repeat" customers.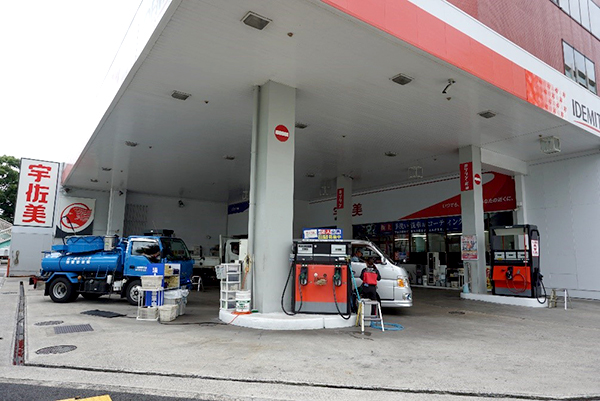 The first thing noticeable about a Japanese petrol station is that, unlike in my home country, it is generally not self-service. As a vehicle approaches, staff will be stood waiting in an "at ease" position with legs apart and hands clasped in front of them.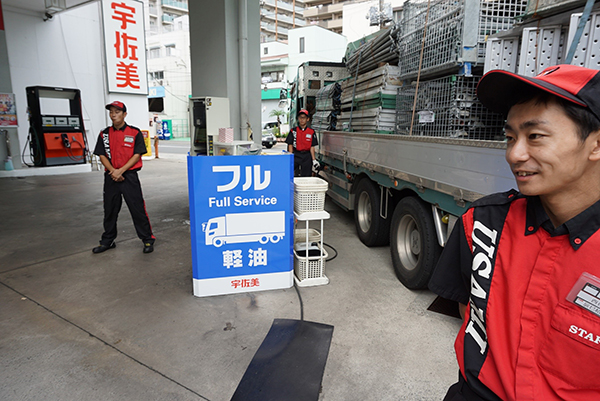 Decked out in smart red and black uniforms the staff rush to guide the customer to an available petrol stand, and whilst the petrol tank is filling up they proceed to give the vehicle a quick manicure.
They busily bustle around the vehicle, wiping the windscreen, after first raising the wipers (there is even a small stepladder for those larger windows and smaller staff), and the wing mirrors.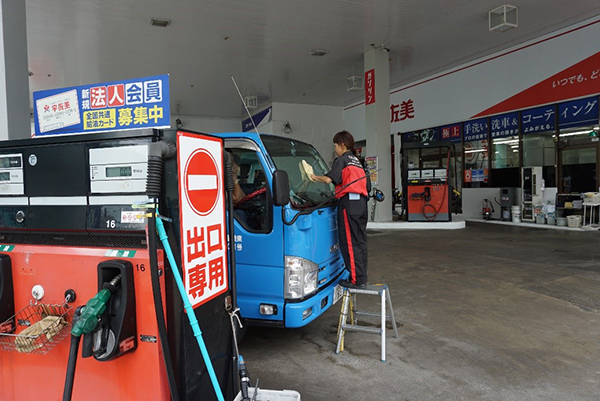 The rubbish associated with the interiors of cars on journeys is collected and disposed of, and the customer asked if he or she is a smoker and wants the ashtray cleaning. I was impressed that not only is the ashtray emptied, but it is then given a quick clean with a high-pressure air hose. Dirty headlight covers are wiped down. And don't expect to have to clamber out of your car to pay for all this; payment for the fuel is carried out through the car window, whilst the "manicure" is free.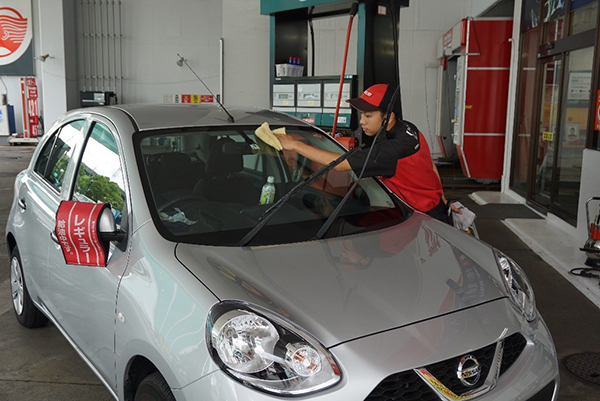 Staff also check the customer's tyres and will lift the bonnet and check the oil and water if requested. Looking around I asked Mr. Yukihiro Nishiya, a senior member of staff, why there were 3 piles of different coloured towels folded neatly on a stand by each set of petrol pumps. He explained to me that the white towels are for staff to wipe the windows with, the cream towels are used to dry the windows and the blue towels are available for customers who wish to wipe their steering wheels and dashboards whilst the fuel tank is being filled.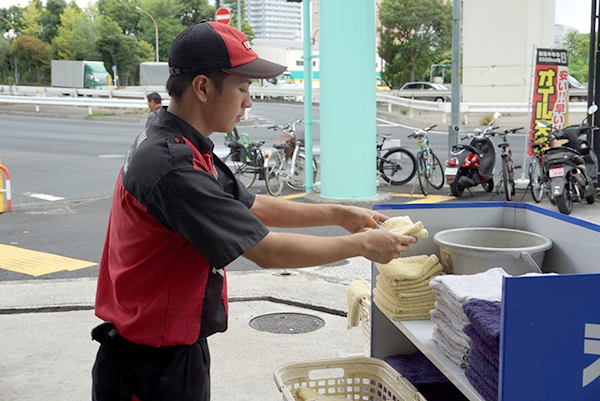 And despite all this, the whole process of filling up takes about 3 minutes before the staff then guide the vehicle out of the petrol station, sending it off with a polite bow and a doffing of the cap.
Overall, apart from the speed of service, what struck me is the attention to detail given by the staff; even down to hanging a large reminder on the driver's wing mirror to prevent him or her absent-mindedly setting off whilst the fuel is still being pumped.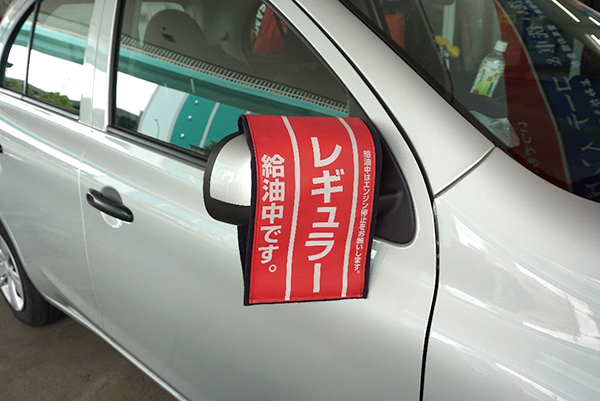 Mr. Nishiya explained that before being let loose on the station forecourt all staff go through thorough training, comprising studying service manuals and videos and getting on the job training from their colleagues.
The petrol station also has a staff-operated automatic car wash and a hand-held high-pressure spray to ensure your car comes out looking spotless, whilst you relax in the customer area.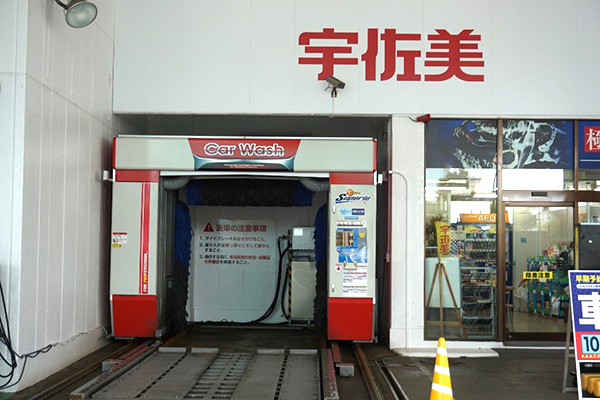 And if you do decide that you want to get out of the car to stretch your legs, there are rest rooms, a drinks machine and a real coffee machine in the customer area, along with a selection of snacks to help you on your journey.
And for the smokers amongst you, there is even a dedicated room where you can light up.
So, if you happen to be driving in the Tatsumi area, why not pull in to Higashi Nihon Usami Tatsumi Service Station for some fuel, and at the same time experience a real dose of customer service from Mr. Nishiya and his colleagues?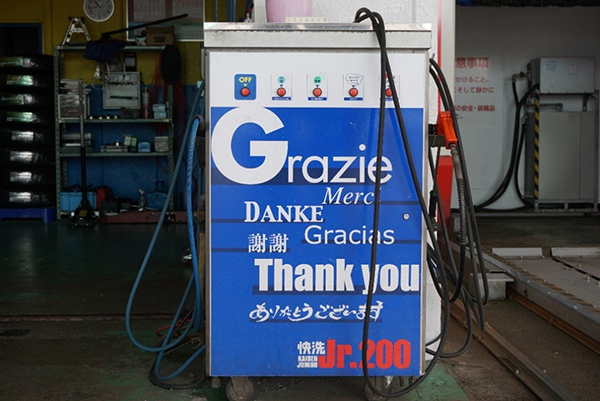 Story and Photos by Jeremy Hutchinson