Hit the Road with VeloEquip!
Published: September 22, 2022
VeloEquip is a bicycle shop dedicated to two-wheelers of exceptional quality, bike accessories, repairs, and unique handmade items created by the owner. After outgrowing its original location in Hirano, near Kiyosumi-shirakawa station, the business moved to Tomioka in 2020. On a recent sunny afternoon, I caught up with owner Mr. Hirayanagi and ace mechanic Mr. Yanagisawa.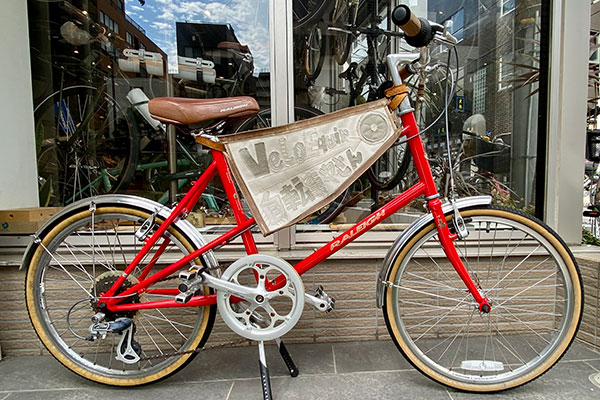 Located just 3 minutes' walk from exit 1 of Monzen-nakacho station, VeloEquip faces directly onto Eitai street. It's in a prime spot in what used to be a food shop, so it has large windows that allow natural light to enter and a high ceiling that's perfect for displaying bikes.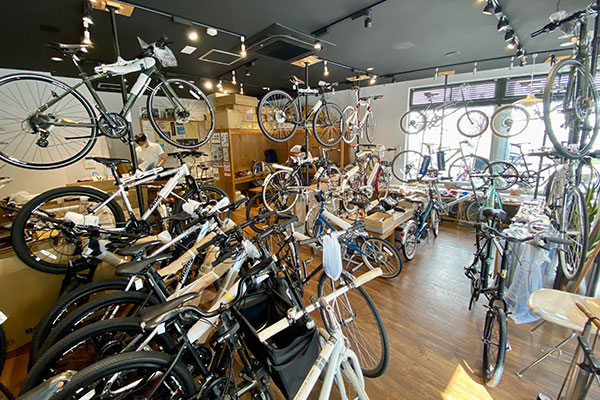 While VeloEquip stocks a variety of bikes and will endeavour to satisfy any request, the shop specialises in higher-end bikes such as Moulton, Raleigh, Araya, Bruno and more. The ever-popular ebikes known as "electric assist" in Japan are also available.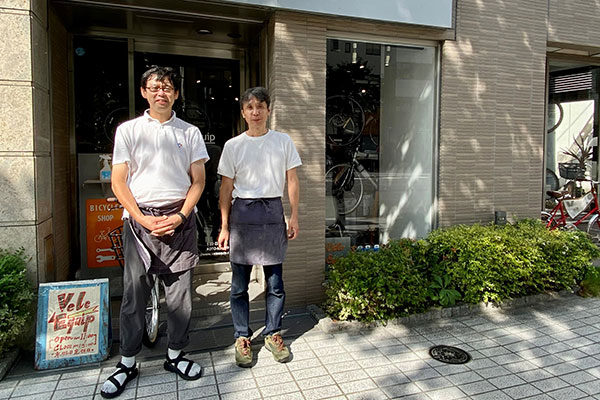 Both Mr. Hirayanagi (left) and Mr. Yanagisawa (right) were bitten by the bike bug as youngsters, then took different routes to eventually owning a shop. "I'm a designer and worked for an apparel company for many years, designing and making things for cyclists such as bags," explained Mr. Hirayanagi, whose grandfather lived in the Kiba area. Mr. Yanagisawa is the mechanic, heavily into handmade bikes of all kinds.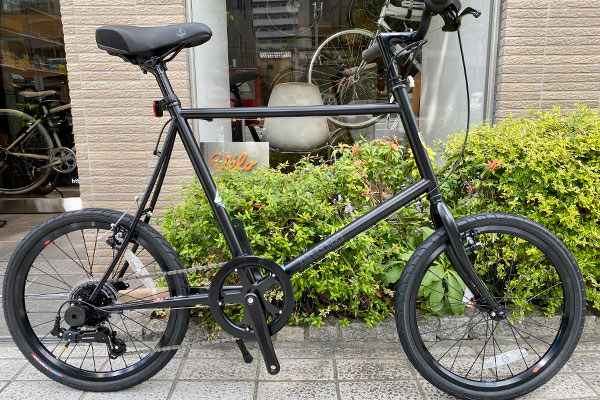 One of the most popular current items are mini-velos, smaller-wheeled bikes designed to be nimble, light and easy to ride. Tailor-made for dense urban environments, it's no surprise they're extremely popular in Japan. VeloEquip stocks these 20" Bruno mini-velos from Switzerland; while they look really cool and are a joy to ride, they're not as expensive as you'd think.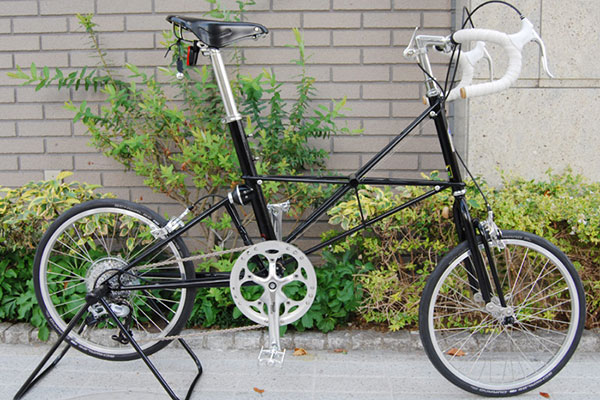 This is a Moulton TSR, an entry-level bike suitable for anything from commuting to day trips to long-distance rides.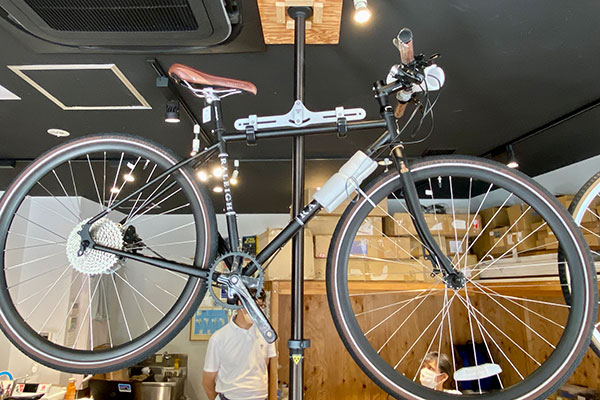 Sadly there weren't any Moulton bikes in the shop on the day I visited, although there were a couple of Raleighs, the renowned British manufacturer founded in 1885. This beauty was 132,000 yen.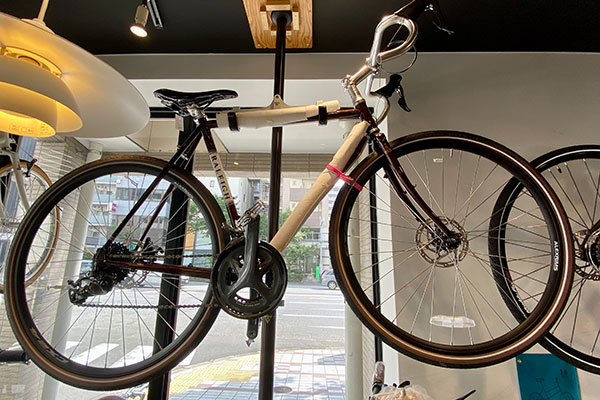 As Mr. Hirayanagi explained, "There's a shortage of parts right now as the pandemic has impacted factory production, most of which is located in Asia. This has bumped up prices and is causing long delays. Customers interested in specific brands should check our website or drop in for a chat. There are stocks of Raleigh bikes for example, but it depends on the model. It's better to place an order as soon as possible."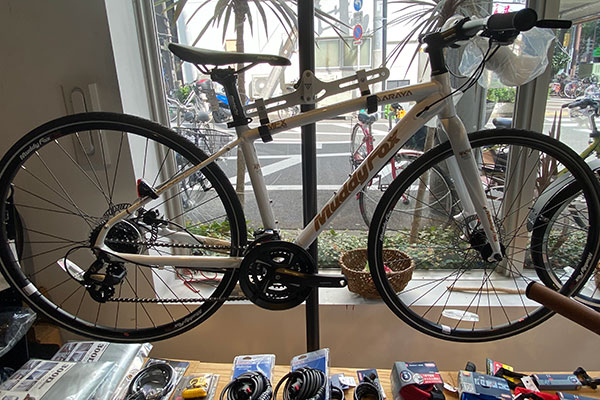 From Araya comes the hybrid cross Muddy Fox at 81,400 yen including tax. Araya has over a 100 years of experience making rims, and has branched out into producing its own line of bikes. Again, they're very popular so may well disappear from the VeloEquip shop window in short order!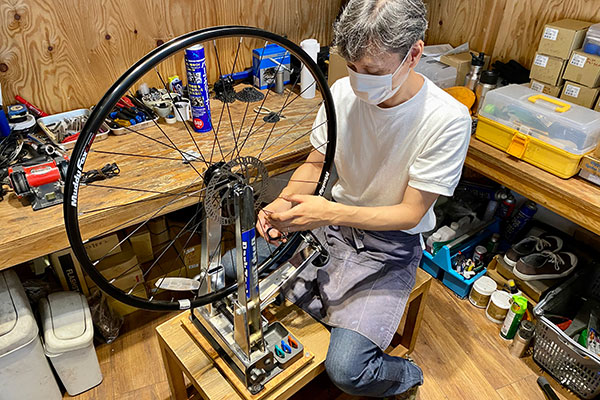 Since VeloEquip is a bike shop Mr. Yanagisawa performs all the usual repairs and adjustments. Fixing a puncture is 1,200 yen, brake adjustment is 1,800 yen and gear repair is also 1,800 yen, all excluding tax.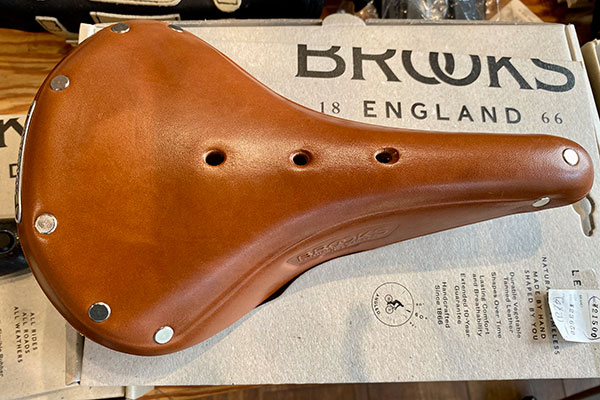 VeloEquip also stocks a wide range of really stylish bike accessories such as these handcrafted leather saddles and panniers from another long-established British manufacturer.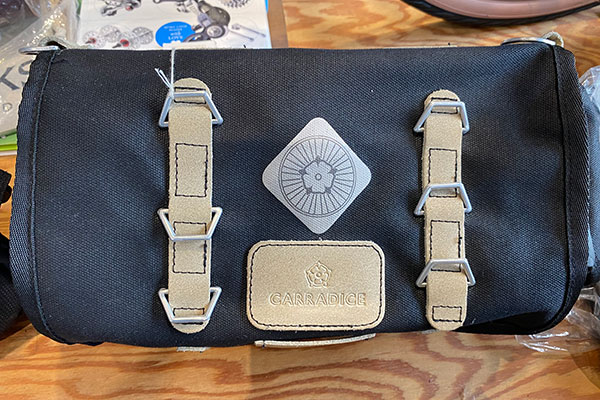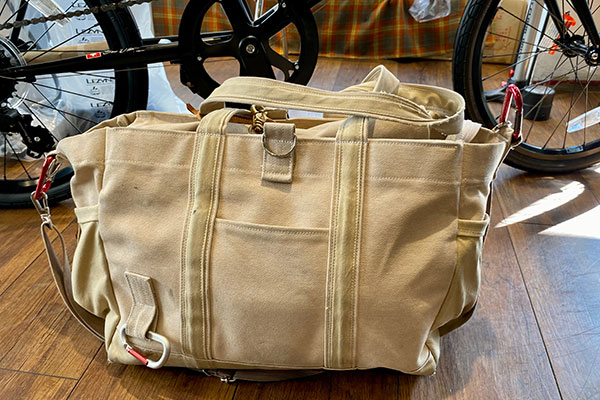 Mr. Hirayanagi even makes his own messenger bags!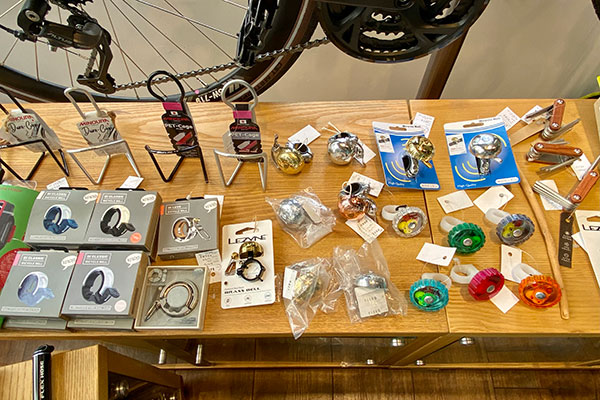 If you're looking for a serious bike lock, a new bell, a drink holder, screwdrivers, heavy duty grips or even handmade leather ones, VeloEquip probably has some in stock.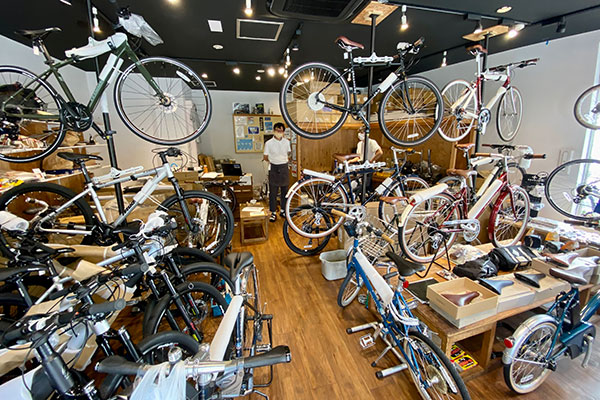 Whatever your bicycle needs, from a high tech chariot to a new brass bell, VeloEquip has got it covered. If you're in the Monzennakacho area why not drop in and see for yourself.
Story and photos by Stephen Spencer