Lemon Ramen, Chicken Tempura and more at Rinsuzu Shokudo!
Published: June 11, 2020
Rinsuzu Shokudo was our first port of call following the relaxation of the State of Emergency in Tokyo. Owned and managed by Mr. Satoshi Harada and his charming spouse, the popular restaurant celebrates its tenth anniversary this year. On a recent warm and sunny early summer's day, we dropped in to talk noodles and sample the specialties.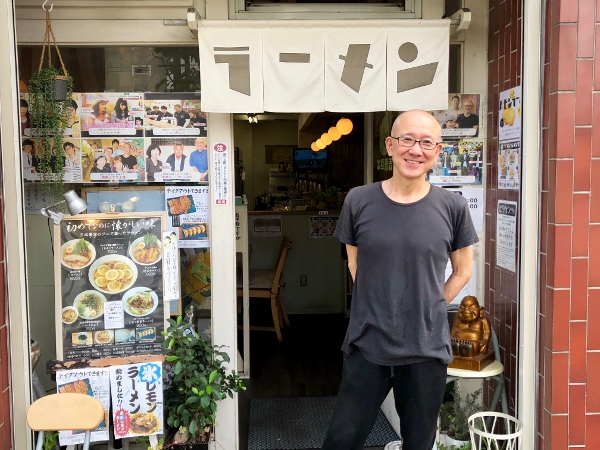 Located on Shin-ohashi-dori just a couple of minutes from Ojima station, the exterior of Rinsuzu looks more like a cafe than a ramen restaurant. "I'd wanted to open my own place in Koto-ku along the Tozai Line as I'd always liked the area," explained the trim and affable former designer. "That wasn't possible so we moved north and found this place, which seemed ideal. I learned the business from my brother who makes soba (buckwheat) noodles and developed the broths by trial and error."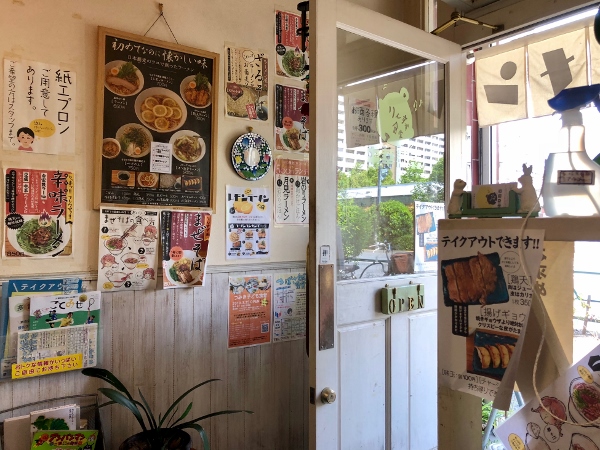 The entrance area reinforces the feeling of a comfortable cafe, with a woody, natural ambience. The walls are covered with posters designed by Mr Harada, featuring items from the extensive menu.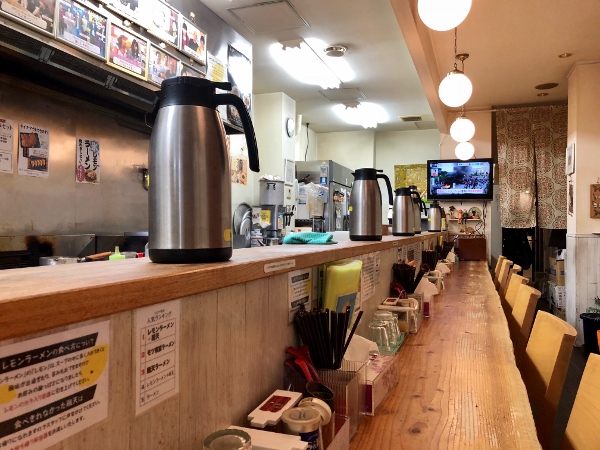 "It's actually a little larger than the usual ramen shop," he says. The wooden counter, chairs and lighting are far from the sometimes harshly lit, metallic interiors of more traditional places. The extra elbow room at the counter is a bonus for customers, too.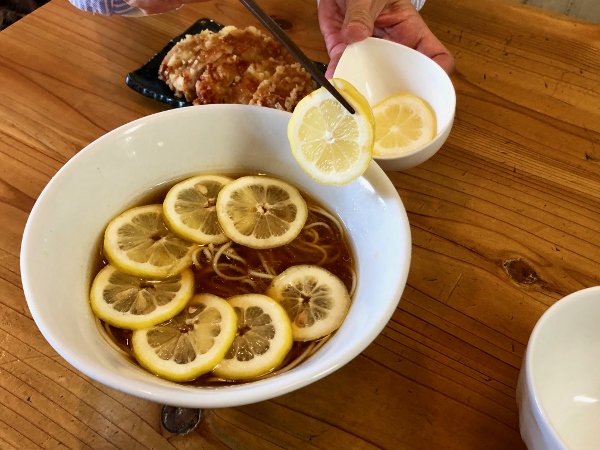 The signature dish at Rinsuzu Shokudo is this highly photogenic lemon ramen. "The noodles are traditional Japanese-made chukamen (wheat flour and alkaline solution) noodles. The soup base is the same broth as is used for soba noodles but with various other ingredients including chicken. Each bowl contains one whole lemon," he said. "The lemon flavour permeates the soup quickly so customers should remove the extra slices depending on their individual taste," explains Mr. Harada.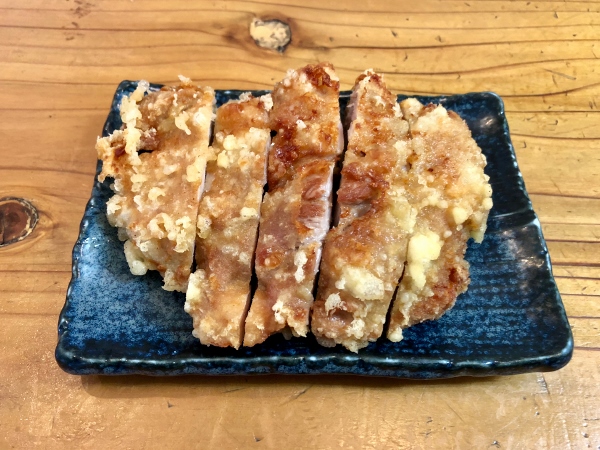 The lemon ramen is traditionally accompanied by deep-fried chicken tempura (tori-ten in Japanese). The lemon ramen is 720 yen, while the top-selling tori-ten set is a very reasonable 1070 yen.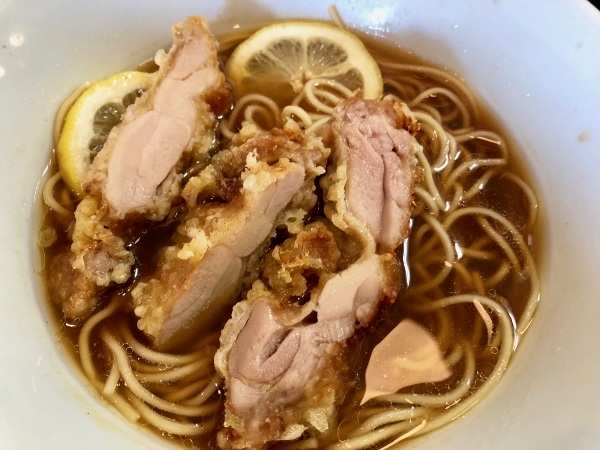 The smell is fantastic, a rich lemony gust billowing up from the bowl, that really set our taste buds tingling. Despite the dark colour the soup, somewhere between buckwheat noodle and ramen broth, is light but flavourful. The combination is both refreshing and deeply satisfying, perfect for the hot and humid summer months to come, as well as the cold winter season. The chicken is crisp and juicy, an ideal accompaniment to the ramen. Doesn't that look great!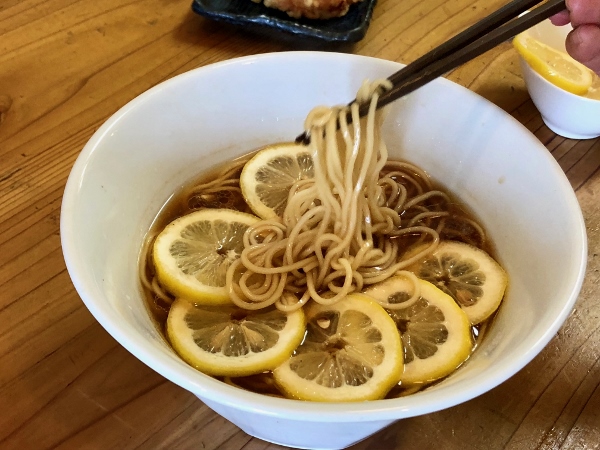 The fine-textured noodles had a pleasantly chewy texture, slipping down very easily. There is also a chilled version available for 800 yen, something we'd like to try in the dog days of July and August.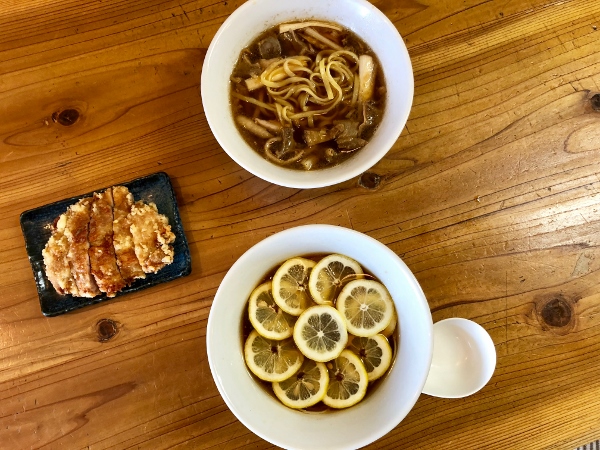 As if creating one signature dish wasn't enough, Mr. Harada has also produced another winner with a ramen dish based on deep-fried beef intestines (motsu in Japanese). Originally from Fukuoka on the southern island of Kyushu, stewed beef intestines hot pot (motsu nabe) spread throughout Japan in the 1990s. In Osaka, an udon noodle dish featured deep fried beef fat or oil cake (abura kasu) developed in the Minami Kawachi area.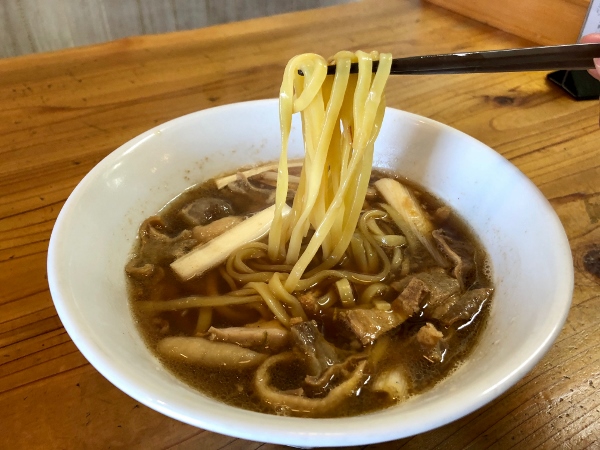 Mr. Harada incorporated this oil cake into the soup to create a syncretic dish featuring the same soba style soup base as the lemon ramen but with extra bonito flakes, shiitake mushrooms, and kombu, oil cake, fried beef intestine and elliptical "linguine" style noodles. The soup was rich and meaty, packed with collagen, yet light on the tongue and surprisingly refreshing. The meat was beautifully soft as well. This is the second-best seller at Rinsuzu and it's easy to see why. A hearty meal for winter, but also one that provides a rich boost for jaded palates during high summer. The motsu ramen costs 920 yen.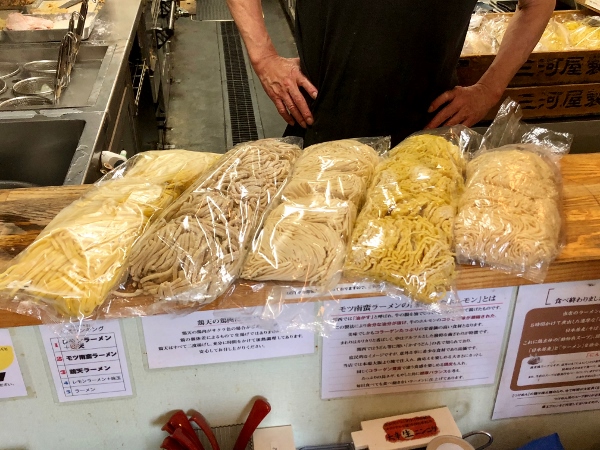 Rinsuzu Shokudo, which Mr. Harada informed us was named after his two daughters, serves five different kinds of noodles. From left: the elliptical "linguine" style noodles, thick brown tsukemen noodles, the chukamen ramen used in the lemon ramen, ramen used in the chilled lemon dish and, thinnest of all, the noodles used for zaru soba, the chilled dish popular in summer. The tsukemen, in which chilled noodles are dipped in a strongly flavoured hot soup served separately, take 10 minutes to boil, an astonishing length of time.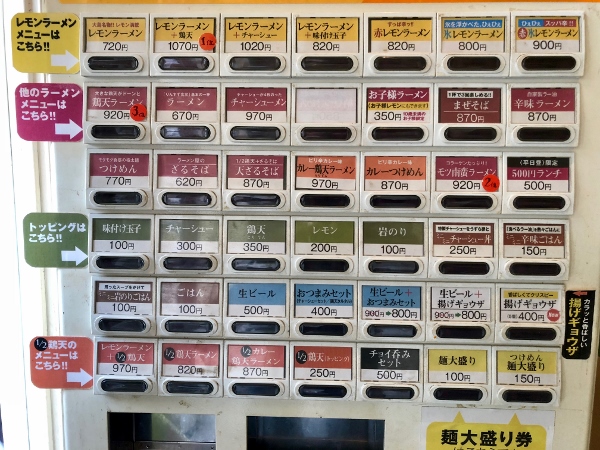 The ordering system is a ticket machine. Mr. Harada has cleverly colour-coded it with lemon yellow for the various lemon ramen variations and purple for regular ramen. Green are extra toppings and orange are half sizes.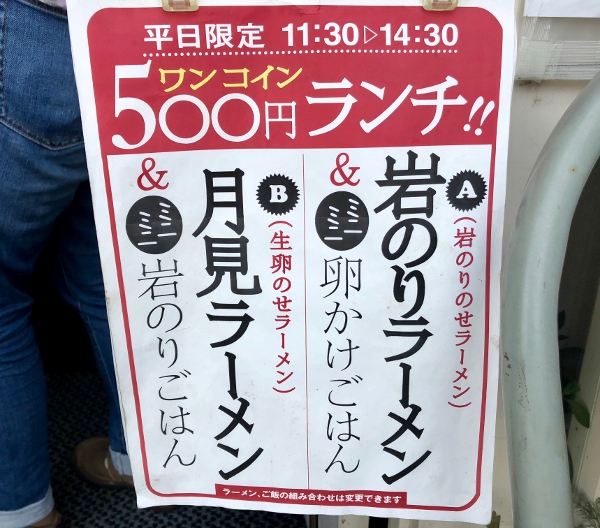 There's a weekday-only 500 yen lunch of ramen and a mini rice. Set A features rock seaweed (iwa nori) ramen and raw egg on rice, while set B features the reverse, raw egg on ramen with rock seaweed on rice! Tori-ten are available for take-out at 350 yen each. Rinsuzu Shokudo also has wifi and kids are most welcome.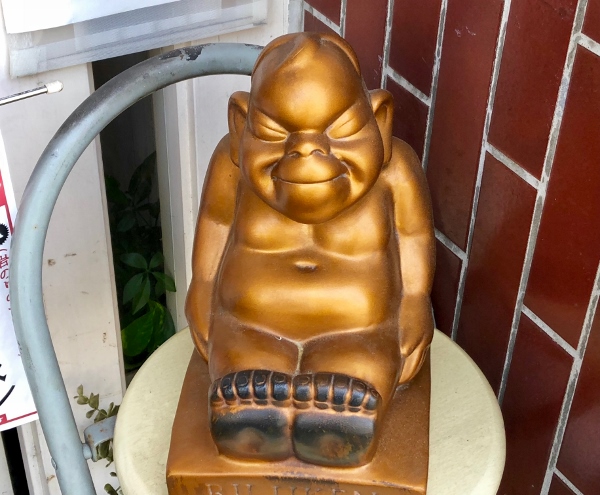 Rinsuzu Shokudo is rightly renowned, having been featured on a whole raft of television shows. Eagle-eyed customers may well spot some of Japan's most famous singing groups, comedians and celebrities tucking into lemon or motsu ramen in screenshots on the walls. When you visit (as you really should) don't forget to touch Billiken's feet for good luck!
Story and photographs by Stephen Spencer