Mimasa on Ojima's Sun Road Nakanohashi Shopping Street is a fish shop par excellence. The owner, Mr. Masahiko Shibuya, is a jovial man, who hails passers-by as if they are long lost friends, and is ready with a laugh or quip for whoever stops by the front of his shop to survey the fish laid out on display. No one is spared from his good humour, which is infectious, spreading to his wife, who sits behind a counter preparing the trays of sashimi for customers, and the other member of staff. Mimasa is a friendly shop.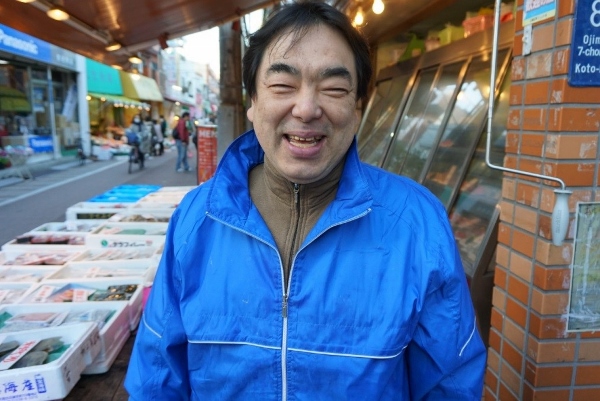 Then there are the fish on display. There are large fish laid out in polystyrene boxes, such as "kuromutsu" (black sea bass), "tai" (sea bream),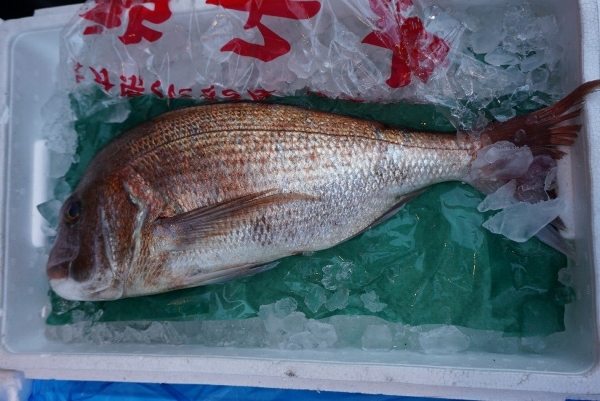 …. "isaki" (grunt) and "hobo" (gurnard).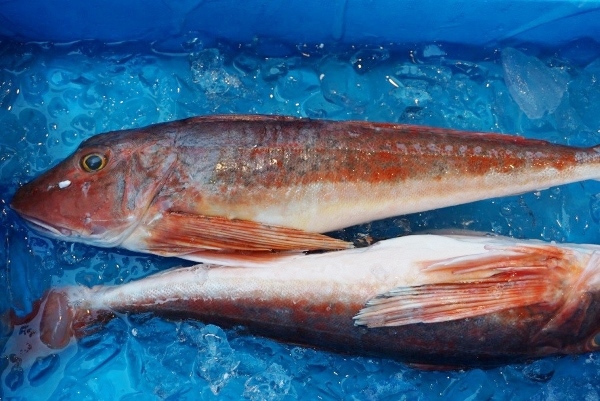 There they lie on beds of ice with reproachful looks on their faces, waiting their turn to be purchased whole or perhaps cut up and sold in pieces.
Alongside them are shellfish, such as hamaguri (hard-shelled clams),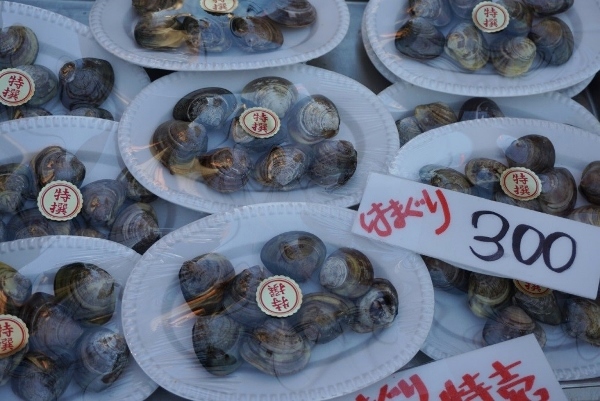 …. and huge tairagai (razor clams), the like of which I have never seen before,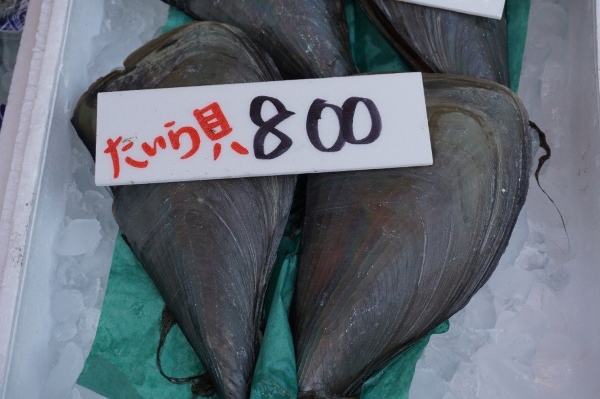 ….and crab,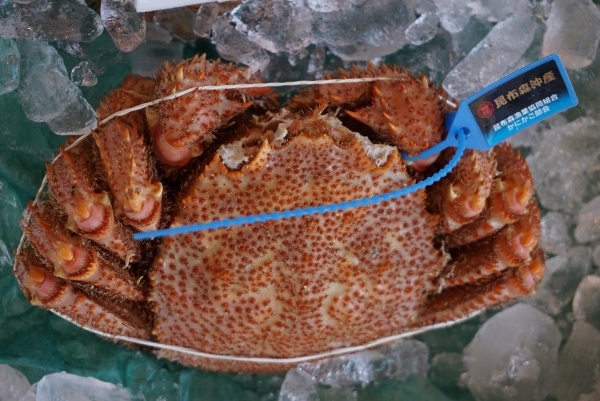 ….and squid.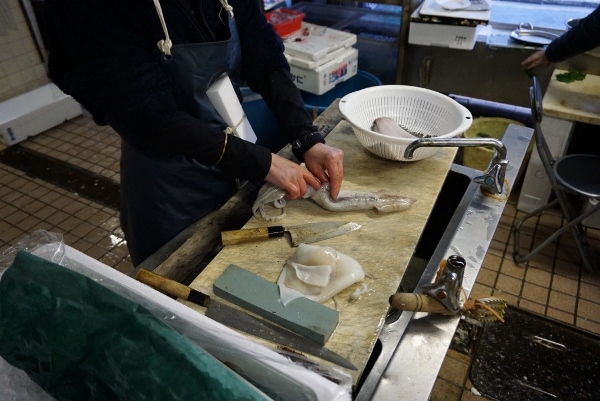 And it is not just fresh fish and shell fish that Mimasa sells, but also fish cut up and cooked in a dark, sweet, soy-based "tare" (sauce). These float in large metal pots outside the front of the shop: "anago" (conger eel), "karei" (flounder) and "kinki" (the delightfully-named idiot fish).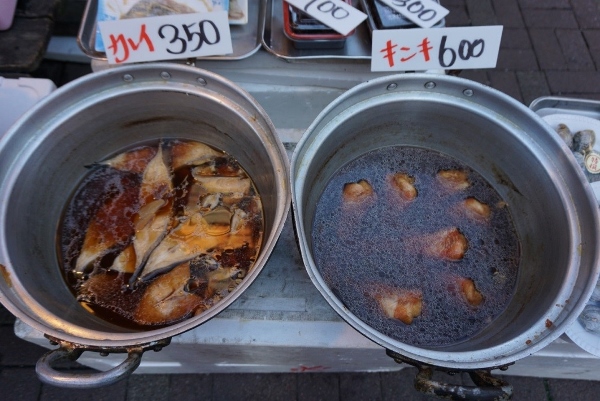 And then there is the sashimi, beautifully sliced and arranged on trays behind glass windows. Mr. Shibuya is the 3rd generation member of a family with links to fish, and the sashimi connection dates back to the time of Mr. Shibuya's grandfather. Sashimi also happens to be the most popular item on sale at Mimasa these days.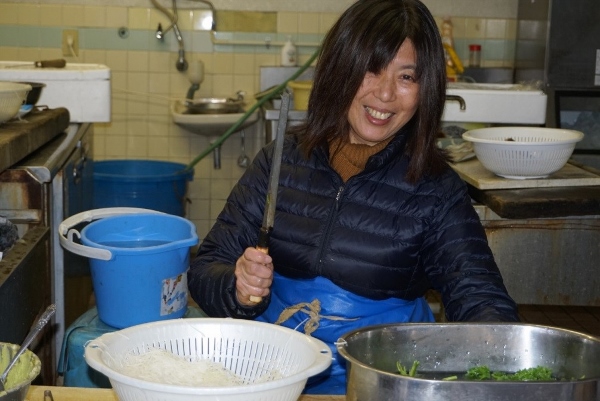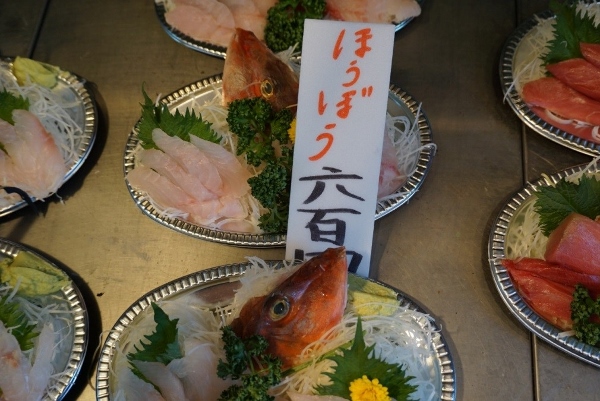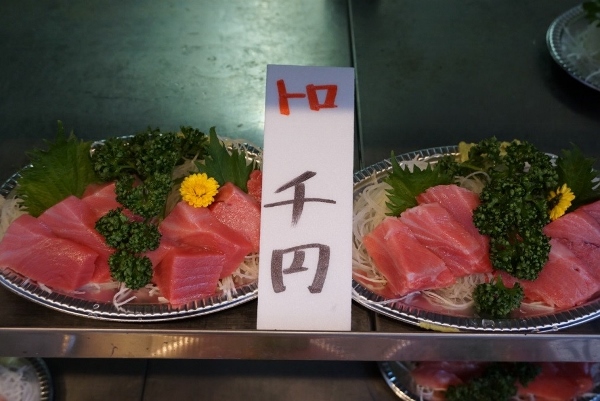 And in the evening, before customers make their way home, they can take their trays of sashimi and wander round the corner from the main Sun Road Nakanohashi thoroughfare, and order a glass of beer or sake and sit down to enjoy their sashimi on the spot.
When I asked Mr. Shibuya why his shop opens late, at 12:00 p.m., he explained that he goes to a quality wholesaler in Tsukiji fish market, from which sushi restaurants purchase the prime catch, every morning. In view of the quality, Mr. Shibuya is happy to arrive a bit later and buy what is left at competitive prices, which he can pass on to his customers. Late afternoon and early evening are the busiest times for Mimasa; housewives do their shopping for "fresh" food around 4:30 p.m., whilst office workers stop by on their way home between 6:00 p.m. and 7:00 p.m. And there is always that drinks counter around the corner….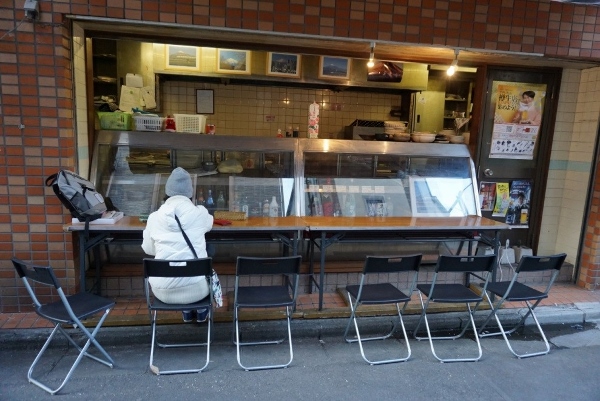 What better way to end a busy day than sitting there at the counter, enjoying the taste of delicious fresh "akami" tuna as it slips down the throat, and sipping a glass of sake and chatting with Mr. Shibuya and his staff?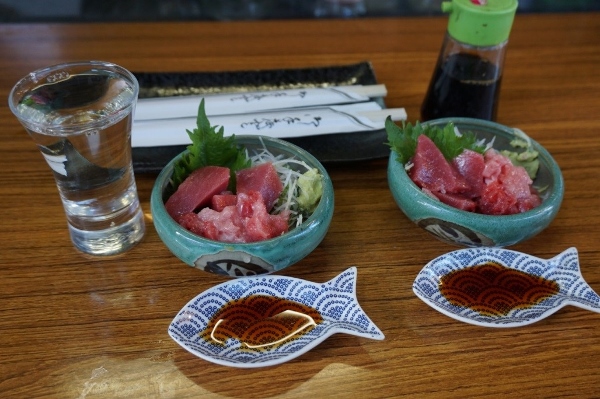 Story and Photos by Jeremy Hutchinson