In Japanese architecture, the road approaching a shrine or temple is known as a sandō. These roads are usually narrow and lined with shops and restaurants that seem to have changed little since the Edo Period. The road leading to Fukagawa Fudo Temple near Monzen-nakacho station is one such road, featuring stores selling traditional soy sauce pickles, sake, and the like. Halfway down on the right is Monz Cafe, a cafe selling Allpress Espresso-based drinks, which manages to be on the cutting edge of coffee culture and right at home in the heartland of old town Koto ward.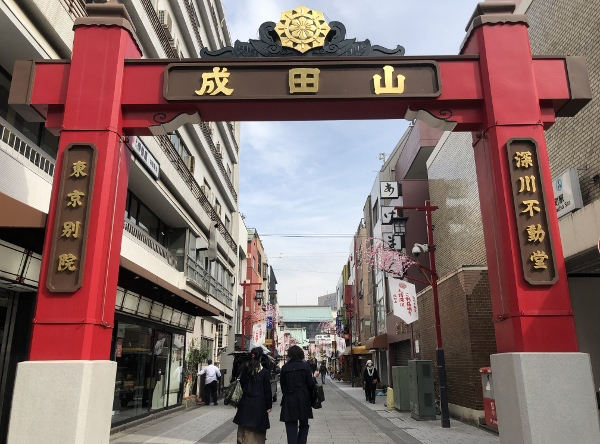 So, just how did the pride of New Zealand's coffee culture make a home in Fukagawa? We recently dropped in for a chat with Taiichiro Suzuki, architect and president of the company behind Monz Cafe. "It was a series of connections, I suppose," said the youthful, dapper Mr. Suzuki. "I'm an architect by training, designing mainly commercial premises such as shops and cafes. An old friend of mine was in Auckland for work and study when he met the boss of the Allpress company, and they became friends. I was introduced to Allpress through him and was actually looking for a place for them to build a roastery in Tokyo when I came across this building here. It was a serendipitous encounter."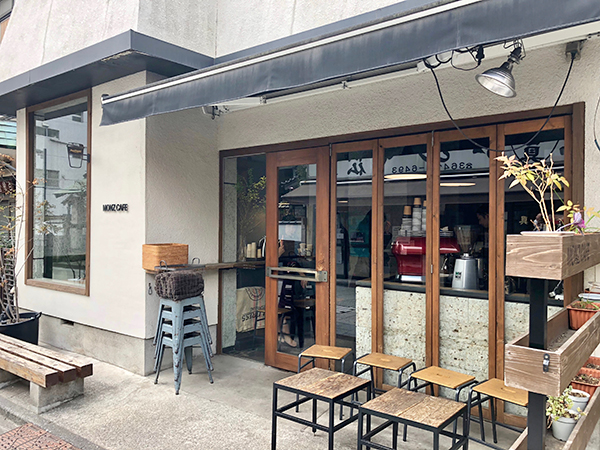 So, you didn't have any plan to open a cafe? "No, not at all. This building had been an amazake shop with the proprietor's living accommodation attached when I found it. Originally built at the beginning of the Taisho Period (1912-1926), at first it was a shop selling kintsuba." Amazake is the popular non-alcoholic drink made from fermented rice while kintsuba is a kind of azuki bean paste block that is sliced, battered and lightly fried.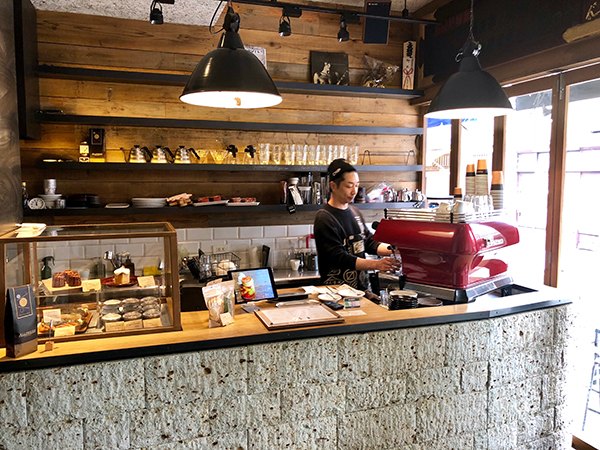 Mr. Suzuki designed the cafe but admitted to being worried about the success of the project as it was under construction in autumn 2013. "We had a lot of meetings with the shopkeeper's association and other groups. We wanted to be respectful to the area and also increase the number of visitors here. We were concerned whether we'd be able to attract enough younger customers." His doubts seem remarkable in hindsight, considering the cafe boom in Tokyo and the steadily increasing number of tourists visiting the area.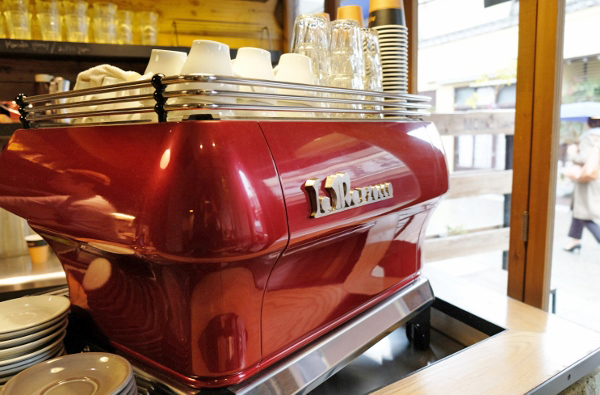 This giant red beast is a La Marzocco espresso maker from Florence, Italy.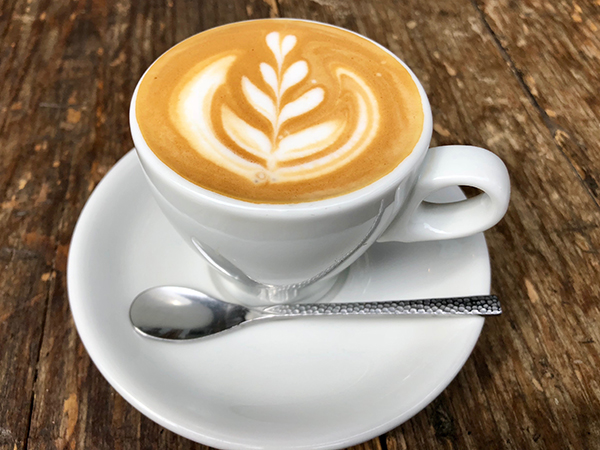 The menu is fairly simple: latte, cappuccino, flat white, mocha, iced coffee, americano, long black, and short black. All are made with Allpress coffee. Tea, tea latte, and matcha latte are also available, as is Coedo beer from Saitama. I sample a flat white. With each sip my impression goes from "It's great" to "It's more than great" to "It's unbelievably good". The drink is rich and creamy with a fabulous velvety texture on the tongue. It's also pleasantly strong, yet with no bitter aftertaste at all. Very impressive!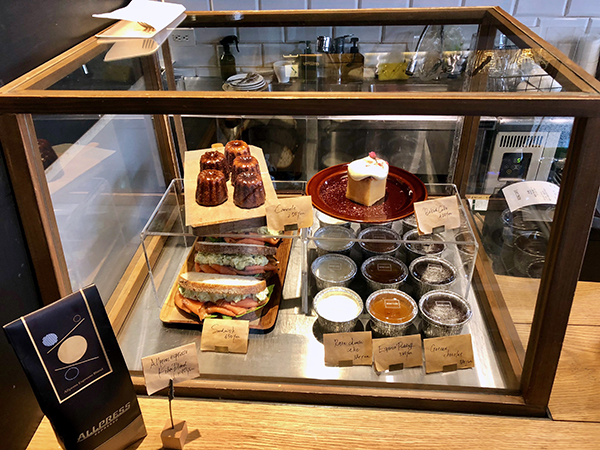 There are rustic sandwiches and cakes on the menu. The sweets and desserts are all made on site by the staff.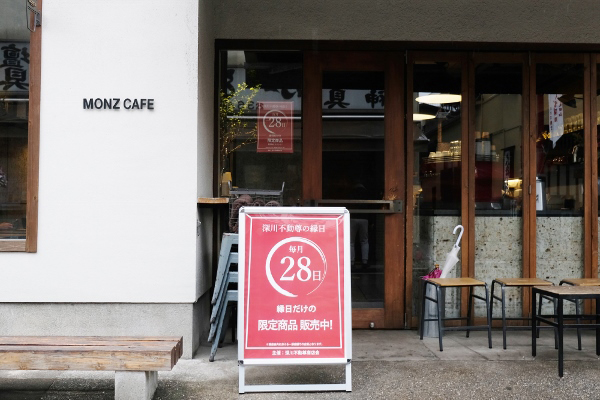 Many shrines and temples have a "special" day, when visiting is thought to be especially auspicious. Shop holders set up stalls in the street, special events are held, and there's a festival feeling in the air. For Fukagawa Fudo those days are the 1st, the 15th and the 28th of every month. To celebrate the "propitious day" (ennichi in Japanese) Monz Cafe produces a special dessert on the 28th of every month. Right now, it's this fabulous matcha tiramisu!
Doesn't that look terrific! Not only is it a green tea tiramisu it's served in a wooden box known as a "masu" in Japanese. Sake drinkers will recognize the boxes as the same ones used to hold the overspill from the glass. Nor are these boxes any old masu; they are the ones used at the Ise-Shima G7 Summit in 2016. Remarkable.
Eagle-eyed visitors will spot the wooden board above the entrance. According to Mr. Suzuki this is the original "kifuda", a board inscribed with the names of those who contributed congratulatory money to the family who first opened the shop back in 1912.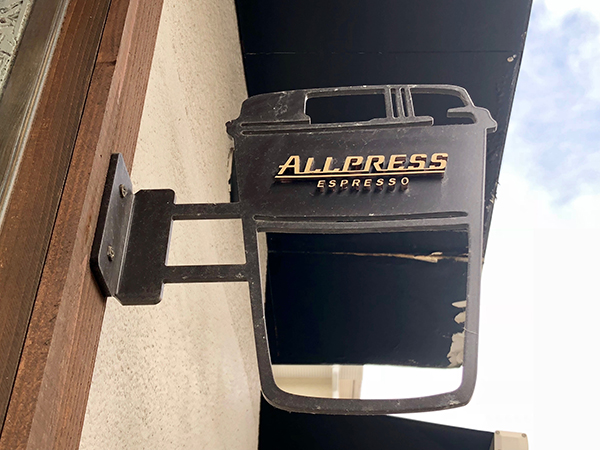 The iron Allpress sign and the "kifuda" board represent the happy confluence of historical Fukagawa and modern cafe culture. If you're in the area visiting the temples and shrines, why not take a break at Monz Cafe for a damn fine cup of coffee and a tasty sweet. If you visit on the 28th, be sure to check out the special!
Story and Photos by Stephen Spencer