In Toyosu, just across the road from the oldest convenience store  in Japan, stands Niku no Ichimura, a traditional family butcher. Run by Mr. Yasunobu Ichimura, the shop has been in the family for 3 generations, ever since Mr. Ichimura's grandfather set up the business when the Toyosu Shotengai (shopping street) was founded in 1948.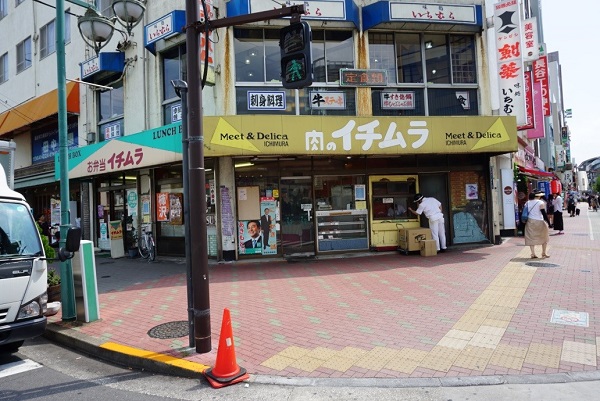 Mr. Ichimura's aim in life is to sell delicious meat at reasonable prices to his customers. When I asked him how he manages to compete against the supermarkets in the area, he replied that he doesn't directly compete with them; his customers tend to be people wanting better quality meat or meat in large quantity for parties.
Besides, he hasn't raised his prices for some time, unlike supermarkets in the neighbourhood, and as a result some meat cuts remain competitive. Niku no Ichimura also provides meat to several restaurants in the shopping street area and, given the influx of young families into Toyosu in recent years, there is an increasing demand for meat, which means there is enough business for all.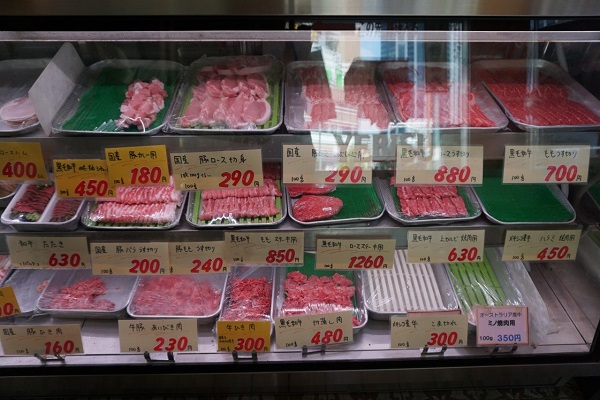 Looking at the meat on display, I see it runs the gamut from the white meat of chicken through pork to the dark red of the beef. Mr. Ichimura prides himself on 90% of the beef sold in his shop being produced in Japan and he hefted a shoulder roast from Saitama Prefecture to show us the A-5 top quality label.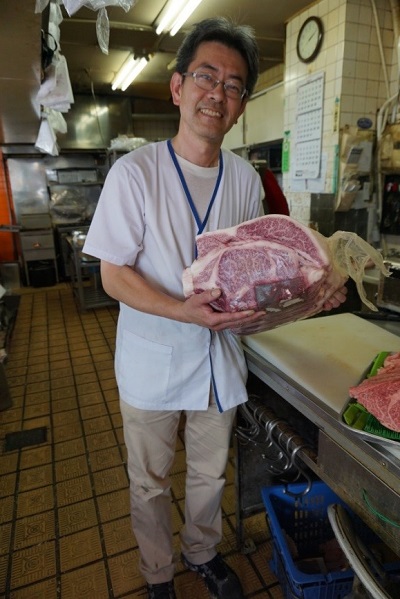 The origin of the meat on sale at Niku no Ichimura comes from several countries, such as Australia, Mexico and Brazil, but predominantly Japan. Meat is delivered from wholesalers and the cuts are skilfully prepared on site by Mr. Ichimura and his staff.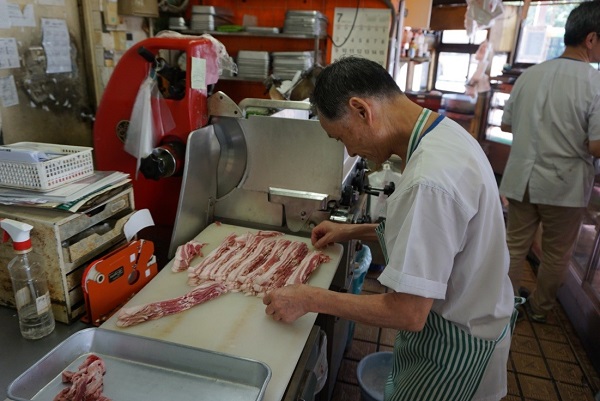 Mr. Ichimura gave us a "before and after" demonstration with a wagyu (Japanese beef) shoulder roast as to what the meat looks like when it comes into the shop and what it looks like after he and his staff have removed the excess fat and bone and sliced and prepared it for sale.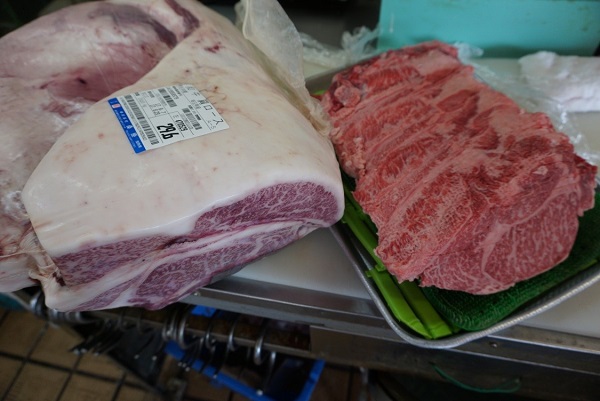 We were shown the selection of meats which the shop sells, including delicious-looking filets of Japanese-produced pork for roasting (see top picture) and top quality calbi (boneless short rib) from Japanese Blacks (a type of livestock cattle) for yakiniku (grilled meat barbeque). I apologise to the vegetarians among our readers, but these definitely had my mouth watering.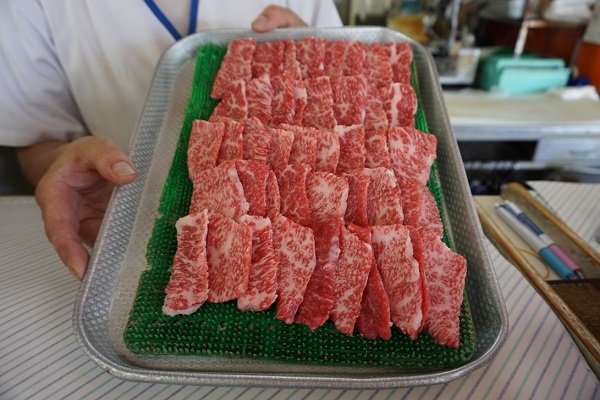 Besides meat sales, the shop caters to local businessmen and women as well as local mothers, selling bento lunch boxes containing a wide choice of fried meat or fish croquettes. The croquettes can also be purchased separately at kind prices; we opted to try the camembert cheese and ham croquette, the kushi katsu (pork and onion on a skewer), the menchi katsu (breaded and deep fried minced meat) and the wakadori-momo karaage (deep fried boned chicken thighs), which were all tasty.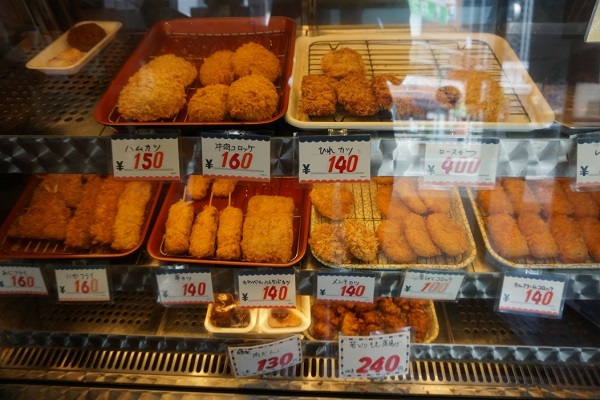 When asked what his favourite meat dishes are, Mr. Ichimura paused to think before admitting that he is a fan of yakiniku, particularly beef.
Mr. Ichimura has a number of foreign customers and recommends them to try his chicken, or beef for sukiyaki (a dish of sliced meat, tofu bean curd, and vegetables, usually cooked at the table in a mixture of soy sauce, sugar and mirin and optionally dipped in raw beaten egg before being eaten), or steak. Whatever you do decide to go for you are in for some quality meat time.
Story and Photos by Jeremy Hutchinson