"ChiChi Haru Yakiniku Nanafuku" Chinese ChiChi Haru style Barbecue
Published: September 5, 2023
※Prices are subject to change from those in effect at the time of the interview. Please contact the store directly for the latest information.
A very rare Chinese ChiChi Haru style yakiniku restaurant even in Japan.
The size of the sign board and windows, and how you can order meat by kilo's makes you feel like you are overseas despite being in Japan.
The name of the restaurant comes from where the owner comes from Qiqihar.
This type of restaurant and cuisine is one you can't find in America and many areas in the world. It is not Chinese American food nor is it Japanese Chinese food. It specializes in northern Chinese delights.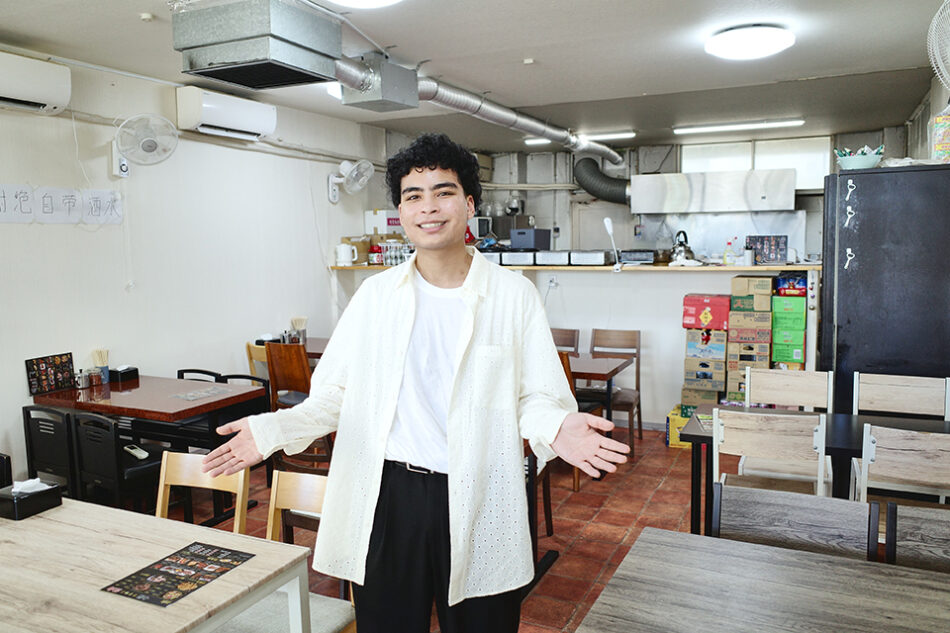 Inside the restaurant, it has a spacious setting where there are 8 tables, each table accommodating around 4 people.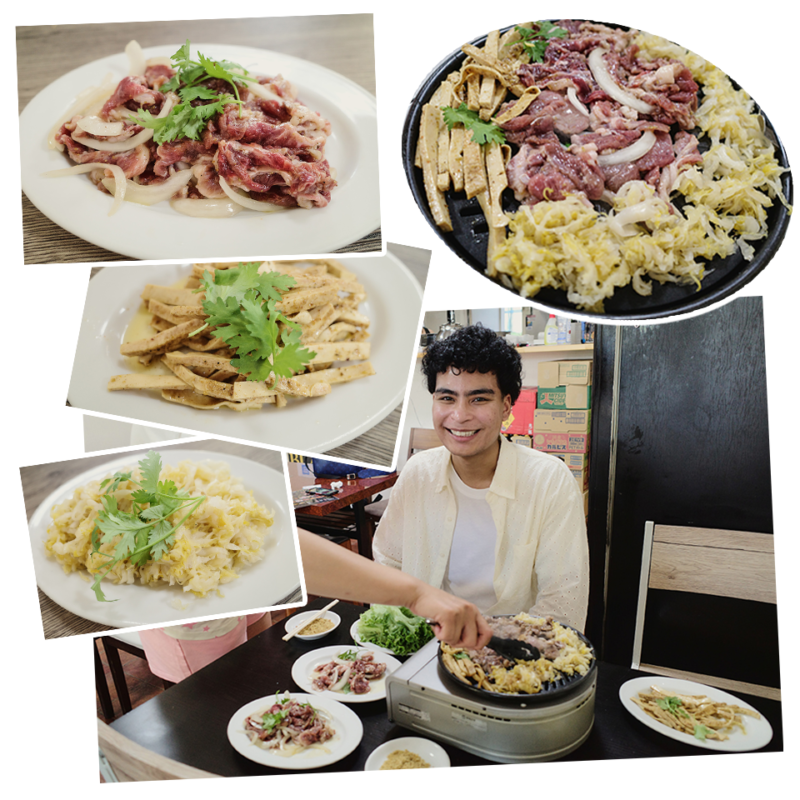 "I want as many people to eat good meat at a cheap price, so I only focus on only the essentials for the interior. We try to work very hard to offer meat at an affordable price." says the owner.
The variety of meat and quality speaks for itself and I enjoyed eating many varieties! The amazing service separates ChiChiHaru from its contemporaries.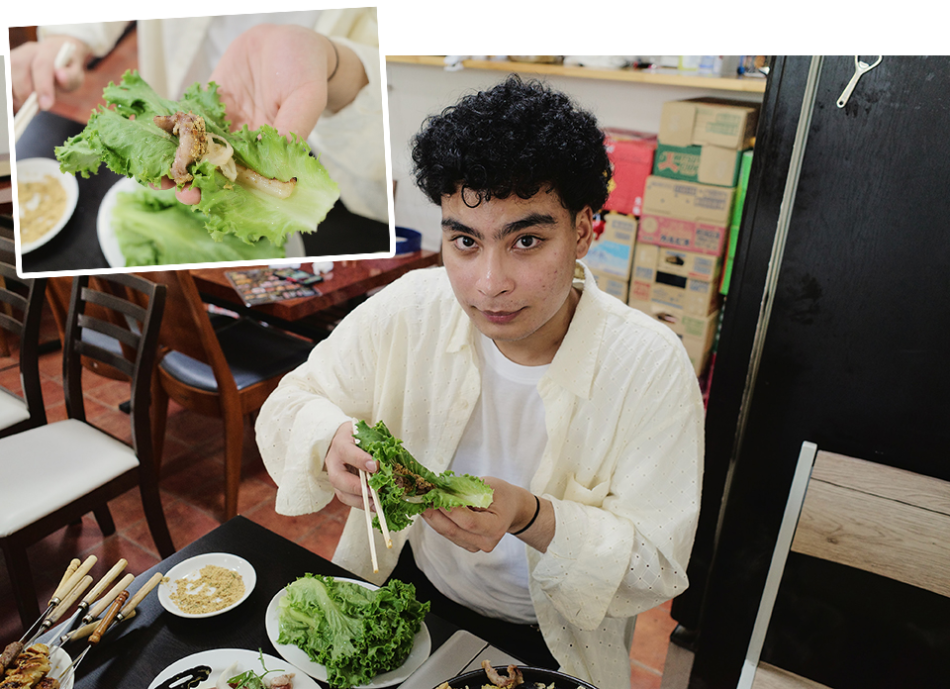 The beef and lamb meat are marinated along with onions and coriander. Personally, onions and coriander are the perfect garnish and when grilled along with the meat the onions provide sweetness, while the coriander fragrance is exuded in the air. If you are someone that doesn't like coriander, you can still enjoy.
Beef and especially the lamb are great quality. Lamb sometimes has a gamey taste, meaning that it has a stronger, slightly sour flavor, but I was surprised to find out ChiChi Haru's lamb didn't taste any of that. You can also have beef heart tube, which I haven't had until I visited ChiChi Haru, but I was impressed by not only the wonderful texture, but the taste as well when it was grilled. Once the meat of your choice  is cooked to your liking, you have to dip it into the signature powder and my recommendation for those who like it spicy should also try the chili crisps on the side!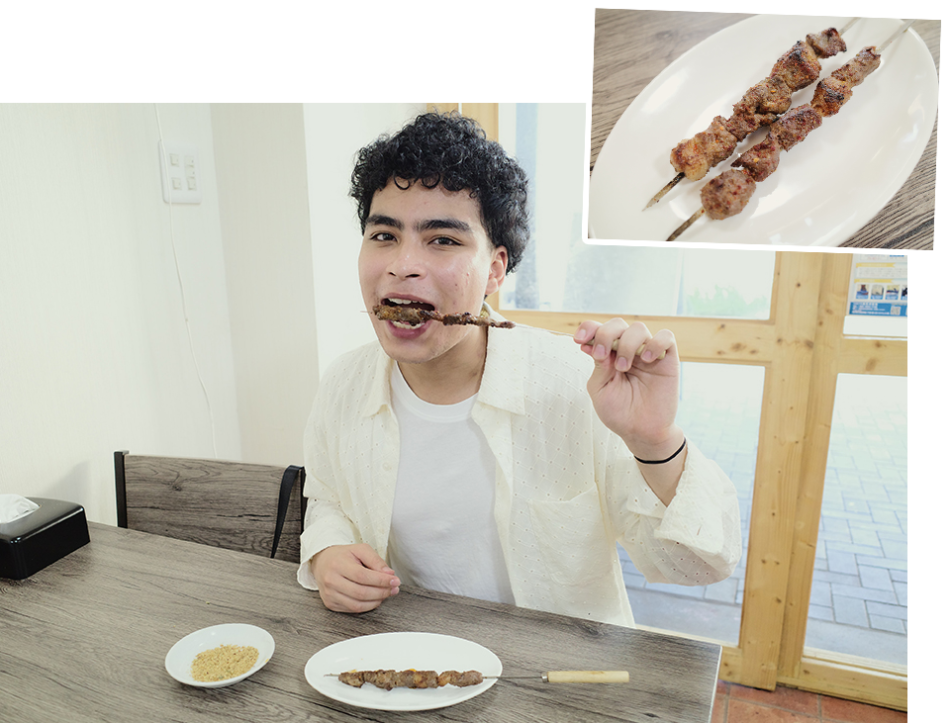 △Grilled Beef Skewer (1 piece) for 150 yen.
The Grilled beef skewer is a personal favorite of mine, I love beef and this skewer is cooked perfectly. The signature seasoning powder is delicious and addicting! I recommend the grill beef skewer as your starter along with chicken meatball to see the two different styles  of skewers they offer.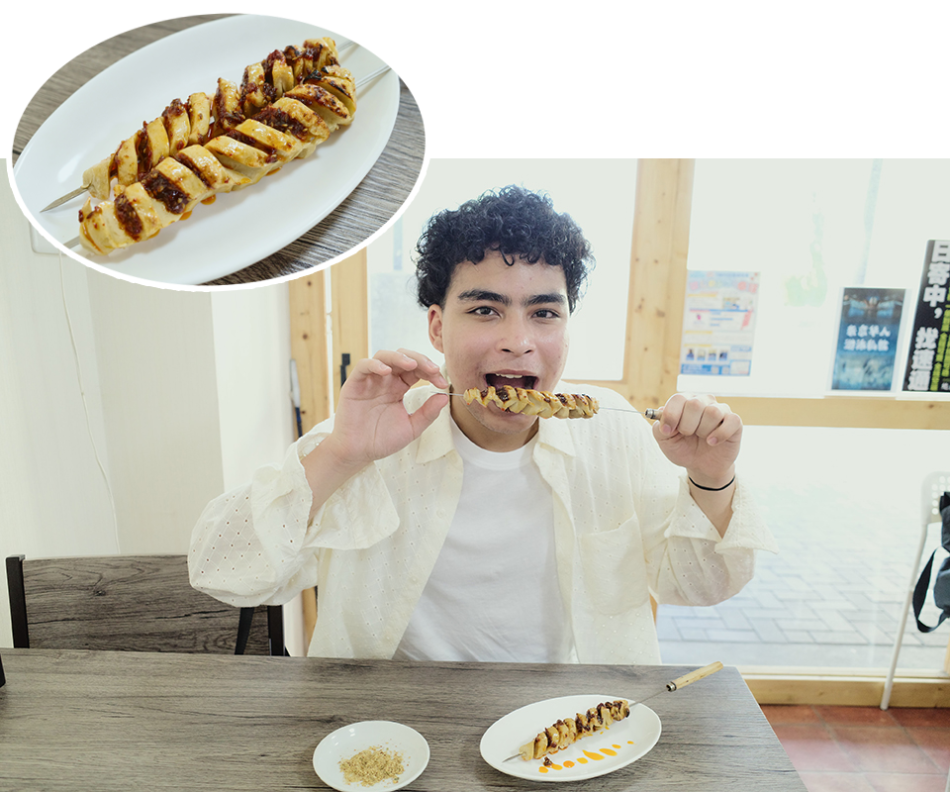 △Mienjin Skewer (1 piece) for 200 yen
This is an excellent skewer to try if you have a plant-based diet. The texture and bite of the skewer were similar to chicken. The skewer includes a chili paste that has a slight sweetness and umami under the spicy flavor. Pairs perfectly with the signature seasoning! Mienjien is an excellent example of a meat alternative like tofu that has been ingrained in Chinese culture for centuries, while where I am from has recently started to learn about it.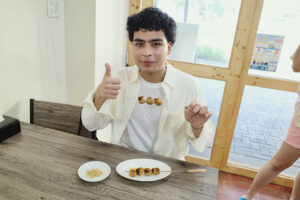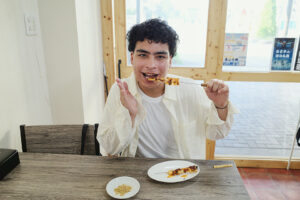 They have various kinds of skewers, but one thing that stays consistent is the wonderful taste. They offer other traditional Chinese classics like fried rice, Also, if you don't drink alcohol, they have the tastiest Chinese bottle drinks like lemon iced tea and honey green tea that both are slightly sweet but refreshing to have with your meal.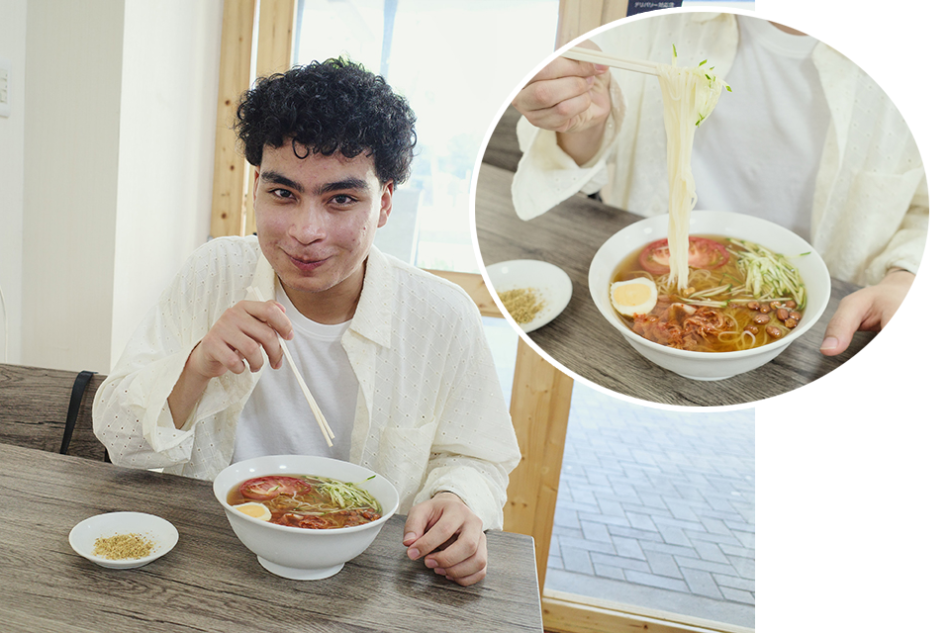 △Cold Noodles 780 yen
The cold noodle dish has a slight sourness coming from the vinegar taste along with the kimchi. It has a strong contrast from the  grilled meats which makes it appealing to eat after dinner. Tomatoes and cucumbers give the dish an additional brightness of freshness. The noodles are thin and cooked perfectly, which is my preference in terms of cold noodles.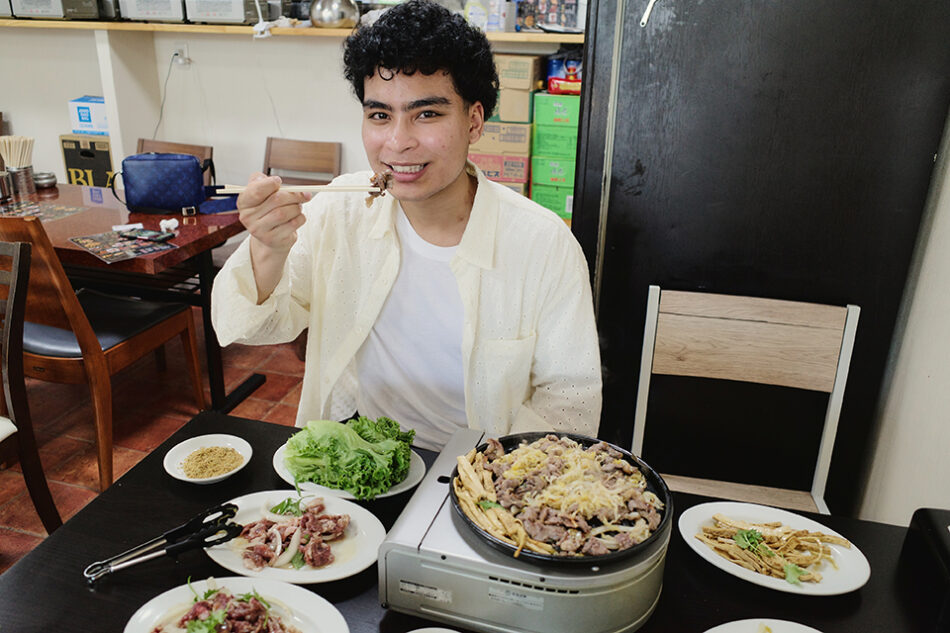 They also offer takeout, and  the price is cheaper compared to dining in the restaurant.
The takeout option for the meats are great for those who want to host dinner with their family or friends in the comfort of their home! The meat comes marinated and it is great value for the quality you are getting.
≪English Article Journalist Profile≫
・Name: Jasper Savoy
・Age: 21years old
・Nationality: United States of America
・Hobby: Watching Basketball and cooking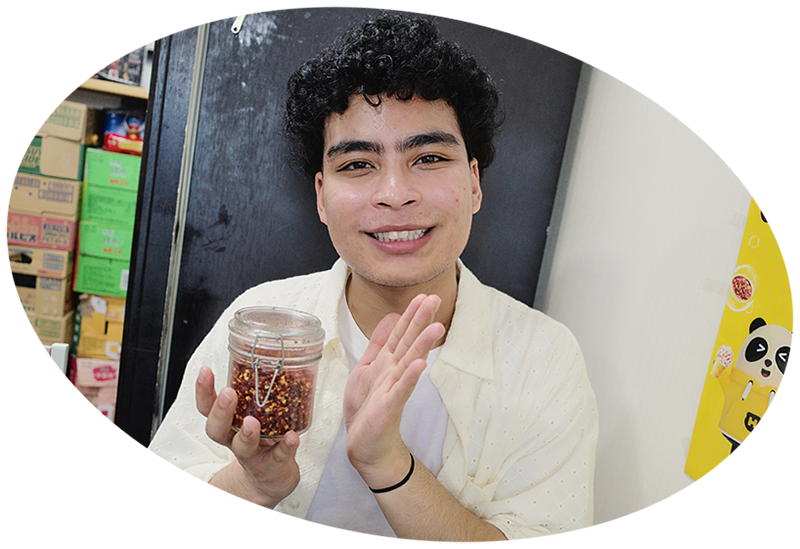 ---
※Information is based on interviews conducted in August 2023. Prices, operating hours, etc, might be subject to change. Please be sure to confirm the details at the establishment.
※All prices mentioned in the article are inclusive of tax.