Okinawa Soul Food
Published: December 8, 2022
Haisai Chicken, from Okinawa to the world! The latest food craze to make a splash is Okinawa-style rotisserie chicken, long a favourite on Japan's southern tropical paradise, but now available to the lucky residents of Kiba and Koto-ku thanks to the recent opening of Haisai Chicken.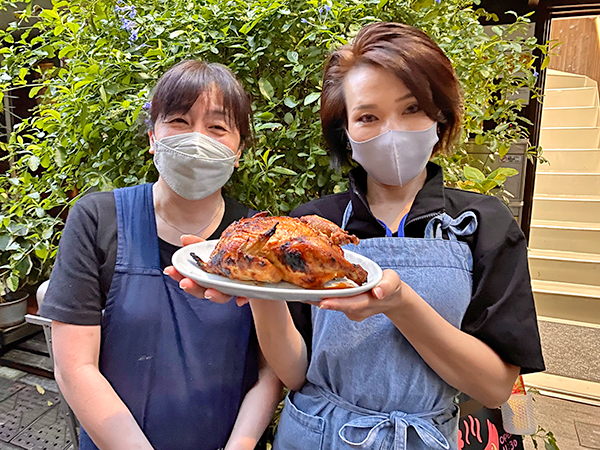 Shop manager Ms. Sako and staff member Ms. Kuribayashi model a juicy Haisai chicken. The Haisai Chicken shop is located on the second floor of a building just off Omon Street, a brief 4-minute walk from exit 1 of Kiba station. There's a nameplate and buzzer on the wall, just ring and wait for an answer before entering.
The founder of Haisai Chicken is resident in Okinawa where he runs the original restaurant and shop. Prompted by friends in Tokyo, he decided to open in the capital and selected Kiba as the site of his first shop. Kotomise coupon holders can enjoy a 500 yen discount, which is an absolute bargain!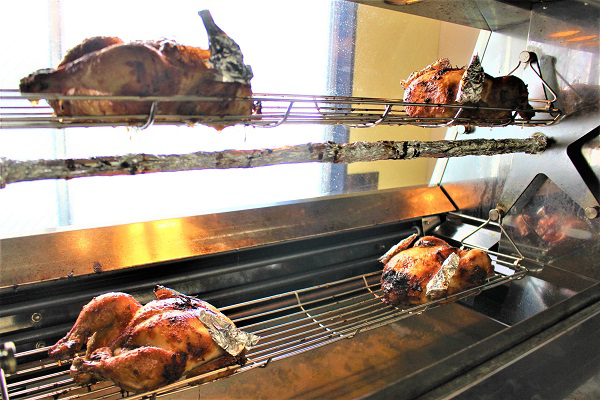 The massive rotisserie was in operation when I entered, with the splendid aroma of garlic and roasting chicken filled the air. "Rotisserie chicken is very popular in Okinawa," explained the ebullient Ms. Sako. Okinawan natives who emigrated to Brazil or other South American countries enjoyed the whole roasted chickens popular there, then recreated the flavour on returning to their homeland. "Many shops have their own recipes, but they all contain a lot of garlic," she added.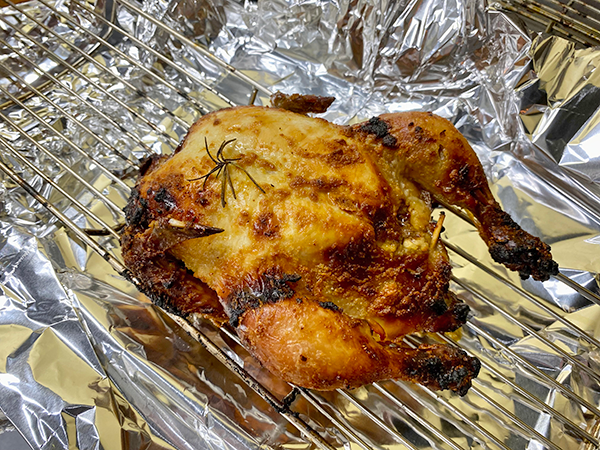 One whole chicken costs 2,480 yen and weighs around 900g, while a half is 1,240 yen for around 400g. A whole chicken is plenty for three people. Any leftover meat can be used for sandwiches, salads, curry, and lunch boxes, while the bones will yield a very tasty broth when boiled. The instagram site even features interesting recipes to use leftover meat.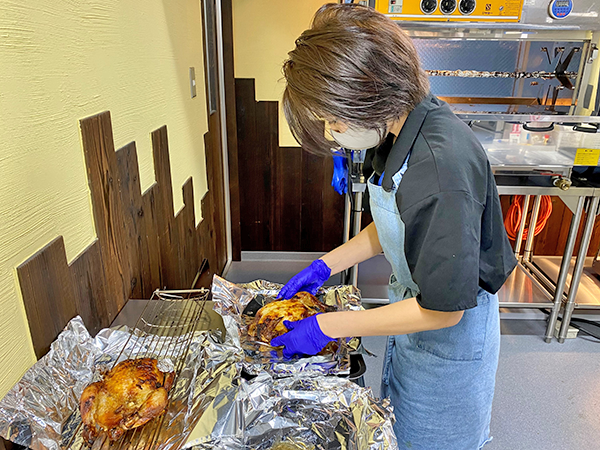 "The chickens are marinated in a secret sauce for two days," explained Ms. Sako. "There's a touch of soy sauce and some rosemary. The marinade doesn't contain any ginger. After marinating the chickens are stuffed with a mixture of chopped garlic, onion and oregano and cooked for close to two hours." The staff will cut your chicken if you prefer.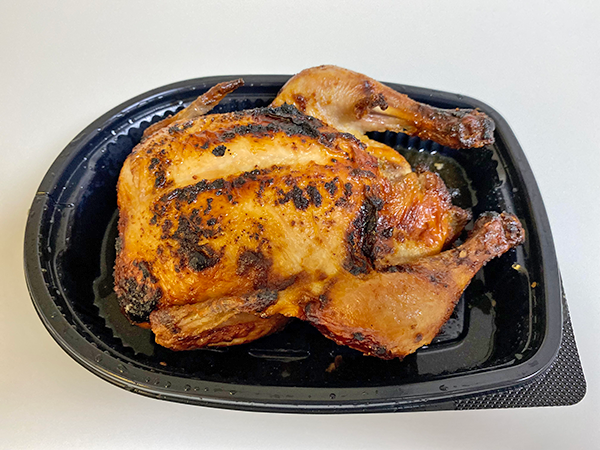 The lengthy marinade allows the flavours to permeate the bird and the grilling cooks it completely, creating an incredibly juicy, savoury experience without drying out the meat. Up to 20 chickens can be ordered at the same time!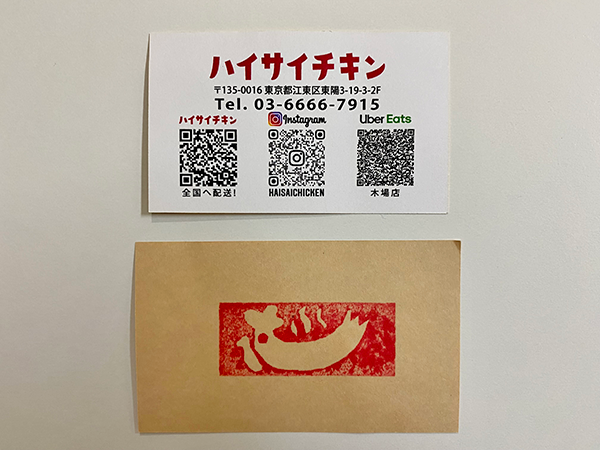 Ordering is easy as there's only one item on the menu! Orders can be placed by phone or on instagram. The first cooked chickens are ready for collection from 11:30 am, with the last pick up time currently at 18:00, but that may change in the future. "We only just opened in September 2022, please check our SNS for updates," said Ms. Sako.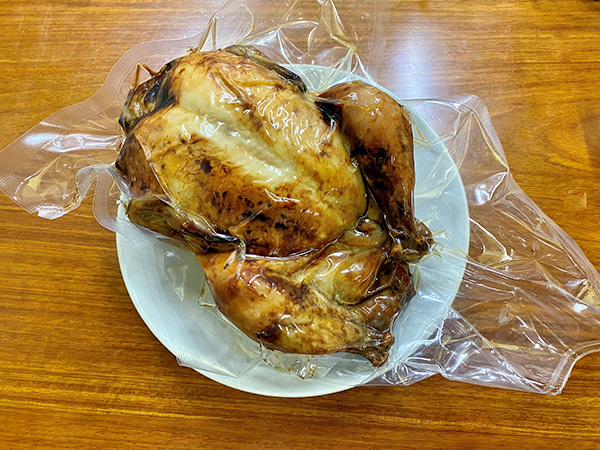 Haisai Chicken also offers vacuum-packed whole chickens for the same price. The whole pack can be popped into a pot of water and heated through. Quick, easy and delicious Okinawa chicken anytime!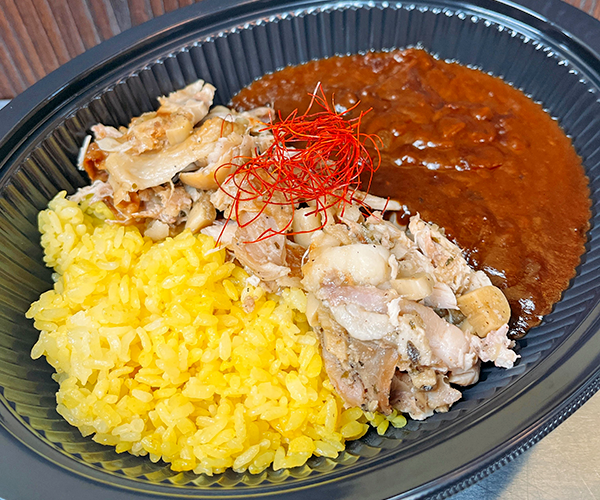 There are also lunch boxes too, this chicken curry and a chicken on rice version at 1,000 yen apiece. You'd better hurry as they're very popular and quickly sell out.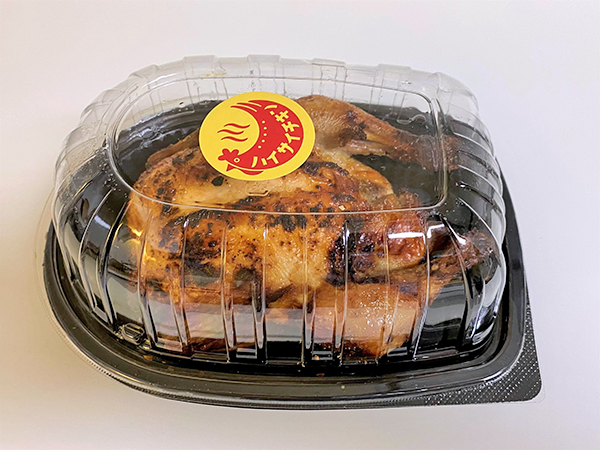 The take out chickens come in a sturdy tray with a strong snap on lid.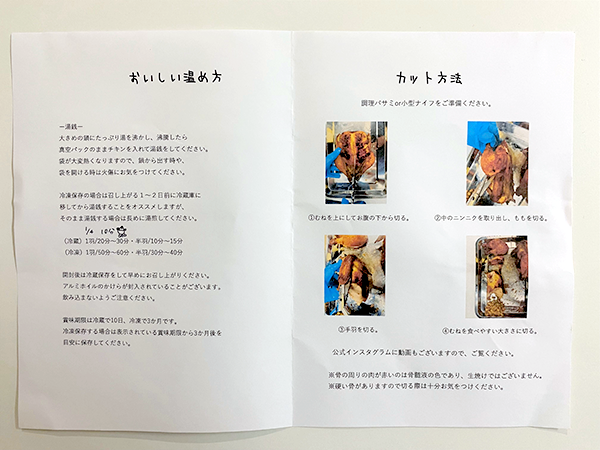 Instructions too, and the best way to cut the chicken. The vacuum-packed chickens can be kept for 10 days in the refrigerator or up to 3 months in the freezer.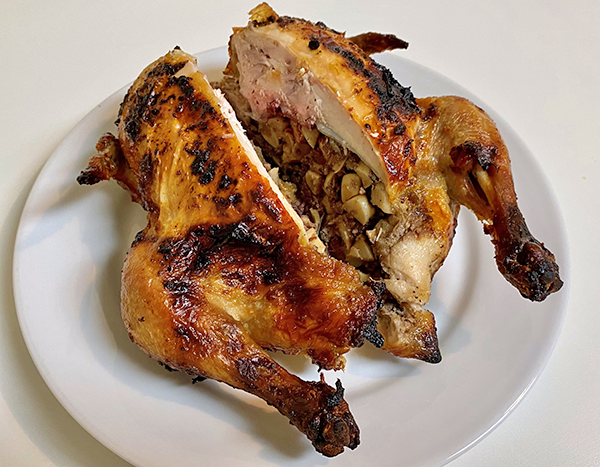 To say they're stuffed with garlic is an understatement as each contains a whole bulb! It's also hard to imagine anything that goes better with a beer (or whatever you fancy) than hot, juicy, garlicky roast chicken. Simply knockout! Party time, Christmas time, picnic time, dinner time or just any time at all is Haisai Chicken time. Haisai is the all-purpose greeting in Okinawa; why not say 'hello' to Okinawa-style juicy rotisserie chicken today?
by Stephen Spencer