Find a Slice of Japanese Culture @ Monzen-nakacho
Published: May 24, 2017
What pops into your mind when you think "Japanese sweets"?
While manju buns filled with azuki red bean paste and delicate cherry blossom sugar candies can be attention-grabbing for their indisputable "Japanese-ness", some of the best and most iconic Japanese desserts are actually found in cake boutiques!
Here we are at Patisserie ISOZAKI in Monzen-nakacho, a charming little store in French green seemingly hidden from the hustle and bustle of urban life.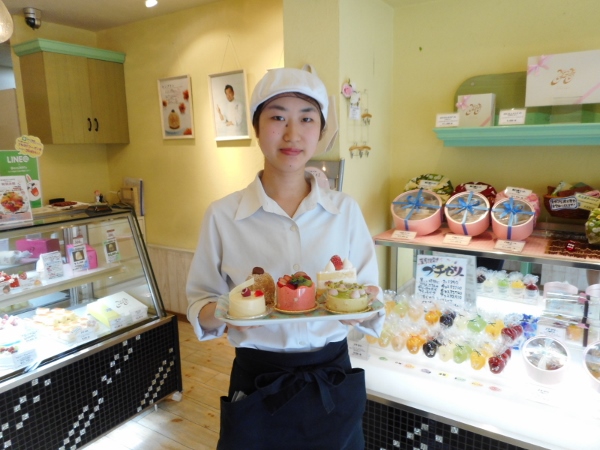 Greeting me on this day was Ms. Shimada, a pâtissière who works here, as well as Mr. Isozaki, the owner and proprietor.
"People don't think of cakes as being a Japanese thing," Mr. Isozaki explained when I asked about his creations. "I want to change that perception, because in Japan we make cakes like nowhere else in the world."
While their roots are European, modern cakes being made in Japan today—and especially by renowned pâtissiers such as Mr. Isozaki himself—have evolved beyond their ancestors into works of art that are recognized around the world as uniquely Japanese.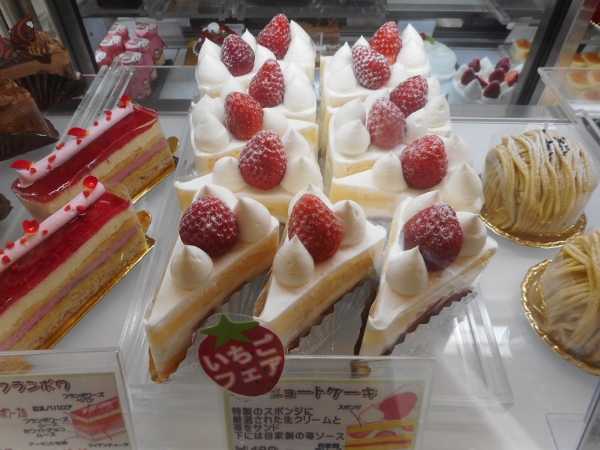 Take for example the Strawberry Shortcake. Rather than the round biscuits associated with the shortcakes of North America, this iconic Japanese cake is a layered creation of soft, yellow sponge sandwiching rich whipped cream and bright red strawberries. Ever since its conception in the 1920s, the visual of red, white and yellow has become so representative that in Japan, no cake shop would be complete without it!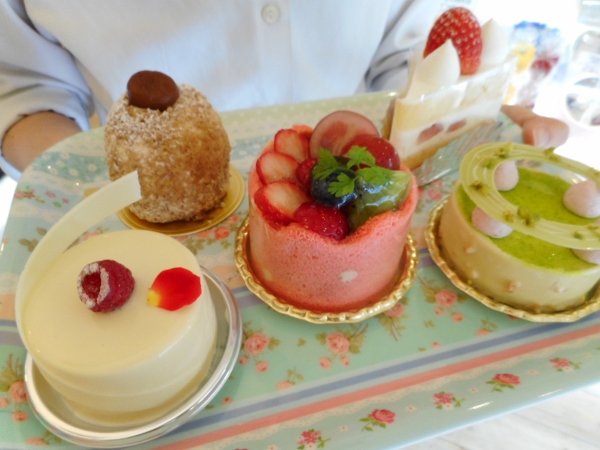 So a competition-worthy Strawberry Shortcake is a must, but what sets each cake boutique apart is in the creativity of their recipes. At ISOZAKI, you might chance running into beauties like those pictured above.
Faced with the simple elegance of "YOSHI" (front left; white chocolate and framboise), the prim "Flower" (front center; cherry mousse and boysenberry), or the luminescent "Pistache" (front right; pistachio mousse and cherry confiture), you might have to re-think what cakes are supposed to look (and taste) like! In the back stand the two defending champions of the cake world, the Strawberry Shortcake as previously mentioned, as well as the Mont Blanc, a chestnut cream-based dome of pure perfection.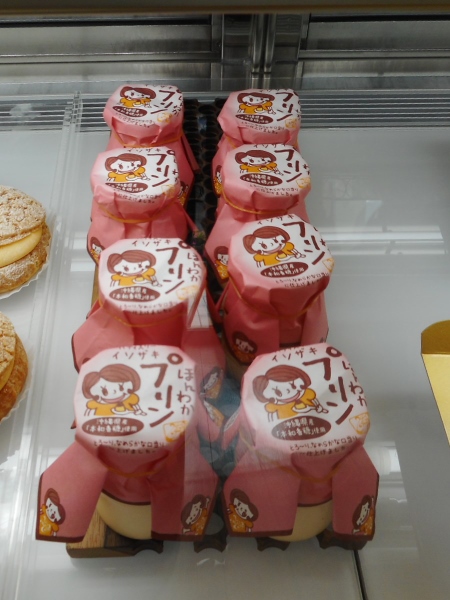 Aside from cakes, Patisserie ISOZAKI offers plenty of other treats as well, like these charmingly bottled "purin" (Japanese custard pudding). If you've never had purin before, I highly recommend getting your first bite from a specialty shop like this one rather than a supermarket, to truly appreciate why this is a long-favoured dessert for many.
(And if you have had purin before, I nevertheless recommend getting one here so you can re-appreciate how wonderful an invention it is!)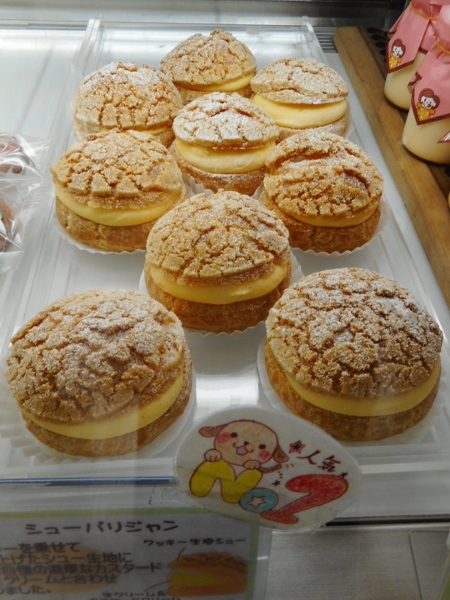 The top-selling item inside the display counter is the Chou Parisien, a cream puff of notable proportions filled to bursting with custard cream. The crisp yet soft texture of the shell is telling even from a photograph.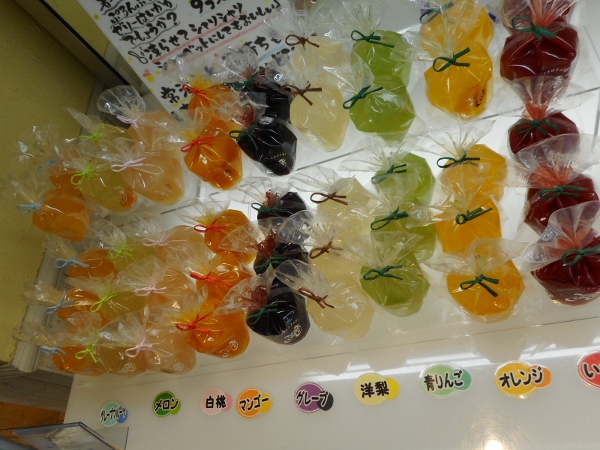 Look out also for their colourful fruit jellies in the summertime…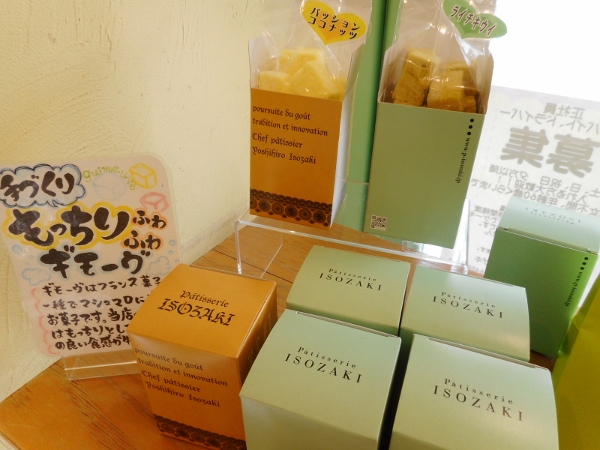 As well as a very unusual flat Baumkuchen (a cake of German roots, usually made in circular layers to resemble a tree trunk).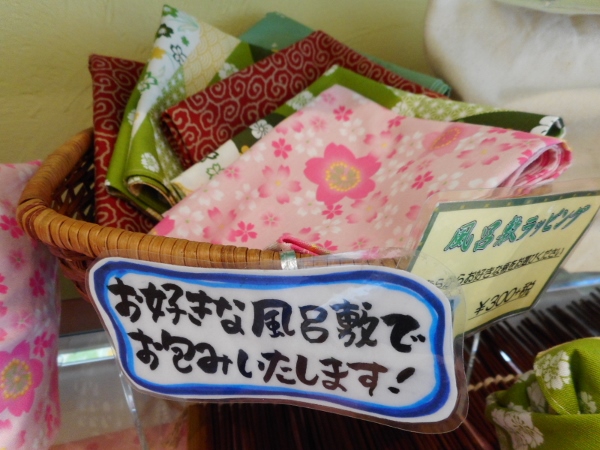 If you're purchasing these sweet temptations as a gift, be sure to ask about their gift-wrapping services too. For a small price, you can choose a furoshiki (Japanese cut cloth for all purposes) to wrap them in. It's a lovely touch, and the best part is, furoshiki are reusable and very sturdy!
So the next time you picture Japanese sweets, give some thoughts to the incredible beauty and innovation of Japanese cakes! And if thinking about it has got your stomach growling….Patisserie ISOZAKI is just a minute away from Monzen-nakacho Station 😉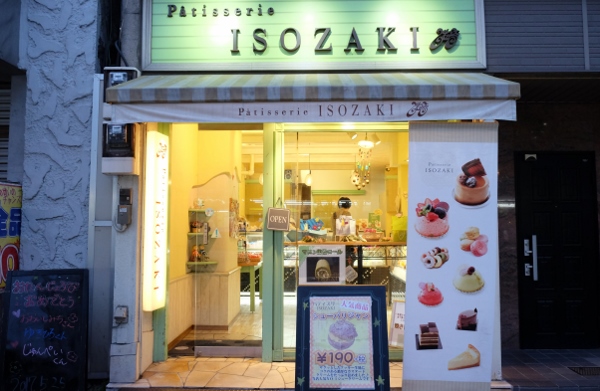 Story and Photos by Xianru Shen (Koto City Office Coordinator for International Relations)