When I say "Pizza is my passion," I am talking about the consumption of this most excellent culinary invention.
But when Mr. Shunsuke Matsumaru says "Pizza is my passion," he is talking about creating the perfect Neapolitan pizza for his customers.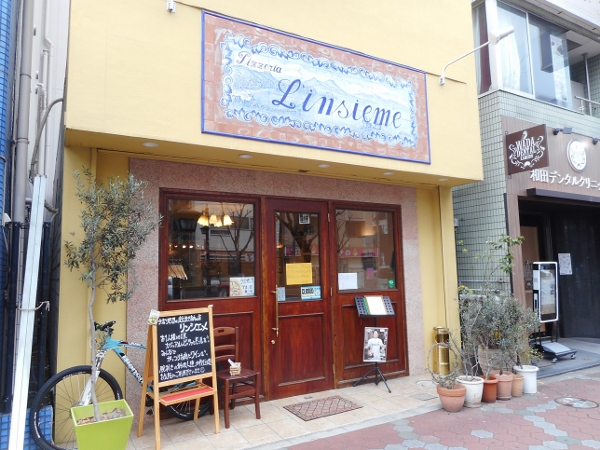 Luckily, at Pizzeria e Braceria L'INSIEME, both of our passions can be realized at the same time.
Facing Meiji-dori Avenue, a few minutes from Kameido Station, L'INSIEME's yellow walls and unique tiled signage pop out from the background colourfully.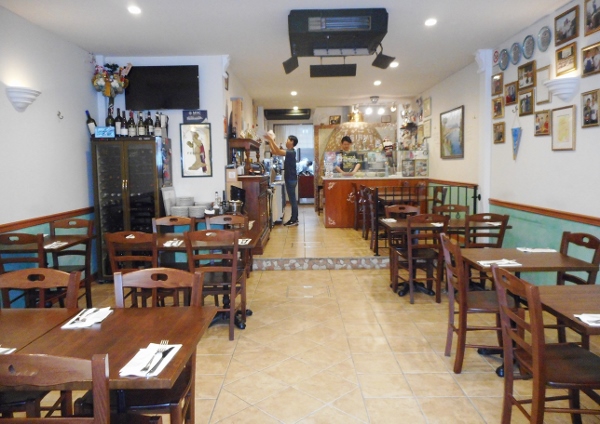 Walking inside, you'll find a spacious interior that features many seats, perfect for large parties, family outings, or casual get-togethers…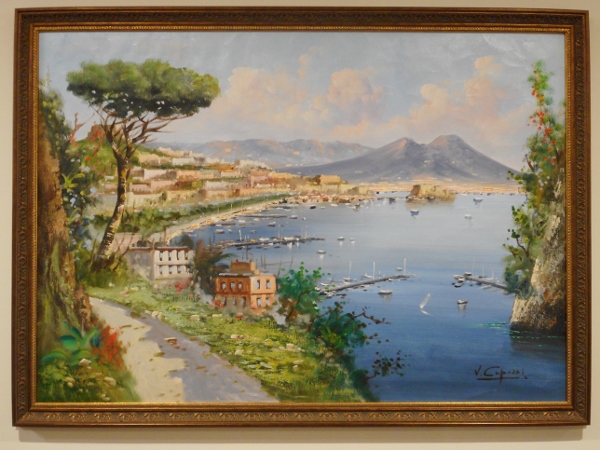 A gorgeous painting of a sunny Italian seaside to help set the mood…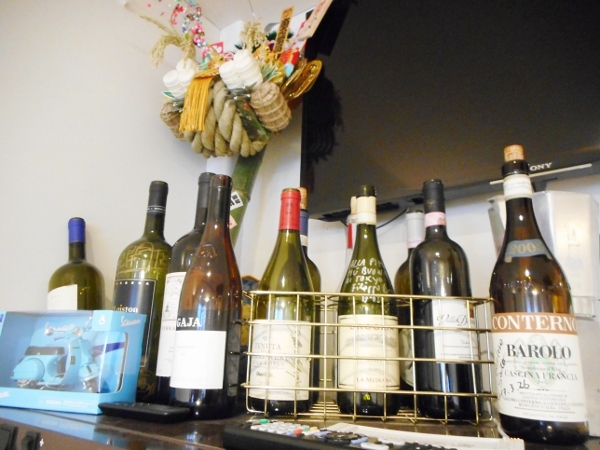 A wine rack overflowing with a fine selection of Italian wines…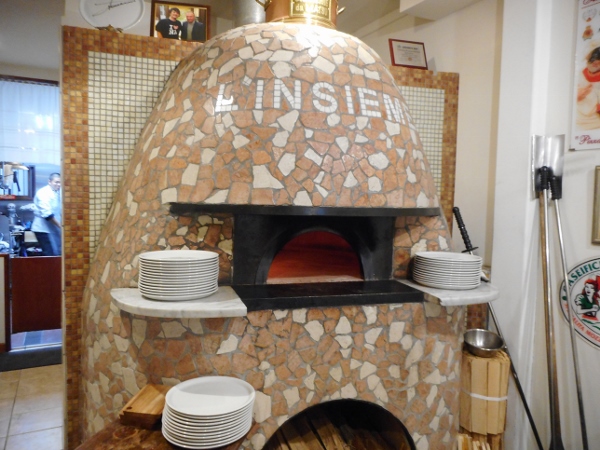 And this: an impressive, one-of-a-kind wood-fired brick oven that sits proudly at the center of the kitchen area. Weighing in at a whopping 7 tons and resting on fortified flooring, its importance to L'INSIEME can hardly be exaggerated.
"I had a craftsman from Italy come and build it," Mr. Matsumaru says. "They make the best brick ovens in Napoli, and I knew compromise was not an option. The material was shipped from Italy as well. I wanted to be as authentic as possible."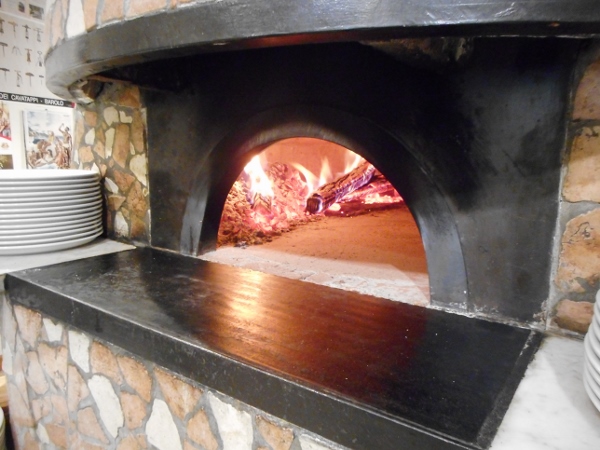 The purpose of this impressive oven, of course, is to help Mr. Matsumura make the best pizzas possible.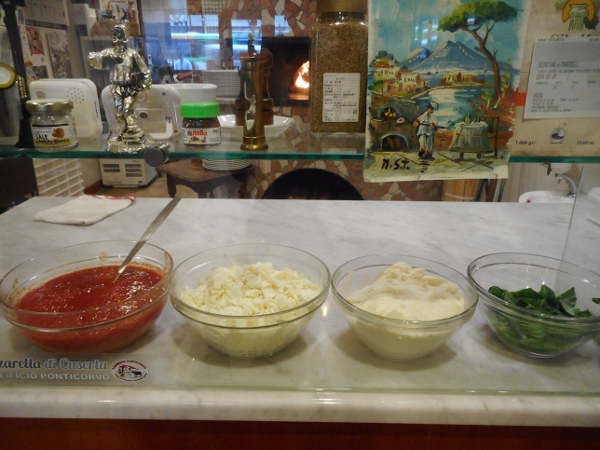 "It used to be really difficult to find authentic Neapolitan pizza in Tokyo," Mr. Matsumaru reminisces, "Which is probably why my first experience trying it left such a lasting impression on me. I used to go from restaurant to restaurant, tasting as many of these rare pizzas as I could find. Eventually, I went to study the real thing in Napoli."
There, he ended up winning a national competition for pizza craftsmen—no easy feat, considering he was competing with locals and pizza chefs from all around the world!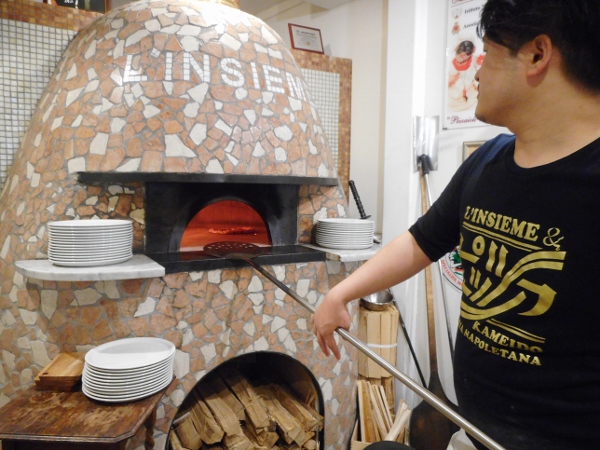 Now, he dedicates all he has learned about his craft into L'INSIEME. Opened in April of 2016, the restaurant already has a loyal following of locals, especially families and businessmen, who are drawn to the good food offered at surprisingly low prices.
Mr. Matsumaru quickly whips up a pizza for me—a Bismarck, topped with tomato sauce, Mozzarella cheese, basil and an egg. With Neapolitan pizza, speed is of the essence. In no time he had stretched out the dough, layered on the toppings, and popped it into the oven, where it is quickly cooked to perfection for 1 minute at 470 degrees Centigrade. Although there are no thermometers and he doesn't use a stopwatch, Mr. Matsumaru says he can tell the temperature and whether the pizza is cooked from experience.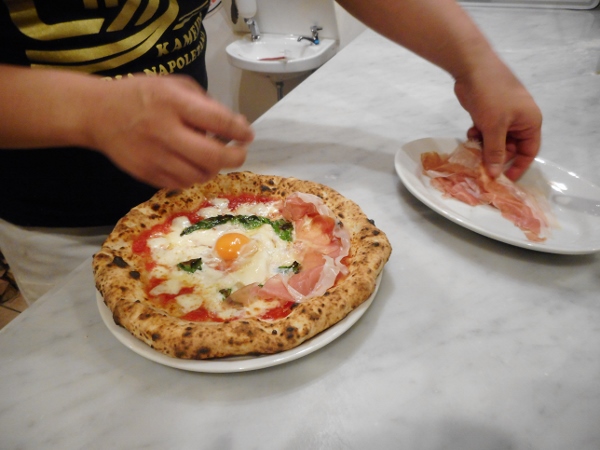 Look at that beautiful crust! Once out of the oven, on went the Prosciutto, last. I could smell the delectable fragrance of the cured ham even from a distance. "I try to source as much of the ingredients as possible from Italy, including the cured hams, and flour for the crust. Delicious crust is essential to good pizza."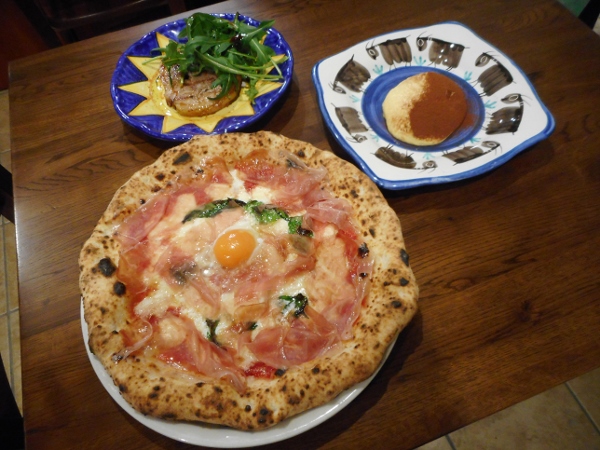 Ta-da! The pizza, piping hot, was joined by an appetizer courtesy of chef Uchida, who works the kitchen in the back. "This is Porchetta," he explained. "It's pork that's been braised with garlic, lemon and herbs, before being slow-roasted over charcoal."
Indeed, the "braceria" in L'INSIEME's name is indicative of the great charcoal-grilled meat dishes that they serve. I could tell the Porchetta would be juicy, filling and delicious, just by the way it looked on the plate (and it was!).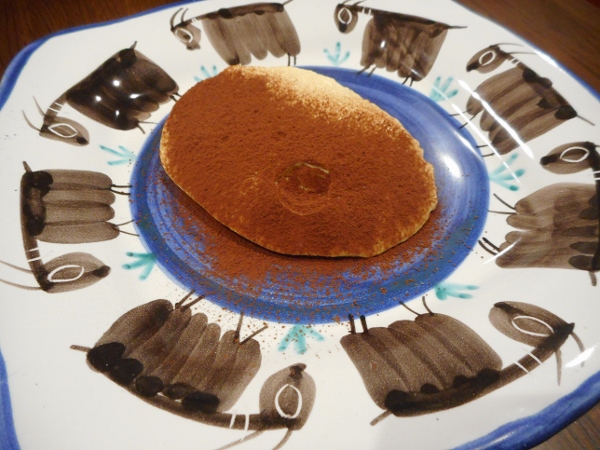 There is also a dessert menu with choices a-plenty, though it would be difficult to pass up on having the tiramisu at an Italian restaurant. The tiramisu here is made with a melt-in-your-mouth quality that is simply wonderful.
"What a cute plate! Are these goats?"
"Yes, I picked up a bunch of tableware from Italy for my store as well. It's hard to find anything like it elsewhere. It helps set the mood, doesn't it?" Mr. Matsumaru said. His dedication to everything Italian is astounding.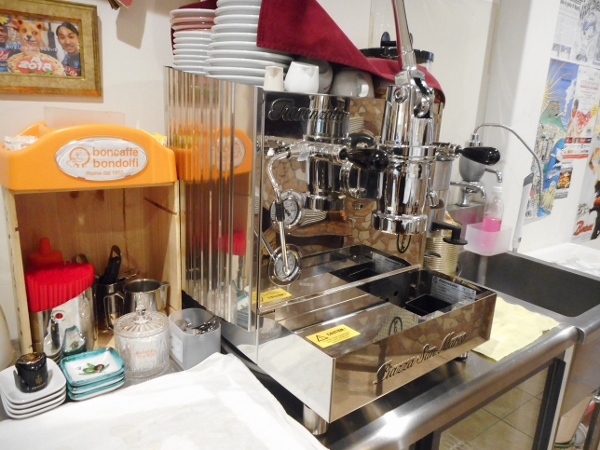 This beautiful espresso machine that will make you your after-lunch cuppa? Also Italian.
"I guess I'm adamant about being authentic because I don't want to feel like we're cutting corners. We're located in the shitamachi (old-town Tokyo) where the roots run deep and people are down-to-earth, so we keep the prices low and aim to be family friendly. But that doesn't mean we have to compromise on taste or quality. I want everyone to have access to the best, most authentic Neapolitan pizza—the kind you might find at a fancy restaurant—combined with that casual friendliness Kameido and Koto City is known for."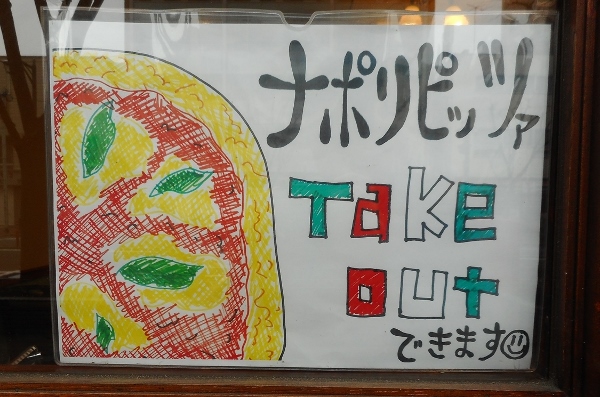 Though it might be hard to tell from the photo, I felt like the pizza was large enough to feed two people comfortably. If you're dining by yourself and worry about finishing the whole plate, don't fret; the pizzas are available for takeout as well (this service is also perfect for when you want to have a pizza party at home). In fact, I ended up taking home the Bismarck, where I ate it over three meals!
"You can reheat it in a toaster oven or in the microwave, but if you have time, the best way is to use a frying pan," Mr. Matsumaru advised me. "That way, the crust will come out with a soft, slightly chewy consistency that makes Neapolitan pizzas so great."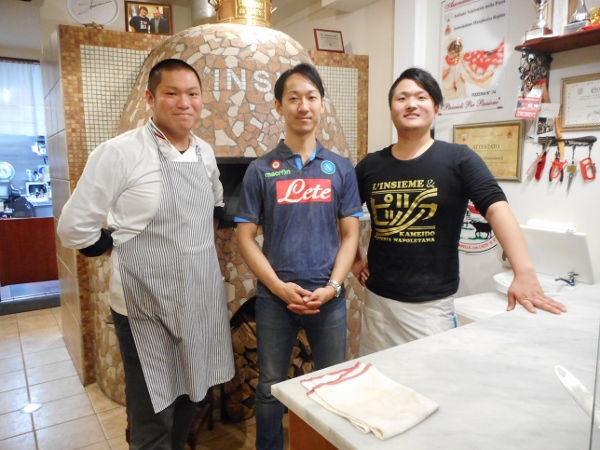 So with Mr. Matsumaru's excellent pizza skills at the helm, L'INSIEME is continuing to capture the heart of local foodies. Mr. Uchida (left) and Mr. Hoshi (center) are also imperative to the restaurant, providing quality service as the main chef and wine sommelier, respectively.
"We want to welcome anyone who's in the area who wants good pizza," Mr. Matsumaru remarked. "I know it can be hard travelling in Tokyo sometimes, especially if you're a foreigner. You feel out of place, and people often panic about the language barrier. Well, we may not speak a lot of English or Italian, but we promise we won't panic!" he laughed good-naturedly.
Readers, I don't know about you, but the next time I get a craving for pizza…I'm heading to Kameido.
Story and Photos by Xianru Shen(Koto City Office Coordinator for International Relations)