Ramen Lovers Assemble!
Published: January 22, 2021
Kasaibashi Street in old Fukagawa is well-known for its number of ramen shops that compete fiercely to attract Koto-ku's many noodle lovers. On a recent chilly afternoon, we dropped in at one of these, Menyajunpu, to chat with owner Mr. Juntaro Abe.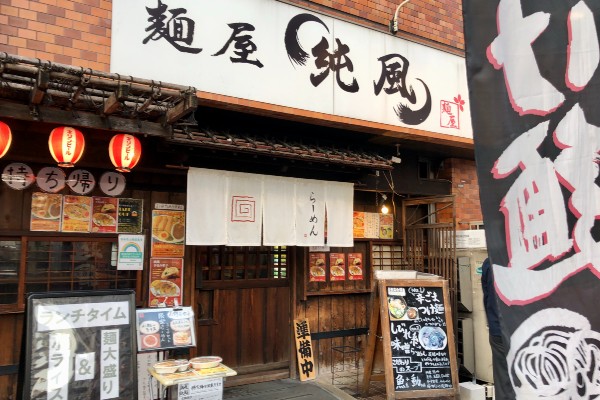 The hearty Mr. Abe has spent 18 years making ramen and is just as enthusiastic now as the day he began. "I love ramen," he tells us, grinning widely, "I love making it and I love eating it, too."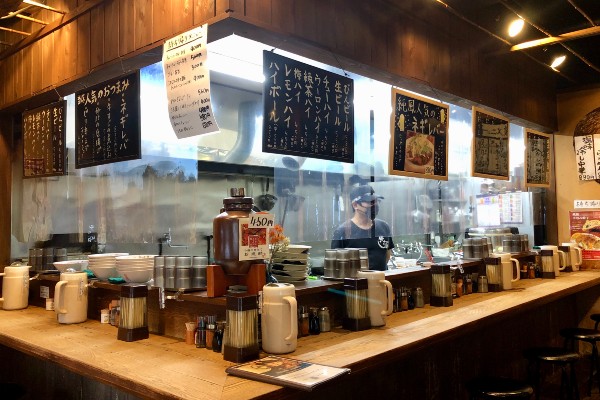 Not for Mr. Abe the current fashion of sleek stainless steel and minimalist interiors; Menyajunpu is unabashedly woody, from the counter to the seating area. The counter features heavy plastic sheeting to meet the current hygiene protocols.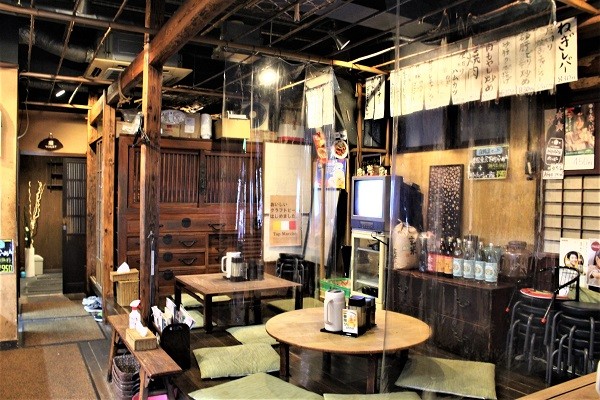 The low tables are also separated by hanging plastic curtains. The interior at Menyajunpu is decked out like a traditional Japanese kominka, the wooden houses commonly found in rural areas. It creates a very calm and relaxed atmosphere in which to enjoy a bowl of ramen; a world away from the thundering traffic of Eitai Street and the bustling Monzen-nakacho station area which is just a few minutes' walk away.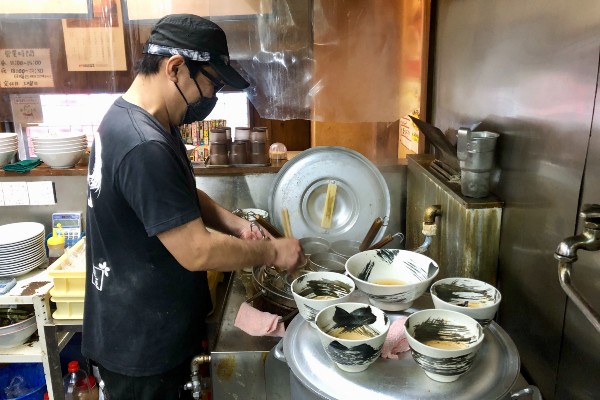 Although he may well balk at the description, Mr. Abe is an artisan, tirelessly working to perfect his recipes and create new ones. Menyajunpu offers a remarkable eight different varieties of ramen: soy sauce, miso, salt, lightly-seasoned (asari), chilled noodles and spicy. There's also tsukemen, where the soup is served separately for dipping, and abura soba where there's no soup at all and the noodles are seasoned with sesame oil, soy sauce-based sauce, spicy chili oil (raiyu), vinegar and so on.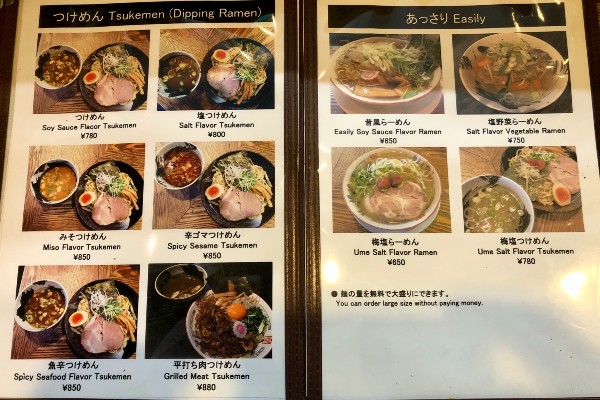 Within these categories are further variations, many of Mr. Abe's own creation. Fortunately for English-speakers, there's a menu with handy photographs. In total, Menyajunpu offers around 40 different varieties of ramen! There are also three different kinds of noodles: flat and thick, thick, and thin. The variety of noodle served depends on the soup, but all are made from healthy whole wheat flour.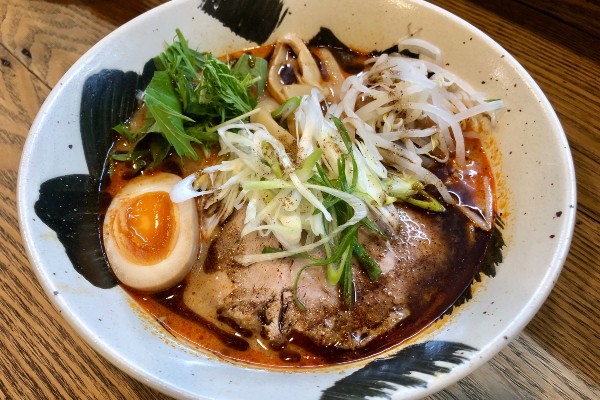 Mr. Abe serves up a hearty bowl of the very popular "shibire-kei" miso ramen (900 yen). The soup base is created from cooking pork and chicken bones and a selection of potherbs in a pressure cooker. To this Mr. Abe adds a secret recipe fermented soy bean paste (miso) which imparts a deep, rich, savoury umami flavour. The final touch is a generous serving of ground Szechuan peppercorn which creates the pleasant mouth-numbing (shibire) sensation.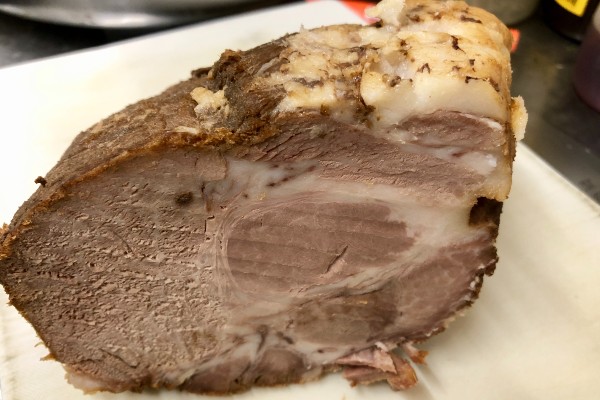 The ramen comes with a thick slice of chashu, a soft and tender pork shoulder cooked at low temperature.
Other soups include a dried fish and pork bone base that is used in the soy sauce ramen and a kelp, shiitake mushroom and chicken broth that anchors the old-style downtown Tokyo ramen (mukashi-fu Tokyo shitamachi ramen), a snip at 750 yen. According to Mr. Abe the many female customers favour the unique salty plum (shio umeboshi) ramen and the tantanmen.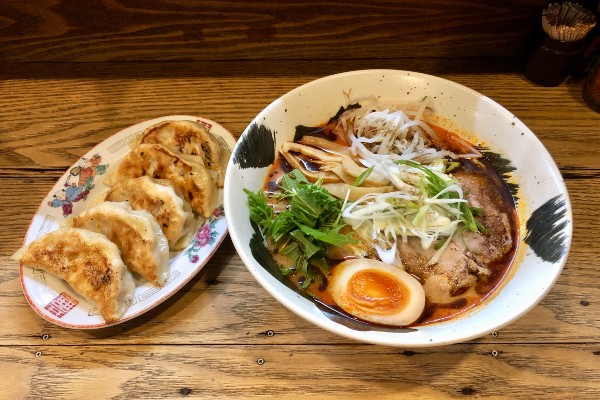 Alongside the 40 or so varieties of ramen, Menyajunpu also offers a wide izakaya (Japanese pub) menu of dishes in the evenings. Such favourites as liver and negi onions (negi reba 830 yen), simmered beef tendons (gyu suji 780 yen) and deep-fried chicken gizzards (sunagimo karaage 630 yen) match perfectly the wide selection of beer, sours, highballs and sake on the drink menu. Menyajunpu attracts mainly local families on Sundays, many of whom visit with children who enjoy the relaxed atmosphere and low tables.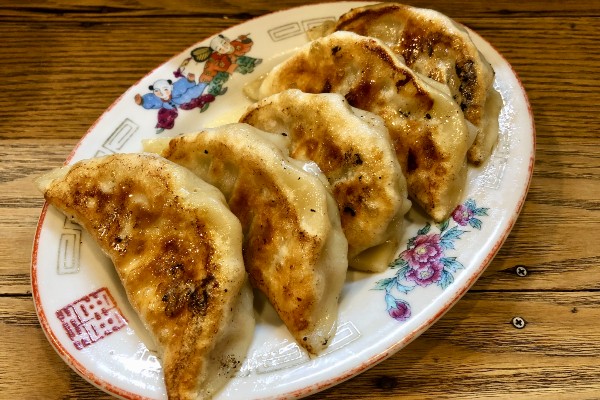 The large gyoza, thick-skinned yet extremely juicy are immensely popular at just 560 yen for five. They're also available for take-out.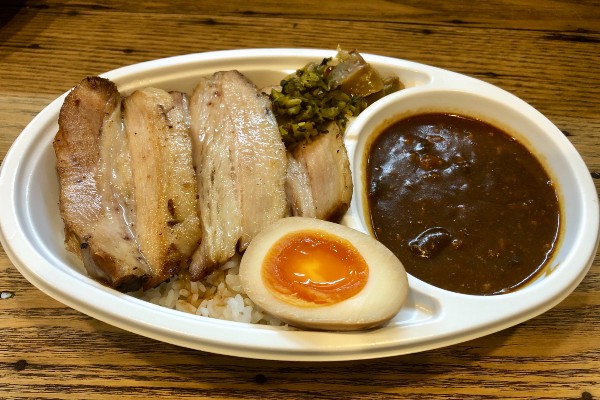 Menyajunpu also offers a selection of take out lunches, including this hearty chashu curry set for 900 yen. The chashu is different from the one served in ramen, created specifically for lunch box use by the ever-inventive proprietor. Juicy and filling, this looks like a real winter warmer!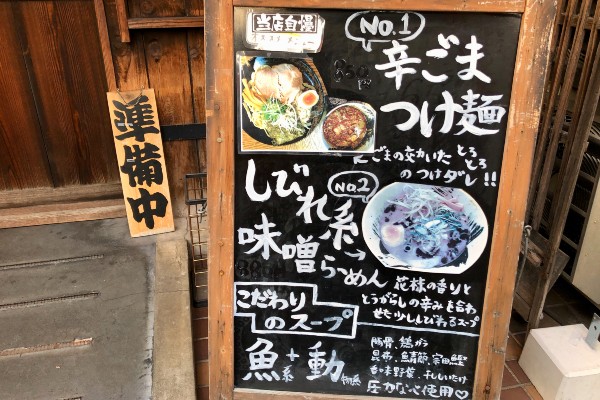 The current top three ramen are the spicy sesame tsukemen, the "shibire-kei" miso ramen in second place and the creamy white tantanmen, another spicy affair unique to Menyajunpu, in third.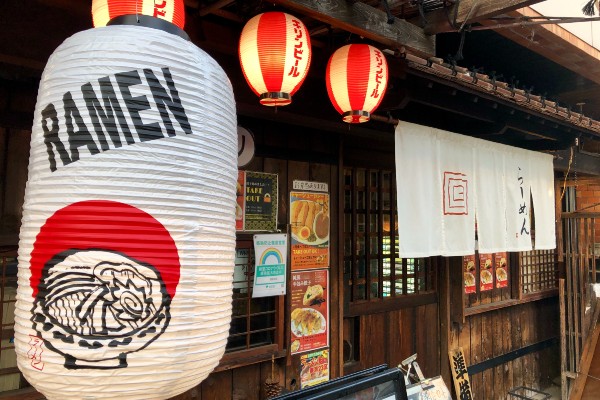 So Menyajunpu is a creative, serious ramen shop serving unique dishes, an izakaya in the evenings as well, and it offers some great lunch treats. The competition amongst noodles restaurants on Kasaibashi street may be stiff, but it's certainly a wonderful thing for the lucky customers. Winter is drawing on in Tokyo; what could be better than a steaming bowl of ramen to banish the blues? If you're in the area, why not treat yourself!
Story and photographs by Stephen Spencer