Ramen Master Creates Unique Curry
Published: June 4, 2021
Kare To Men is a restaurant that has skillfully managed to combine two of Japan's most popular dishes, curry, and ramen, to wild success and great renown. On a recent afternoon, we dropped in to chat with ramen master and black curry champion, Mr. Hirotake Shimizu and his staff.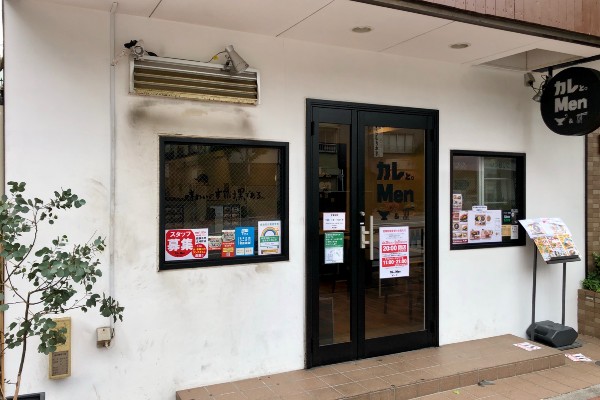 Kare To Men is located on the ground floor of a standalone building facing Kiyosumi-bashi Street, just 3 minutes' walk from Kiyosumi-shirakawa station. The whitewashed facade, big spoon and (probably) a line of customers waiting outside make it easy to spot. Kare To Men is frequently featured in the print media and on television; in the morning a crew from a very popular Saturday morning magazine show had visited to film a segment.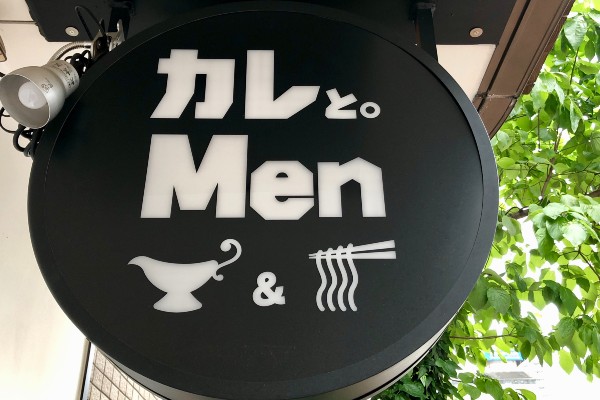 Mr. Shimizu created the concept and designed the place himself, painting it together with the staff. Kare To Men opened in April 2020. The name is a rather neat play on words: kare is the Japanese pronunciation of curry and also the male pronoun for he and him, with an additional meaning of boyfriend. Men is Japanese for noodles, as in ramen, while "to" means and. Thus the name Kare To Men is both memorable and has multilayered meanings.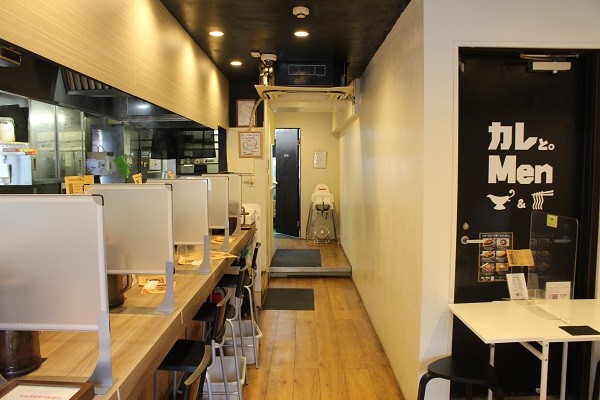 Inside it's more like a cafe than a traditional ramen or curry shop. The floor and counter are natural wood, it's light and airy with baskets for bags under each seat, while the ubiquitous partitions are a designer version with thick plastic sheets in heavy steel bases. "Usually ramen shops have around 30% female customers but here it's 50%," said Mr. Shimizu.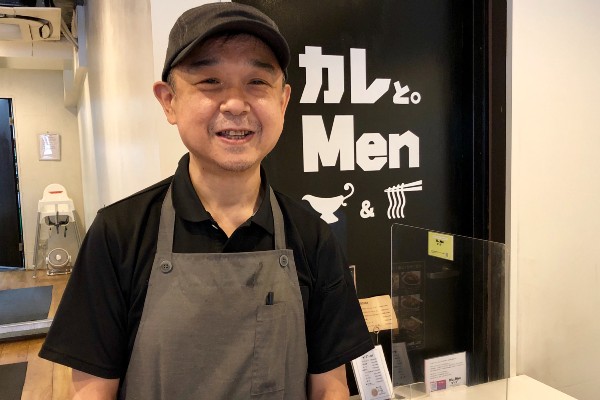 He established himself in the ramen firmament with the Shin-okubo shop Kamado, where his pork bone (tonkotsu) soup and seafood mix with smoked egg took the noodle world by storm. "I've always liked ramen," explained the kindly and soft-spoken Mr. Shimizu. "I previously worked for a trading company dealing with marine products and was often sent abroad on business. I sampled the noodle dishes in the countries I visited, and when the noodle dishes disappeared from the local cuisine, I found curry in their place. Uzbekistan was particularly interesting as the most westerly Asian country with noodle dishes. I was fortunate to be able to sample a wide variety of spices and different styles of curry. I continued to research and study, then quit the company and opened my own restaurant, which proved to be a great success," he said with a modest grin.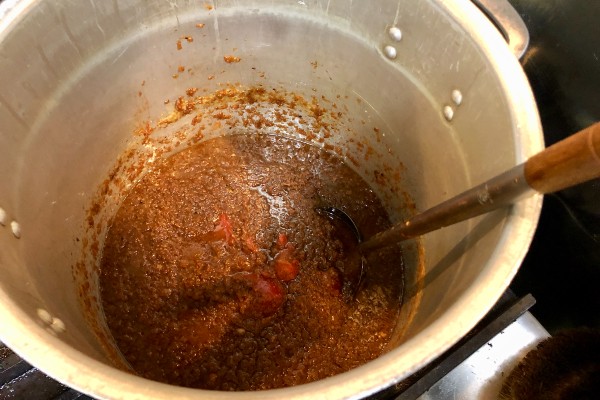 The curry sauce begins with the roasting of 12kgs of onions, to which tomatoes are added. The roux is flavoured with thirteen different spices, including cumin and coriander before pureed beets and apples are added. The sauce is then simmered for eight hours. While the basic sauce is the starting point, the Kare Men (ramen curry) and Full-bodied Black Curry we sampled were radically different.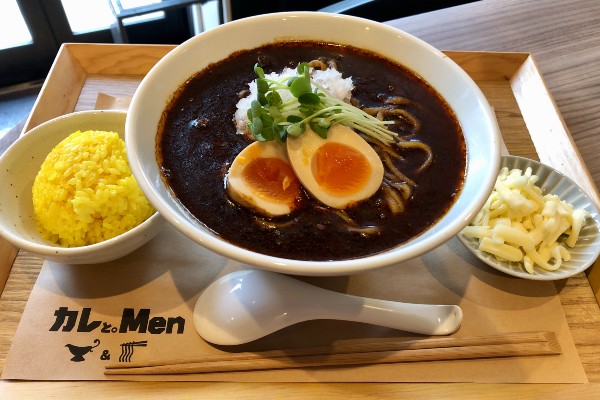 This is the Kare Men Type A lunch set (1,200 yen with cheese and saffron rice or 1,080 by itself). The soup consists of the curry sauce base, tonkotsu pork bone stock, rayu chili oil, and the magic ingredient, Indonesian nasi goreng paste which Mr. Shimizu encountered on his travels. The resulting flavour spectrum is extremely wide as the sweetness of the spices, onions and fruit meets the heat of the chili oil and nasi goreng paste, with the savoury goodness of the tonkotsu soup as a backdrop. It's spicy, rich and has a lingering aftertaste. Wow! Totally wonderful, totally unique. The fat, wavy wheat noodles are the perfect accompaniment. According to Mr. Shimizu, most customers eat the noodles first, then add the saffron rice and cheese to the remaining sauce.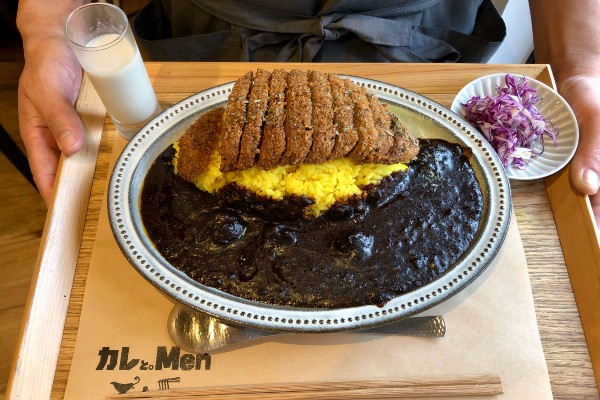 While the Kare Men Type A is astonishingly good, it's not the top seller. That honour goes to the Full Body Black Curry (1,480 yen). This is the base curry sauce but without nasi goreng and chili oil; it's thick and rich yet smooth, almost like a demi-glace sauce. Each set comes with home made banana juice, a perfect contrast to the savoury curry sauce. And sitting atop the saffron rice is an immaculately crisp, deep fried beef cutlet!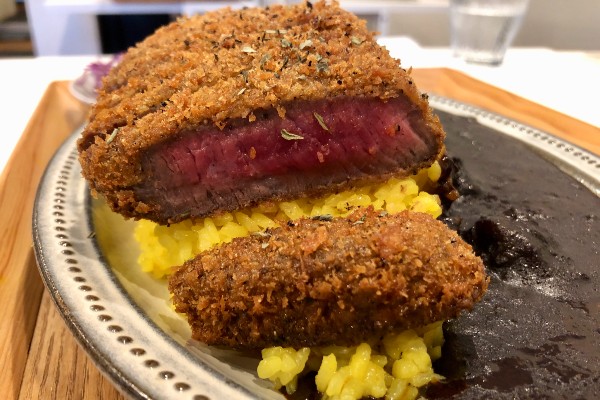 "Beef is better suited to this kind of rich, strongly flavoured curry than pork," explains Mr. Shimizu. He's quite right of course; this is a savoury explosion, an incredibly satisfying meaty extravaganza. It's no wonder customers are queuing down the road everyday.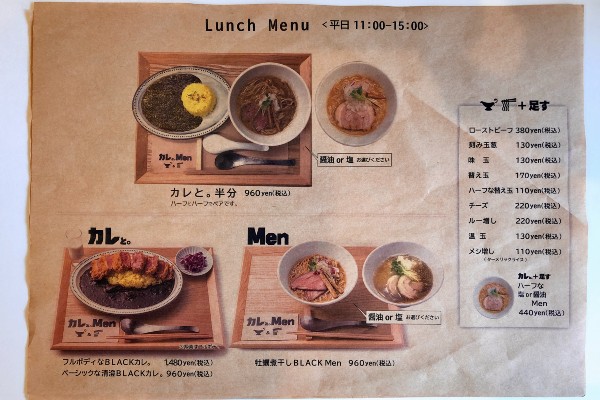 Naturally the tradition of Kamado ramen lives on at Kare To Men. The dried oyster Black Men (kaki niboshi 960 yen) features the eponymous shellfish in a tonkotsu base soup with wholewheat noodles. This will change to shrimp ramen from July 2020, so customers should hurry! A half-and-half of curry and soy sauce or salt flavoured ramen is available at 960 yen too.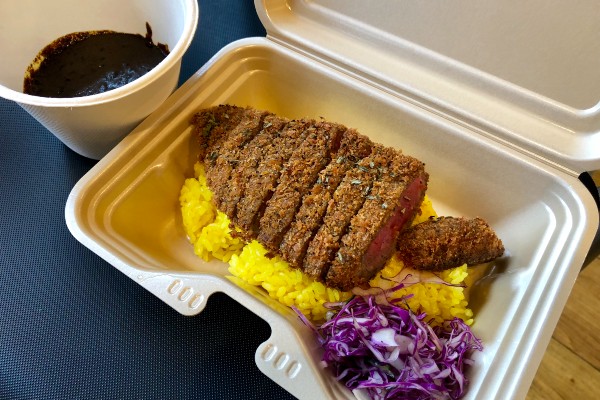 Everything's available to take out so customers can enjoy the fabulous flavours of Kare To Men at home or at work. This is the Full Body Black Curry take out version (1,500 yen), which comes in stylish cartons and an easy to carry paper bag.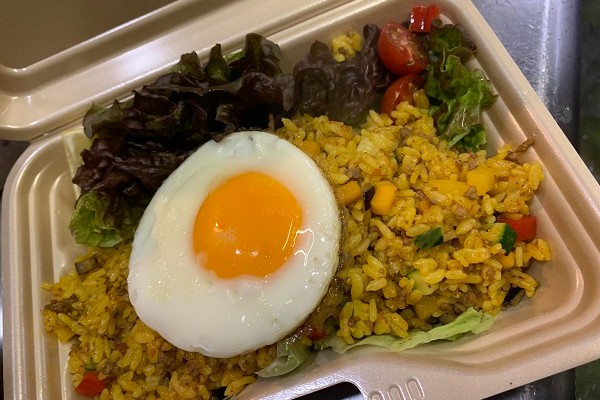 There's a take out nasi goreng too (1,150 yen)!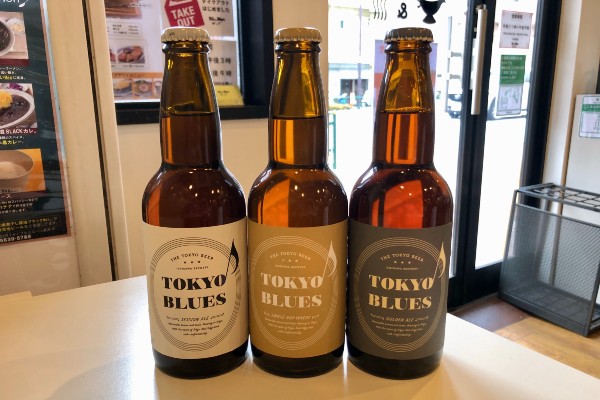 For those who fancy a tipple, Tokyo Blues craft beer is available at 600 yen a bottle.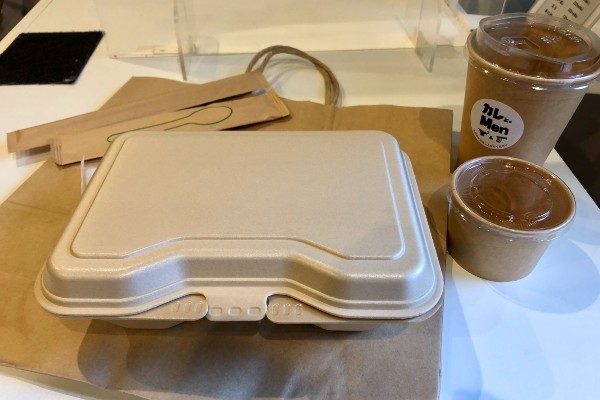 We were bowled over by the remarkable curry, noodles and beef cutlet at Kare To Men. It's unique; there's simply nowhere else like it. If you're in the area, drop in and treat yourself to a taste sensation.
For the latest menu and take out information, check out Instagram
※All prices are inclusive of tax.
Story and Photos by Stephen Spencer