Showa Retro Downtown Favourites
Published: February 14, 2023
The Showa Retro boom continues at pace in Koto-ku with the recent opening on Sunamachi Ginza of Maruei Shokudo, a restaurant straight out of the post-war economic boom years that serves top quality traditional fare at reasonable prices.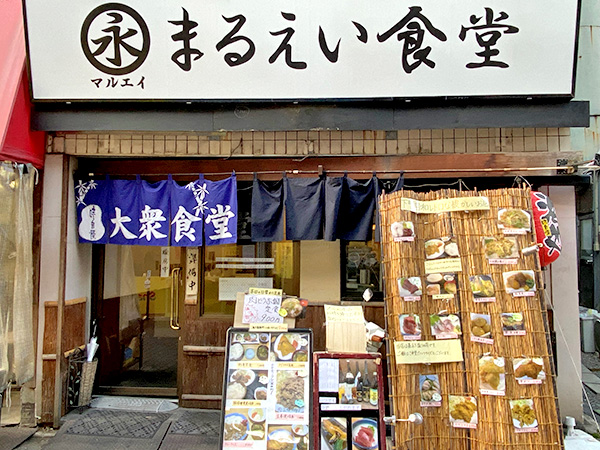 Although the Showa Period is over 60 years, from 1926 to 1989, Showa Retro generally refers to the period of greatest economic expansion from the 1950s to the early 1980s. The wave of nostalgia for those golden years has seen a revival of blue collar bars (taishu sakaba) and people's eateries (taishu shokudo) like Maruei. "I've always wanted to open an orthodox, traditional, downtown-style eatery like this," explained the owner when we dropped in recently.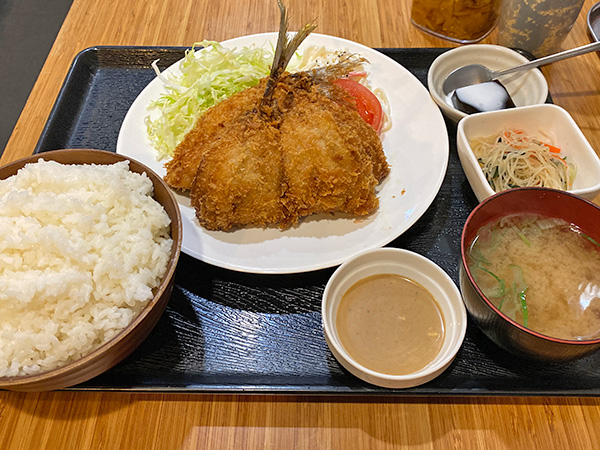 ALL FRESH, ALL AMAZING VALUE
"All fresh, none frozen," he said, referring to the fish and seafood served at Maruei. Top of the bill is this deep-fried horse mackerel (aji furai) set meal at just 1,000 yen. Not one but two fish are deep fried to a crispy perfection and come with salad, miso soup, another small dish and a massive bowl of rice. There's also a dessert, sesame tofu on this particular day. Fantastic quality and remarkable value for money!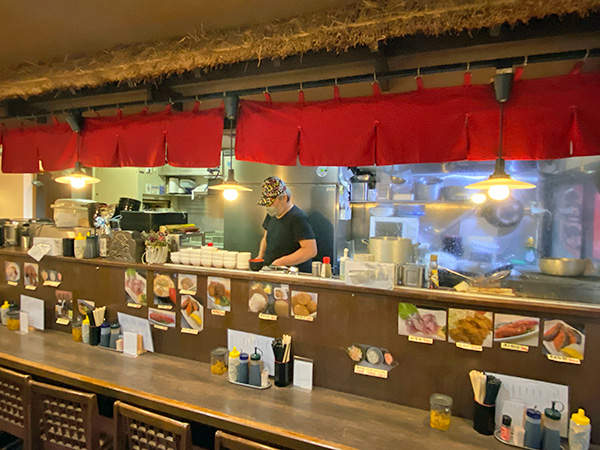 Head chef Mr. Sakuraba also emphasised the freshness and quality of the fish at Maruei saying, "We aim to serve top quality fish at reasonable prices to our customers. We have a long working relationship with brokers at Toyosu market based on mutual trust so we're able to procure good quality seafood at low prices. When an order is placed I prepare the fish, whether it's for sashimi or deep frying." A trained sushi chef with a long career, Mr. Sakuraba is adept at preparing a wide range of food.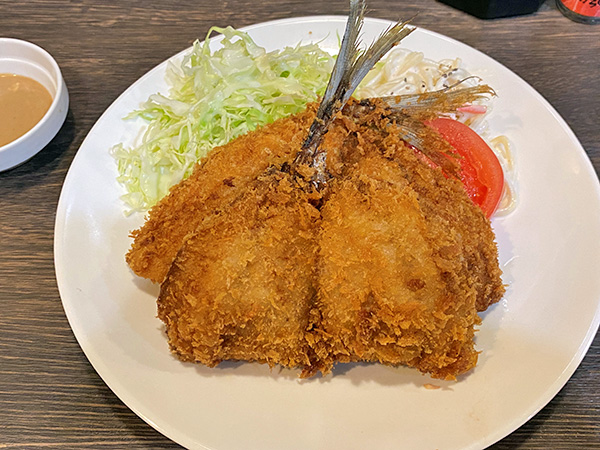 The horse mackerel was terrific, crispy, and crunchy on the outside, soft and fluffy on the inside, while the original sauce was adapted from an old fisherman's recipe and added a piquancy that didn't overpower the fish. The very hungry will appreciate the massive rice portion; those not so can order a smaller size.
Great Taste, Great Price
Sliced pork and ginger is a classic dish here given the Maruei treatment: the meat is marinated for three days that renders it extremely soft and juicy. Each serving is also a hearty 400g, tremendous value again. Needless to say it's very popular, surpassing even the horse mackerel set in sales.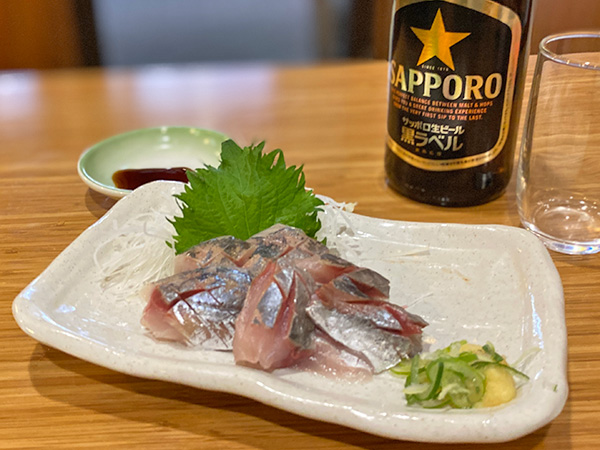 Sashimi lovers will rejoice at this freshly sliced horse mackerel (400 yen!). Plump with winter fat, it was soft and sliced to perfection by chef Sakuraba. Perfect with a nice drop of sake after work!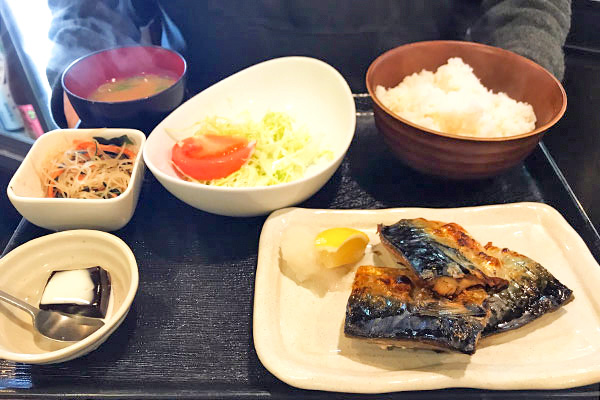 This set lunch contains two fillets of mackerel grilled to perfection.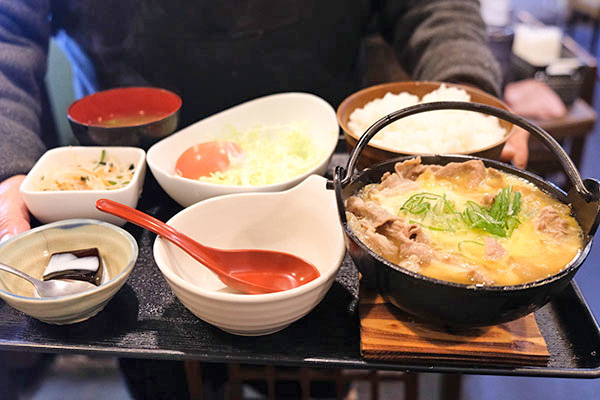 Alongside the regular lunch sets there's a daily special for just 900 yen. On this particular day it was a tofu hot pot, guaranteed to warm the body and fill the stomach for just 900 yen. And it's really healthy to boot!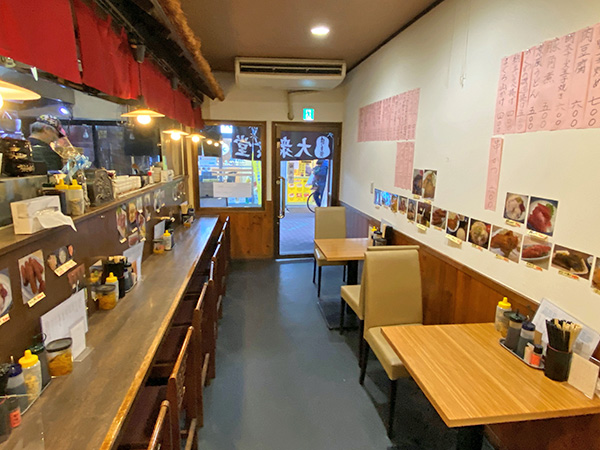 As Mr. Sakuraba explained, "We want to create a place where families with kids or ladies groups can enjoy eating together in a comfortable environment. We're crowded at lunchtime with local workers so we'd suggest coming earlier or later if possible." The walls are plastered with the menu written on paper strips, a signature of popular eateries in years gone by, with corresponding photos underneath so it's easy to order.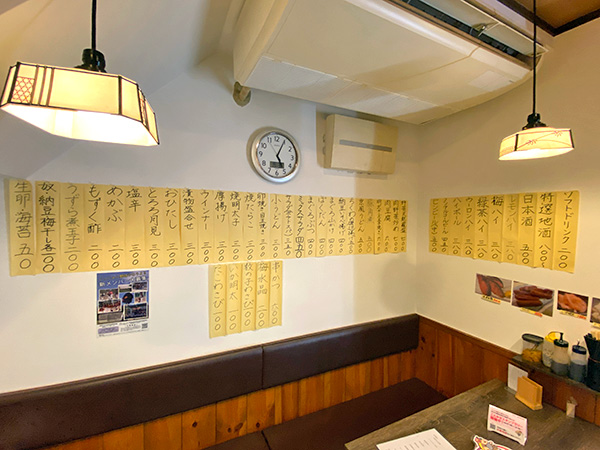 Side dishes begin at just 50 yen. Maruei Shokudo represents a quality honed in uptown sushi restaurants and exceptional value for money; whether it's a lunch set large enough to satisfy the hungriest worker or a light snack with a drink after work. If you're feeling peckish and are in the area why not treat yourself to a taste of old Tokyo on Sunamachi Ginza.
by Stephen Spencer