Spring Rolls Supreme in Kameido!
Published: August 5, 2021
Everybody likes spring rolls. Well, maybe not everyone but the vast majority certainly do. We love them and were thrilled to visit the Kameido shop of Tokyo Harumaki on a recent hot summer afternoon. Shop manager Mr. Kentaro Nakazawa was a friendly and welcoming guide to the joys of spring rolls.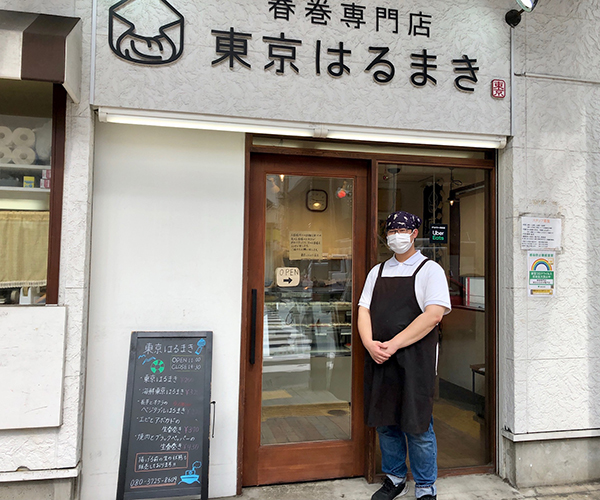 Tokyo Harumaki fronts onto Meiji Street just four minutes walk north of Kameido station. It features an aesthetically pleasing script for the signage together with a distinctive brown and cream colour scheme.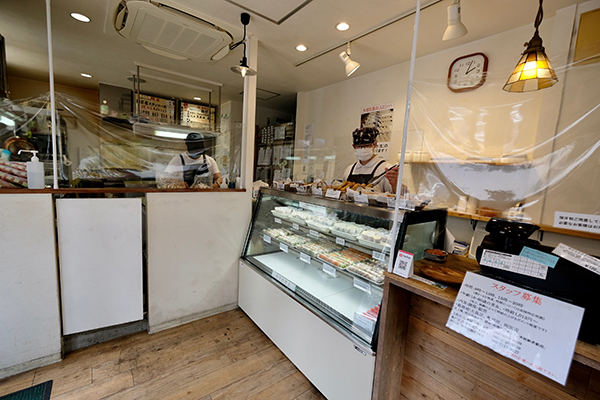 "Kameido is our third shop and opened in October 2017," explained cookery high school and culinary college graduate Mr. Nakazawa. "The footfall is high on this section of Meiji Street, so we're busy all day, rolling spring rolls and cooking them." Even in the middle of a baking hot summer afternoon there was a steady stream of customers, including bicycle delivery staff!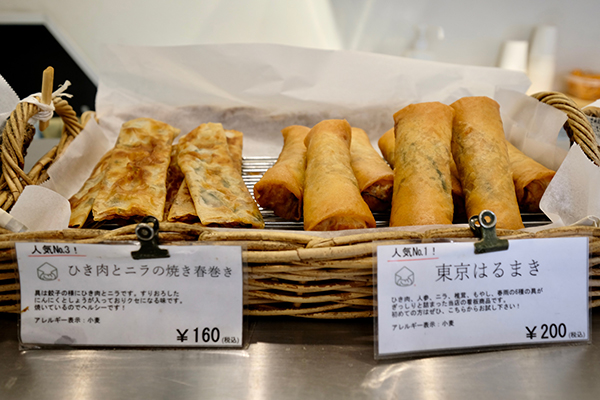 "The Tokyo Harumaki spring rolls are our number one bestseller, accounting for two thirds of the 300 or so we sell every day. The skins, which are made uniquely for us by a specialist manufacturer, contain less potato starch than usual and a touch of salt, while the stuffing is entirely additive and preservative free. All rolls are hand made in the shop," he added.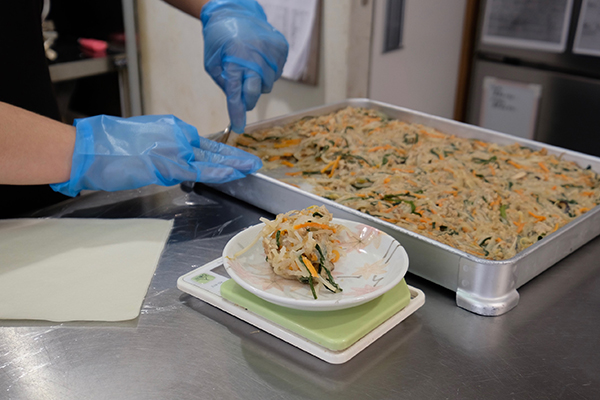 The Tokyo Harumaki spring rolls contain minced pork, carrot, shiitake mushrooms, bean sprouts, garlic chives (nira) and potato starch glass noodles (harusame). "We stopped using bamboo as some people found it astringent, and switched to harusame," explained Mr. Nakazawa as he gave a quick demonstration of his rolling skills.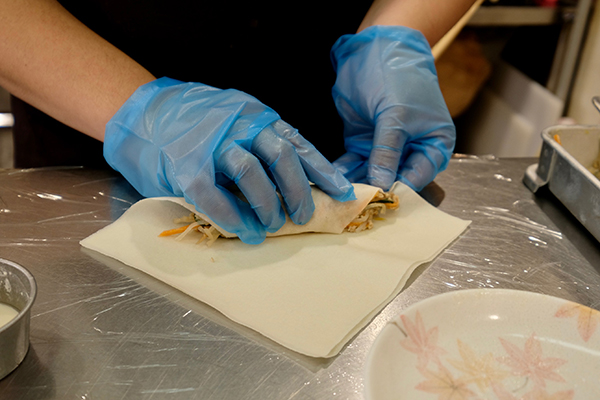 Each Tokyo Harumaki contains 75g of filling, way more than other shops' spring rolls. They're big, they're satisfying and fabulous value at 200 yen, including tax. "Not only our customers say they simply can't go back to eating other spring rolls, but our staff say the same thing too," Mr. Nakazawa said, laughing.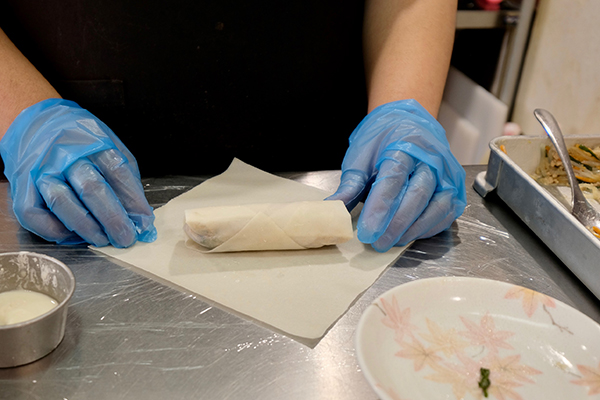 In the blink of an eye he deftly creates a perfect spring roll.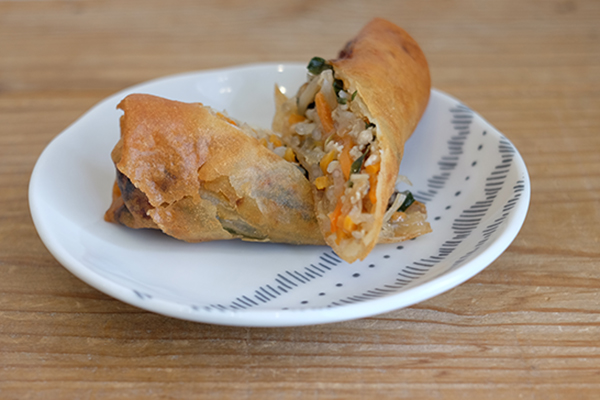 Crispy and crunchy on the outside, juicy and packed with tasty pork and vegetables on the inside, they're delicious. "Our recipe is mildly seasoned and traditional, very easy to eat," said Mr. Nakazawa, and he's totally right!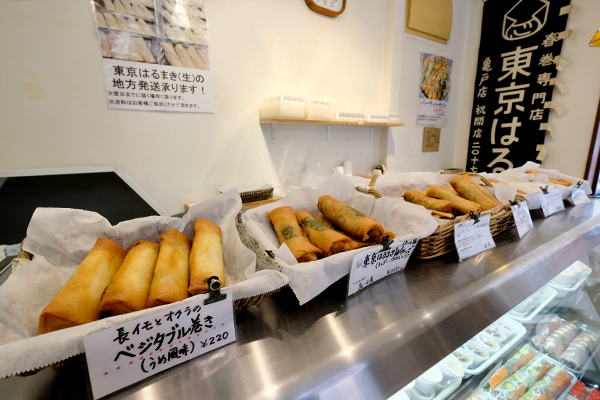 The Tokyo Harumaki Kameido shop offers five deep-fried spring rolls, one shallow fried, one sweet roll and five rice paper salad rolls, known as nama harumaki (raw spring rolls) in Japan. The menu differs slightly from shop to shop, as Mr. Nakazawa explained, "We have the Tokyo Harumaki which is standard, a double cheese (250 yen) which is the same base but with cheddar and processed cheese, an asparagus and bacon (220 yen), a seafood spring roll (320 yen) which is the same base but very creamy and features shrimp and scallops."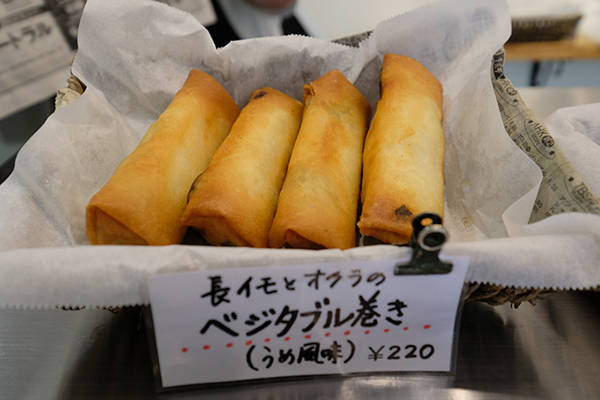 According to Mr. Nakazawa, the president of the company allows his staff great leeway in creating original spring rolls. "We work on developing new spring rolls and make a presentation. If he likes them and feels they'll be popular he gives us the green light and we start making them for sale." This vegetarian spring roll is one such; a mix of yam (nagaimo) and okra flavoured with pickled, salted Japanese plums (ume). Sounds great and just 220 yen each, including tax. It's popularity as a summer-only limited edition has surprised even Mr. Nakazawa, who thinks it will now become a regular part of the menu.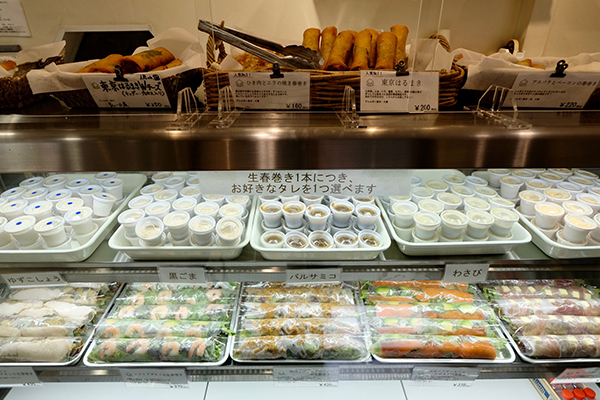 Tokyo Harumaki also has a selection of salad rolls which challenge the spring rolls for popularity, particularly during the summer. There are barbecued beef and black pepper rolls (yakiniku style, 430 yen), shrimp and avocado (370 yen) and raw ham and cheese (430 yen). Special to the Kameido shop is the smoked chicken and three varieties of mushroom roll (430 yen), together with the smoked salmon and avocado (370 yen).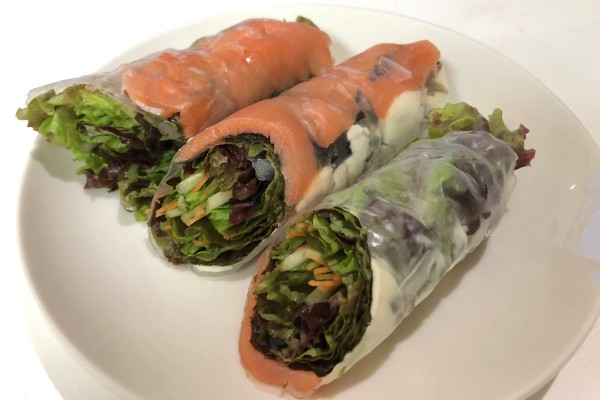 Customers who purchase a salad roll can choose one of five tasty sauces prepared by hand in the shop: yuzu kosho (a blend of citrus zest, garlic, chili and salt), black sesame, balsamico, wasabi and spicy mayonnaise. Pictured here is a salmon and cream cheese salad roll from the Tokyo Harumaki Ojima store which came with a basil sauce. It was excellent: fresh, light and perfect for summer. Whether they're deep fried, pan fried or 'nama', the spring and salad rolls at Tokyo Harumaki Kameido are an absolute treat. If you're in the area do yourself a favour and drop in. You won't regret it!
Story and photographs by Stephen Spencer