Supreme Spring Rolls in Ojima
Published: August 3, 2021
Tokyo Harumaki is the specialist spring roll maker with four shops in east Tokyo, two of which are in Koto-ku. We recently dropped in to the Ojima store for a chat with exuberant manager Mr. Kentaro Nakazawa, who we had previously met in the Kameido store, and his equally jolly staff.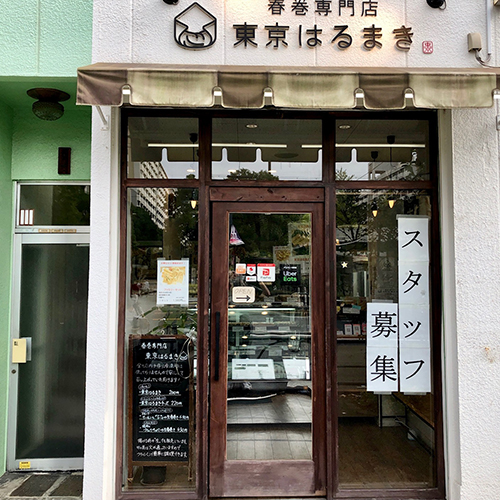 The Ojima shop, which fronts onto Shin-ohashi street just one minute from the station, opened in September 2016, and has become a popular fixture in the neighborhood since then. A steady stream of regular customers dropped in while we were there and all seemed on very friendly terms indeed. Well, everybody loves spring rolls, and these are very good!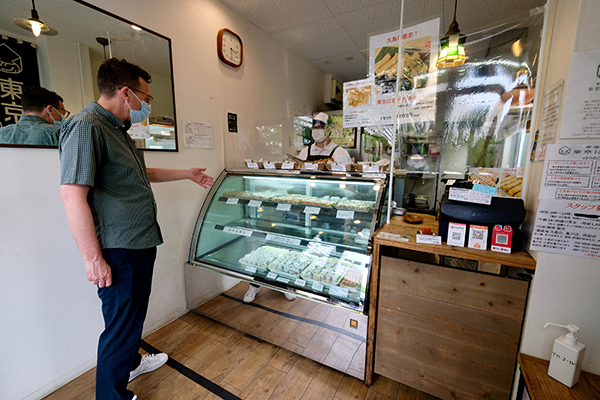 As Mr. Nakazawa explained, "All the spring rolls are handmade in the shop using skins produced specifically for Tokyo Harumaki to our own design. They contain less potato starch than usual and a touch of salt, while the stuffings are all additive and preservative-free."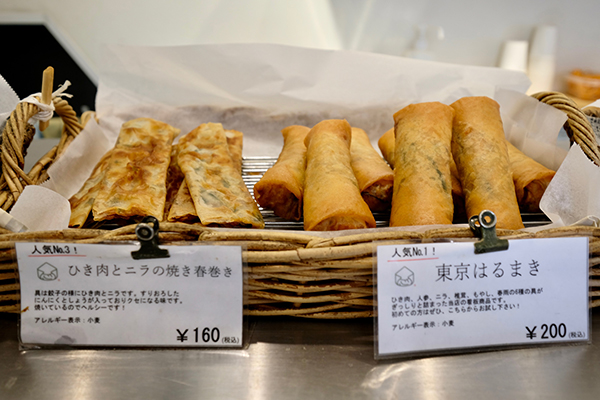 The Tokyo Harumaki spring rolls on the right here are the number one best sellers. They contain minced pork, carrot, shiitake mushrooms, bean sprouts, garlic chives (nira) and potato starch glass noodles (harusame). "We stopped using bamboo as some people found it astringent, and switched to harusame," explained Mr. Nakazawa. Each roll contains 75g of stuffing, far more than many other shops.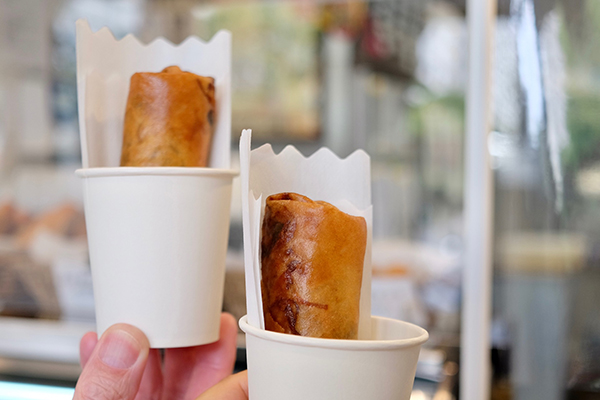 These were literally straight out of the fryer and piping hot. The skins are wonderfully crisp and crunchy, while the stuffing is rich, juicy and lightly seasoned. They're also surprisingly filling and would go perfectly with a nice cold drink! Remarkable value at 200 yen including tax. The rolls can be bought for walking and eating, too.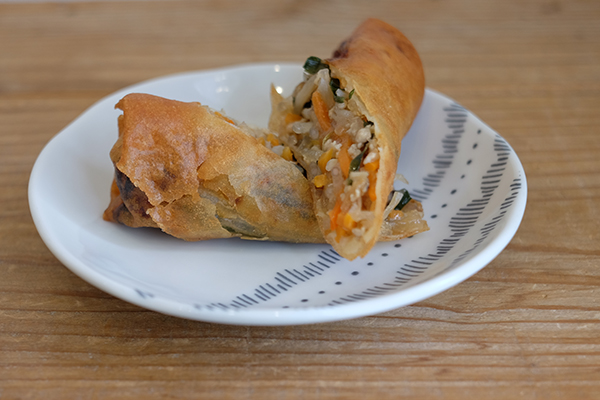 "Yes, the skins are lightly salted so the stuffing doesn't need to be," said Mr. Nakazawa. "They have a traditional flavour that makes them popular with all ages."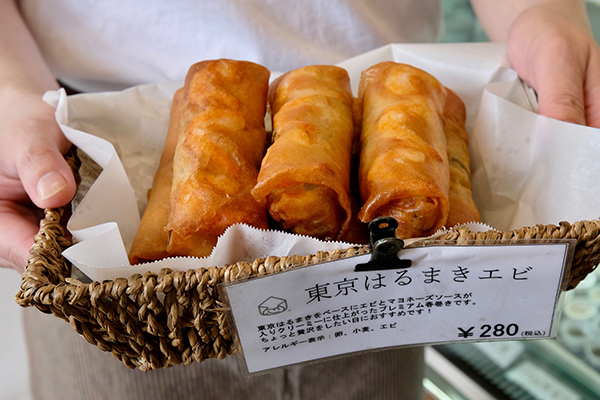 Unique to the Ojima shop are these shrimp spring rolls. With the Tokyo Harumaki mix as a base, they feature plump shrimp and are very popular at 280 yen including tax. Also unique to Ojima are cheese spring rolls, the number two bestseller, which contain cheese, green perilla (oba) and tomato sauce for an Italian-style spring roll at 220 yen apiece.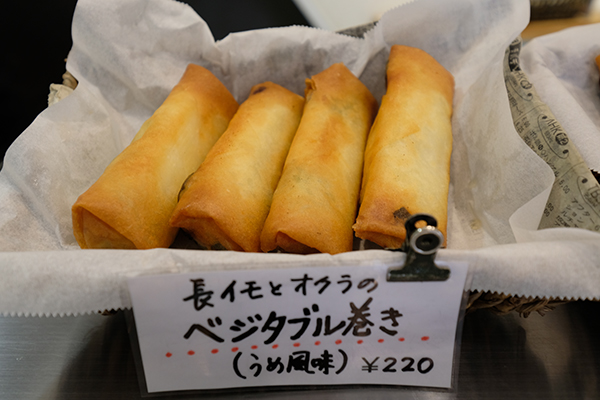 According to Mr. Nakazawa, the president of the company allows his staff great leeway in creating original spring rolls. "We work on developing new spring rolls and make a presentation. If he likes them and feels they'll be popular he gives us the green light and we start making them for sale." This vegetarian spring roll is one such; a mix of yam (nagaimo) and okra flavoured with pickled, salted Japanese plums (ume). Sounds great and just 220 yen each, including tax. It's popularity as a summer-only limited edition has surprised even Mr. Nakazawa, who thinks it will now become a regular part of the menu.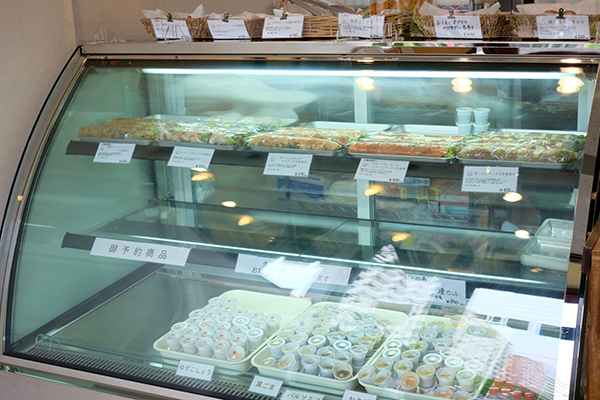 Tokyo Harumaki also has a selection of salad rolls which challenge the spring rolls for popularity, particularly during the summer. Unique to the Ojima shop are the thin-sliced boiled pork and kimchi (370 yen) and smoked salmon with cream cheese (430 yen). There are also barbecued beef and black pepper rolls (yakiniku style, 430 yen), shrimp and avocado (370 yen) and raw ham and cheese (430 yen).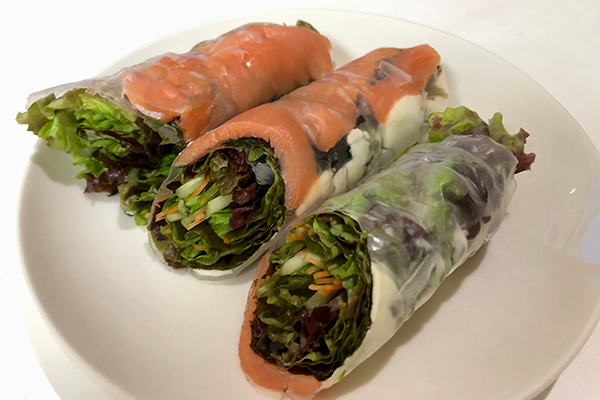 Customers who purchase a salad roll can choose one of five tasty sauces prepared by hand in the shop: yuzu kosho (a blend of citrus zest, garlic, chili and salt), black sesame, balsamico, wasabi and spicy mayonnaise. Pictured here is a salmon and cream cheese salad roll which came with a basil sauce. It was excellent: fresh, light and perfect for summer.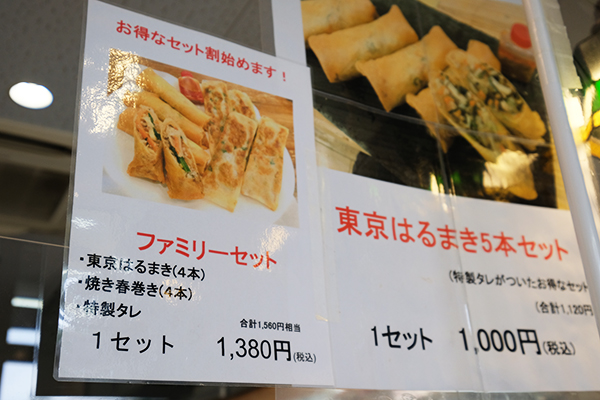 The Ojima shop also offers two nice sets at a discount: the family set on the left consists of four Tokyo Harumaki plus four of the pan-fried gyoza-style minced pork and garlic chive rolls, with a serving of shop-made special sauce (tare) for 1,380 yen. On the right is a set of five Tokyo Harumaki rolls for 1,000 yen. Both are inclusive of tax. Whether they're deep fried, pan fried or 'nama', the spring and salad rolls at Tokyo Harumaki Ojima are an absolute treat. If you're in the area do yourself a favour and drop in. You won't regret it!
Story and photographs by  Stephen Spencer