The Beauty of Japanese Food
Published: September 9, 2022
The aesthetic appeal of Japanese cuisine is undeniable, with creating beautiful food that satisfies all five senses as its very essence. Lovers of beautiful food will surely be thrilled to discover Shunsai Bishoku Tsubaki, a restaurant dedicated to the gastronomic arts, located in the up and coming Kameido area of Koto-ku. On a recent sunny afternoon, we dropped in for a chat with manager Mr. Den and chef Mr. Hirai.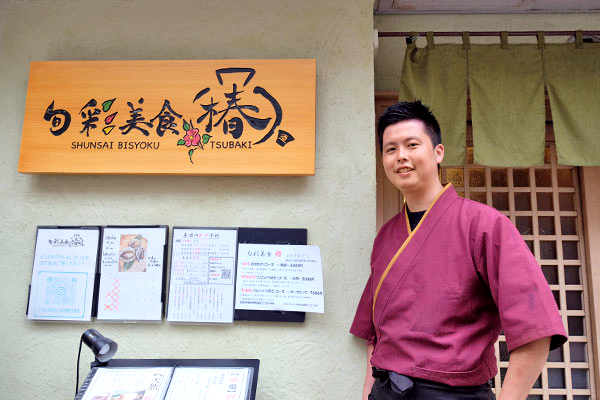 Mr. Den's ebullient youthfulness belies his already long career as restaurant manager. "Our concept for Tsubaki is a place for adults to eat, drink, and relax slowly, in a comfortable atmosphere. Many customers eat alone and we also have many female customers," he explained.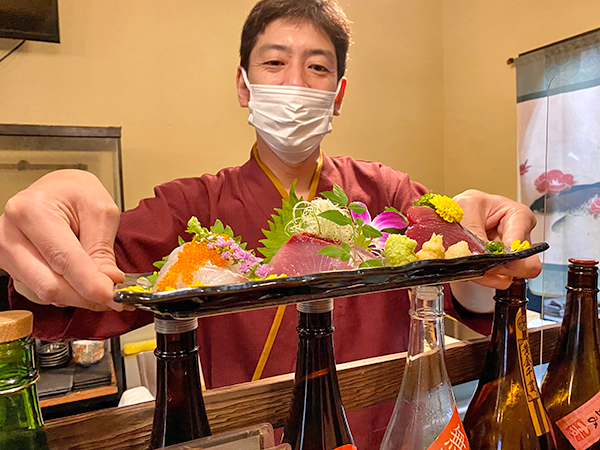 Chef Mr. Hirai presents the daily sashimi selection (1,500 yen). "We have excellent relations with a very good wholesaler, so are able to acquire top quality seafood at reasonable prices," he explained.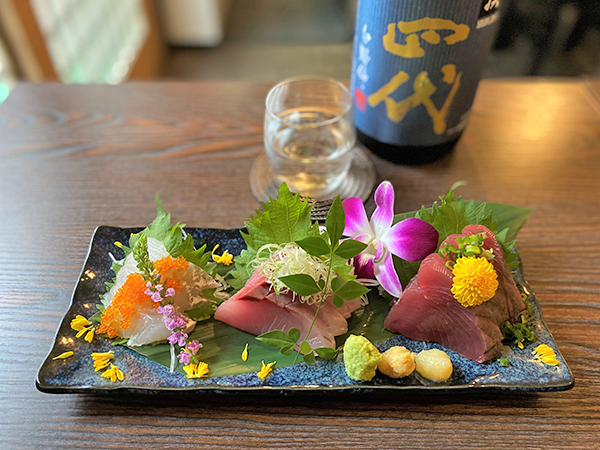 Since the menu at Tsubaki is seasonal, the contents of the sashimi selection may vary slightly, but the price is fixed at 1,500 yen, including tax. All prices include tax.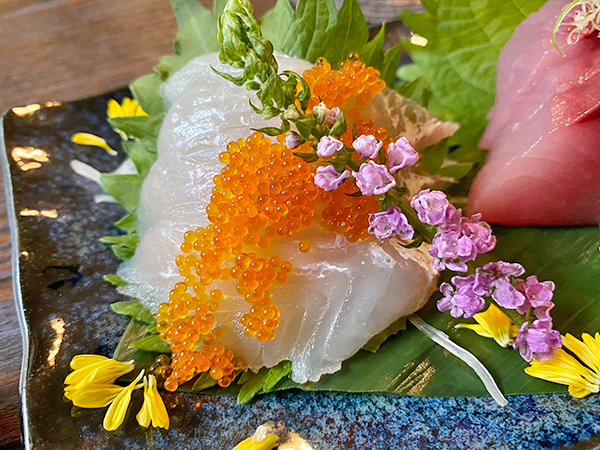 It's an exquisite treat for all the senses.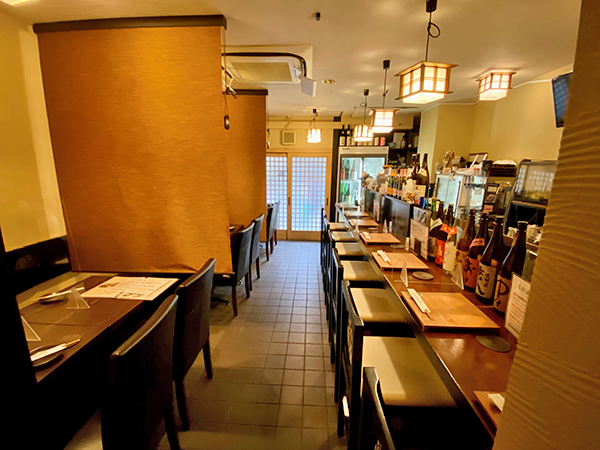 Not only do Mr. Den and Mr. Hirai cook, prepare and manage the restaurant between them,  they also designed, created and furnished the interior. It's a very stylish, comfortable space. "There are seven counter seats and three tables that can hold four people. Since we opened in February 2021 we've attracted an increasing number of customers, particularly local workers and residents. It's fine to drop in but I'd recommend making a reservation for weekends or other busy nights," explained Mr. Den.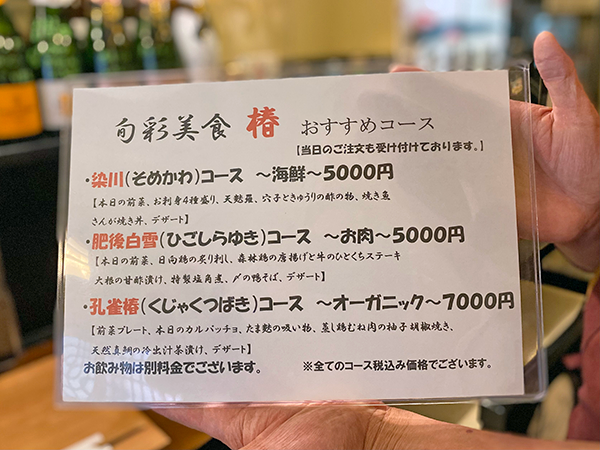 There are two ways to enjoy Tsubaki: ordering from the course menu or a la carte. The menu offers three courses, each with a theme. The Somegawa course (5,000 yen) features seafood: hors d'oeuvres, four kinds of sashimi, tempura, conger eel, and pickled cucumber, fried fish, grilled fish cakes on rice (sangayaki don), and dessert. The Higorayuki course features meat alongside the hors d'oeuvres and sashimi, including Nagoya Cochin chicken and wagyu steak. The Kujaku Tsubaki course features entirely organic ingredients (7,000 yen).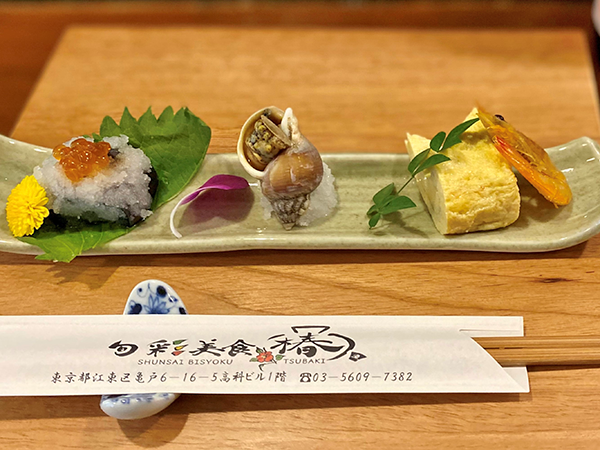 On the day we visited, the hors d'oeuvres (zensai) selection was eggplant with grated daikon radish (nasu no misore ae), lightly simmered whelks, and savoury egg roll (dashimaki) with shrimp simmered in a savoury and sweet sauce (kanroni). Mr. Hirai learned the business in sushi and Japanese washoku restaurants, where making savoury egg roll is the sine qua non of success. He's justifiably proud of his version, which is also available on the menu for 780 yen per order.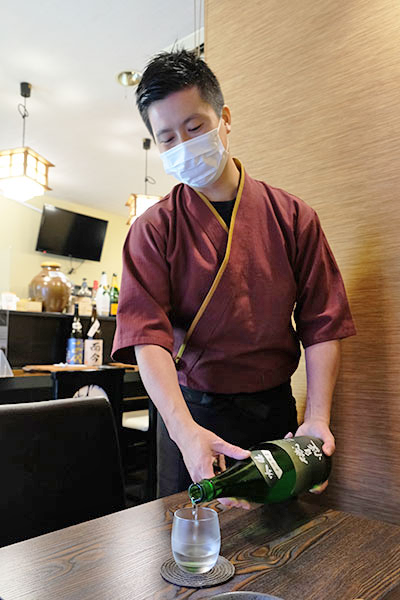 The drink menu at Tsubaki is similar to the food menu: short but exceptionally good. "We're extremely fussy about the sake we serve," said Mr. Den. "Currently we have around 15 to 20 different varieties but they're all top quality." Sake connoisseurs will surely recognize Juyondai from Yamagata Prefecture, Hiroki from Fukushima, Jikon from Mie, and Denshu from Aomori. Customers with a Kotomise Coupon will be able to enjoy a complimentary glass of seasonal sake. Very nice!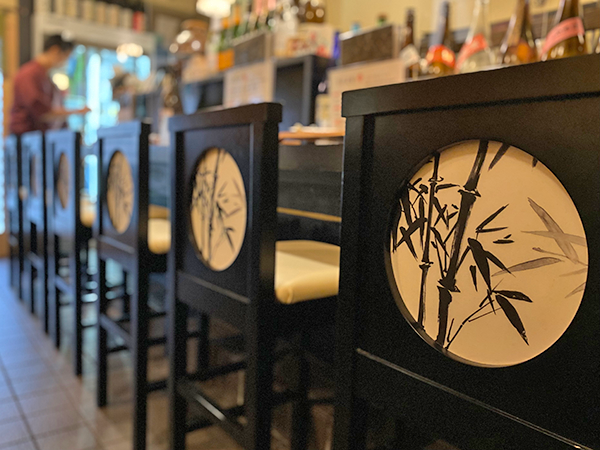 The a la carte menu features such gourmet delights as abalone (awabi), lobster (ise ebi) and the brand chicken known as Nagoya Cochin.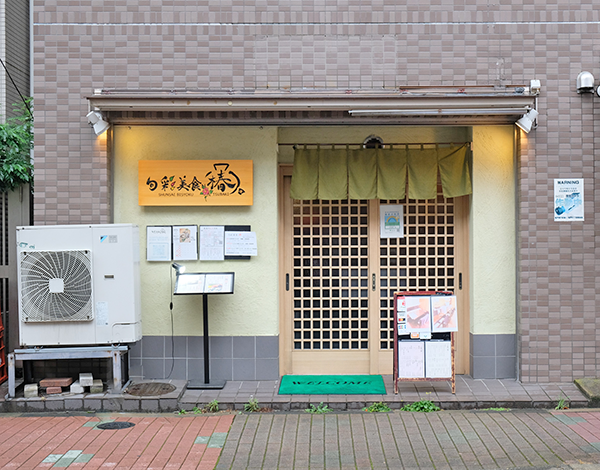 Tsubaki is the very epitome of the smart, stylish restaurant serving beautiful food and drink to discerning adults that can be found behind rather unassuming frontages all over Koto-ku. Located just five minutes' walk from the east exit of Kameido station, Tsubaki is both easy to find yet set in a quiet street away from the noise of Keiyo Road. If you're in the mood for some beautiful food and fine sake, this is the place to go!
Story and photos by Stephen Spencer