Ladies Formal Wear and More
Published: February 5, 2021
Japan has a number of occasions on which black formal attire is de rigueur. Some are happy events, such as weddings or coming-of-age celebrations for children, while others are less propitious, such as funerals or wakes. Many people need formal dress in a hurry, and without taking a trip to the department stores of Ginza or Nihonbashi, something many would prefer to avoid. This is where The Moon comes in. The Moon, a black formal wear shop in the East 21 complex near Toyocho station, offers high quality European style at very reasonable prices. On a recent chilly winter afternoon, we dropped in for a chat with staff member Ms. Emiko Sasaki.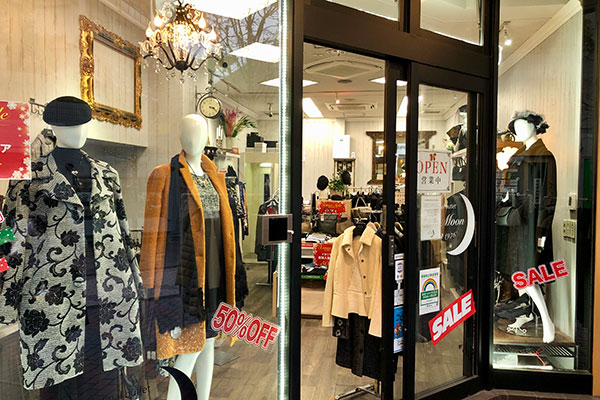 Tokyo East 21 is a large complex some 10 minutes' walk from Toyocho station, which comprises a very popular hotel, an office building and a shopping mall. The Moon is located on the ground floor, just inside the main pedestrian entrance from Yotsume Street.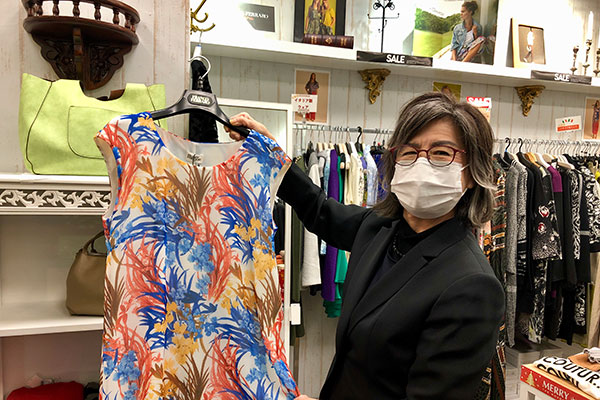 The trim and stylish Ms. Sasaki is a most welcoming and eloquent guide. "We opened here on August 23rd, 2019 and I'm pleased to say business has been brisk, thanks to our local customers. Many younger ladies appreciate being able to discuss buying their first formal wear in a more relaxed and comfortable atmosphere than major department stores or larger shops, and more mature customers appreciate the excellent quality of the products we offer," she explained.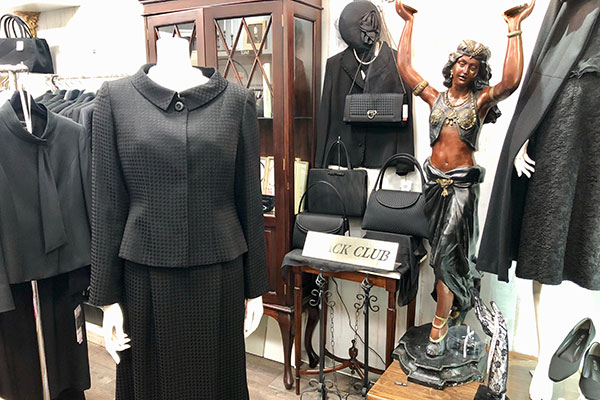 "Basically, we offer formal wear imported from Italy and France, together with bags, purses, shoes, gloves and a range of accessories such as jewelry. We can offer customers a total outfit, everything they could possibly need for a formal event," she added.
"The material, the stitching and the dyeing are all excellent," she said. "You can easily identify the better outfits at an event where everyone is wearing black by the quality and the black colour. We stock Japanese sizes 5.5 to 17 and European sizes 34 to 46. Previously we had many foreign customers who were staying at the East 21 hotel who wanted to pick up a formal outfit or some other items to take home with them."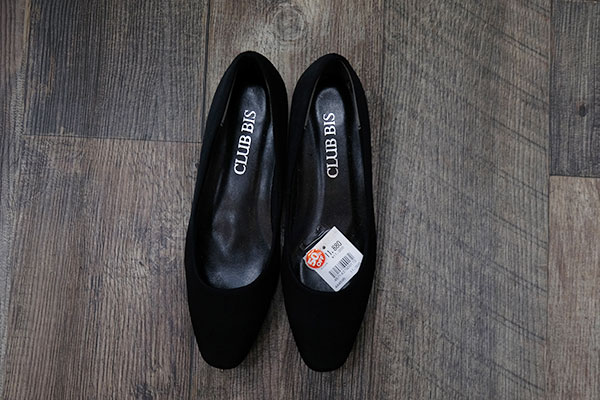 Very smart. As a special bonus for Kotomise readers, The Moon is offering a free pair of shoes for all customers who purchase a formal wear outfit such as this one. Prices are surprisingly reasonable because, as Ms. Sasaki explained, "The items are bought in bulk by direct import from Italy. Further, some items are designed in Italy but made in Japan. Our customers vary wildly in age, from young ladies to our oldest who is 94."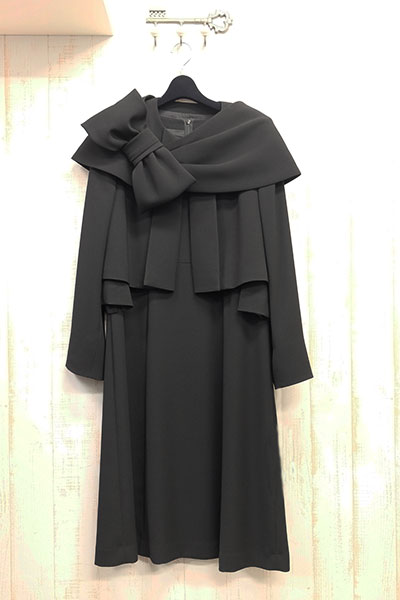 Many of the ensembles and dresses are very tasteful indeed.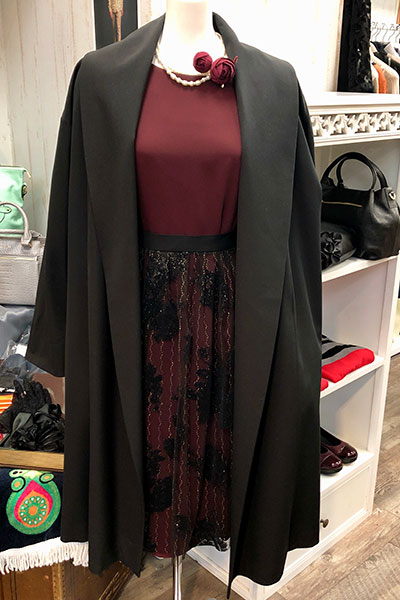 The Moon also offers an array of non-black formal wear for a variety of events. This stunning silk coat was reduced from 148,500 yen to just 33,000 yen.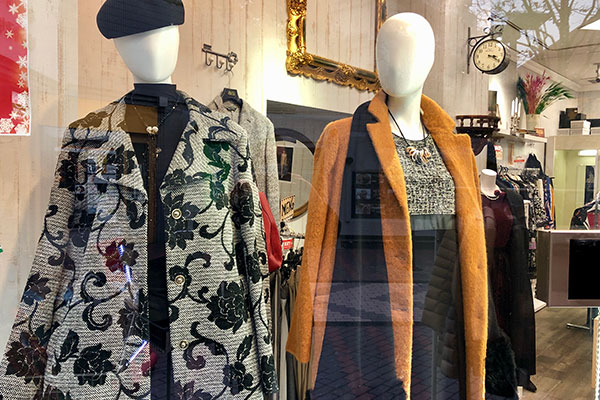 Aside from black and more variegated formal wear, The Moon also offers a wide selection of brightly coloured items, as befits a boutique that sells direct imports from Italy. This pair of stunning coats held pride of place in the shop window.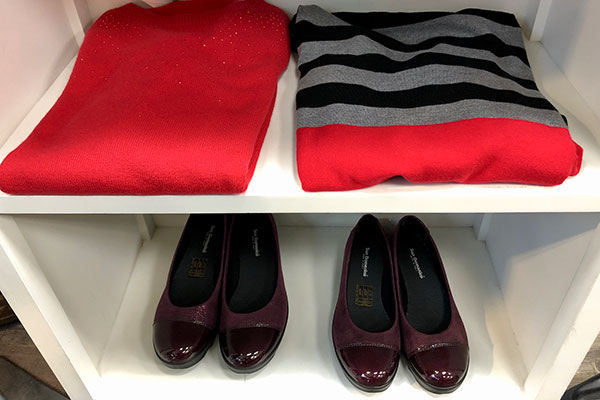 Italian-made knitwear and shoes make a bold presence too.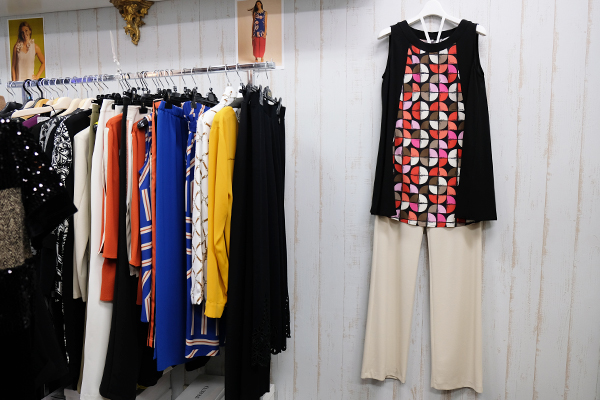 Ms. Sasaki paired this colourful, vaguely retro-feel top with some loose cotton pants. The brilliantly coloured tops made us pine for a summer that seemed so far away….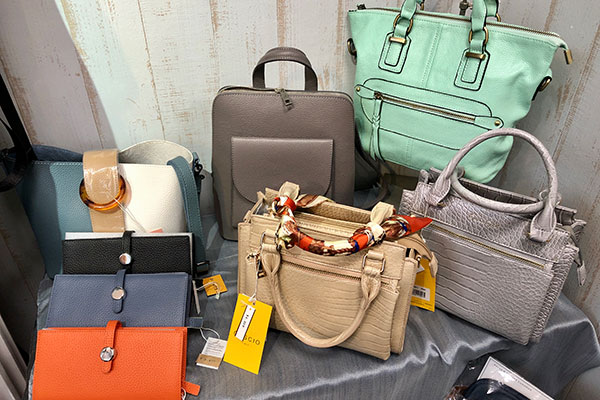 The Moon also features Italian leather handbags, purses and wallets at very reasonable prices.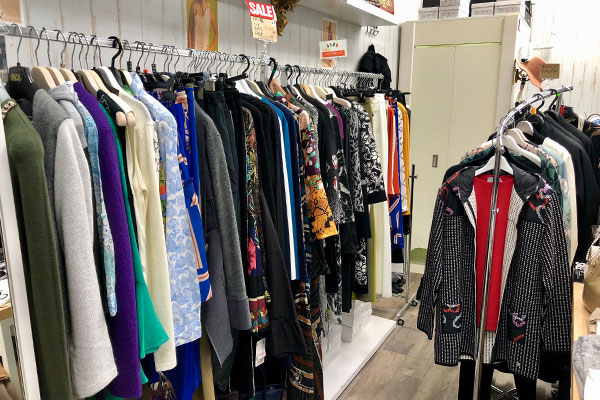 While the prices are certainly high for some items, The Moon has frequent sales, and many items are greatly reduced. Many customers drop in quite regularly to check out the new arrivals and pick up a bargain. We would definitely recommend this approach if you're a local resident or work in the area. My colleague was particularly taken by a couple of items.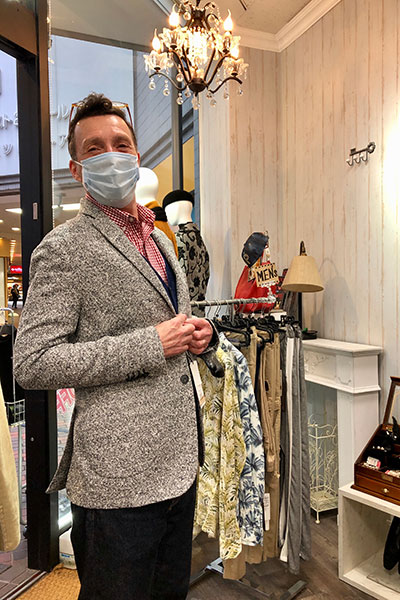 While mostly for ladies, The Moon does have a men's corner that features a few items to help one unleash the inner Italian in all of us. Suit you, sir. Alla moda!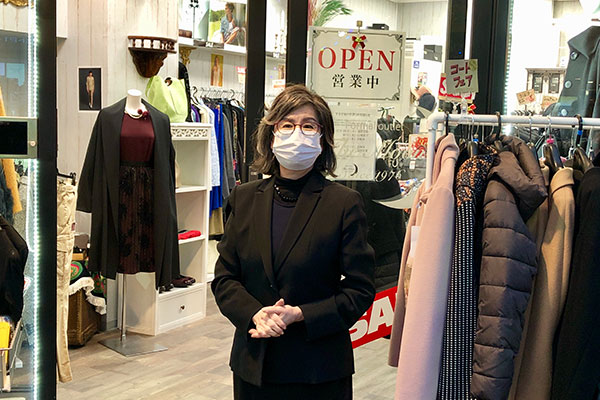 Whatever your needs, Ms. Sasaki and her fellow staff are always ready to advise. If you're local or just passing through, make sure to drop in to The Moon. You never know when you'll find something that suits you!
Story and photographs by  Stephen Spencer