Top Tempura on Sunamachi Ginza
Published: March 8, 2023
Shidashi Bento Tendo is the latest addition to the gourmet line up on Koto-ku's famed Sunamachi Ginza shopping street, serving top quality tempura and more at reasonable prices. We recently got the lowdown on how best to deep fry your prawns from head chef Mr. Takase.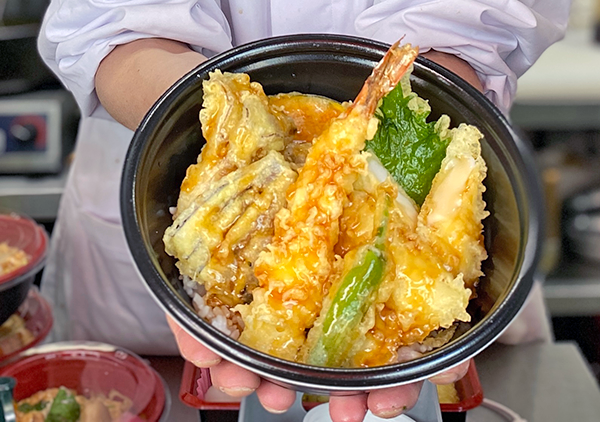 SEAFOOD TEMPURA ON RICE 800 YEN
It's not just his customers who rave about the tempura at Bento Tendo; even owners of nearby restaurants are fans ("If you eat it just once you'll become addicted" one told us). The tempura was exceptionally crisp, a testament to Mr. Takase's skill.
Chef Takase and manager Mr. Shimazu are committed to selecting the best quality ingredients available. The mixed seafood and vegetable set includes squid, prawns, whiting (kisu), and five kinds of vegetables. "Cooking tempura is all about timing; the chef wants to drive out the water while trapping in the flavour," he said.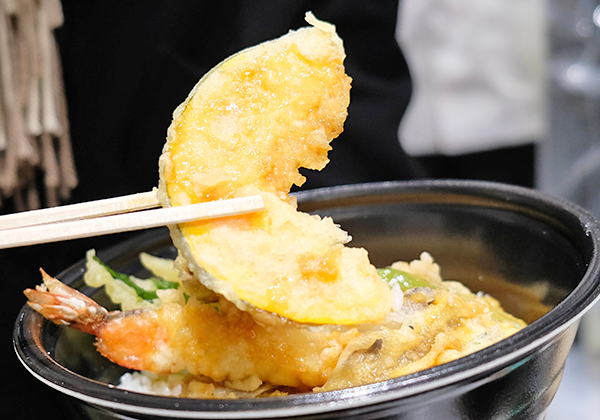 The vegetables were perfectly cooked in a crisp, light batter that accentuated the flavours rather than dominating them. Mr. Takase learned the business in a handmade soba noodle restaurant in the Yamagata Prefecture town of Tendo after which Bento Tendo is named, and where he met Mr. Shimazu.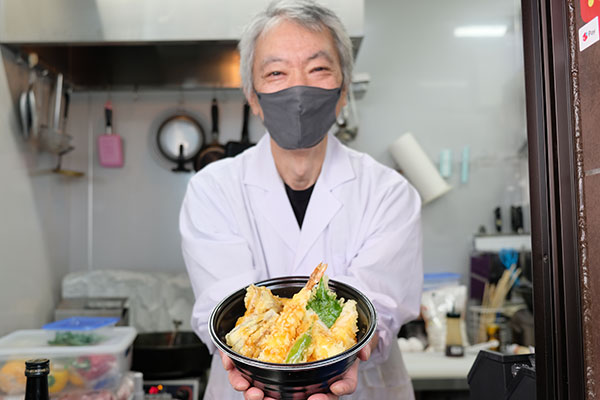 "There's really nothing like piping hot tempura," said Mr. Takase. The plump, fluffy rice is also from Yamagata Prefecture, chosen specifically for its ability to absorb the special sauce (tare), which the tempura is dunked into before serving. This sauce is based on the dipping sauce from the Yamagata soba restaurant where Mr. Takase learned his trade.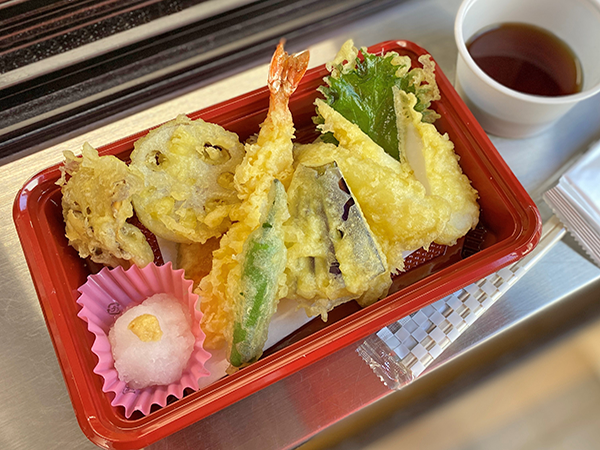 This tempura set (kaisen ten mori 800 yen) features seafood and several vegetables, which were maitake mushrooms, pumpkin, lotus root, eggplant, green perilla (oba), and shishito green peppers on this particular day. The tempura comes with grated daikon radish and a lighter dipping sauce (tsuyu) than the tempura on rice.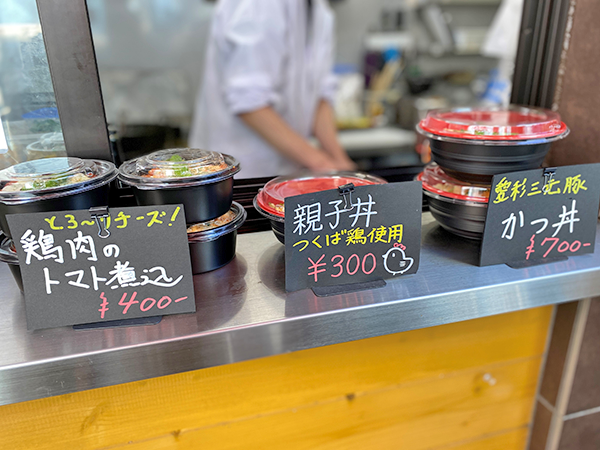 Besides the tempura, Bento Tendo offers other popular favourites using brand pork and chicken from other shops on Sunamachi Ginza. The deep-fried pork cutlet on rice (katsudon) is 700 yen, while there's chicken in tomato sauce (400 yen) and chicken and egg on rice (oyakodon 300 yen).
The mini sets are very popular with senior local residents. "We have many older customers who appreciate the smaller size," explained Mr. Takase. "We'll be increasing the number of varieties available in the future."
Bento Tendo also offers a selection of three kinds of simmered vegetables for just 400 yen.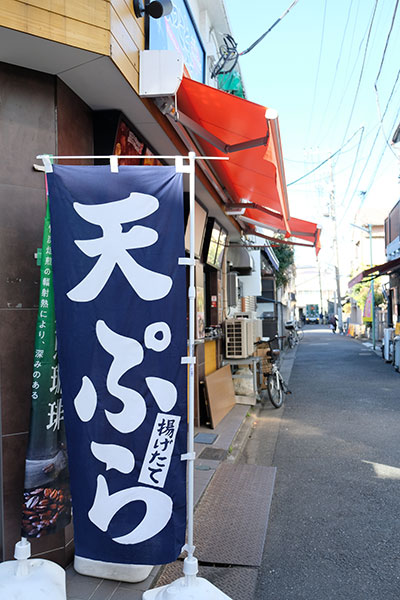 Bento Tendo opened in December 2022 and is already proving a big hit, located just around the corner from Ninja Pasta. The quality is high and cost is very reasonable, with the unique sauces, based on the traditional soba restaurant sauce base known as kaeshi in Japanese, a major factor too. All are deep fried on ordering and are best eaten immediately. If you're hankering for some great tempura at extremely generous prices then just head straight to Bento Tendo.
by Stephen Spencer