Uptown Chinese at Downtown Prices
Published: April 7, 2021
The Kameido area of Koto-ku has seen the opening of many top-quality restaurants recently, sparking talk of a culinary renaissance in the town. On a recent sunny spring afternoon, we sallied forth to visit the latest addition to the Kameido dining scene: the Chinese restaurant Haimakutei.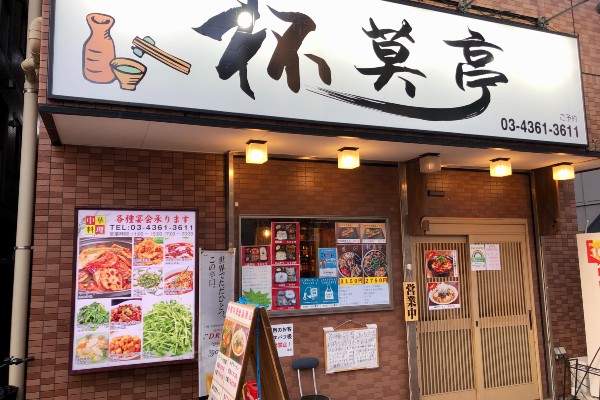 Haimakutei is located some ten minutes' walk northwest of Kameido station, facing directly onto Kurabashi-mae street, which makes it about equidistant from Kinshicho station, too. It's past the retro Katori Kachi-un shopping street and just before the famous Kameido Tenjin shrine, two popular spots in the area.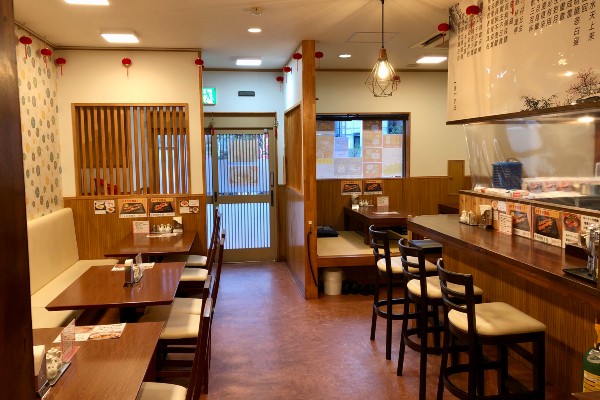 The interior is large and airy, with seating for around 25 at tables, the counter and a raised tatami mat area to the left of the entrance.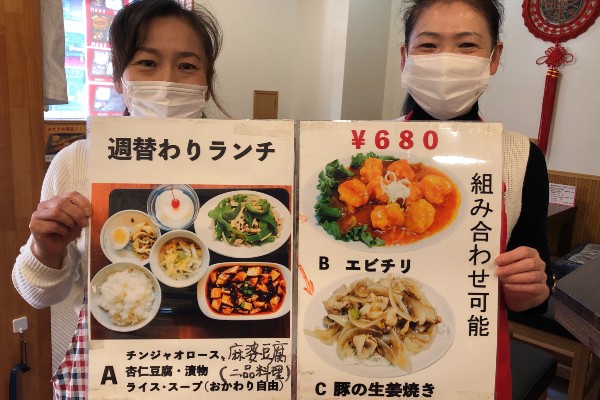 Owner Ms. Yuri Kondo and her sister Romi model the lunch menu. "We opened here on May 25th 2020, which perhaps wasn't the best time to open a new restaurant," said Ms. Kondo with a rueful laugh. The lunch sets, which change weekly, are exceptional value at just 680 yen including tax. Customers can choose from three different kinds of main dishes and the potions are hearty. Lunch is served from 11am to 3pm.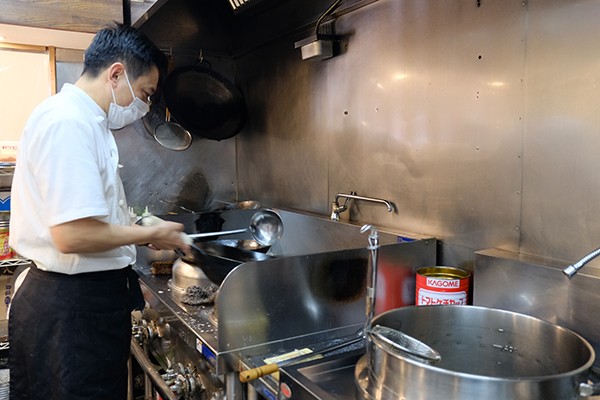 "We managed to recruit a vastly experienced chef who has 20 years' experience at a well-known hotel in China and restaurants in both China and Japan. Business has been good though, thanks to word of mouth and support from local residents," said Ms. Kondo.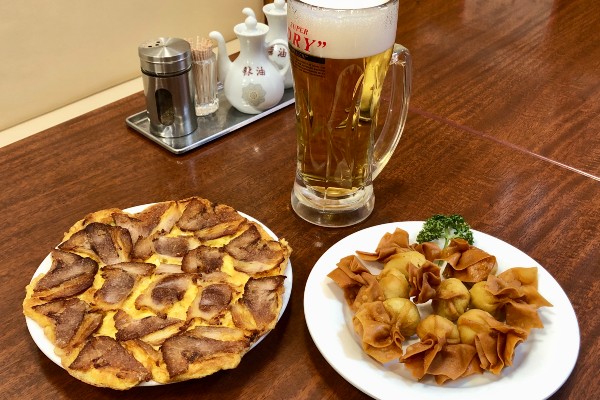 Haimakutei has a huge menu, like most Chinese restaurants. Ms. Kondo began with the tsumami (snack) menu, which boasts some 36 different dishes, two of which can be ordered together with a drink for just 880 yen, including tax. Pictured here are the homemade chashu and egg with deep fried wontons; the chashu is meaty and exceptionally savoury, while the crispy, crunchy wontons are an irresistible accompaniment to beer. Among the other 34 snack dishes are banbanji chicken, smoked duck, tofu tempura, garlic chives and egg, yakisoba noodles, pork and garlic and lettuce fried rice, all perfect for a quick bite on the way home. The snack menu is available all evening. Very tasty, surprisingly large portions and wonderful value!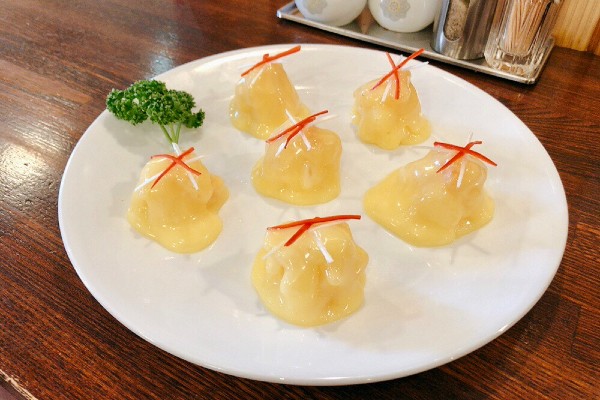 We were very impressed by the Haimakutei shrimps in mayonnaise. Plump, juicy shrimp in a rich egg yolk and mayonnaise sauce, they taste even better than they look, and they look great. Crazy value at 980 yen including tax.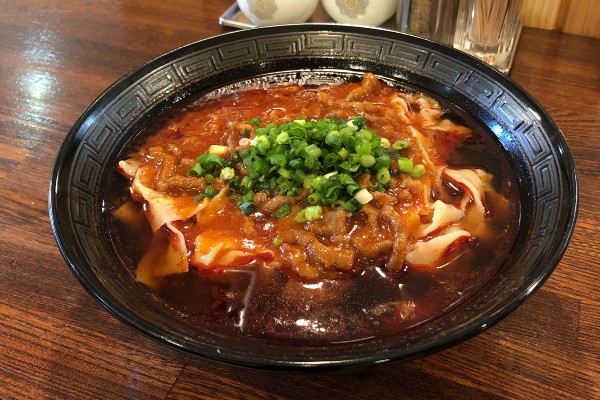 While the shrimp in mayonnaise could be enjoyed by everyone from five to a hundred and five, these spicy mala beef noodles pack a real punch. Flat, thick and chewy noodles in a beefy mala sauce (chili and Sichuan peppercorn), this a must-eat for spice fans. We tried the medium version and soon broke a sweat; rich, meaty and unbeatable at just 880 yen. Highly recommended, just have a cold drink to hand!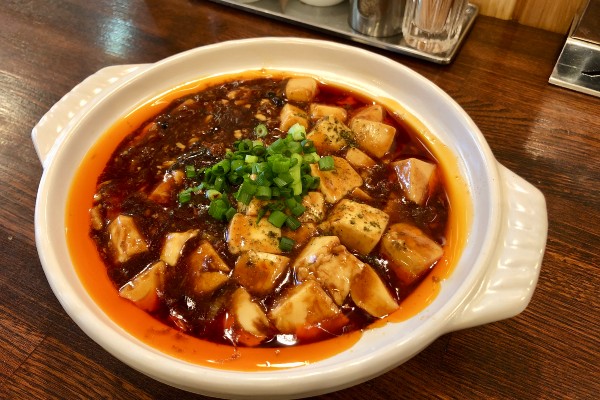 After the mala beef noodles, the mabo tofu had a slightly sweet initial flavour with a pleasantly spicy but not overpowering aftertaste. Very nice at just 700 yen.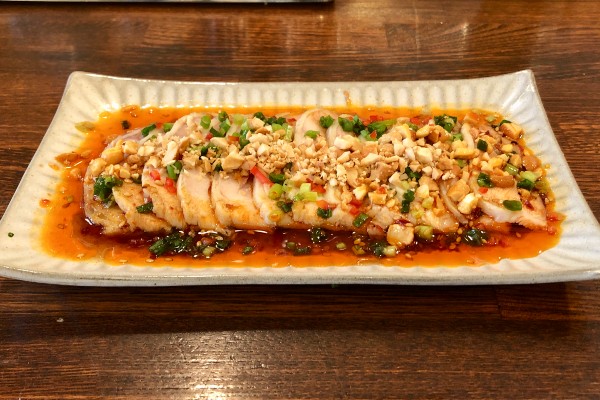 This "yodare" chicken contains thigh meat marinated in one sauce, simmered and served in another, with a topping of chopped vegetables and nuts. While "yodare" literally means drool in Japanese, we were metaphorically drooling with delight when we ate it. The soft chicken and crunchy nuts make it an ideal accompaniment for a drink. 820 yen for the full size, or 500 yen for a half, including tax.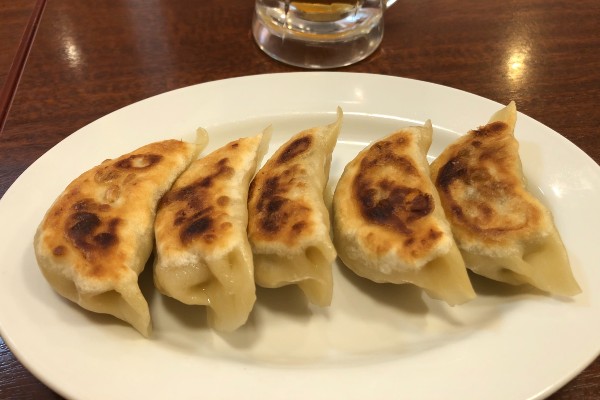 The gyoza are entirely homemade, from the springy skins to the pork and vegetable filling. Remarkably large for the price, a very reasonable 380 yen for five, including tax. Another winner!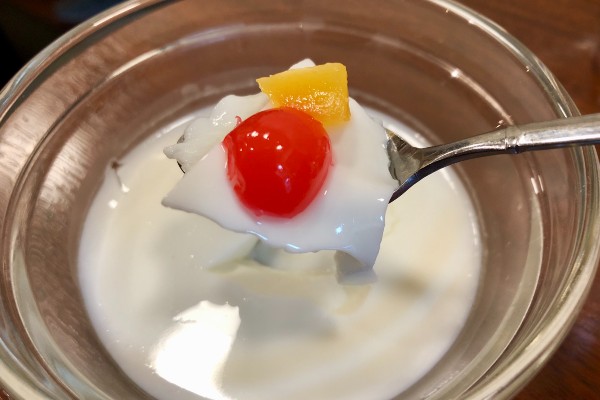 For those with a sweet tooth, the creamy, soft homemade annin dofu is a perfect way to round off your meal. It'll also cleanse your palate after the spiciness of the mala beef noodles and mapo tofu.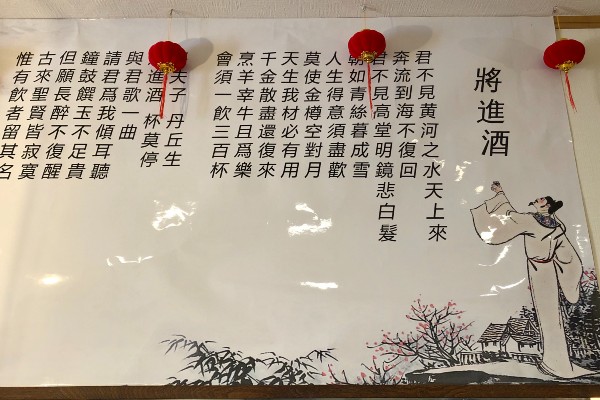 And what does Haimakutei mean? It's a quote from a work by the famous Tang Dynasty poet Li Bai, a man who thoroughly enjoyed a drink. "Bring in the wine, the cups must not stop!" Words as true today as in the 8th.century when he wrote them. Haimakutei is open daily from 11am to 10pm, except Mondays when it opens from the evening. The food is excellent, the cost performance remarkable and the atmosphere is very comfortable indeed. If you're in the area and in the mood for top quality Chinese food that won't break your wallet, just head for Haimakutei.
Story and Photos by Stephen Spencer