Have you ever wanted to try your hand at making a scented floral candle? If so, then why not make your way to Candle Studio Touka on Maruhachi-dori Avenue in Kameido 7-chome?
There, you will find a bright and airy studio with dried flowers and various types of decorated candles on display, and the air rich with the lingering scent of candle wax and fragrances.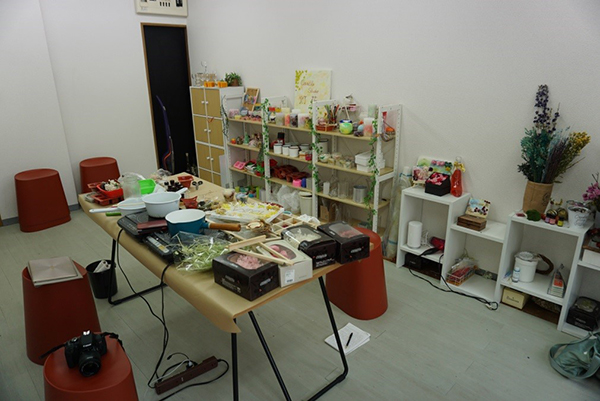 Candle Studio Touka is a recent addition to the Kameido landscape. It is run by Ms. Kanako Hatomura, a lady with an unusual pedigree; for eight and a half years she worked for the Ministry of Internal Affairs and Communication, before opting, in 2010, for a major career change as a reporter for a horseracing newspaper. As if that was not enough, not wanting to become idle during the free time when she wasn't travelling around Japan's regional racecourses or writing articles, she decided to study the art of candle making for 4 months to gain her qualification from the Japan Candle Artist Association, following which she opened her studio in January, 2018.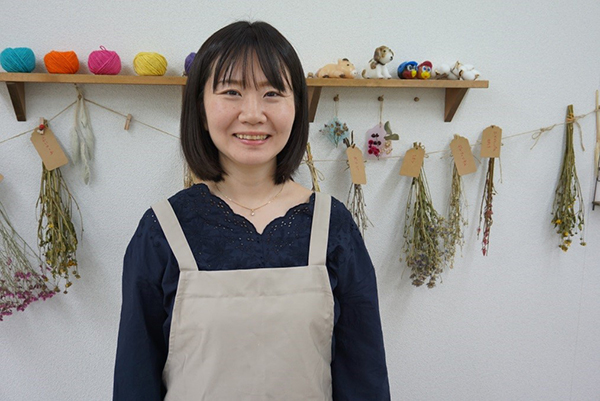 Ms. Hatomura runs her candle making classes 3 days a week, from Saturday to Monday, where, for a few thousand yen and a couple of free hours, you can learn the art of candle making and come away with your own prized creations.
According to Ms. Hatomura, the studio's customer base is comprised of 80% female customers, predominantly in their 30s to 50s, although she is beginning to see more families with children coming to experience the fun of making candles.
Her love of horse racing extends even into the workshop – one of the attractions for customers is Ms. Hatomura's candle wax depictions of horses.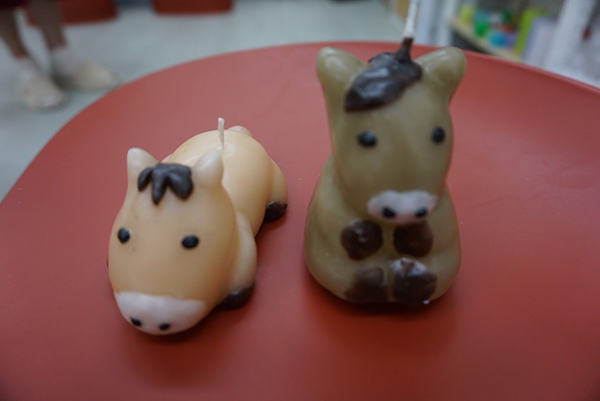 She takes these along to race courses on reporting assignments, where she sells them for 1,200yen. She also makes attractive candle models of her dog, Satsuki. I think these creations are really too cheerful to set light to for them to just melt away!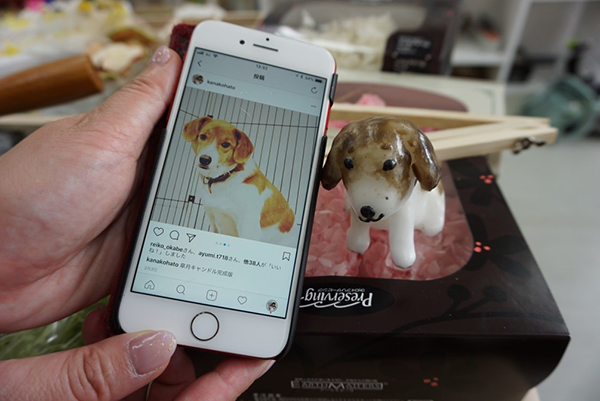 To better understand what candle making is all about, Ms. Hatomura guided me through a "hands-on" experience in making a scented "botanical" candle. First she presented me with a candle base made from a mixture of paraffin tablets and "microwax soft", which had been heated in a mould.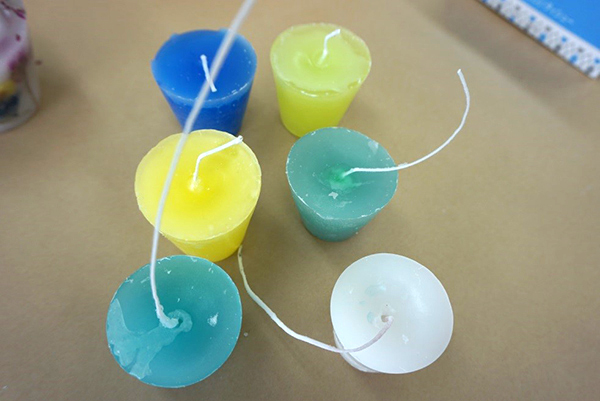 I chose a blue base, which I placed in a silicon holder.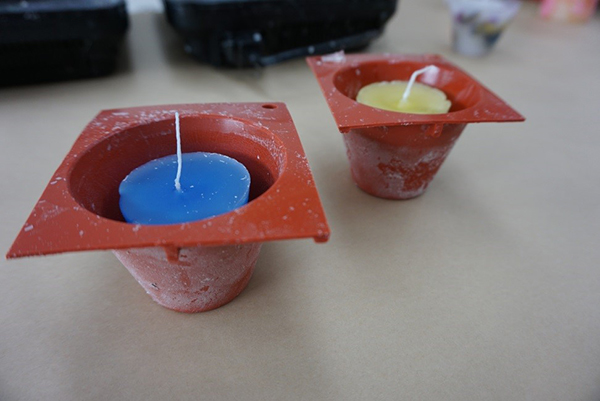 Then I was given a pair of scissors and instructed to choose from the wide selection of preserved and dried flowers around the studio. These were to decorate the outside of my candle. What goes with blue, I wondered…?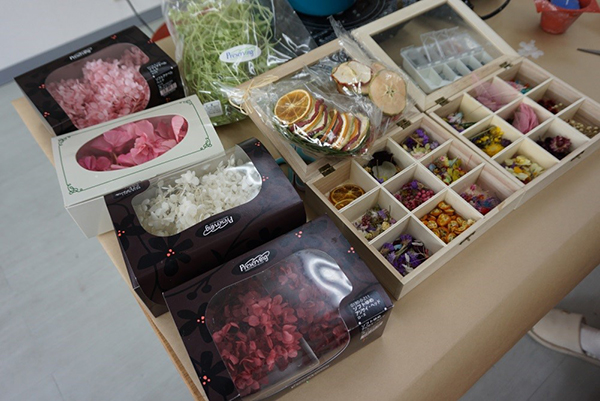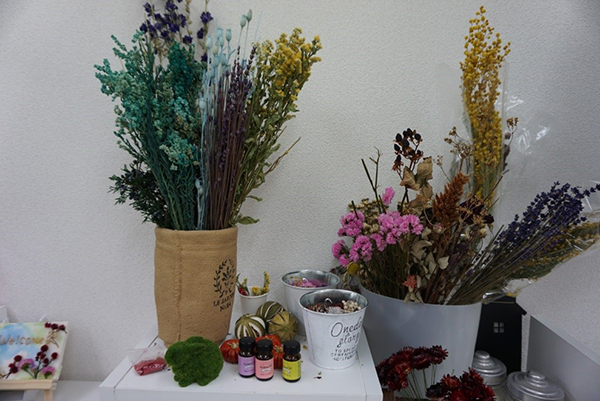 After agonising over which flowers to go for, I then had to press my selection down between the candle base and the edge of the silicon mould. Not an easy task, as the flowers kept popping up above the top of the candle.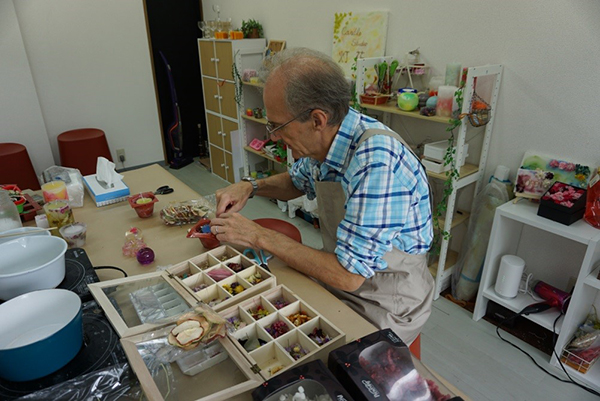 Then came selecting the scent. Not being well-versed with perfumes, I took the safe option and chose the Lavender Rose from the seven different fragrances available.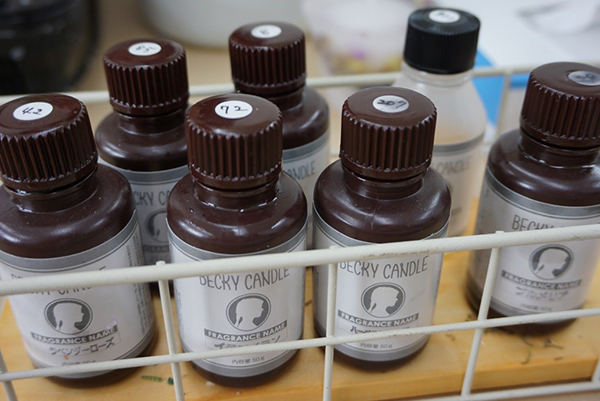 This was heated with paraffin wax to 100 degrees centigrade and then poured around the sides of the candle, covering the pressed flowers and the top of the candle.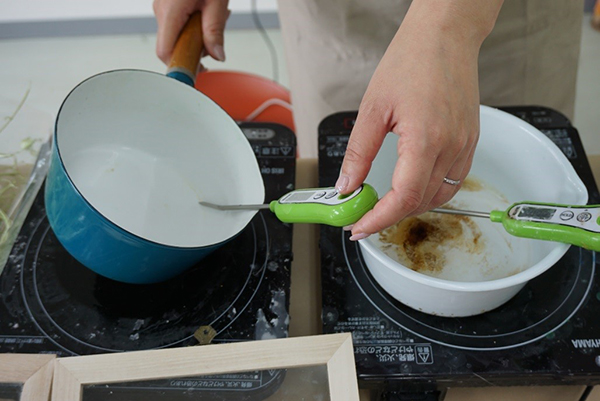 After poking out any air bubbles from the flowers inserted around the candle, the mould containing the candle, flowers and scent was left for 30 minutes to cool and harden.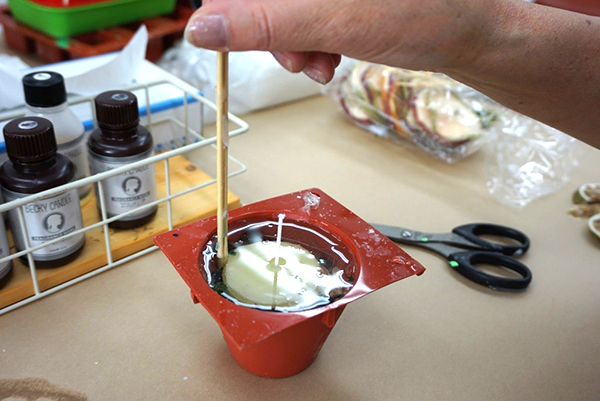 When the candle had hardened the outer silicon mould was peeled back, lo and behold, I had my very own scented "botanical" candle.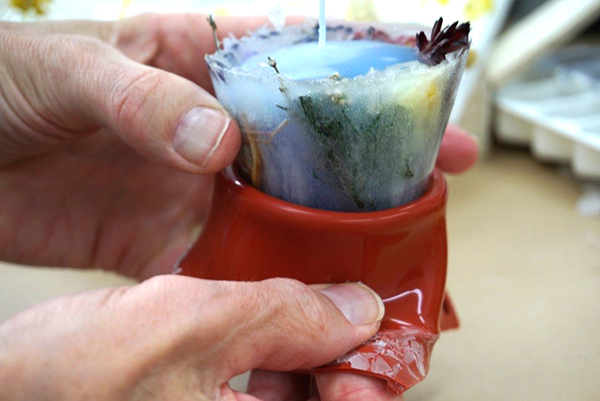 While I was waiting for my masterpiece to harden, Ms. Hatomura showed me around the studio and explained that the basic candles come in various sizes and then are coloured and decorated. Besides the paraffin-based "botanical" candles, she also teaches how to make gel candles, which have the consistency of a soft rubber ball…,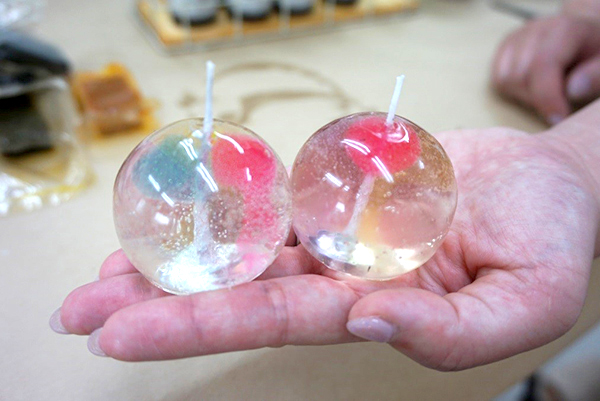 and wax boards, which can be used for display signs.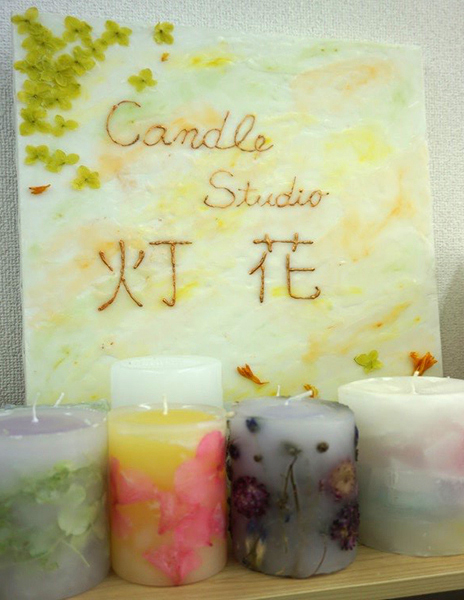 Because of the irregular opening times, whilst it is possible to call in on the off-chance that Ms. Hatomura does not have any classes booked, it is better to contact her by email (English is OK), via her very colourful home page, to book an appointment.
The whole process of making the candles took between one and a half to two hours, and even for a not-very-artistic novice like me, the whole experience was very interesting and a lot of fun. Why not give it a try?
Oh, yes, and I got to keep the candle!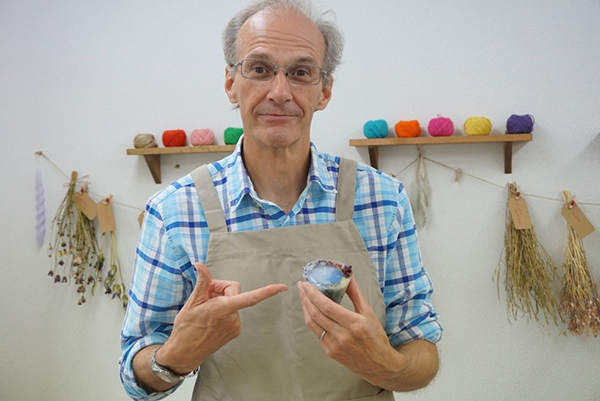 Story and Photos by Jeremy Hutchinson