Yakiniku in Style at Doragon
Updated: October 5, 2020
Yakiniku Doragon is a barbecued meat restaurant located right on the corner of Eitai Street and Kiyosumi Street, near Monzen-nakacho station. First opened in 2008, it has become a popular part of the local dining scene for its top-quality meat at reasonable prices, stylish interior and creative menu. On a recent afternoon, we dropped in for a chat with Mr. Hisaya Sato from Doragon's parent company, Minami Co. and the friendly staff.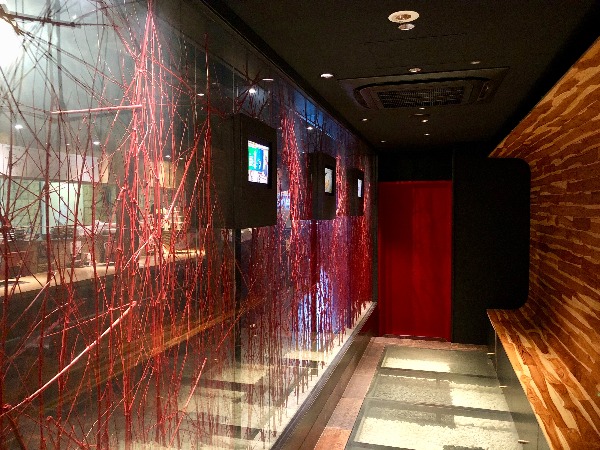 Customers enter an elevator in a commonplace building with the thundering traffic on Eitai Street as backdrop, then debark into a cool and stylish interior more redolent of Ginza or Roppongi. "It was the owner's idea," explains Mr. Sato. It was certainly a pleasant surprise, with the wood stripped waiting bench and recessed glass floor containing black and white stones.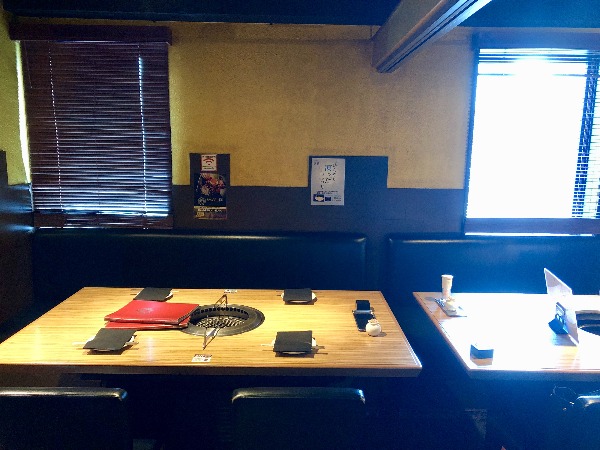 Yakiniku Doragon has four rooms, including a large back room that can seat up to ten people for a more private ambience. "Our customers run the gamut from business people on weekdays, to local residents, family celebrations, groups of friends, and everybody, really," says Mr. Sato.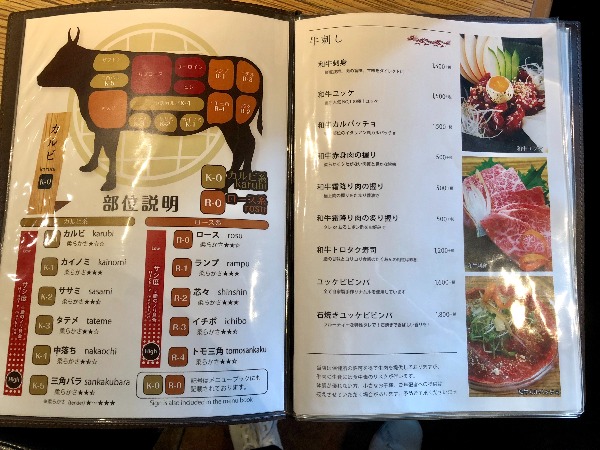 Yakiniku neophytes needn't worry as there is a menu in both English and Chinese. Just ask the staff.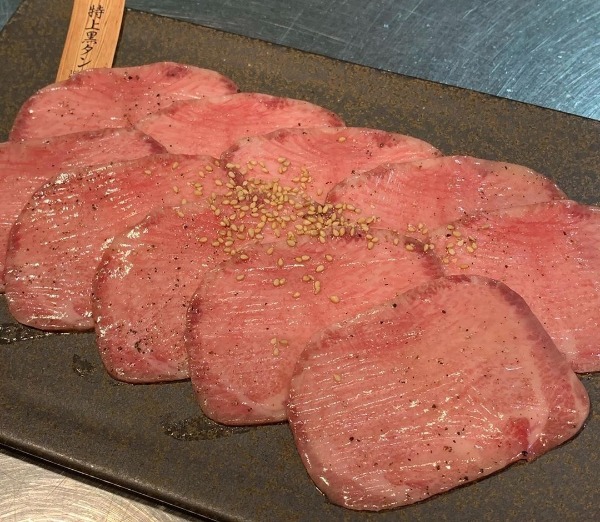 Since tongue uses neither a marinade nor a sauce and thus leaves no residue on the grill, it's become the traditional starter at yakiniku restaurants. This extra-premium Japanese Black beef tongue is the finest quality and costs 2,200 yen plus tax. Just a touch of fresh lemon juice is all you need. Some of the tongue (gyutan) and shirt steak (harami) is from the US, and clearly marked as such on the menu.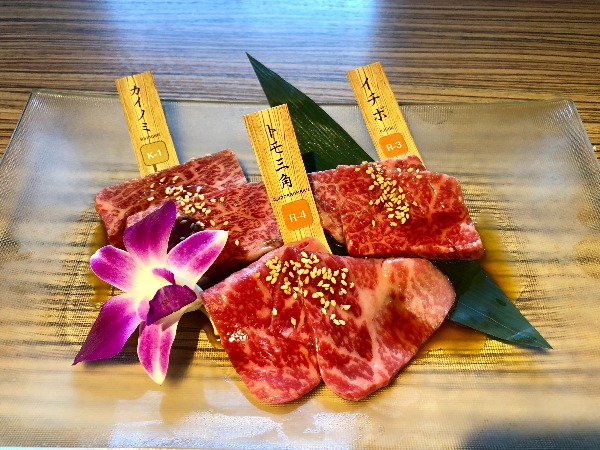 It's all about the beef though, and the beef at Yakiniku Doragon is very good indeed. It's nearly all Japanese Wagyu beef, largely from the southernmost major island of Kyushu. The sanshumori selection shown here starts on the left with the chuck short rib section (kainomi). Since each cow yields only a small quantity and the balance between lean meat and fat is high, this cut is both high quality and rather more expensive. In the centre is sliced tri-tip (tomosankaku) and on the right is top sirloin cap (ichibo). The latter is a great yakiniku favourite, popular for its rich, intense umami flavour.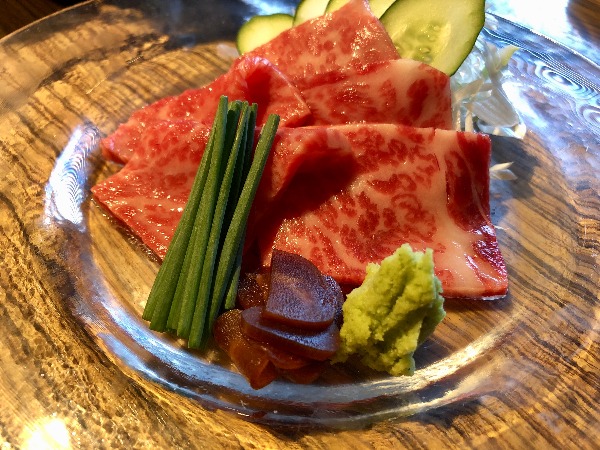 One of the most-ordered dishes at Doragon isn't cooked at all. This beef sashimi (gyu sashi) is Hitachi beef from Ibaraki Prefecture and comes with a homemade soy sauce that is steeped with garlic for three months. At 1,500 yen, it's a real bargain. We ate it with the green onion, pickled garlic, and a little wasabi soy sauce – it was tremendously tasty. Mr. Ishida later cooked a little, placing a couple of slices on the grill for no more than a few seconds each. While it was remarkably soft, with the fat melting to create a different texture, the raw version was a real eye-opener, particularly for someone with little experience of eating raw meat.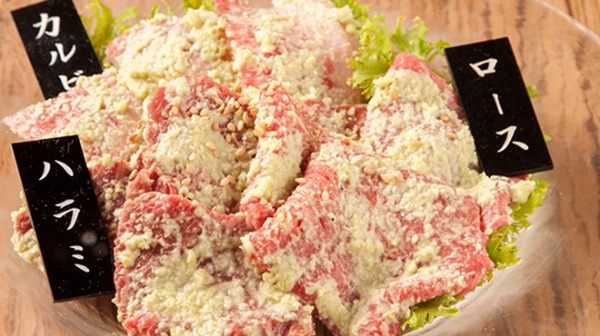 Another in-demand item is the bakudan (bomb) series. For just 1200 yen plus tax, customers can eat skirt steak (harami), kalbi (short ribs) and chuck (rosu) slathered with salty negi onions, garlic and ginger.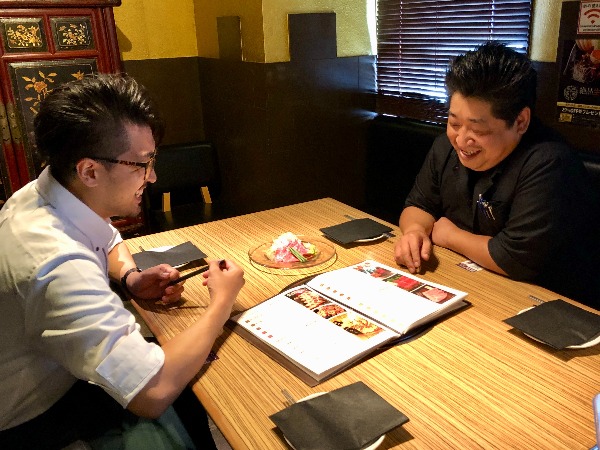 Head chef Mr. Yamanaka and chef Mr. Ishida discuss the menu. Mr. Yamanaka has over 30 years' experience in a variety of restaurants, is a meat professional and an expert in Japanese cooking. "I want people to eat meat," he said, simply. Mr. Ishida kindly offered to show us the optimum way to grill the beef.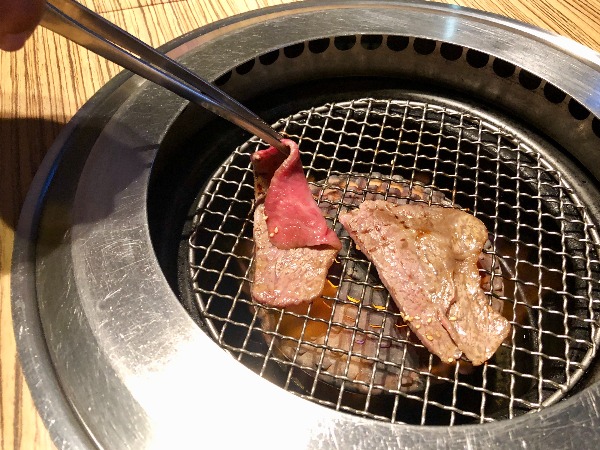 Mr. Ishida fried up the charcoal grill and began cooking the tri-tip. "Generally speaking, the tri-tip is a thicker cut but we slice it a little thinner to give some variation to the different meats," he explained. It browned quickly as he deftly flipped it over.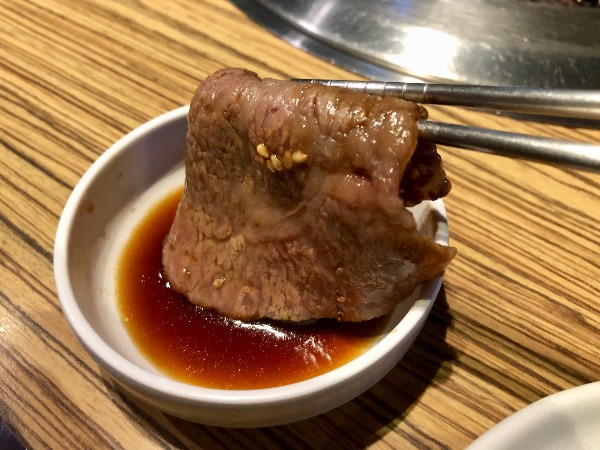 The result was extremely good; soft, juicy and needing only a light dab of sauce.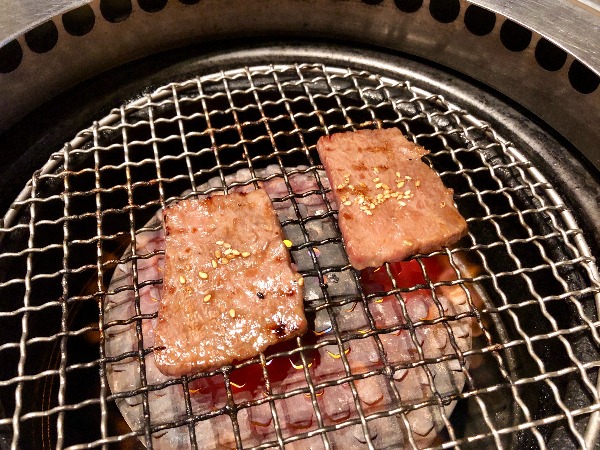 The thicker cut chuck short rib required slightly more cooking.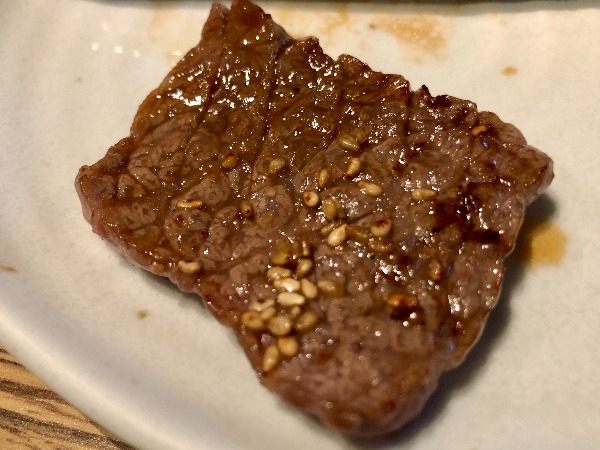 As advertised, it was chewy, rich and really meaty. Exceptional!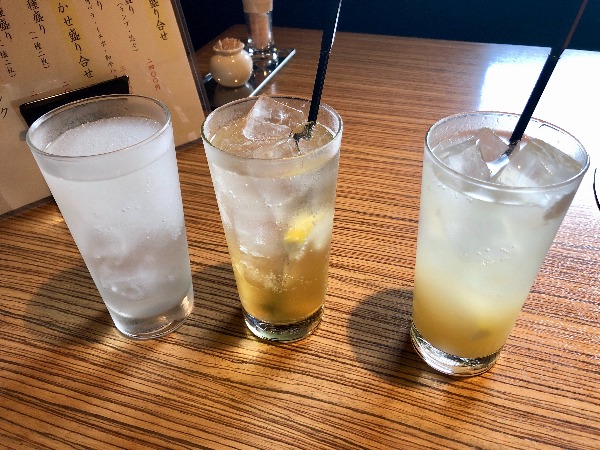 Many eat yakiniku in summer for its stamina-enhancing property. All that charcoal-grilled beef, garlic, spicy kimchi and vegetables is a fine deterrent to heat exhaustion, the dreaded natsubate, as it's known in Japanese. While beer has long been the preferred drink of choice, in recent years carbonated drinks such as sours and the seemingly ubiquitous whiskey highballs have become more popular. Yakiniku Doragon offers an array of supremely tempting summery drinks based on lemon. From left to right are the "shari shari lemon hai" which features frozen lemonade and shochu, a dry ginger ale drink featuring chili and cinnamon that is both slightly sour and sweet, and a straight lemon sour on the right.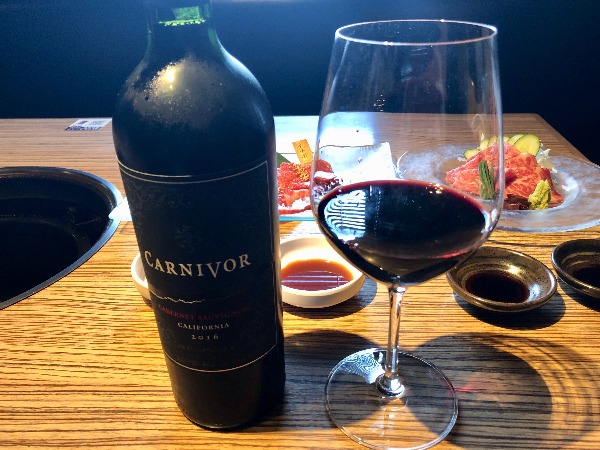 Wine has also become increasingly available at yakiniku restaurants and Doragon boasts some fine wines, not least the splendidly named Carnivor. Created in California especially for meat eaters, this Cabernet Sauvignon is bold, smooth and refined. It's 800 yen for a glass or 4,500 yen the bottle. All prices are before tax. Aside from the Carnivor, the drinks menu features Spanish, French, Italian, German, American, Austrian and Chilean wines, red, white and rose. If you're really pushing the boat out, a bottle of Veuve Clicquot is 12,000 yen.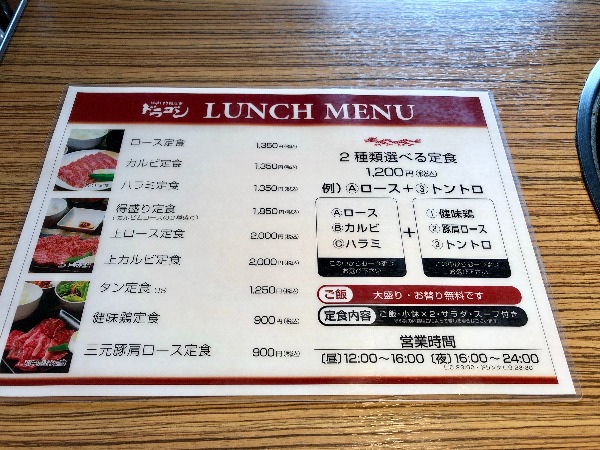 Yakiniku Doragon offers a variety of lunch sets from 12 noon until 4pm. The sets feature a choice of meats plus rice, two small dishes, salad and soup. A free rice refill is available. The small dishes change daily but are usually pickles, kimchi, vegetables and so on. The skirt steak, short ribs and chuck sets are all 1,350 plus tax, while premium calbi and chuck are 2,000 yen. For 1,200 yen customers can enjoy one beef selection with either chicken, pork shoulder or pork jowl (tontoro).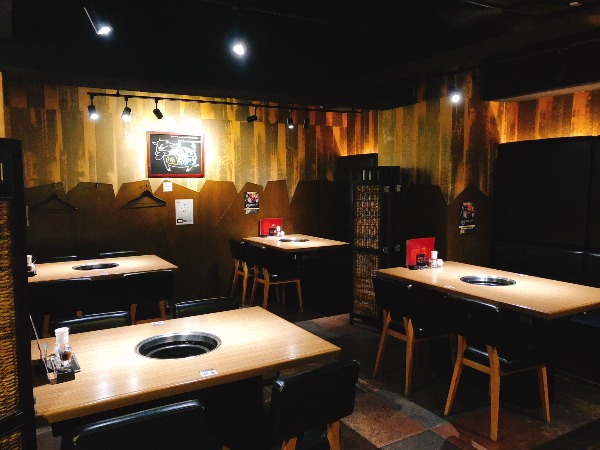 Yakiniku Doragon has a massive menu, featuring all the favourites such as soups, bibimbap, salads, pickles, pork, chicken, liver, chijimi, kimchi, namul, sashimi and desserts. There's even raw beef sushi. Perhaps the best way is to plump for a course, of which there are three: the silver dragon kirameki (4,000 yen), silver dragon takumi (4,000 yen) and the red dragon (3,000 yen). The first two are for the seriously hungry, the latter for the moderately hungry. All three can be upgraded to an all-you-can-drink deal for an additional 2,000 yen.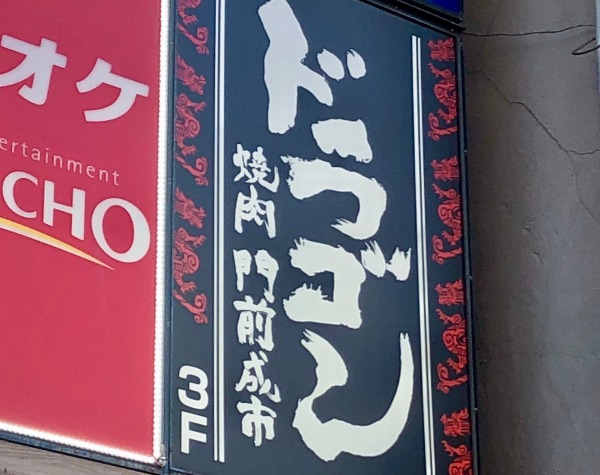 The food and drinks are top quality, the decor is stylish, the atmosphere relaxed and the location is incredibly convenient. If you're in the Monzen-nakacho area and in the mood for some serious yakiniku, just head for Yakiniku Doragon.
Story and photographs by Stephen Spencer