100 Years of Health Support
Published: March 7, 2022
With health concerns exacerbated by the current pandemic, more people than ever before are becoming conscious of the need to maintain their physical and mental well-being through diet and exercise. Nagata Yakuho is a newly-opened establishment in Ojima that offers a comprehensive counselling programme allied to the vast experience of pharmacist Mr. Shinji Nagata. On a recent early spring afternoon, I dropped in for a chat with the youthful proprietor.
Located just five minutes' walk from Nishi-ojima station, the recently completed building that houses Nagata Yakuho faces directly onto Shin-ohashi Street.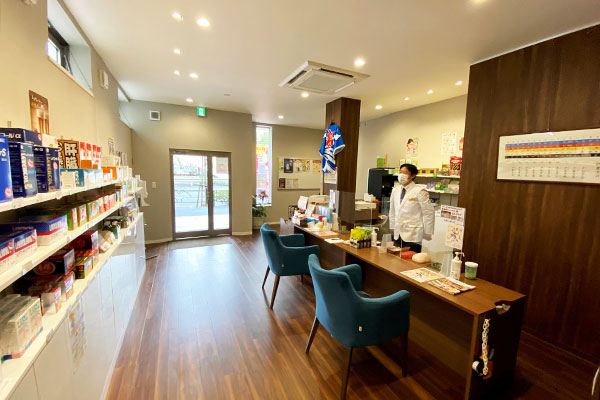 The surprisingly spacious interior features pristine white walls, dark wood flooring and a counter for consultations. The chairs are very comfortable, while shelves display a selection of the products for sale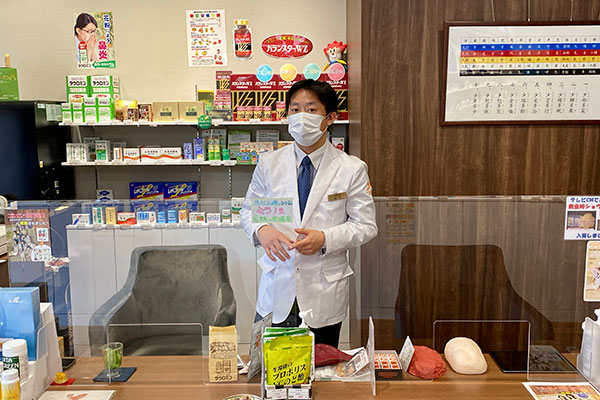 "We opened here on December 1st, 2021," explained the eponymous Mr. Nagata. "I'm from Suwa in Nagano Prefecture, where my family runs a pharmacy established by my great-grandfather in 1913.  I moved to Tokyo and spent 17 years working as one, eventually becoming president of the company. I decided to become independent as I wanted to change my way of work and opened my own shop here."
As Mr. Nagata explained, dispensing chemists (chozai yakkyoku) in Japan spend most of their time solely making up prescriptions, something he found frustrating. "I really wanted to devote more time to integrated healthcare, to counselling and discussing not only medicine but all aspects of improving personal health. Many people simply visit the hospital and receive repeat prescriptions without any time to talk about wider aspects of their health." Customers can make reservations by phone or mail, and drop in to discuss either specific or longer term wellness solutions. Mr. Nagata recommended making an appointment, particularly on Saturdays.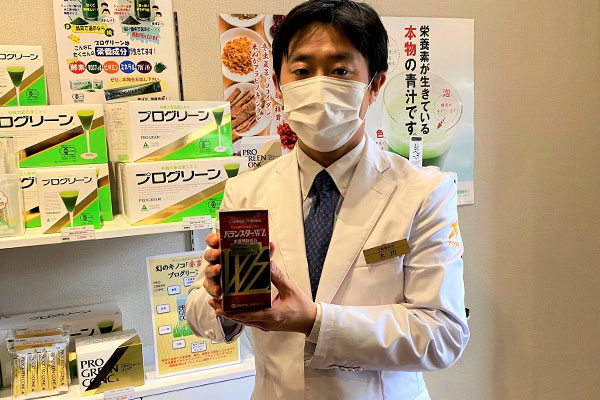 While Nagata Yakuho is a pharmacy, it doesn't fill prescriptions. Instead, Mr. Nagata offers around 70 varieties of over-the-counter drugs, health foods, and supplements. Here he is holding a box of Balanstar WZ, a popular calcium supplement containing powdered Hiroshima oyster shells.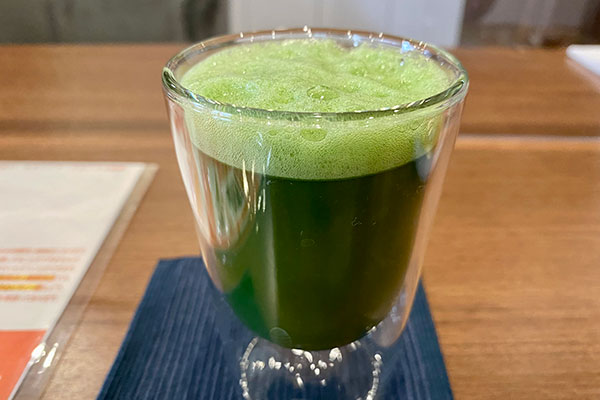 One of the most popular dietary supplements in Japan is aojiru, a health drink made from leafy green vegetables. Nagata Yakuho offers Progreen, an aojiru drink made from young barley leaves and manufactured in Oita Prefecture on the southern island of Kyushu. The Progreen is actually "living" and forms a frothy head when prepared.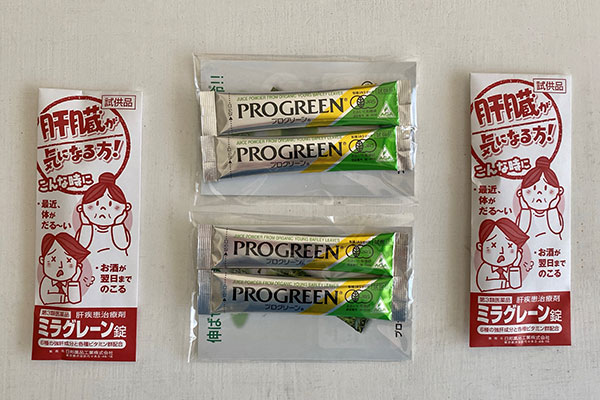 It has a rich and rather tasty flavour that isn't bitter in the slightest. Mr. Nagata recommended Progreen over kale-based drinks as, "kale has a cooling effect on the body, which is fine in the midsummer heat but not the rest of the year." The Progreen powder can be added to your morning smoothie for extra effect. Also shown here is Miraglen–a product designed to protect the liver from the effects of drinking alcohol–also a very popular item.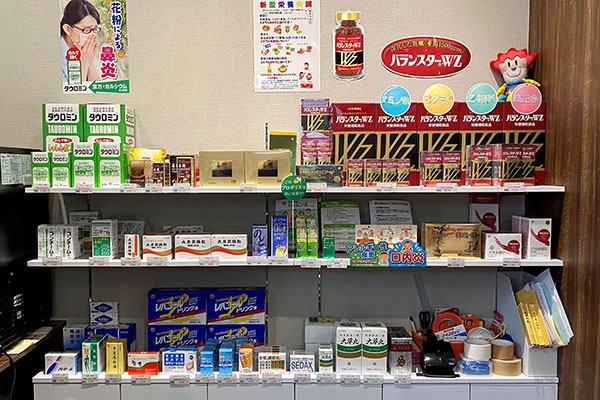 Mr. Nagata is also a qualified practitioner of Japanese traditional herbal medicine (kampo). Traditional herbal medicines and what are known as natural medicines (shizen yakuhin) have become increasingly integrated into modern medicine in recent years. Spring in Tokyo brings the dreaded cedar pollen allergy season, with runny noses, streaming eyes, and hacking coughs. "We have many anti-allergy products," said Mr. Nagata, "Sufferers should begin taking preventative medication in January to alleviate the worst symptoms once the pollen count begins to rise in early March."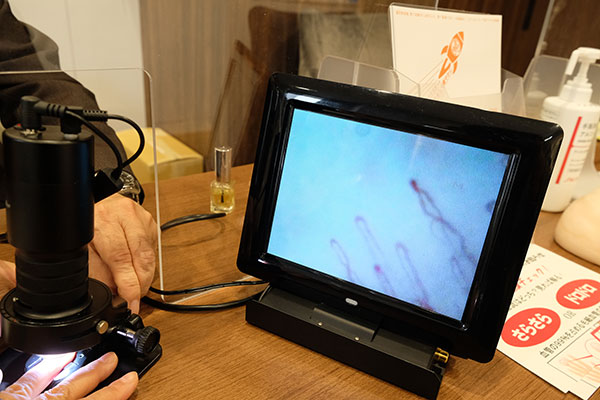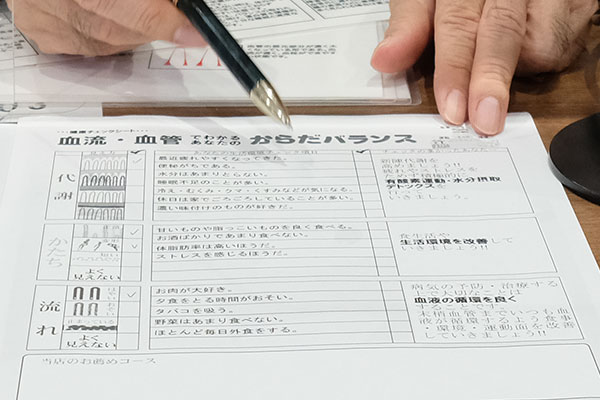 Nagata Yakuho offers a couple of health events every year. The first is an examination of the finger capillaries to assess any problems with blood circulation and the second a bone density check. Since cold disorder, the condition of having a cold sensation in one's hands or feet, (hiesho) is common amongst a majority of Japanese women, the former is very popular, while strengthening bones is a priority for senior citizens.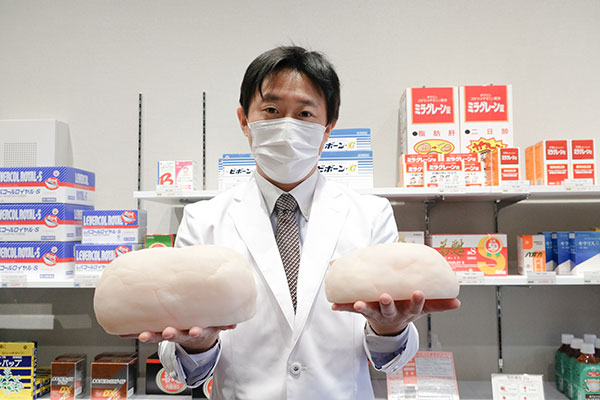 As Mr. Nagata said, "Taking preventative measures to protect one's health is like investing in stocks or bonds, in that the benefit is felt years into the future. The effects of taking a three-month course of supplements are felt six months later; we can't change the present but we can change the future." Wise words indeed, with over a 100 years of experience to back them up.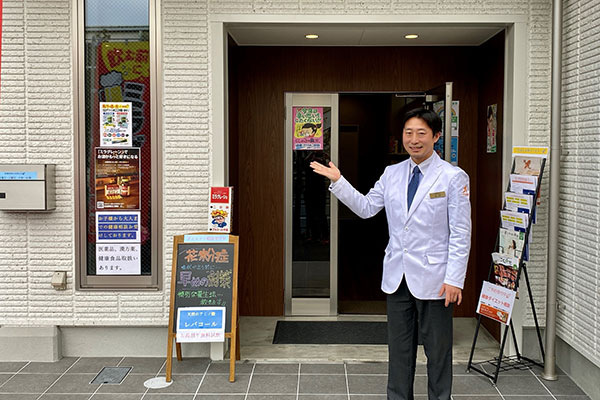 If you have any health concerns, don't hesitate to call Mr. Nagata to make an appointment.
Story and some photos by Stephen Spencer