Unique Wine Bistro in Toyosu
Published: October 18, 2022
Kadoya is a Toyosu bistro dedicated to the gastronomic arts of France and the wine of the world. A unique place, its success is a testament to the fastidiousness of its owner and chef, Ms. Junko Sasaki. On a recent autumn afternoon, we dropped in for a chat.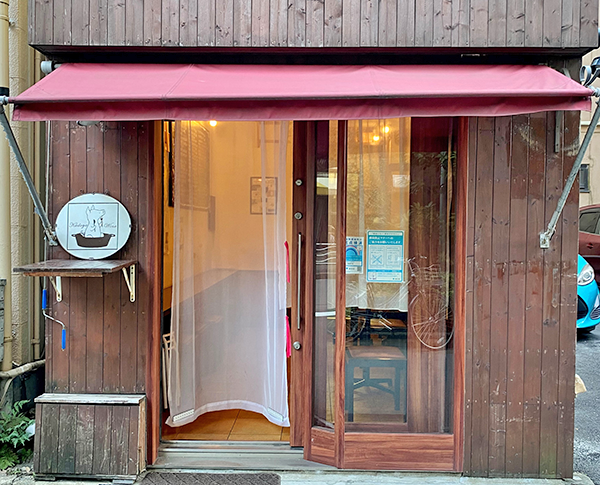 Located just 2 minutes' walk from exit 4 of Toyosu station, Kadoya has been open for some ten years and is now firmly established on the local restaurant scene. The restaurant is named after the fish shop formerly run by Ms. Sasaki's family in her hometown; "The shop is gone but its name lives on here," as she explained.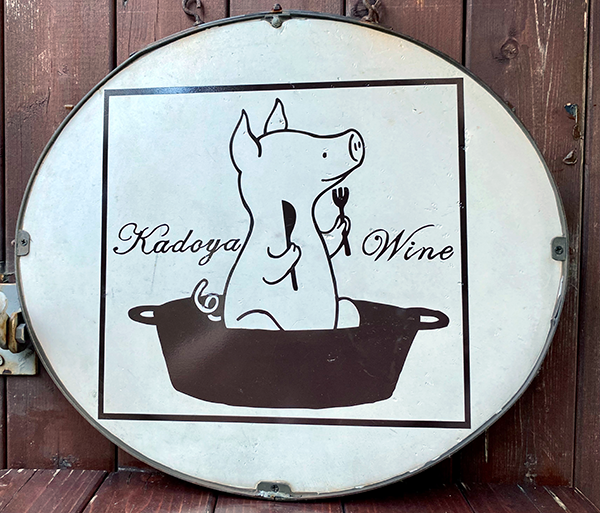 Although Kadoya is on a side street you can't miss it, just look out for the rather amusing sign, designed by the celebrated manga artist Naoko Matsushima, a friend of Ms. Sasaki's.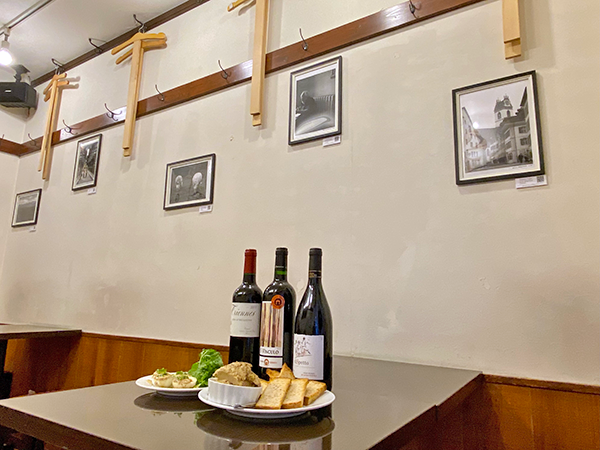 The interior of Kadoya is as unadorned as the exterior. The walls are home to several striking monochrome prints of photographs taken by a professional photographer friend of Ms. Sasaki's, resident in Switzerland. Two tables seat four people each, with four more seats at a wall counter.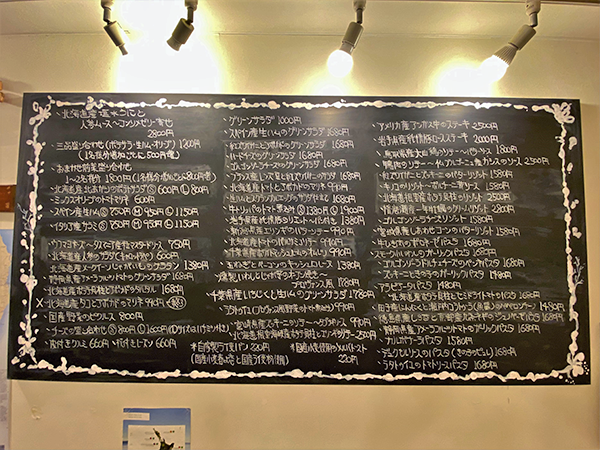 The menu is massive, and features the country or region of origin of most of the main ingredients. Ms. Sasaki is scrupulous in her selection of all ingredients: there's garlic from Takkomachi in Aomori, shiawase corn from Miyagi, whitebait from Fukushima, eringi mushrooms from Niigata, ham and salami from Spain and Italy, seafood from Hokkaido, French lentils, Tasmanian mustard and many more. There's bacon and onion quiche Lorraine, ratatouille Provençale, Hokkaido octopus and avocado marinade, Chiba fig and ham salad, porcini risotto, American Angus beef steak, sauteed duck in Bourgogne blackcurrant sauce and a host of others that sound equally amazing.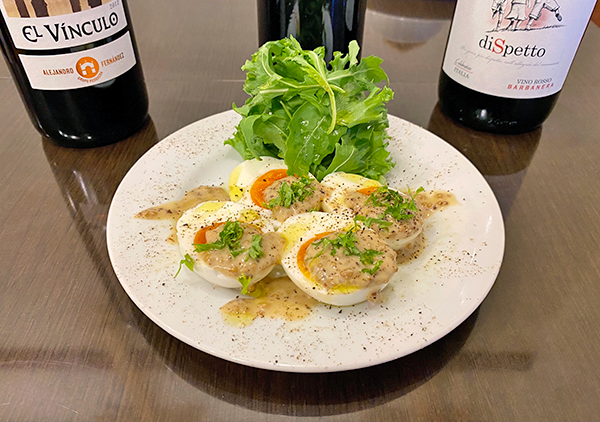 On this visit Ms. Sasaki created a classic Parisian appetiser in these oeufs mayonnaise (750 yen). Flavourful free range eggs are soft boiled and smothered in a sauce containing a spicy, award-winning Tasmanian mustard.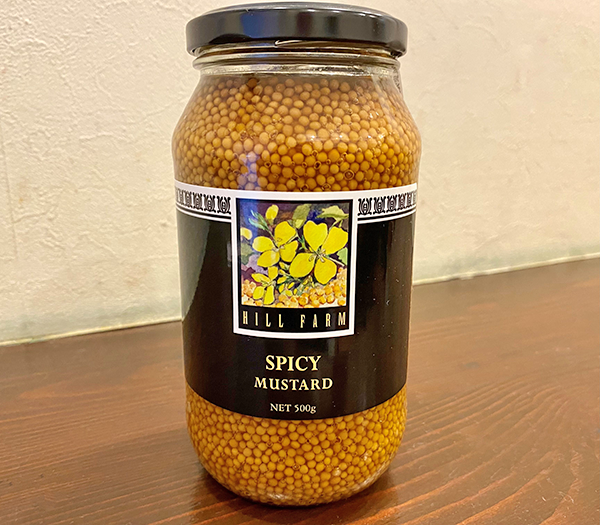 The tangy mustard contains spiced vinegar, Tasmanian honey, exotic herbs and large mustard seeds which combine to produce a subtle, layered flavour that's also crunchy and textured.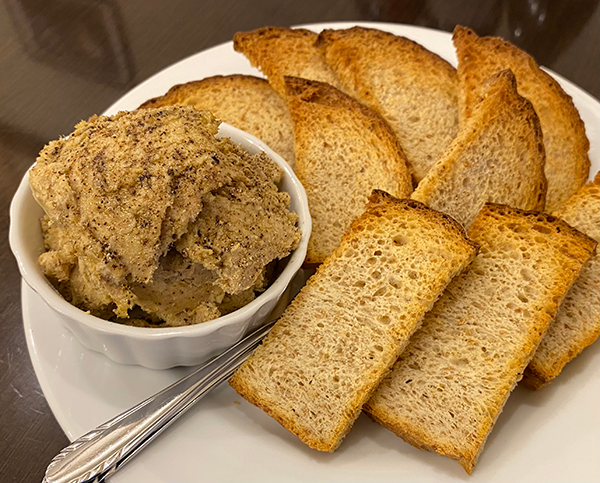 After the oeufs mayonnaise came another French classic, rib roast rillettes with homemade bread (1,380 yen). "Most recipes call for pork belly but I prefer rib roast as there's less fat," explained Ms. Sasaki. "It also has a stronger flavour. I simmer the meat with celery, onions and carrots; it's easy to eat and goes really well with wine." She uses the premium quality brand Junjo pork from Iwate Prefecture and bakes her own bread using rye from Hokkaido.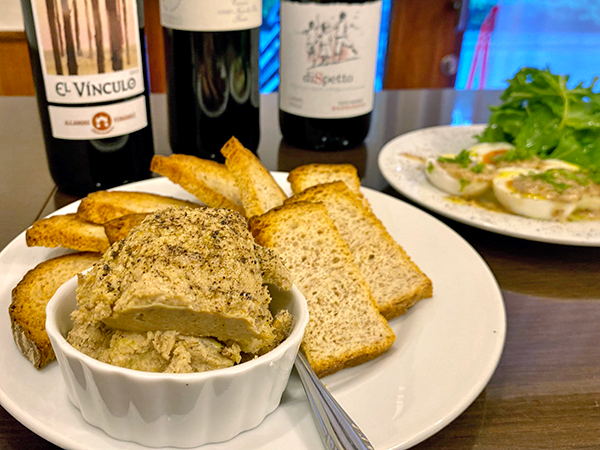 "Compared to other countries' rye bread this has a surprisingly rich aroma," she said, adding that her bread features a blend of rye flour and the wheat flour brand Haru Yo Koi.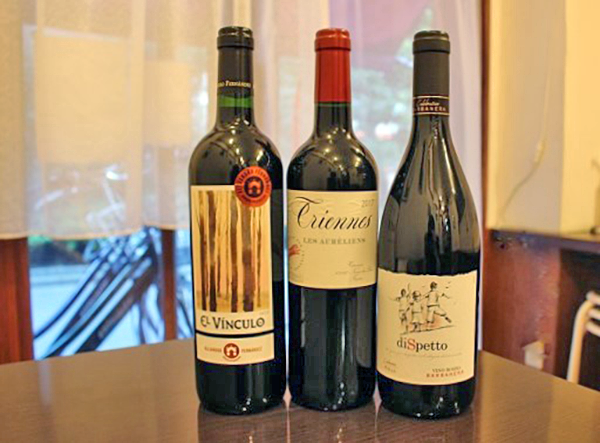 Eagle-eyed readers may have noticed that the menu features dishes perfect for accompanying with wine. Needless to say, Ms. Sasaki is as fastidious in her wine selection as in choosing ingredients, which makes for an interesting drink menu. There are wines from Italy, France, Australia, New Zealand and more, beginning at 3,000 yen a bottle, with an emphasis on value for money. For those who feel like splashing out there are famous names from Champagne and Burgundy too.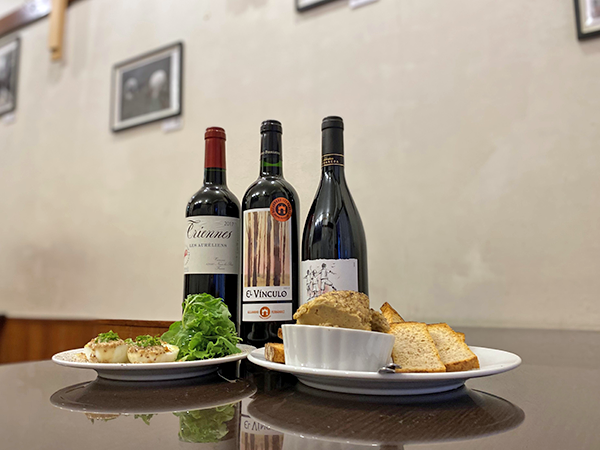 For those who'd care to see more, including Ms. Sasaki's homemade tartes, terrine and oyster risotto, the previous Japanese article can be seen here. Kadoya is a bistro for adults that attracts many locals, couples and foreign residents of the area. "C'est bon," as one French customer said, and that's high praise indeed!
by Stephen Spencer