Jewelry Sales, Repurposing & Antiques
Published: October 26, 2022
Kawahara Jewellery in Monzen-nakacho is a specialist shop that offers a wide range of services related to those most valuable items, jewels. Aside from sales, the shop will purchase jewellery, resize, repurpose and repair necklaces, brooches, rings and all your precious objects. We recently dropped in for a chat with the eponymous owner Mr. Kawahara.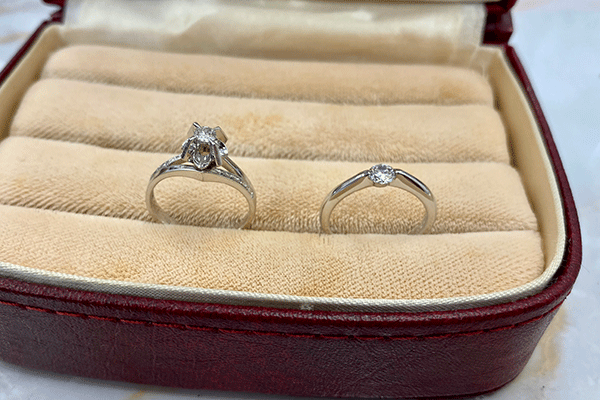 While diamonds may be forever, their settings often aren't, which is why the repair and repurposing side of the Kawahara business has seen a marked upturn during the pandemic. As beautiful as these standing claw type rings may be, they're impractical for daily wear and perhaps not the fashion nowadays, hence the increase in customers wanting their rings repurposed. A straightforward ring redesign like the one on the right begins at 50,000 yen, while repurposing a ring into a pendant starts at 35,000 yen.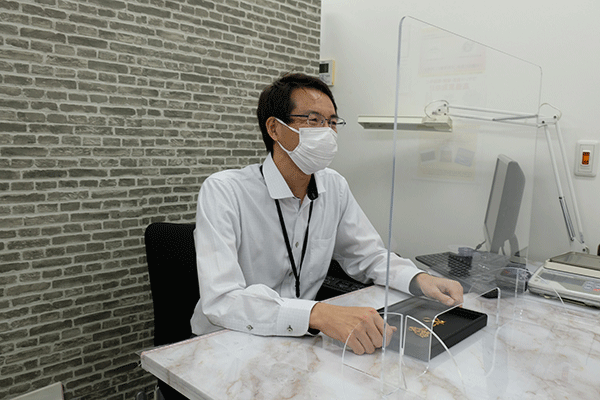 Kawahara Jewelry is a family business that began in Yokohama in 1978, with the Monzen-nakacho shop opening in 2012. It's very convenient, just three minutes' walk from the station. As Mr. Kawahara said, "We've been in the business for a long time now and are jewellery specialists. We offer free estimates and free advice on all our services. If you have a piece or an item you'd like to resize, repurpose or sell, just bring it in and I'll take a look."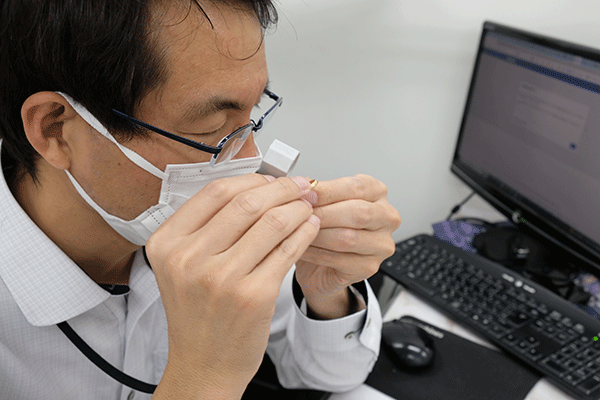 "We start by grading the jewels in the item, and assessing their value precisely which is the strength of a specialist shop like ourselves. We can discuss the design options, whether to repurpose or sell depending on the value, and offer advice on whatever the customer would like to do."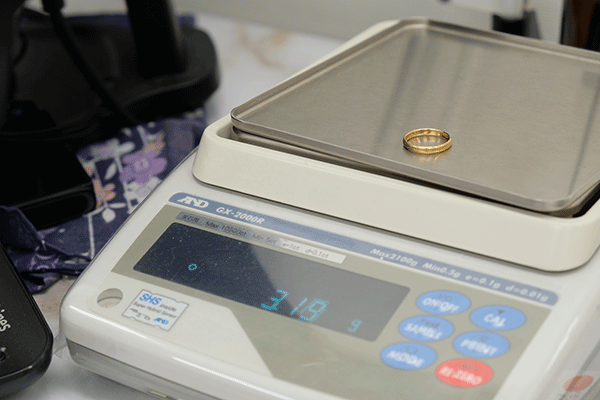 Kawahara also buys gold, silver and platinum items at the current market rates.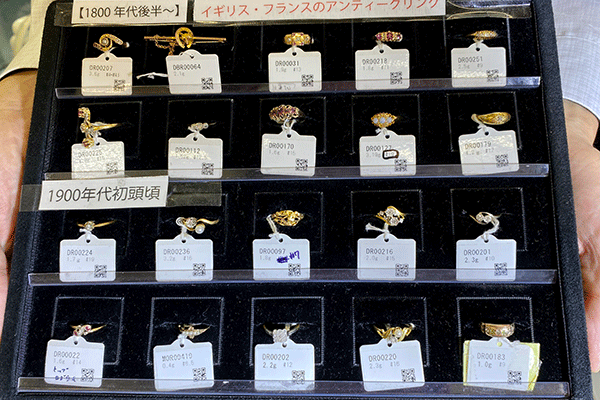 The shop also offers a fascinating sideline in antique jewellery from Britain and France, personally selected by Mr. Kawahara. The items are gorgeous, many dating back to the second half of the 19th. or the early 20th. century.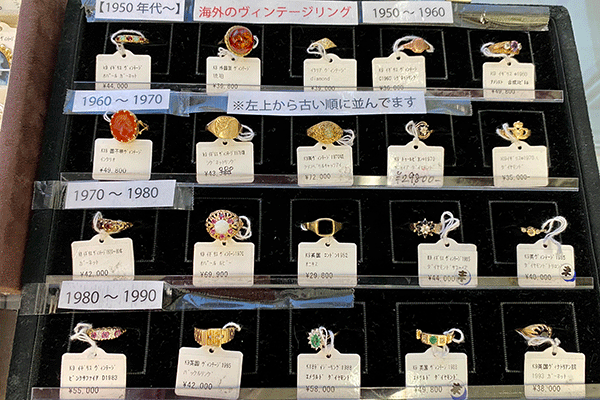 It's interesting to compare the designs of the earlier period with those of the postwar era. These selections of antique jewellery are available only at the Kawahara Monzen-nakacho shop.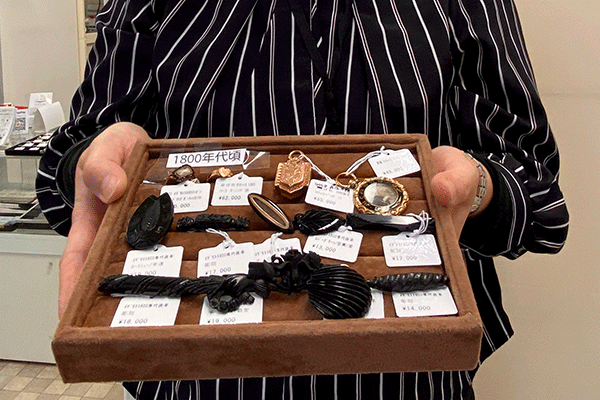 If we were surprised at the antique and vintage jewellery, we were stunned at the selection of 19th. century Victorian mourning jewellery, here presented by staff member Ms. Ishizuka. While the tradition of mourning jewellery dates back to the middle ages, it reached its apogee in the late 19th. century in Britain following the tragic early death of Prince Albert, beloved husband of Queen Victoria, who then went into mourning for 40 years.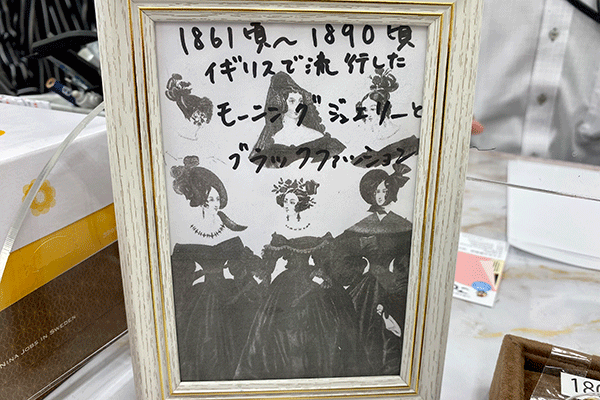 Consumed by grief, she wore only black for the rest of her life. This period of mourning influenced trends in clothing and jewellery, amongst many others, echoes of which we can still see today.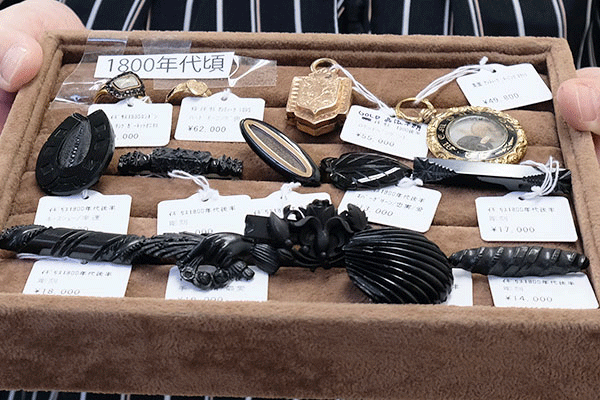 The mourning jewellery is made from jet, a type of petrified wood that has been used for adornments for thousands of years.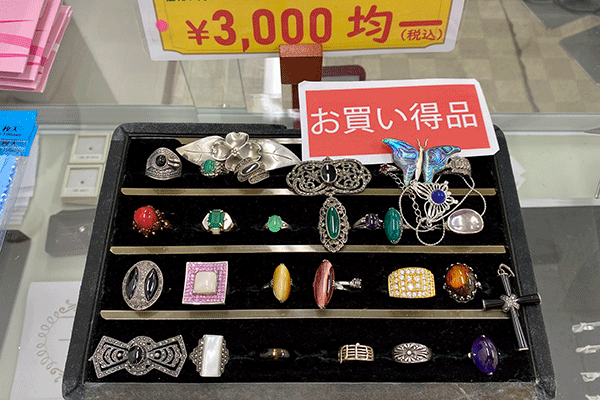 Kawahara also offers a selection of reasonably priced items.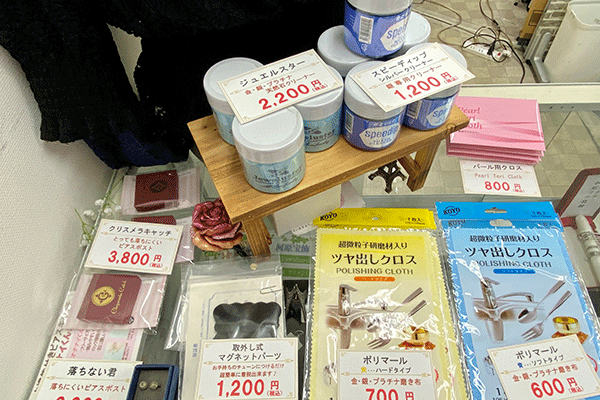 As well as pretty much everything you would need to clean and polish your valuables.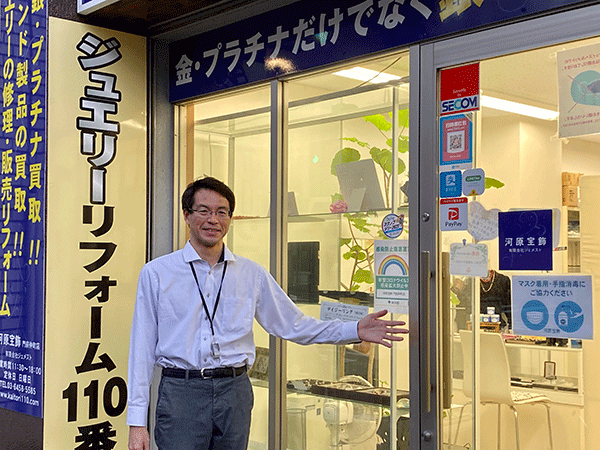 Necklaces with broken clasps or chains, rings that are too tight to put on, jewellery with good quality stones but unfashionable settings and items you'd never wear for one reason or another: if that describes your jewellery collection then why not drop in to Kawahara Jewellery and let the expert take a look? You might also find some unique antique item that really suits you!
by Stephen Spencer