150 Years of Fabulous Food!
Published: April 28, 2021
Koto Ward is home to many venerable eating establishments. One suspects that few are more enduring than Hinodezushi, which first opened for business in 1867, the second year of the Keio Period, one of the most tumultuous times in Japan's modern history. Fortunately, these days are more tranquil than the end of the Edo Bakufu, when goods were transported mainly by waterway and Hinodezushi was established on the banks of the River Onaki.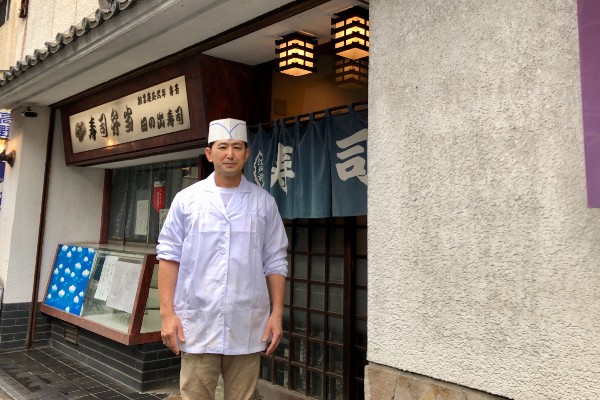 On a recent rainy spring afternoon we dropped in for a chat with fifth generation owner Mr. Shuichi Meikyo and his charming wife. Many people find it difficult to enter sushi restaurants, particularly the longer-established ones, yet the atmosphere at Hinode was very relaxed and most welcoming. "Yes, it's around 150 years since we opened, near the Onaki River first and then we moved here after the war," explained Mr. Meikyo. "We'd like all readers of Kotomise to understand that Hinodezushi is a place where everyone can enjoy delicious food at reasonable prices in a comfortable atmosphere."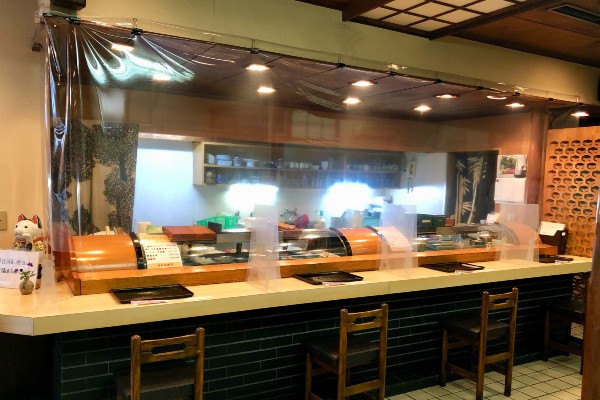 Hinodezushi is located on Motohachiman Street just five minutes walk from Minami-sunamachi station. The interior is spick and span, with the traditional sushi counter and seating for around
fifteen people. All current health protocols are firmly in place, alongside the ubiquitous plastic screens.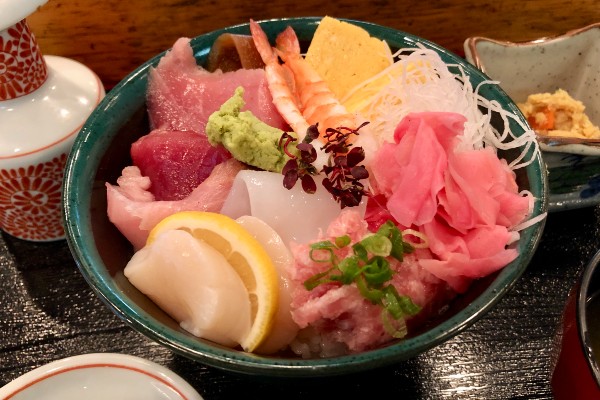 Hinode Sushi offers a variety of lunches, all of which are extremely tasty and represent exceptional value. The mixed seafood on vinegared rice bowl (chirashi don) features eight different toppings and was as delicious as it was aesthetically pleasing. The hearty bowl came with miso soup and a dish of homemade unohana, a mixture of the soy pulp leftover after making tofu (okara) and vegetables such as carrot, burdock root and shiitake with soy sauce and mirin, the low-alcohol cooking sake. A remarkable bargain at just 1,000 yen.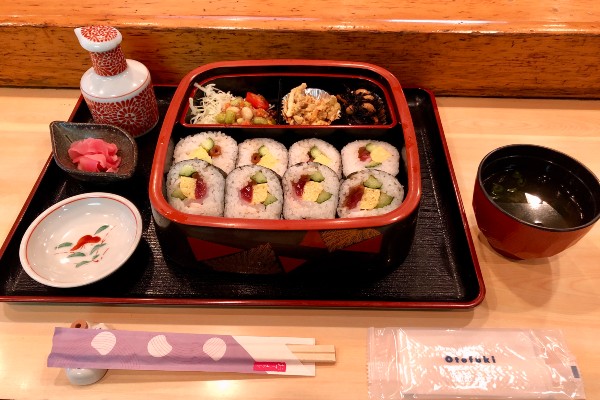 Another popular lunch is the seafood futomaki, the thick sushi roll featuring tuna, egg roll, cucumber and more. At Hinodezushi the rolls come with unohana, hijiki salad and mixed bean salad, as well as miso soup. All lunch sets also feature a cup of coffee. Again, tasty, healthy and terrific value at just 880 yen. All prices are inclusive of tax. The futomaki rolls are big sellers on February 3rd, known as Setsubun in Japan, the day that marks the beginning of spring in the old calendar. People throw soybeans to ward off bad luck and eat a whole futomaki roll in silence!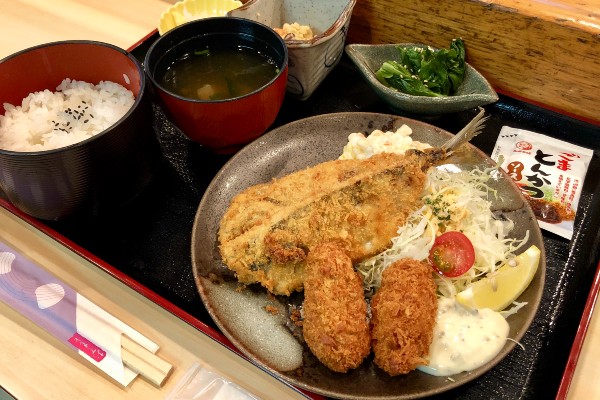 I was particularly taken by the wonderfully crisp and crunchy deep-fried horse mackerel (aji furai) and oyster lunch. The fish was perfect! Two juicy fat oysters, salad, miso soup and three small side dishes for just 880 yen including tax is exceptional value. All the side dishes are handmade, delicious and nutritious. It's no wonder so many local business people and residents drop in for lunch.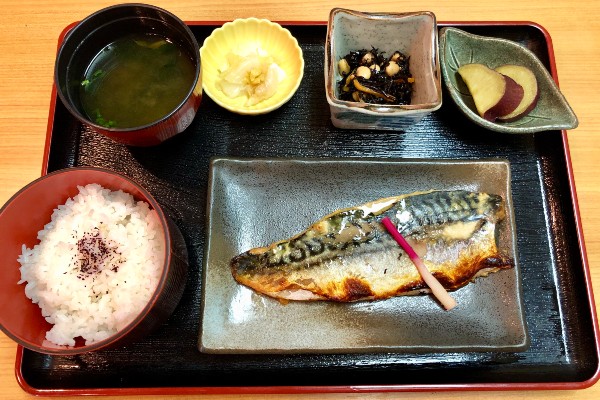 Shiokoji, the fermented mixture of rice inoculated with the mold aspergillus oryzae, salt and water that is used as a marinade, adds deep umami flavour to this mackerel fillet. The mackerel is served with three side dishes, rice and miso soup, a mouthwatering, savoury delight at 880 yen.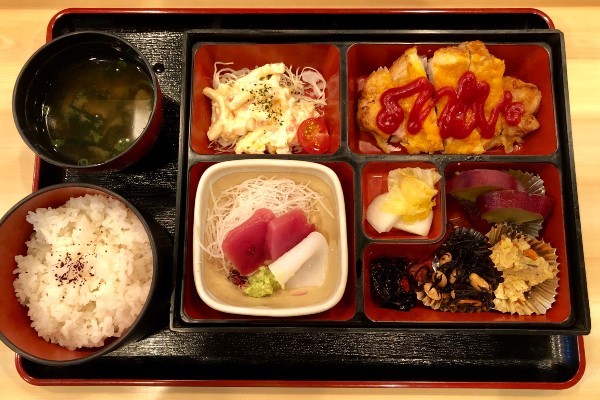 While fish and seafood are the mainstays at Hinodezushi there are dishes for meat eaters too. Pork and ginger saute, tenderloin cutlet and hamburg set lunches are available at 880 yen including tax. The daily lunch (780 yen including tax) when we visited was this pork piccata, with a mini sashimi, rice, miso soup, salad and three side dishes. Remarkable value and very much in demand with the lunch crowd. All lunches are available to take out.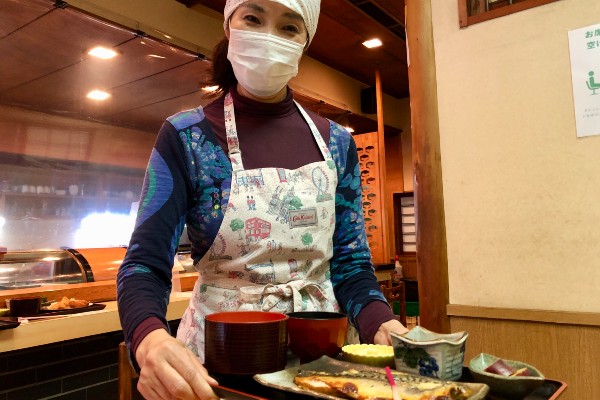 Evenings at Hinodezushi are given over to special course dinners that require a reservation, made three days in advance. The seasonal menu features sashimi and sushi with grilled, fried and steamed dishes for 3,850 per person plus tax. Mr. Meikyo liked to estimate around 5,000 per person including drinks such as sake or beer. The lunches at Hinodezushi were extremely tasty and remarkable value, while Mr. and Mrs. Meikyo were charming hosts. Having visited, it's easy to understand why the restaurant has lasted for over 150 years. If you're in the Minami-sunamachi area you really should drop in for lunch, both your stomach and wallet will surely be highly satisfied!
Story and Photos by Stephen Spencer